By Bill Marx
Nonbinary people have plenty to be angry about these days, but Burgerz does not attempt to shock or strike back in anger.
Burgerz, written by and starring Travis Alabanza. Directed by Sam Curtis Lindsay. Produced by Hackney Showroom. Presented by ArtsEmerson at the Emerson Paramount Center, Jackie Liebergott Black Box, 559 Washington Street, Boston, through April 24.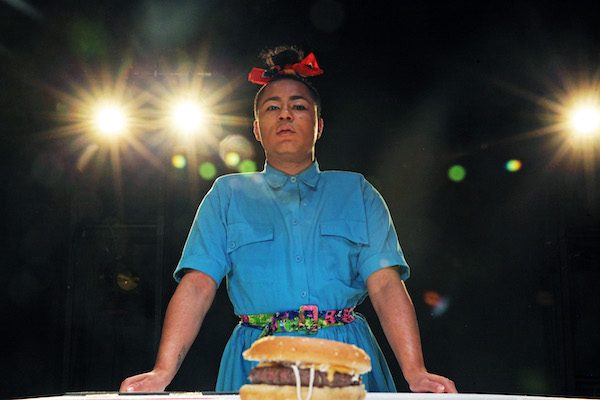 An act of transphobic violence against performer Travis Alabanza inspired this entertaining though surprisingly genial show. In 2016 a hamburger was thrown at Travis by an unknown assailant, who mumbled an insult before leaving. What stung more than the flung food was the apathy of those around Alabanza — the indifference compounded a very public act of shaming. Unsympathetic bystanders either looked away or pretended that nothing of importance had happened. To Alabanza, of course, something momentous had occurred: this individual's behavior was yet more evidence of a broader dismissal of the humanity of the transgender community. The hostile political climate for transgender people is not addressed much in Burgerz, though Alabanza makes a brief allusion to the bills passed by conservative legislatures directed at transgender youth (measures that include barring classroom discussion of gender identity, blocking access to healthcare to help young people transition, and restricting participation in sports transgender rights). Nonbinary people have plenty to be angry about these days, but Burgerz does not attempt to shock or strike back in anger.
The show aims at cultivating the concern in the audience that should have been felt by those who witnessed Alabanza's violation. This is a theatrical exercise in cultivating liberal understanding. And it is effective: Alabanza is a funny, charming, and determinedly amiable performer who does their best to make the audience feel welcome. Alabanza's way of dealing with the memory of the insulting act, they tells us, is dissecting the makings of a hamburger. Not only are the components of a burger broken down, including condiments and buns, but one is put together and cooked on stage with the help of a cisgender male Travis has chosen from the audience. The white male Travis picked the night I attended, Dave, was a good sport throughout, despite being asked to answer impossible questions of the "What does it feel like to be a male?" variety. Besides reading from a script, the duties of this representative of the white privileged class include fastening on Alabanza's apron, taping boxes on the performer's chest, and picking the spice level of the burger. At one point, Alabanza asks if burgers are sold in boxes, which leads to talk about gender fluidity throughout history. Our sexuality has never fit into neatly defined categories — and it is absurd to slot people into socially constructed (and constricting) boxes.
Alabanza's banter with Dave is polite and amusing, as is the performer's comfortable relationship with the audience. For me, the interaction is too comfy at times, given the pressing relevance of the issues raised. Attempts at interspersing serious matters into the comic exchanges are not always effective; the evening's appealing sense of humor predominates. A try at setting up a stirring emotional climax — involving the just cooked burger – doesn't come off. Collective sympathy reigns; there is no way anyone will cross the likable Alabanza.
So Burgerz is a pleasant evening that presents a valuable lesson. Ironically, even Alabanza points out the show's limitations when they wonder why it takes a work like this to help people empathize with the life of a nonbinary person. Countless productions of To Kill a Mockingbird have encouraged audiences to feel better about themselves — it is very easy to be on the side of the antiracist Atticus Finch. But not nearly enough has changed. The invitation to condemn prejudice feels similarly circumscribed here. Why does Alabanza's onstage persona have to be so unfailingly nice? They treat the cisgender white male with considerable solicitude (aside from a sly dig or two) — which assures audience members rather than challenging them. For all of its admirable value as a means of promoting tolerance, Burgerz feels boxed-in.
---
Bill Marx is the Editor-in-Chief of the Arts Fuse. For just over four decades, he has written about arts and culture for print, broadcast, and online. He has regularly reviewed theater for National Public Radio Station WBUR and the Boston Globe. He created and edited WBUR Online Arts, a cultural webzine that in 2004 won an Online Journalism Award for Specialty Journalism. In 2007 he created the Arts Fuse, an online magazine dedicated to covering arts and culture in Boston and throughout New England.
;