By Stephen Provizer
These performances on The Ed Sullivan Show occurred almost exclusively between 1957 and 1964, and that's not happenstance. They coincide with the only slice of time when different styles of jazz ever got a significant airing on television.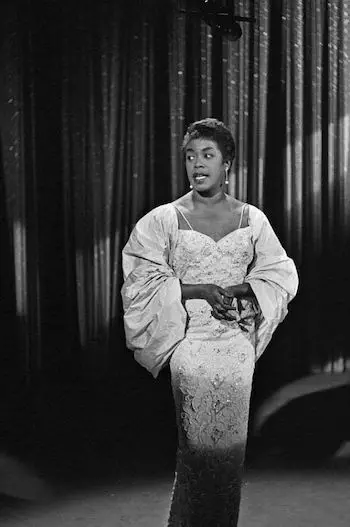 The Ed Sullivan Show, which ran from 1948 to 1971, has now become a nostalgic cultural touchstone. The program represents an era when Elvis and the Beatles riveted our attention, before three television channels exploded into what has become a fractured media world. As part of the 22nd edition of Jazz Appreciation month, the "Ed Sullivan Show Youtube channel" is streaming 14 performances by jazz musicians that originally aired on the Sullivan show. Sarah Vaughan, Count Basie, Peggy Lee, and Ella Fitzgerald are some of the featured artists.
These Sullivan performances occurred almost exclusively between 1957 and 1964, and that's not happenstance. They coincide with the only slice of time when different styles of jazz ever got a significant airing on television. It was the era of The Sound of Jazz, Frankly Jazz, Stars of Jazz, Timex All-Star Jazz Show,and The Subject is Jazz. Events like trumpeter Clifford Brown appearing on the Soupy Sales program were not fantasies; they actually happened.
Jazz continued to have a redoubt on TV: late night talk shows. Johnny Carson, Merv Griffin, Mike Douglas, and Joey Bishop all featured large jazz ensembles and often booked jazz performers. These appearances could be seen as a bow to sophistication, a grown-up's hedge, if you will, against the onslaught of rock and roll. It also meant that any kind of musical guest could be booked, from operatic soprano to musical saw  — and the accompaniment would always be solid. There was a transitional musical period on TV starting in the '90's marked by hybrid music on shows like Conan O'Brien, Jay Leno's Tonight Show, and Arsenio Hall. I consider the 2015 passing of trumpeter Clark Terry, a stalwart of the Tonight Show Orchestra, as a symbolic marker of the end of the 60-year relationship between big band jazz and mainstream television.
One of the featured Ed Sullivan musical performances is a chronological outlier. The 1971 performance by Rahsaan Roland Kirk, which turned out to be the final musical segment on the Sullivan show, was the result of a concerted effort to bring jazz back on TV by a group called the Jazz and People's Movement (JPM), founded by Kirk. Scores of JPM participants would show up at the taping of the Dick Cavett, Johnny Carson, and Merv Griffin talk shows, blowing whistles, holding up signs denouncing their exclusion from broadcasts. It had some effect: Kirk negotiated to appear on the Sullivan Show with Archie Shepp, Charles Mingus, and Roy Haynes. The group was supposed to play "Ma Cherie Amour," but Kirk proclaimed "True Black music will be heard tonight!" and the group broke into a six-minute medley of three compositions, the centerpiece of which was Mingus's "Haitian Fight Song."
Sullivan himself was stiff as a board, which, in our age of media unctuous smoothness, seems refreshing. He was a well-traveled newspaperman who'd done some radio, and was a high-profile syndicated New York entertainment columnist. Ad agencies were the bridge between corporations and media; they were the driving force behind TV content until cable came of age. In 1948, Sullivan was approached by an executive named Marlo Lewis at the Blaine Thompson Advertising agency with a concept for a TV show. The idea was that Sullivan would host a variety show with something for everyone; essentially, vaudeville on television.
Virtually every type of entertainment appeared on the Sullivan Show — classical music, opera, popular music, songwriters, comedians, ballet dancers, dramatic monologists, and circus acts. A high quality group of musicians, drawn from members of the CBS orchestra, backed the acts (including pianist Hank Jones and Chris Griffin, former lead trumpet for the Harry James and Benny Goodman bands).
Sullivan was quick tempered and slow to forgive. He had several famous run-ins with obstreperous guests like the Doors and the Rolling Stones. He did have one racially charged incident with Bo Diddley. Overall though, he championed Black acts and stood up to anyone who challenged that effort, including the fact that he shook hands with Nat King Cole on national TV.
The people who acquired rights to The Ed Sullivan Show from the Sullivan family are Andrew and Josh Solt (SOFA Entertainment Inc.). Andrew Solt, CEO of SOFA, replied to my question about why they went through the laborious and expensive process of acquiring the rights to the Ed Sullivan material: "Making films and TV specials we often found ourselves knocking on the Sullivan door to access remarkable performances.… One day after licensing some Elvis footage from his historic 1956 shows, a chat took place about new ways to present the library to the public. That brief discussion with Ed Sullivan's family eventually led to an offer to acquire the library…. It was a big risk at the time, but we felt the cultural significance and depth of the 1000+ hour archive made it compelling.… We felt its potential growth could be substantial. It's a unique cultural asset."
The bet seems to be paying off and SOFA productions is going big — partnering with major digital player Universal Music Enterprises (UMe) in the hopes of making the Ed Sullivan Show "a global brand." Elvis, The Beatles, The Supremes, The Beach Boys, and The Jackson 5 are likelier to make that happen than the jazz lineup, but jazz is along for the ride.
Jazz listeners looking back in the rearview mirror at these historical artifacts might well wonder why jazz on television went gently into that good night. To me, the exit doesn't quite add up. Data shows that jazz listeners are fairly well heeled, well educated, and racially mixed. Doesn't that constitute a "desirable" demographic? Every once in a while, Public Television takes a shot at airing jazz, and in 2017 Quincy Jones launched Qwest TV, featuring a lot of jazz. According to the Qwest financial statement, they are "an indirectly wholly-owned subsidiary of Lumen Technologies, Inc." (a Fortune 500 company). I'm not sure what that legalese actually means, but clearly deep pockets are a media-music entrepreneur's best friend.
Let's hope that the success of these Sullivan performances will stir new energy and bring some other players to the TV table. That we can now see Louis, Sarah, Basie, Ella, and the rest is great, but it would be a most welcome reverberation of this project to be given opportunities to tune into some of the creative and intense jazz activity going on right now.
Update:
According to the press release, the Ed Sullivan Show YouTube Channel has surpassed 250 million views. Boomers have spoken and viewership stats show clearly that jazz was indeed "along for the ride."
---
Steve Provizer writes on a range of subjects, most often the arts. He is a musician and blogs about jazz here.