By Chloe Pingeon
When you go to the Art of Banksy website it is immediately clear that Banksy himself had nothing to do with this traveling show.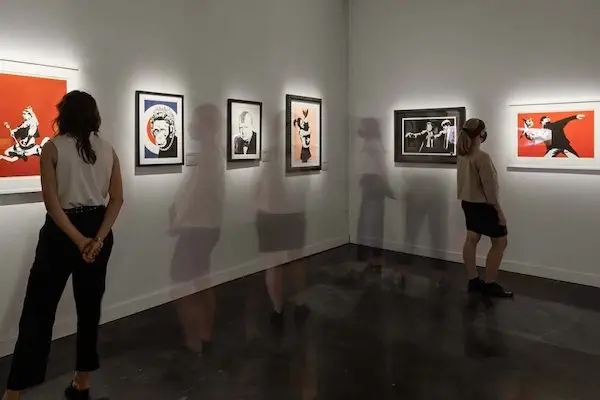 The signs started to pop up in October. Maybe you saw them first on a billboard glimpsed in passing as you were driving down I-95. Maybe you noticed a splash of red and white plastered on the side of a Newbury Street trashcan and stopped to take a second look. Maybe it was a flash of sponsored content as you're scrolling through your Iphone. I first saw the sign on Instagram. After that, I started seeing it everywhere. "THE ART OF BANKSY" the sign reads, splattered in white bubble letters over a red sphere, "UNAUTHORIZED PRIVATE COLLECTION.'
To anyone who has ever heard of Banksy, and maybe particularly to those who have not, the sign is intriguing. A mysterious artist is presenting an unauthorized show in an undisclosed location. Tickets are not yet available for purchase. The signs are advertising something — but what? And who is bankrolling it? Maybe Banksy himself is behind the set-up, given that he has become famous as an anonymous artist who is also a prankster and political activist who tosses off stunts exactly like this. Here are a few examples. Banksy once auctioned off a painting for $1.4 million that, unannounced to the buyer, had been designed to self-destruct upon purchase. The work's shredded pieces were later auctioned for $24 million. He built a dystopian amusement park in a British town named "Dismaland." The artist's involvement as well as the construction of the park were kept entirely under wraps until opening day. Banksy filled a London show of his art with over 200 live rats. According to a girl on TikTok, Banksy scattered his works around an abandoned Subway station. Lucky passersby could pick them up for the bargain price of r $60 each. The TikTok user's claim is dubious, but then again, so is every Banksy story that circulates on the Internet and in casual conversation. The allure of Banksy is his secrecy, his bold statements, his elaborate performances, and the fog of secrecy that surrounds his stunts. Aside from some vague rumors that he once played on a British rugby team, Banksy's identity is unknown. To establish with certainty what he has done, what he is doing, and what he will do next is impossible.
But when you go to the Art of Banksy website it is immediately clear that Banksy himself had nothing to do with this traveling show. The webpage features a flashing call for "INFLUENCERS WANTED" and a warning that "tickets are going NOW for $50." This show may be a spectacle, but it is also a con. Yet people respond, with passion, to fakery. Banksy paintings the girl on TikTok claimed to have discovered on a train platform in New York were probably not authentic, but her voice was shaking as she told the camera that she couldn't remember the last time she was this excited. Street artists, particularly the work of an artist who once released a live elephant into an exhibition at a formal event as an act of protest against global poverty, use spectacle to make a political point in many different settings, commercial or not. The show's outrageously high ticket prices ($70 for prime time; $50 if you got lucky) would appear to contradict the anti-capitalist critiques presented by Banksy's work. But the art world is notoriously elitist: exclusivity and equality must duke it out. After all, Banksy himself has proclaimed that "we can't do anything to change the world until capitalism crumbles. In the meantime, we should all go shopping to console ourselves." To write off a Banksy show as too expensive would be to write off  Banksy as an artist entirely. Selling a $1.4 million painting that is set to self-destruct upon purchase is a very expensive capitalist spectacle.
Upon purchasing a ticket to the Art of Banksy Show (Boston), I immediately received an email from THE UNIVERSE. The undisclosed location for the show is 12 Palmer St Cambridge — a relatively normal-looking building off an alleyway in Harvard Square. The doors of the building were painted with the same red and white colors that I had become accustomed to seeing around Boston and on social media. I entered a dimly lit building and proceeded to the ticket booth. There I was offered a program (available for purchase for $20) and a guided audio tour (available for purchase for $20). I opted out of both these luxuries and proceeded through the dimly lit lobby and up a fluorescent red escalator into the exhibition itself.
The show is composed of 11 rooms, but the spaces appear to be constructed out of temporary black walls that have been put together to create a maze-like illusion. The floors are lined with dark gray carpet that hasn't been rubbed clean of white paint splatters. Soft elevator music is playing, but there doesn't seem to be a set playlist, as every few minutes the same advertisement for Planet Fitness disrupts the soundtrack.
"Start making your workouts worth it!" The chipper woman's voice drifting through the makeshift gallery space feels somewhat depressing.
The show opens with a brief history of Banksy. There are a few black-rimmed frames hanging on a black wall, the first one holding a woven mat which spells out, in red fabric, "WELCOME." The second frame is titled "STICKERS" and contains, shockingly enough, a display of stickers. It is unclear if the stickers were created by Banksy, or simply placed in the frame as a testament to the artist and his work. Beneath the frame is a brief description of "BRISTOL," the town where Banksy was believed to have grown up. The description also explains that we are being shown stickers because Banksy often marked his work area with them. The significance of these particular stickers is not elaborated on. It looks as if these squares of white and red have been lazily pasted on black construction paper and then stuck on the wall. More depression.
The rest of the show sticks to the same banal track. Each room features a Banksy quote painted on the walls, a brief history lesson, and a few artifacts that, apparently, were owned by Banksy. But in this dimly lit and catastrophically organized setting claims of authenticity are implausible. Curation is not always a necessity for show. Some pieces speak for themselves. But Banksy's work is notoriously site-specific. He is celebrated because he speaks, often critically and mischievously,  to the time and place in which the art has been located. Tossing a few Banksy pieces on a wall next to a few historical facts goes against the spirit of this artist's work — there is no cohesive story being told about anything here.
A group of high schoolers making TikToks in the first few rooms appeared interested in the show. Other people I encountered seemed bored. Few of the visitors bothered to stop to read the informational plaques on the wall. Most took a few pictures of the glass picture frames, already cloudy and smeared with fingerprints, before continuing on their way.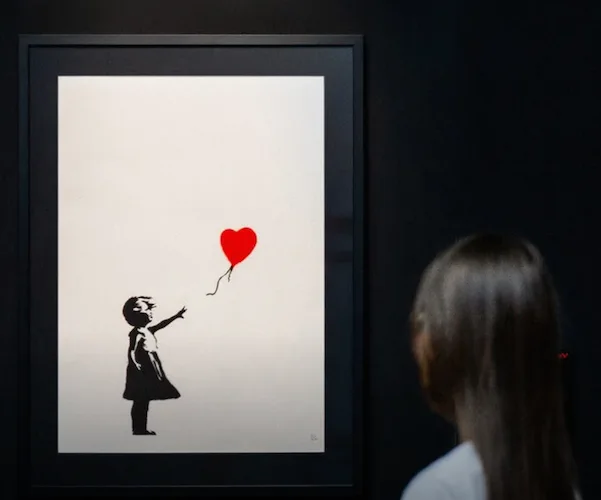 In one of the last rooms I found myself alone and in front of a glass cage containing one of Banksy's most infamous sketches: "Balloon Girl." In this drawing, we see a child in a black and white dress, one arm outstretched in front of her. She releases a red heart-shaped balloon into a white sky. The red of the balloon is the only color on the canvas. Banksy has used this image as graffiti in public places — a way to leave his mark. At this show, the image's frame instructed the viewer to walk around to the other side. The page contains a sketch of a face, an image of Ben Einer, a friend of Banksy's whom the artist sketched spontaneously one day while they were talking in a restaurant. It was the first and only time the exhibition surprised me. My initial reaction was excitement: I was in the presence of an iconic image, likely worth enormous amounts of money. Yet  on the back of the image a spur-of-the-moment portrait of Banksy's good buddy suggested something more spontaneous, genuine, and human. Banksy is, in many ways, a performer. To experience his work at its best is to become part of a drama. This two-sided drawing provided the only Banksy moment in the show.
And this drawing underlined why the show is phony, essentially a gimmick. Banksy's work is not meant to be conventionally displayed, particularly in a dimly lit commercial venue with egregiously priced tickets. The exhibition is not a con because it is a spectacle, but because it is not a head-shaking spectacle. Banksy's work requires that 200 rats be released into a live venue. His power as an artist is about spontaneity, about art that self-destructs and is worth twenty times more once it is reassembled.
Despite bad faith presentations like this, Banksy has not lost his sense of humor — and outrage. On the artist's real website, officially named Pest Control, a part of the question-and-answer section addresses the rise of Banksy pop-ups.
"Banksy has NOTHING to do with any of the current or recent exhibitions and they are nothing like a genuine Banksy show. They might be crap so please don't come to us for a refund."
---
Chloe Pingeon is a rising senior at Boston College studying film and journalism. She has written regularly for the features and arts section of Boston College's Independent Student Newspaper The Heights, and has also written for the culture section of Lithium Magazine. She is currently a creative development intern at Foundation Films.