Each month, our arts critics — music, book, theater, dance, television, film, and visual arts — fire off a few brief reviews.
Television
In Servant of the People, Volodymyr Zelensky portrays a 30-something high-school history teacher — think Robin Williams in Dead Poet's Society or Richard Dreyfuss in Mr. Holland's Opus.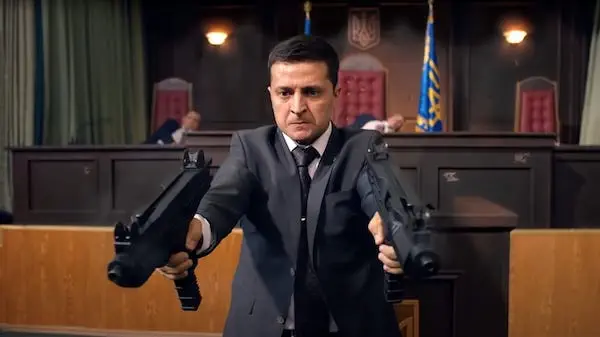 I've been streaming the cheeky political satire Servant of the People on Netflix all month while the Russian invasion of Ukraine provides a horrendous real-life backdrop. Like many fine international series –- Scandinavian, French, Israeli, South Korean — Servant boasts a clever script and a fast-moving plot. Like the granddaddy of political serials, House of Cards, it deals in cynicism and provocation. But it is set in Kyiv, so the series plays against an uncanny military reality. It's more than bizarre to watch a story featuring a make-believe (now real) president of Ukraine, yet I continue, absorbed by the culture, the context, and the many characters of all ages and classes, performed by an excellent group of actors headed by Volodymyr Zelensky.
The mini-bio: Zelensky was born in January 1978 to Russian Jewish engineers; his first language was Russian. He joined a comedy troupe at 17 as he was obtaining a law degree. He then founded the production company Kvartal 95. Zelensky wrote, starred in, and produced Servant of the People, which was televised from 2015 to 2019. It was made into a movie and then registered as a political party. He won the Ukrainian presidential election that December with 73 percent of the vote on an anticorruption platform. He became known internationally as "the comedian who became president." On July 25, 2019, he made inadvertent headlines after former President Trump's so-called perfect phone call in which he asked for a favor: a criminal investigation of the Bidens in exchange for releasing $391 million in military aid that had been approved by Congress. Zelensky was saved by a whistleblower and received the aid. He struggled to enact his program of reforms and his ratings plunged. Then the Russians invaded Ukraine and he became a national hero.
In Servant of the People, Zelensky portrays a 30-something high-school history teacher — think Robin Williams in Dead Poet's Society or Richard Dreyfuss in Mr. Holland's Opus. One of his students secretly films him while he is cursing government corruption. The video goes viral. He is elected president and begins a battle against a greed and systematic corruption so pervasive that he must fight it even at home with his parents.
Everybody takes a piece of whatever pie is being served: from the construction forelady in the street to the prime minister. "The Americans weren't afraid of Al Capone," the TV president says. "They put him in jail." But this is Eastern Europe — the neighborhood is post-Communist Slav. When the TV president wants to fix Ukrainian potholes he points to comparable highways in Georgia, Romania, Slovakia — not the West. The players are a mixed bag of wonderfully lampooned types: oligarchs, bureaucrats, diplomats, informers, ordinary people trying to make a buck, all universal but here with a Slavic twist. I particularly enjoyed the many women characters who embody a feminine style of their own, and the breezy political incorrectness that informs most of their interactions. The outsize role of contemporary technology, particularly social media, adds a continuous second filter to the action: someone is always filming/framing someone else. Both real-life Zelensky and the history teacher he portrays owe their careers to Instagram, Twitter, Facebook, and YouTube. Both are patriots who love their country, refuse to leave it,  and believe in an ideal of Ukraine.
There are viewers who can't bear to watch Servant of the People given that some of its locations are being bombed in real time. I watch. I admire the real-life heroism and the artistic brilliance. And I send money to the refugees.
— Helen Epstein has been a reviewer for the Fuse since its inception. Born in Prague, she was there during the Soviet Invasion of 1968.
---
Jazz
Youn Sun Nah's style is difficult to summarize. Part jazz chanteuse, part indie rocker, part arthouse iconoclast, and part cabaret stage singer.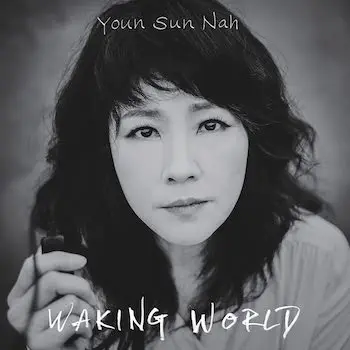 Thankfully, not all popular music coming out of South Korea is from boy bands. Youn Sun Nah began as a young prodigy when her first album Reflet came out in 2001, and she is now a seasoned professional with a long list of awards and honors, including the Chevalier des Arts et des Lettres from the French Ministry of Culture and the Sejong Culture Prize awarded from the Korean government. Her latest, Waking World (Warner), delivers on her early promise with a mature musical statement from an artist in full control of a truly magnificent voice.
Her style is difficult to summarize. Part jazz chanteuse, part indie rocker, part arthouse iconoclast, and part cabaret stage singer, she exists comfortably in her own category. She's not quite like Kate Bush, Björk, Laurie Anderson, or Annie Lennox, but you can hear elements of their music passing through Waking World like breezes through different windows all opening into the same room. Of these four, I'd say Bush is the closest parallel. Nah has something of Bush in her five-octave range, poetic sensibility, and dreamy musical vision — and, when she chooses to use it, you can hear some of Bush's vibrato and phrasing (you can hear it on "Don't Get Me Wrong").
This is a heavily processed record with effective and liberal use of reverb, synthesized colors, and overdubbed harmonies (all of which sound great on headphones, by the way, in the widened sound stage of Dolby Atmos on Apple Music). For example, "Heart of a Woman" uses the breathy, echoey preface to transition into a slow, meandering melody that winds its way around a faster background led by a trumpet popping octaves. There's a shift into a rhythmic North African section, then the two sections weave together in counterpoint. The result is hypnotic and seductive.
Nah, who wrote all the compositions, likes abrupt transitions, some of them less successful than the integrated one in "Heart of a Woman." "Don't Get Me Wrong" shifts from an angry ballad to a jaunty section with trumpets that adds little, and "Lost Vegas" breaks its ominous minor-key feel with a jazzy interlude with prepared piano and cello. More successful are the moments of sublime beauty when textures flow organically into one another, like complementary colors in a Rothko painting. "My Mother" has patient pastel melodies that grow slowly like tendrils over a sharper and busier background, with a kaleidoscope of musical scenes constructed from a limited palette of instruments (electric keyboards, bass, and trumpet). "I'm Yours" has a floating, sleepy sound; but we also hear Thomas Naïm's twangy Twin Peaks-ish guitar, and the vocals and cello are woven beautifully together in the mix that sounds like they're merging high up in the flying buttresses of a cathedral.
Then there are simpler tracks, such as "It's OK," which is content to luxuriate in the richness of Nah's voice. "Waking World" is a dream vision with just a hint of an Asian mode supporting the harmonies, and there's an intimate black-and-white video that captures the sophisticated simplicity of the music and the layered emotions behind it.
Nah's previous album, 2019's Immersion, featured some covers, including Marvin Gaye's "Mercy Mercy Me (The Ecology)" and George Harrison's "Isn't It a Pity." It was perhaps more ambitious with a wider variety of styles, international grooves, and approaches to the material. Waking World takes a more focused and coherent approach, and it's therefore the better opportunity to hear the full expressive power of Nah's remarkable instrument and the clarity of her artistic vision.
— Allen Michie
An eye-opening concept album from the legally blind British singer-songwriter, a sweet, enjoyable collection of songs rendered with a blend of passion and precision.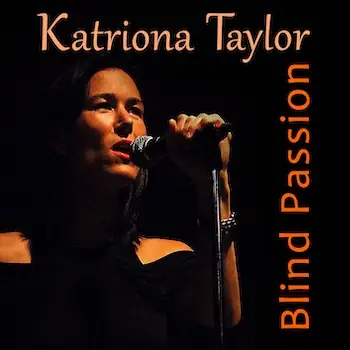 Katriona Taylor's Blind Passion is a concept album: half of the 12 songs were written or popularized by blind artists; the other six are originals. Actually, the fact that Taylor herself has been legally blind since age seven means that all the songs are thematically linked. This is the British singer-songwriter's fifth album and her first in 12 years — in the interim, she had two children and overcame two bouts with breast cancer. This is not, however, a pity party pressed onto a plastic disc, nor is it a particularly defiant call to arms by a survivor of life's unpredictable pitfalls. Rather, it's a sweet, enjoyable album of songs rendered with a blend of passion and precision.
Other than Taylor herself, the blind artists recognized on the album are Stevie Wonder (teasingly slow covers of his "Master Blaster" and "My Cherie Amour"), Ray Charles (Leon Russell's "A Song For You" inspired by Charles's version), Diane Schuur (Duke Ellington's "It Don't Mean a Thing" inspired by Schuur's version), and José Feliciano (a sultry version of his classic cover of the Doors' "Light My Fire" and Jools Holland's "As You See Me Now," from a duet album he recorded with Feliciano in 2017). This blend of obvious and less obvious choices helps to keep the focus on the music rather than the ocular abilities of those being honored.
Taylor has a rich, mid-range voice and her compositions, such as the opener, "Things Have Changed," and "Fly Me to the Stars" have a soul-jazz flavor that straddles both the lounge and the slow jam. Her tight backing band — including saxes, guitars, keyboards, and a solid rhythm section — provide a flexible foundation for her vocal flights of fancy and step out to take a number of tasty solos. All in all, this is an eye-opening recording.
— Jason M. Rubin
The soothing, easygoing sound of Boston-area vocalist Lori Zuroff 's debut album is perfect for our uncertain times.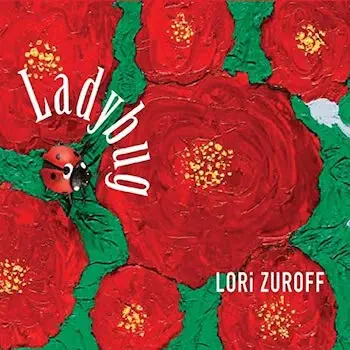 What drew me to Ella Fitzgerald, when I first fell in love with jazz singing, wasn't the high-flying live performances, with chorus after chorus of scatting on "Mack the Knife" or Ellington's "Diminuendo in Blue." Rather, it was that alternately sweet and husky voice staying true to the melody and lyrics with her own impeccable phrasing, as she did on her many "songbook" recordings of music by the greats — Berlin, Gershwin, Ellington, Porter, Rodgers & Hart, Arlen, Kern, Mercer.
There's never been a shortage of vocal derring-do in jazz vocalist releases, and there's no doubt that virtuosic wordless singing inspired by instrumental soloists has a certain wow-factor. But sometimes I just want to sit back and hear the words and music as the composers wrote them, through the voice of someone who's inhabited them, maybe over many years of performing them in bars and clubs and restaurants, and wherever else we jazz vocalists ply our trade.
That's the approach Boston-area vocalist Lori Zuroff takes on her debut album, Ladybug. Zuroff (whom I met at a 2018 summer workshop on jazz and Brazilian music) has sung everything from rock and roots to R & B, blues, and jazz over a 25-year career. But for her first album, she chose to record a jazz "songbook" of her own — a set of long-loved standards that reach back to the earliest years of the Tin Pan Alley and show tunes that formed the Great American Songbook.
The album opens with a song that's over a century old — "You Made Me Love You," which Al Jolson debuted in 1913. Zuroff starts off the easy swinging feel over fingersnaps and Bill McCormack's bass; then Molly Flannery's piano, Miki Matsuki's drums, and Bill Vint's tenor sax kick in. The song gives us our first taste of Zuroff's luscious Bonnie Raitt-like timbre.
That warm, husky voice and the band's sensitive accompaniment and soloing are especially effective on ballads like "When Sunny Gets Blue," "The Nearness of You," and "In a Sentimental Mood"; Flannery's tinkling keys that reflect the "rain begins to fall" lyric of "Sunny" and the haunting piano figure that underpins the Ellington nicely set the mood. I welcomed Zuroff taking more liberties with melody and phrasing in her sassy, bluesy version of "Honeysuckle Rose" (more of that, please!). A memorable Latin-flavored arrangement of "You Don't Know What Love Is" features terrific playing by Vint on both solo and ending vamp. Closing the set is a meditative, moving voice and piano duet on the gorgeous 1934 ballad "For All We Know." Its "seize the day" message — "So love me tonight … tomorrow may never come, for all we know" — is perfect for our uncertain times. And so is the soothing, easygoing sound of Lori Zuroff's Ladybug.
— Evelyn Rosenthal
---
Classical Music
Scott Moore's performance was all the more impressive given that he operates in several musical genres apart from the classical. 
On March 27, I saw Scott Moore in the first of his three performances of Bach's complete Sonatas and Partitas for solo violin. Moore has committed these to memory and his playing was moving and assured — even when his violin bow broke near the end of the Sonata #2.
These six Sonatas and Partitas give us Bach at his most translucent. If string quartets strip away the weight of orchestration, these pieces expose their bones — and their maker's sou — -to an even greater degree. They offer a tremendous opportunity for interpretation on the part of the soloist, but they are not to be undertaken lightly. Moore's performance was all the more impressive given that he operates in several musical genres apart from the classical. He's recorded as a sideman on many folk, blues, country, and rock albums and tours with the 23 String Band.
Moore will be performing the remaining Sonatas and Partitas on April 24 and May 22 at the Annisquam Village Church. If you are on Cape Ann, it would be a very profitable way to spend a Sunday afternoon.
— Steve Provizer
Suffice it to say, pianist Simone Dinnerstein's playing in Schumann's Arabesque (op. 18) and Kreisleriana is consistently warm toned and introspective.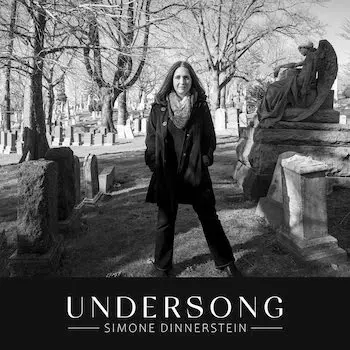 Undersong (Orange Mountain Music) is pianist Simone Dinnerstein's third "pandemic album" — that is, one recorded over the last two years in her home in Brooklyn. The first two focused on, respectively, music by Schubert and Philip Glass, and by Richard Danielpour. This latest effort focuses on music that uses refrains by Robert Schumann, Glass, Eric Satie, and François Couperin.
Suffice it to say, Dinnerstein's playing in Schumann's Arabesque (op. 18) and Kreisleriana is consistently warm toned and introspective. Sometimes this works very nicely, indeed. The Arabesque's coda, for instance, is mysterious and dreamy. The recurring theme in Kreisleriana's big second movement, too, is suitably reflective, as is the tender middle part of its fourth movement ("Sehr langsam").
Yet, too often, Dinnerstein's embrace of broad tempos serves to muddy the music's sense of phrase. As a result, much of the Arabesque comes out sounding mannered. So do the slower sections in Kreisleriana. The seams show in the latter's second movement Intermezzo II — as they do in the sixth movement's opening part.
True, most of the fast parts of Kreisleriana are of a more ingratiating character. The third movement's refrains snap. Dinnerstein's playing in the "Sehr lebhaft" is brisk and dry. Contrapuntal lines in the seventh movement are winningly balanced.
Still, taken together, Dinnerstein's Schumann doesn't quite match, for passion, excitement, or depth, benchmark performances by Argerich, Pollini, or, more recently, Stephen Hough.
She's more convincing in the disc's other fare. Satie's Gnossienne No. 3 undulates with beautiful weirdness. Glass's Mad Rush is sonorous, well balanced, and strongly directed. Here, Dinnerstein's playing is consistently shapely and incisive, especially in the piece's vigorous 16th-note figurations (which are dispatched with bracing staccato articulations on the repeat).
The Couperin movements — Les Barricades Mystérieuses and Tic Toc Choc — balance the program smartly.
Bottom line? With pianist Jan Lisiecki, you're in good hands throughout.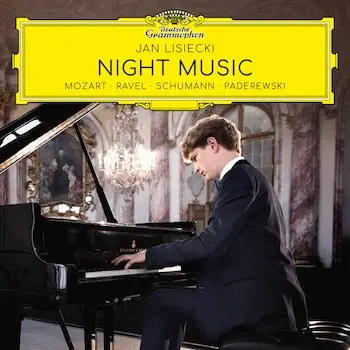 How does a pianist follow up an acclaimed recording of Chopin's complete Nocturnes? Well, if you're Jan Lisiecki, you keep the theme going with a new disc called Night Music (Deutsche Grammophone). In it, the Canadian pianist offers an inviting program of pieces by Mozart, Schumann, Maurice Ravel, and Ignaz Paderewski.
The two most substantial selections are Schumann's Nachtstücke and Ravel's Gaspard de la nuit.
In the latter, which is one of the repertoire's most daunting works, Lisiecki's astonishing technique rightly dazzles. But his is a Gaspard of heart as well as brain. The ecstatic, shimmering "Ondine" serves as prelude to a hauntingly delicate "Le Gibet," one whose gradations of dynamics and articulations impress for their sustained intensity. "Scarbo" is sweeping and boisterous, yet Lisiecki's command of the music's character and voicings is always clear: the movement never devolves into a jumble or a mere showpiece.
His Schumann is likewise thoughtful. Here, Lisiecki shapes the first movement's refrains stylishly. His take on the second is beautifully phrased and always well directed. So, too, the dancing third. For the genteel finale, Lisiecki turns in a reading of unaffected naturalness.
He's also firmly in his element in Mozart's variations on "Ah, vous dirai-je Maman" (more familiarly known as "Twinkle, Twinkle, Little Star"), which offers moments of dancing repose and playfulness — not to mention breathtakingly nimble fingerwork (in the finale, among other spots) — in equal measure.
Paderewski's Nocturne in B-flat major wraps the whole presentation up neatly.
Bottom line? With Lisiecki, you're in good hands throughout.
— Jonathan Blumhofer
---
Books
In nine years astounding novels would come, but there are rewarding intimations of Machado de Assis's mature vision in this rookie effort.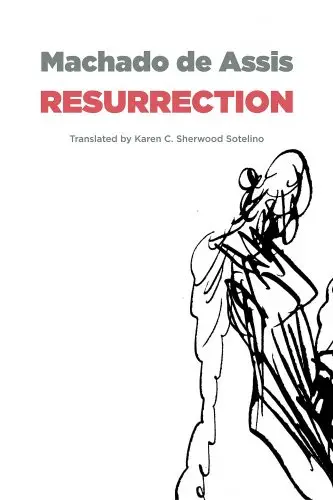 Joaquim María Machado de Assis (1839-1908) is the greatest Latin American writer of the 19th century, the author of three masterpieces, the novels The Posthumous Memoirs of Brás Cubas (1881), Quincas Borba (Philosopher or Dog?) (1892), and Dom Casmurro (1899). And then there are the brilliant short stories available in The Collected Stories of Machado de Assis (Liveright). Why has the English-speaking world's recognition of this Brazilian literary genius been so grudging? Since his  books were translated in the '60s, he has been proclaimed by a number of big-name admirers, including Salman Rushdie, Susan Sontag, Harold Bloom, Philip Roth, and Woody Allen. But whenever I mention his name, even to well-read friends, they are not familiar with his work.
As Machado translator John Gledson puts it, the reasons for the neglect might be credited to disbelief: it is hard to accept that "a writer so rooted in his own time, writing in a slave-owning cultural backwater, could also be so advanced." After all, Machado wrote in a "small" language, Portuguese. And he was a mulatto, of partial African descent, which no doubt informed his ironic perspective. Critic Roberto Schwartz's response, in what is one of the best books on Machado's achievement, is that the writer's brilliance was made possible by his marginality, not in spite of it.  The title of Schwartz's book underlines his political/aesthetic argument: Machado was "a master on the periphery of capitalism."
I would turn to the writer's peak accomplishments before picking up Resurrection (Dalkey Archive), his first novel, which was published in 1872. Up until then Machado had written poetry and plays. It is a revealing narrative (even in this sometimes awkward translation by Karen C. Sherwood Sotelino) because we see Machado beginning to wield the tools that he would use to pitilessly dissect privileged society and the male ego. But the story lacks the lively wit and acidic rigor of his later books.  Set among the well-to-do, who seem to do little more than attend parties, jockey for niche dominance, and bark orders at their slaves, the narrative revolves around a retired doctor, Félix. He loves two women: Raquel, an unusually naive young woman, and the beautiful, savvy widow Lívia, who has a five-year-old child. She wants to remarry and Félix appears to be her perfect mate. The pair are a step above those around them; he is articulate and intelligent, she is passionate and properly appreciative. But Machado is not interested in romance, the comedy of courtship, or the battle of the sexes.
Machado is among the first of what I would call "diagnostic" writers. They are committed to sizing up the psychological/spiritual health of their characters and dissecting the rapacious society that feeds their indulgent desires. Félix turns out to be the writer's prototypical empty suit, "a complex man, incoherent and capricious, in whom opposing elements meet, both refined qualities and irreconcilable failings." What is interesting is that these polarities do not square off in fruitful tension: "the two sides of him … although they melded into one face, they were distinct — one natural and spontaneous, the other calculating and systematic." In this case, Jekyll and Hyde peacefully sit side by side. Félix rejects both women — more than once — in the course of Resurrection. He is drawn to them one moment but the next his self-serving jealousy is triggered and he bounds away in self-righteous moral fervor. Félix yo-yos between adoration and coldness, to the point that Lívia, though she still loves him, backs away out of sheer exhaustion after he accepts (no questions asked) an anonymous letter (penned by an Iago-esque competitor for Lívia's hand) accusing her of infidelity.
Félix could be catalogued as insane as well as misogynistic. Machado often played with the idea of determining who could be sane in an insane society. But I am also intrigued by critic Douglas Messerli's contention that Félix "can be seen as an early fin de siècle dandy, a man somewhat like characters out of works by Wilde or Huysmans, albeit not recognizing himself as homosexual." The title is ironic: Félix is not a dead man brought back to life because of love  — he is a man who appears to be alive, superficially receptive to passion, but is dead to the world and to himself. It is a melancholic vision of narcissism triumphant, all gloss and no gumption.
Out of his fascination with those who are dead-to-life Machado created magnificent tragicomedies, his hollow men bristling with serene self-consciousness, incisive observers of hypocrisy and duplicity. Life, seen from the perspective of restless soullessness, is transformed in his books into a dark and revelatory farce. Resurrection is too schematic to attain that kind of wild existential flight. The female characters are dupes — it is difficult to accept, even in this class-bound society, that they would not see through a man who jiggles like jello from day to day. Unusual for Machado, there is a touch of the sentimental here: Rachel and one of Félix's clueless buddies end up in wedded bliss. In nine years astounding novels would come, but there are rewarding intimations of Machado's mature vision in this rookie effort.
— Bill Marx
Free Love moves past clichés about personal liberation via some unexpected plot twists and characters whose conflicts and obsessions interact in surprising ways with the era's cultural shifts.
The conflicts at the core of prolific British author Tessa Hadley's new novel,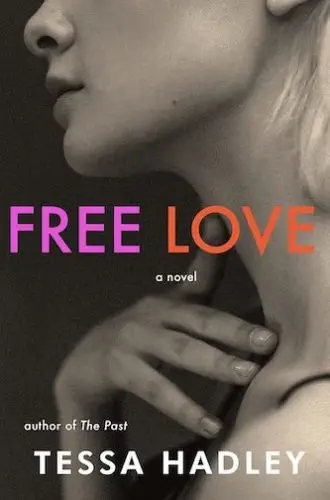 Free Love, reflect the dramas taking place, domestically, when the novel is set — the 1960s. But the author wisely assumes an attitude of circumspect nostalgia. Issues of sexual freedom, generational discord, romantic delusion, and coming-of-age (at any age) are skillfully woven together in the plight of a suburban London housewife, Phyllis, who stumbles into an affair with a much younger man, the son of a family friend. Rejecting her middle-class status, abandoning a decent husband (a foreign service worker) and two children, does not make Phyllis a particularly sympathetic character. But Hadley's elegant writing draws us into respecting her wanderlust. The artsy hippie types she joins up with among the younger crowd are a varied bunch. Part of Hadley's message is that the anti-establishment behavior and protest of the '60s were not only about making revolution. As Phyllis begins to acclimate to her new world, Hadley writes: "She was more drawn to the ones who talked about drugs and art and music, were often stoned and not at all earnest. They weren't waiting for the students and factory workers to bring about a new era. As far as they were concerned it had arrived already, they were helping themselves to it wholeheartedly." The '60s, for better or worse, were as much about an evolution in lifestyle as a political revolution.
Phyllis's nine-year-old son, Hugh, a sour child, rejects his mother's abandonment of the family. Her daughter, aptly named Collette, is 16 when the novel begins. She has already begun to rebel in her own way. A naturally brilliant student, she finds the shift in values and mores enticing but dizzying. In the midst of the menagerie of her mother's new friends, Hadley wittily describes her chagrin: "To steady herself she rehearsed in her mind the order in which the German states had joined the Zollverein" (I had to look up the reference). Collette is smart enough to recognize that the adults around her are playing roles, and that some of these turns are provisional. She takes up with a much older man, a successful sculptor who has no interest in success: "She watched him play up the role required of him: the untamed working-class genius, contemptuous and dangerous."
Free Love moves past clichés about personal liberation via some unexpected plot twists and characters whose conflicts and obsessions interact in surprising ways with the era's cultural shifts. About Phyllis, Hadley writes: "Painfully, she was taking apart her picture of the world, putting it back together differently." True, but she also accepts the consequences of her decisions, which changes all those around her, possibly for the better. It's left up to the reader to pass judgment on Phyllis's voyage of discovery. The melancholy conclusion is fitting, complicating Hadley's generous portrait of a woman who breaks free for the sake of passion and fulfillment.
— Tim Jackson
---
Visual Arts
The Andres Institute of Art is an exceptional example of what can be achieved when an organization is dedicated to maintaining high aesthetic standards.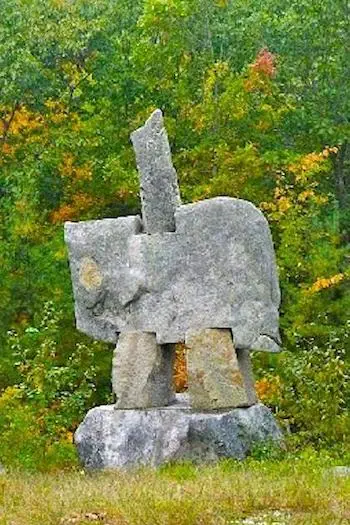 Too often, large public art collections are a hodge-podge of artworks of inconsistent quality. The reason is that, unfortunately, institutions with limited resources are often at the mercy of collectors and artists who desire a place "to store" their leftover large-scale pieces. But not always.
Located in Brookline, NH, the Andres Institute of Art is an engaging public art environment that makes for an enriching and easy Spring day trip from Boston. There are no superstars on this site, which is filled with sculpture and installation art, but there is much to admire in a place where nature and visual arts are so advantageously intertwined.
The Andres Institute of Art is an exceptional example of what can be achieved when an organization is dedicated to maintaining high aesthetic standards. Bought in 1996 by engineer Paul Andres, the Institute was formally created in 1998 as a nonprofit tax-exempt entity dedicated "to serve and advance the intellectual and social well-being of the public by educating and training artists, by promoting the integration of art and technology, and by supporting fine arts."
Sculptors from all over the world have visited, sometimes for residencies where they stayed with local volunteer families. Some of the visiting sculptors cut, bent, and welded steel; others split, shaped, ground, and polished New Hampshire granite. Stylistically, the work ranges widely.
Artists coming to Andres Institute have been guided by sculptor John Weidman, who has served as its artistic director since the public collection was founded. He is the very human creative glue that has kept the Institute thriving. He mentors the visiting artists and assists them in achieving their creative goals. Weidman's steadfast vision and constancy has fostered the distinctively nurturing spirit of the Institute.
A group of enthusiastic volunteers help with grooming and preparing sculpture sites. As the pieces are completed, volunteers move them from the studio to the sites — a relocation that calls for the use of  heavy equipment. Each year since the Institute sprang up on a former ski hill, new sculptures have been placed on the mountain. Trail maps help visitors locate each artwork. The creations range from roughly finished sculptures to refined stone carving, from steel rods as 3D drawings to structures sheathed in metal. There is an unmistakable air of creative spontaneity in the resulting mix of visual languages.
After a two-year postponement for Covid, an annual sculpture symposium will be revived in September.
— Mark Favermann
---
Theater News
Northern Stage is celebrating its 25th anniversary season with three world premieres — half of its upcoming schedule of six productions.
Adapted radio plays and live performances on Zoom are gone as the Stage returns to its home in the Barrette Center in White River Junction, VT. The company's newly constructed outdoor theater will house the season's first production, a revival of Side by Side by Sondheim.
The next three new works will follow in succession as fully staged productions on the indoor stage:
Shook (September 23 through October 23) by Alexis Scheer and Zoe Sarnak is the Northern Stage's first musical commission. The plot revolves around the sudden absence of a high-school student at a Shakespeare competition. The show explores the challenges of finding our voice and our roles during those formative adolescent years.
Next another world premiere, The Railway Children (November 23 through January 1, 2023), based on a British novel by Edith Nesbit. The narrative has been adapted for the stage by Carol Dunne, Northern Stage's producing artistic director, and assistant artistic director Eric Love. Designed to be a fresh alternative to traditional holiday fare, the drama speaks to the importance of a sense of place as it follows children who have been relocated from an urban center to a small railroad town that, according to Dunne, resembles White River Junction.
The third premiere, 'Bov Water (January 25 through February 12, 2023) brings playwright Celeste Jennings back to Northern Stage. Her earlier choreopoem, Citrus, premiered two years ago in the same space. It was canceled in mid-run because of the pandemic. This new work, also a choreopoem, uncovers the histories of four generations of Black women whose pasts have been erased, by intention or by accident.
The final two plays of the season are the Pulitzer Prize-winner Sweat by Lynn Nottage, set in a factory in Reading, PA, characterized by some as the poorest city in the United States, and a new stage adaptation (by Kate Hamill) of Jane Austen's Sense and Sensibility.
— By Susan B. Apel