By David Greenham
People, Places & Things memorably tackles the insidiousness of addiction.
People, Places & Things by Duncan Macmillan. Directed by David R. Gammons. Scenic design by Jeffrey Patterson. Costume design by Gail Astrid Buckley. Lighting design by Jeff Adelberg. Sound design by David Wilson. Video design by Adam Stone. Produced by Speakeasy Stage at the Calderwood Pavilion, Boston, through March 5.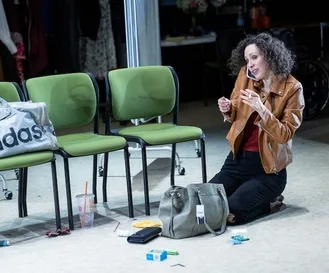 Mark (Nael Nacer) hits the nail on the head when he exhales and finally tells Emma (Marianna Bassham) "You're a nightmare." Emma is an actress, an alcoholic, and a drug addict. A major fritz from functioning to nonfunctioning occurs during the final moments of a production of Anton Chekhov's The Seagull. Emma is playing Nina, a struggling actress. Clearly something is wrong. Roles are blurred. Sometimes, the show must not go on.
We next meet Emma in the lobby of a rehab center, where she smokes, snorts a line of coke, and berates her mother on the phone. Emma has hit bottom — well, not quite. She introduces herself to others as Nina. The intake manager, Foster (a compelling Kadahj Bennett), as well as a Doctor and Therapist (both played with confidence by Adrianne Krstansky), have heard it all before. Foster explains their skepticism about "Nina's" story: "Every one of us is here for the same reason and we're all very good at lying. We're also good at spotting liars."
By the time she is ready to join the group discussions with other addicts in recovery, Nina has confessed that her real name is Emma. But then she shares Hedda Gabler's story as her own. She is still not ready to admit the truth.
English playwright Duncan Macmillan's 2015 play digs into addiction in the same harrowing ways his 2013 play Every Brilliant Thing probed mental illness and suicide. Bassham directed the 2018 production for the Speakeasy and Krstansky starred.
People, Places & Things tackles the insidiousness of addiction. The Doctor tells Emma, "Your addiction will fight any progress. It's a parasite and it will fight for its own survival until you're dead." Rehab won't begin until the truth is faced. The bedeviling irony is that this addict is an actor, more comfortable embracing the truth of false narratives than facing the hard facts about herself. Emma herself makes this connection when she admits, "Acting gives me the same thing I get from drugs and alcohol. Good parts are just harder to come by."
SpeakEasy Stage recognizes that the subject matter of the play may hit close to home for some. The material requires a deft hand, and director David R. Gammons and his troupe bring humor, fear, and sorrow to the two-and-a-half-hour production, with an intermission.
Bennett's Foster, Nacer's Mark, and Krstransky's Doctor and Therapist make various arguments for breaking away from addiction convincingly. The ensemble of Josephine Moshiri Elwood, Parker Jennings, John Kuntz, Victor Shopov, Shanelle Chloe Villegas, and Sharmarke Yusuf seamlessly provide the wattage necessary to illuminate the rocky path of Emma's recovery efforts. But the center of People, Places & Things is Emma, and Bassham supplies a tour de force performance, raw, unsteady, and electric. Her Emma is a spectacular liar, and that's where playwright Macmillan successfully hooks the audience. The world of this play embeds us in the kinds of uncertainties that creep around and about our own lives. There, but for the grace of God….
In fact, Macmillan even pokes at the chink in the armor of Bill W and Alcoholics Anonymous. The Doctor tells Emma that A.A. has helped many people, but Emma pushes back: "You want me to conceptualize a universe in which I am the sole agent of my destiny and at the same time acknowledge my absolute powerlessness. It's a fatal contradiction and I won't start building foundations on a flawed premise."
At its core, People, Places & Things should make you think about, as well as feel compassion for, lost souls. But there's a duality at work here. The drama is a voyeuristic journey into some very troubled lives. We sit, uninvited in some ways, and watch a person's life break apart. The director, cast, and design team collaborate to keep us entertained, surprised, and shocked enough that we root for Emma. There is an element of exploitation here — Emma's lies are diverting as well as horrific.
Scenic designer Jeffrey Petersen has created a flexible and open setting that can transform itself in an instant, while Jeff Adelberg's lighting contributes to an atmosphere of pulsating tensions, including intimations of the glaring starkness one must feel when facing their addictions head on. Both designers remind us that, while we're absorbed in the story, we're watching a production. Gammons demonstrates his directorial strengths in his handling of naturalistic scenes. The more abstract moments in the production feel a little less fully formed.
In his program note, artistic director Paul Daigneault explains that it took two years for the company to obtain rights to the show, and the production was delayed an additional year due to Covid. It seems to me, given where we are now, that the timing is perfect. The play was widely lauded when it opened six years ago, but the affliction of addiction has only become more relevant since then.
Also, the pandemic has prompted each of us — well, many of us — to reexamine our identity and the roles we play. Remote work, closed gathering places, and isolation all but eliminated the kinds of small talk that filled so much of our time. We were addicted to a lifestyle that had become too fast for reflection. We thought that's what we needed. Emma's narrative bubbles with similar justifications. She leads a life in which she has no firm grasp of the truth about herself and others: she exists in a blur among lies and half-truths. The pandemic — putting the current political and social circus aside — have led many to grapple with the way they have led their lives. "The great resignation," for example, may be a by-product of that reassessment. For some, the Covid pause has been a version of rehab, an opportunity for a new start — by facing the truth.
People, Places & Things wisely avoids giving us answers. Emma's journey to recovery is most assuredly not over, regardless of what she thinks. The only thing that is clear to us now is that, as for Emma, life won't ever be the same as it was before. There is hope in that.
---
David Greenham is an adjunct lecturer of Drama at the University of Maine at Augusta, and is the executive director of the Maine Arts Commission. He has been a theater artist and arts administrator in Maine for more than 30 years.