By Ralph P. Locke
Tenor Mathias Vidal shines, as does the period-instrument orchestra, in the rarely heard, trimmer version of 1761, on the Chateau's own new award-winning label.
Jean-Philippe Rameau: Les Indes galantes (1761 version)
Ana Quintans, Emmanuelle de Negri, Julie Roset, Mathias Vidal, Alexandre Duhamel, Edwin Crossley-Mercer, Guillaume Andrieux.
La Chapelle Harmonique Orchestra and Chorus, cond. Valentin Tournet.
Chateau de Versailles Spectacles 031 [2 CDs] 150 minutes.
To purchase or hear the beginning of each track, click here.
Classical music (or, as I prefer to call it, Western art music) has — for better or worse — become a niche market. Gone are the days when Caruso records could be found in modest American homes and people from coast to coast listened to Toscanini and the NBC Symphony Orchestra. There are remnants of it, of course. The Met still reaches multimillions on radio, in the movie theaters, and on TV and streaming. And some performers who are willing to dilute the product for mass consumption, such as Andrea Bocelli and André Rieu, give pleasure to many.
But the market for lesser-known works and for carefully pondered, innovative, and fresh readings of repertory staples is much more limited. Hence the rise of various niche CD labels such as the dozens of Orfeo releases of opera recordings (some historic) or Hyperion's dozens of releases of Romantic and post-Romantic piano concertos.
The latest niche label to come to my attention is Château de Versailles Spectacles. I found out about it when I was sent this 2-CD set to review: Rameau's Les Indes galantes, in a shortened version from 1761.
Well, I'm late to board this train! Turns out the label has been in existence for around five years and has released nearly 50 CDs and a dozen CDs. And it has just won a special "Label of the Year" award from the International Classical Music Awards, a pan-European organization (taking Europe as extending from the UK to Turkey). The judges declared the label "one of the most relevant in the international market, especially in the field of Baroque and Early Music." They emphasized "the attractiveness of the works (many of them world premiere recordings and practically all of them recorded in the Palace of Versailles), the quality of the ensembles and artists, the excellent quality of the sound recordings and a presentation so luxurious that it can only be described as Versaillesque." The recordings were mostly made in the chateau's intimate chapel or its likewise modestly proportioned opera house, which was restored in 2007-9. (Aha, I just noticed that I did praise — in American Record Guide —a DVD that they released of Jean-Jacques Rousseau's Le Devin du village. Here's a good online review.)
This video (below) gives a sense of the range and quality of the Versailles label. The recordings are available through the usual retail dealers and also on the major streaming services.
The orchestra and chorus heard on the new recording of Les Indes galantes were founded in 2017 by its conductor, Valentin Tournet. The orchestra sounds small, but is spirited and plays nicely in tune; the chorus numbers 25 and often sounds fuller than the orchestra. (The same forces have released a recording of Bach's Magnificat and Christmas cantatas — hailed almost unstintingly by record critics.) I was sometimes annoyed by slap-back echo from the opera-house auditorium; perhaps the hall was mostly empty, which tends to allow more sound to bounce around. Generally, though, the acoustics worked just fine.
I welcome this latest recording of what is Rameau's single best-known stage work. The singers are mostly Francophones, which helps them put the sung texts across. The vocally splendiferous Ana Quintans is from Portugal, the solid if more prosaic Edwin Crossley-Mercer from England.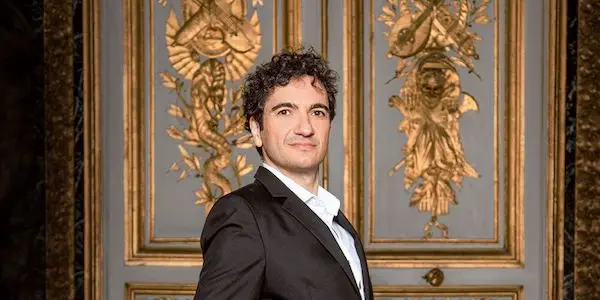 All sing with steady tone, including one of my favorite light tenors active today, the eloquent Mathis Vidal. Like most of the others, he takes several roles, which in his case include Don Carlos in the first entrée, "Les Incas du Pérou." I have loved his sound since I heard him in a secondary role in Saint-Saens's marvelous opera Proserpine (which I reviewed here).
Bass-baritone Alexandre Duhamel sings a single role (Huascar in "Les Incas"). His high register is eloquent: more impressive than in earlier recordings on which I have heard him, namely two recordings of Ravel's L'Heure Espagnole (I reviewed both here) and Offenbach's La Périchole (which I reviewed here). But the voice does not bloom on the role's lowest notes.
The other baritone, Guillaume Andrieux, is rather pale in the roles of the Turkish pasha Osman and the Native American Adario and, again, lacking in the deep end. I'm not quite sure why French baritones these days are often less vivid than French tenors. Perhaps part of it is the decades-long (and widespread — not just in France) de-emphasis on singers' developing their lower register — a problem pointed out in Conrad L. Osborne's recent important book Opera As Opera.
Les Indes consists, in its fullest version (1736), of a lengthy prologue about Love and War, plus four separate one-act operas, known at the time as entrées. The biggest drawback of the recording is that it uses the version of 1761, which omitted the third entrée: "The Flowers: Persian Festival." If you don't already own a recording of Les Indes galantes, I'd therefore point you instead to William Christie's first-rate, and complete, recording, which has been much praised over the past 30 years. (It is currently only available as part of a 10-CD set of Rameau recordings by Christie, but used copies of the three-CD release can be found.) Malgoire's fine version from 1974 has been rereleased on Sony, and there is even a previous recording of the 1761 version under Vashegyi (recorded 2018). There are also no fewer than three estimable DVD versions, conducted respectively by Christie, Ivor Bolton, and Christophe Rousset (the Rousset uses yet another later version: 1760 "Toulouse"). Christie's DVD is superb except for the jokey choreography in the final entrée ("Les Sauvages").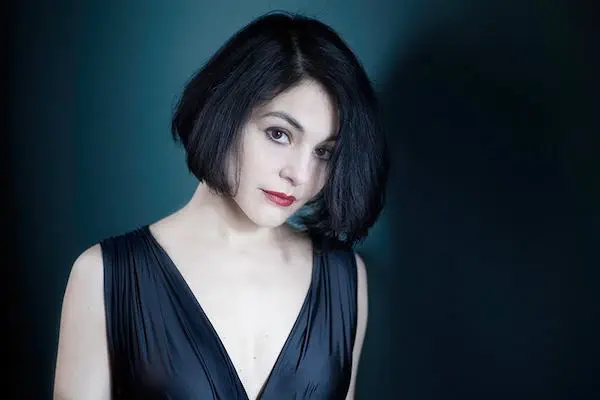 The recording was made over three days in November 2019 plus two in June 2020 (during the pandemic). I hear no evidence of an audience, yet the performers all seem well focused on the drama at any given moment, without ever sacrificing beauty of tone and line.
The booklet contains two essays, neither of which explains why the 1761 version was chosen. Perhaps because it takes two CDs instead of three? Perhaps because the Persian entrée includes so many dance numbers and therefore makes a lesser effect on CD than when seen on stage? (Oh, but Rameau's dance music is delectable as a purely aural experience!)
The first essay is misleading in spots, implying that the work's first performances, in 1735, included "Les Sauvages" (the final entrée), though that in fact was not added until a revival a year later.
The photo on the front is likewise misleading: it almost surely shows a modern Mardi Gras participant (perhaps in New Orleans). That is a celebratory and life-affirming event, but Les Indes galantes raises, however entrancingly, a number of serious issues. These include tyranny, slavery, imperialism (and the theft of a land's natural resources), and, in love relationships, extreme jealousy (or its polar opposite: flightiness). I should, though, mention one imaginative touch: we hear the painfully symbolic sound of clanking chains — well integrated rhythmically with the music — during the dance for the African slaves in the Turkish entrée.
---
Ralph P. Locke is emeritus professor of musicology at the University of Rochester's Eastman School of Music. Six of his articles have won the ASCAP-Deems Taylor Award for excellence in writing about music. His most recent two books are Musical Exoticism: Images and Reflections and Music and the Exotic from the Renaissance to Mozart (both Cambridge University Press). Both are now available in paperback; the second, also as an e-book. Ralph Locke also contributes to American Record Guide and to the online arts-magazines New York Arts, Opera Today, and The Boston Musical Intelligencer. His articles have appeared in major scholarly journals, in Oxford Music Online (Grove Dictionary), and in the program books of major opera houses, e.g., Santa Fe (New Mexico), Wexford (Ireland), Glyndebourne, Covent Garden, and the Bavarian State Opera (Munich). The present review first appeared in American Record Guide and appears here with kind permission.