Compiled by Bill Marx
As the age of Covid-19 wanes (or waxes?), Arts Fuse critics supply a guide to film, dance, visual art, theater, and music. Please check with venues about whether the event is available by streaming or is in person. More offerings will be added as they come in.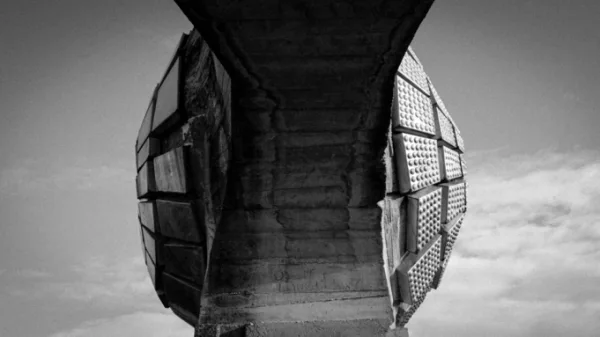 Last and First Men
Through February 8
Brattle Theatre, Cambridge
Two years after his death, the only movie made by the Icelandic film composer Jóhann Jóhannsson has finally become available. It is a 70-minute cine-novella (or essay film) that meditates on humanity's future and what it means, or will mean, to be post-human. The score by Jóhannsson suitably accompanies the film's unearthly images. It was inspired by British philosopher and science-fiction author William Olaf Stapledon's 1930 novel.
The DocYard Spring Series
A hybrid option is available for Series Passholders.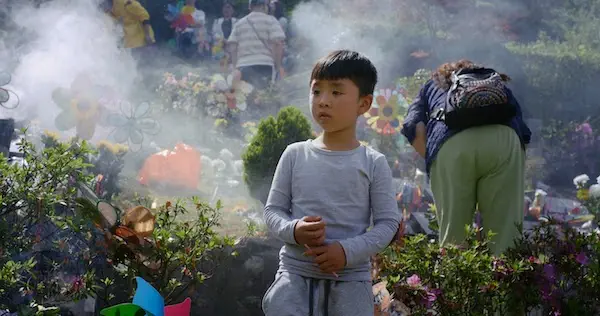 After the Rain
February 7 at 7 p.m.
Brattle Theatre, Cambridge
"Ten years after finishing The Next Life, filmmaker Fan Jian returns to Sichuan in a longitudinal sequel to his earlier film, following two families who were encouraged to replace the children they lost in the 2008 Sichuan earthquake. The families originally connected because they had both lost daughters named 'Rain.' Reconnecting with the families ahead of the 10th anniversary of the earthquake, this film introduces the families' backgrounds before picking up poignant emotional and narrative threads examining long-term trauma, recovery, and the weight of family expectations."
Rock Bottom Riser
February 21 at 7 p.m.
Brattle Theatre, Cambridge
"An internationally-respected 16mm experimental filmmaker, Fern Silva tackles the feature-length form for the first time in this incisive film essay, which takes as its opening salvo an aural meditation on the colonial implications of visual imagery, before swooping in to view, terrifyingly closely, magma flows from the volcano Kīlauea. Over the course of the film's runtime, the art-as-research methodology examines more serious topics like Polynesian navigation techniques, Indigenous epistemologies, the Thirty Meter Telescope (TMT) land defenders, and pop culture depictions of Hawai'i, as well as more playful and irreverent puns on the word 'rock.'" Silva will participate in a Q&A moderated by DocYard curator Abby Sun following the screening.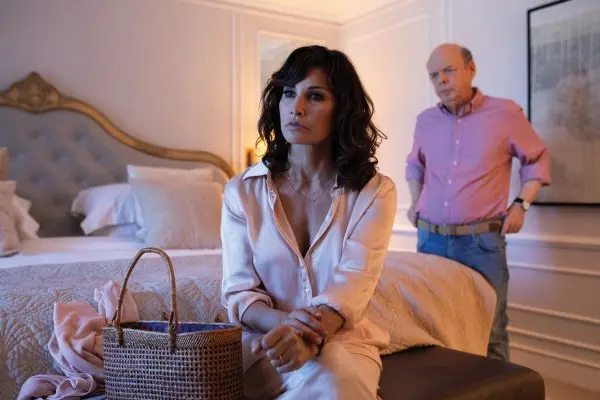 Rifkin's Festival
Kendall Square Cinema, Cambridge
Currently Playing
For those curious about Woody Allen, his latest film, from 2020, is finally being released. A married American couple goes to the San Sebastian Festival and gets caught up in the magic of the event, the beauty and charm of the city and the fantasy of movies. It features Wallace Shawn, Gina Gershon, Louis Garrel, and Christoph Waltz.
Strawberry Mansion
February 18 – 24
Brattle Theatre, Cambridge
James Preble is a tax auditor "who has to scan his clients' recorded dreams for hidden expenses. This makes a rough kind of sense in Kentucker Audley and Albert Birney's endearingly cash-strapped sci-fi fantasia, set in a 2035 of papier-mâché futurism and defiant analog aesthetics — or rather, its senselessness is supported by the film's fuzzy, absurd world-building." (Variety)
The Ax Wound Festival of Shorts
February 18 at Midnight
Coolidge Corner Theatre, Brookline
The ten short films in this festival are an eclectic selection of horror films written and directed by women and non-binary filmmakers from around the world. The foundational ethos of the gather is rooted in and inspired by DIY guerilla art movements and grassroots activism. The focus is on highlighting an eclectic community of storytellers whose work spans horror in all its forms in the no-wave, lo-fi, and mainstream spaces.
47th Annual Boston Science Fiction Festival and Marathon
February 16 – 21
Somerville Theater, the Crystal Ballroom, The Burren and Virtually
Since this festival began two decades ago at the old Orson Welles Cinema near Harvard Square, the genre has evolved from tacky to engaged, tackling real world issues. This venerable gathering celebrates its approach to a half century with six days of screenings and activities, including 70 shorts, 30 features, 10 workshops and panels, plus several live appearances.
The Creature Double Feature for February 19, a pair of classic sci-fi films, is yet to be announced. The Annual 24 Hour Marathon will again screen from noon to noon February 20 to 21.
This year will see the presentation of the first Costume Ball at the Somerville Theatre's new Crystal Ballroom on February 16. It will be emceed by Boston-based drag entertainer and Miss Gay Massachusetts 2018, Qya Cristál.
Full Schedule of Events.  Tickets
Indie Pick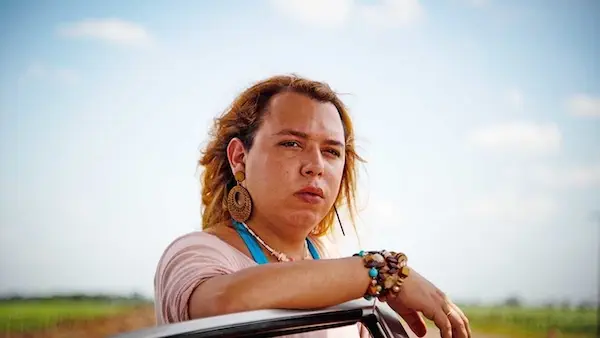 Madalena
Currently available on Mubi
In its epilogue, Madalena reminds us that Brazil has the highest number of transsexual murders in the world. The woman of the title is a transsexual we will never meet. Her body lies in a soy field. "This is not a crime procedural or a whodunnit. What Madalena does provide is a haunting and unsettling snapshot of the cultural and societal references that support intolerance in this deeply religious, patriarchal and macho part of rural Brazil that remains connected and influenced by the modern world and yet at the same time cut off and tethered in the past." (Filmuphoria) Like Bong Joon-ho's Memories of Murder or the more recent movie, Pig, director Madiano Marcheti's beautiful, meditative film preferences place and culture over traditional plot and conflict.
— Tim Jackson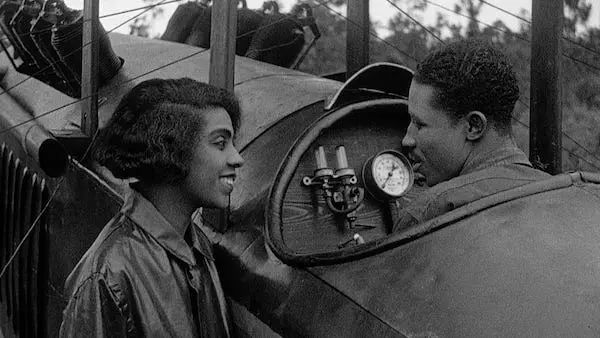 The Flying Ace
February 18
At 7:30 p.m. at the Regent Theatre, 7 Medford St., Arlington, Mass. The screening will feature live music by Jeff Rapsis, a New Hampshire-based silent film accompanist.
A rare chance to see — on a big screen — a rare surviving example of one of the silent films produced for Black audiences in segregated cinemas. Released in 1926, The Flying Ace was produced by Norman Studios in Jacksonville, Fla., using professionals such as Laurence Criner, a veteran of Harlem's prestigious all-black theater troupe the Lafayette Players. There were also many non-professionals cast in minor roles.
"Criner plays Capt. Billy Stokes, a World War I fighter pilot known as "The Flying Ace" because of his downing of seven enemy aircraft in France. Returning home to resume his former job as a railroad detective, he's assigned to locate a stationmaster who's gone missing along with the $25,000 company payroll. While investigating, Stokes begins romancing the stationmaster's daughter Ruth (Kathryn Boyd), causing a rivalry with another suitor which leads to a break in the case. With Ruth's safety now at risk, Stokes' dogged pursuit of the suspects leads to climax highlighted by a dramatic airborne chase which calls upon his piloting prowess."
— Bill Marx
---
Popular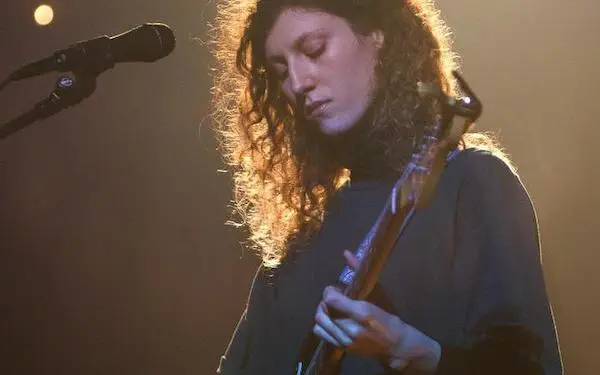 Squirrel Flower with Lady Pills and Lightning Bug
February 10 (doors at 7, show at 8)
The Sinclair, Cambridge, MA
At the time, January 31, 2020 seemed like as good of a release date for one's first full-length recording as any. Unfortunately, many musicians whose records dropped at that time – or shortly before or thereafter – ended up having to cancel shows or entire tours in support of it. Fortunately, Boston-area native-turned-Chicago-area resident Squirrel Flower (born Ella Williams), was able entertain Great Scott patrons on March 7, "the weekend before," to quote Allston Pudding's Jackie Swisshelm, "shit got real with coronavirus shutdowns in Boston." Since last June, Squirrel Flower has released the superb follow-up album Planet (i), opened for Soccer Mommy (including back-to-back nights at the Paradise), won Alt/Indie Artist of the Year at December's Boston Music Awards, and issued the seven-track Planet EP last month. She will headline The Sinclair on Thursday.
— Blake Maddux
---
Theater
COVID PROTOCOLS: Check with specific theaters; requirements often include proof of vaccination or a negative Covid-19 rapid test. Also, companies are requiring masks at indoor performances.
Today is My Birthday by Susan Soon He Stanton. Directed by Mina Morita. Staged by Yale Repertory Theatre, 1120 Chapel Street, New Haven, CT, through February 19. Production will be available to stream on-demand February 20 through March 5.
The Yale Repertory Theatre begins this season's performances with "a comedy about loneliness in the age of connectivity."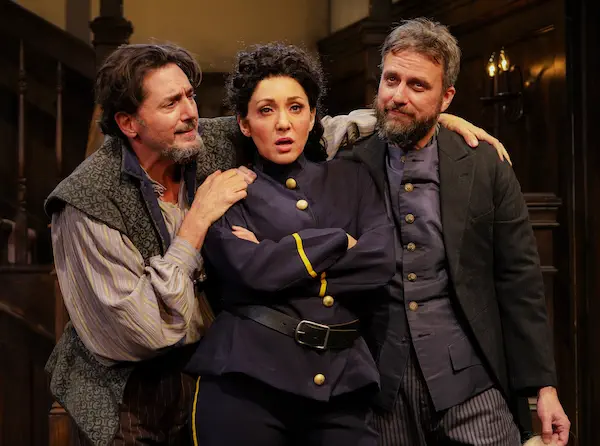 The Alchemist by Ben Jonson. Adapted by Jeffrey Hatcher. Directed by Jesse Berger. Staged by Red Bull Theater at New World Stages, 340 West 50th Street, New York, streaming through February 14.
Jonsonians rejoice! A chance to see (an adaptation of) the 1610 script, first performed by the King's Men, that Samuel Taylor Coleridge considered to have one of the three most perfect plots in literature. Has anything changed? Bullies of all description still fleece each other during plague time. "When a wealthy gentleman flees to the country, his trusted servant opens his house to a pair of con artists who set up an animated den of criminal capitalism. Claiming alchemical powers, the quick-witted trio fleece an onslaught of greedy sheep with their miraculous ability to improvise amidst increasingly frantic comings and goings. It's comic gold with dupes, double-dupes, duels, disguises, and a lucky flea named 'Lewis.'"
I hope Hatcher didn't get rid of one of Jonson's great jokes. Lovewit, panicked member of the upper-middle class, returns home to London once he believes it is safe, but he is wary. (He has kept his distance "While there dies one, a week, / O' the plague." Some claimed that corrupted human breath could transmit the disease, which explains Lovewit's nervous instructions to a servant (who insists he has not been ill) to "Breathe less, and further off." Jonson knew that the audience members at the show, hearing that line, would look nervously at those seated around them. The plague was not entirely gone in 1610.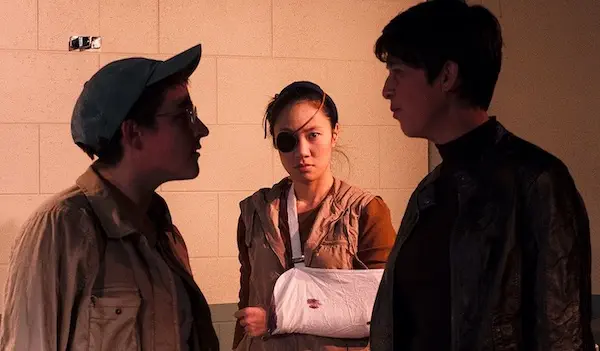 Shrike: A Tale of the Post Apocalypse by Erin Lerch. Directed by Josh Glenn-Kayden. A virtual staging by Fresh Ink Theatre Company, through February 28.
The science fiction plot: "When the alien Legion came, Sheena lost everything. All she has left is one final, unlikely dream: the Rebellion. But when she arrives, it's to a Rebellion shattered by the loss of its leader, pushed to increasingly desperate measures – including working with their alien enemy. As tensions mount, Sheena has to face the question: when you have nothing left, what do you fight for?"
People, Places & Things by Duncan Macmillan. Directed by David. R. Gammons. Staged by SpeakEasy Stage Company at the Stanford Calderwood Pavilion at the Boston Center for the Arts, 527 Tremont Street, Boston, through March 5.
The New England premiere of a play that "tells the story of Emma, a 30-something actress who thinks she is having the time of her life, until she finds herself in rehab. Though her first step is to admit she has a problem, Emma just wants to escape — through drugs, alcohol, performing — anything that allows her to avoid her own reality. To fight for her recovery, though, Emma will need to face the truth; yet she's smart enough to know that there's no such thing. And when intoxication feels like the only way to survive, how can she ever sober up?
Content Warning: contains depictions of drug and alcohol use, and discussion of self-harm.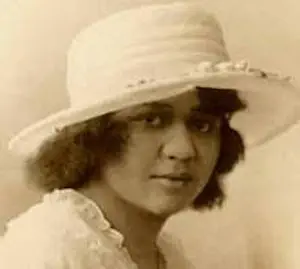 Knock Me a Kiss by Charles Smith. Directed by Regge Life. A staged reading presented by Multicultural BRIDGE and Shakespeare & Company at the Tina Packer Playhouse, 70 Kemble Street, Lenox, MA, February 18 at 7 p.m.
The script "tells the story of the 1928 marriage of W.E.B. Du Bois' daughter Yolande to one of the great poets of the Harlem Renaissance, Countee Cullen. This union between the daughter of one of the country's most well-known black intellectuals and a poet and leader of the New Negro movement begins with great pomp and circumstance, but soon, love – and life – step in the way." The production will be followed by a panel discussion and question-and-answer session.
Mr. Parent by Melinda Lopez with Maurice Emmanuel Parent. Conceived with and directed by Megan Sandberg-Zakian. Staged by the Lyric Stage Company of Boston at 140 Clarendon Street, 2nd Floor, Boston, through February 6. Streaming from February 7 through 20.
World premiere production of "a one-man performance based on actor Maurice Emmanuel Parent's real-life adventures teaching in an urban public school system."
An Octoroon by Branden Jacobs-Jenkins. Directed by Joe Wilson, Jr. Staged by The Gamm Theatre, 1245 Jefferson Blvd., Warwick, RI., through February 20.
A revival of a powerful, Obie award-winning drama about American racism that earned the praise of an Arts Fuse critic for the way it eschewed "delivering a standard moral message. Jacobs-Jenkins gives us a thorny ethical dilemma that explores what matters to us now. It is all about how Black Lives Matter."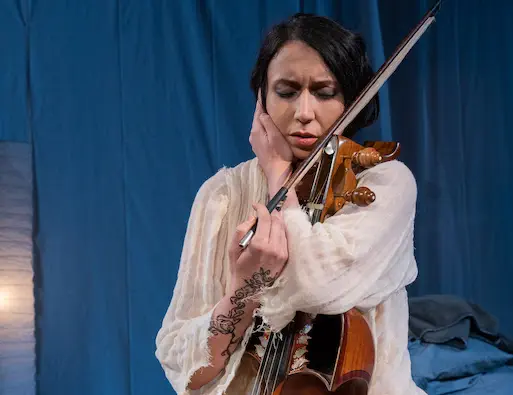 The Cellos' Dialogue by Deniz Khateri. Directed by Yekta Khaghani Composer and Sound Designer, Bahar Royaee. Stages by Un-آن Theatre Ensemble. A live streaming performance presented by GUERILLA UNDERGROUND on February 11 at 7:30 EDT.
"Un-آن is a New York-based experimental theatre company founded by Iranian female artists. The Farsi word آن (/ʌn/) means "moment" and "aura." This is "a multidisciplinary play created by the ensemble that tells the story of a woman from the Middle East who struggles with an unexpected pregnancy after immigrating to America. Musical experimentation, puppetry, and projections paint an expressionistic portrait of this woman's tortured psyche as she wrestles with her circumstance and explores the deeply resonant issues of war, gender identity, and abortion."
Canary in the Gold Mine, written & performed by Jonathan Mirin. Directed by Deanna Fleysher. Staged by Piti Theatre. Streamed online February 11 through 13.
"Locked down during COVID and desperate to make theatre, Piti Theatre's Jonathan Mirin turns the camera on . . . himself, telling the story of the mysterious symptoms his life and production partner Godeliève began experiencing a decade ago. Increasingly unable to leave the house and take care of their new baby, the couple contends with the growing likelihood that her illness is environmental – and inescapable. Godeliève's severe neurological symptoms are triggered by exposure to the wireless radiation that the rest of society is passionately embracing to connect devices and upload cat videos. As her electro-hypersensitivity (EHS), (a.k.a. "microwave sickness.") worsened, Mirin found himself compelled to become a public health advocate, activist & petitioner in a landmark legal case against the FCC." Live, online post-show discussions with collaborators & guest experts will follow each online performance.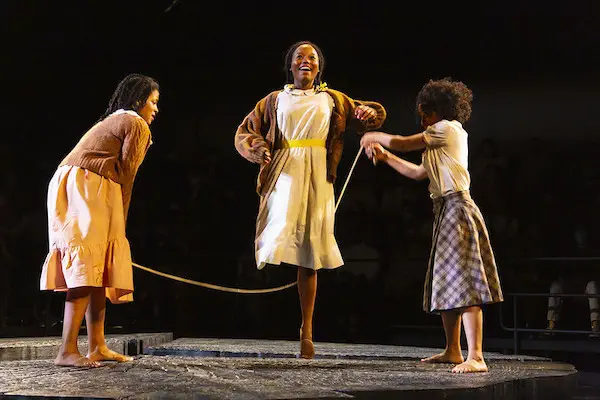 The Bluest Eye, an adaptation of Toni Morrison's novel for the stage by Lydia Diamond. Directed by Awoye Timpo. Staged by the Huntington Theatre Company at the Calderwood Pavilion at the Boston Center for the Arts, 527 Tremont Street, South End, Boston, through March 26. (Digital access to the filmed performance begins February 14 and is available until April 9.)
The play, like the novel, tells the story of Pecola, a young Black girl who believes the world would be wonderful if she could have blue eyes. Arts Fuse review.
— Bill Marx
---
Visual Arts
The Worcester Art Museum's Us | Them | We Race X Ethnicity X Identity is yet another take on the race-ethnicity-identity nexus as expressed in visual art. Opening February 19, the show uses four lenses —  Text, Juxtaposition, Seriality, and Pattern — to look at how artists use art as a "means of storytelling, protest, and celebration." The more than 50 works on view encompass photography, prints, painting, and sculpture from Worcester's permanent collection and on loan and includes works by Byron Kim, Robert Lugo, Edgar Heap of Birds, and Lorna Simpson.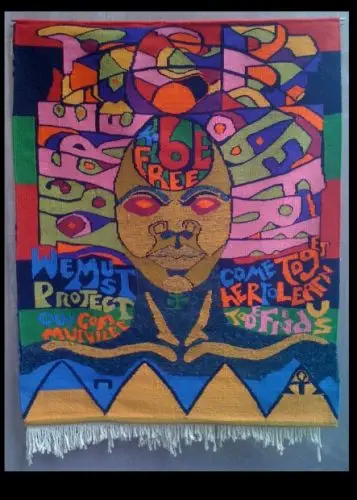 The Chicago-born artist Napoleon Jones-Henderson, who has been based in Roxbury, MA since 1974, is a founding member of the artists' collective African Commune of Bad Relevant Artists (AfriCOBRA) and has, over a 50-year career, created works inspired by the colors, graphic styles, and lives of the African diaspora as well as by his involvement in his own Boston community. Napoleon Jones-Henderson: I Am as I Am— A Man, opening at Boston's Institute of Contemporary Art on February 17, features Jones-Henderson's brilliantly-hued woven textiles that mix influences from African ritual objects and Southern vernacular architecture to the music of Duke Ellington, Stevie Wonder, and Sun Ra. It will be his most comprehensive solo museum show in Boston.
Among the hidden gems of the New England cultural landscape are the campus art museums that grace many of the region's college campuses. Usually free to visitors, intimate in scale, picturesque in setting, these intellectually distinctive institutions can often house delightful surprises (the Edwin Romano Elmer paintings at Smith, for example) many of them donations of collecting alumni who didn't have to pass their choices through collections committees.
Without the need to attract large, off-campus crowds, these museums can host stimulating or provocative exhibitions that larger institutions tend to avoid. But, with an on-campus population to protect from infection, the COVID-19 pandemic has closed many academic museums to the outside public completely and left others with limited or intermittent schedules. As vaccinations slowly have eased the threat of infections, more are reopening to the general public. Pandemic protocols vary widely, however, so be sure to always check before you set out.
Dartmouth College's Hood Museum of Art opens Photographs from Hollywood's Golden Era: The John Koral Foundation Collection on February 19.  The exhibition marks the completion of  the transfer to the Hood of some 6,000 photographic prints made inside Hollywood's film industry from the '20s through the '60s, encompassing stills, set images, studio portraits, and publicity shots — an extraordinary resource for the study of American movie-making. This show provides a taste of the vast riches of the collection, focusing on portraits of Hollywood royalty and set photographs.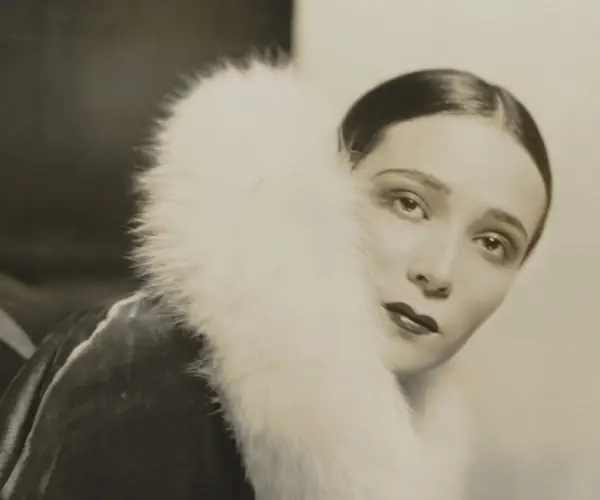 Way up north in Waterville, Maine, the Colby College Museum opens a selection from its collection of more than 500 photographs, from the 1880s to the present. They were assembled by Dr. William Tsiaras and Nancy Meyer Tsiaras, both Colby College Class of '68, and donated to the museum in 2020. An ophthalmologist, Dr. Tsiaras became interested in photography through his patients, which included influential photographers and faculty members at the Rhode Island School of Design's Photography Department. The exhibition, Act of Sight: The Tsiaras Photography Collection opens February 10 and includes about 150 works, among them classic examples by Aaron Siskind, Harry, Callahan, Ansel Adams, Berenise Abbott, Gordon Parks, Helen Leavitt, and many other celebrated artists of the medium.
Hartford, Connecticut-born Sol LeWitt, who died in 2007, was often described as a "conceptual" artist — part of a late 20th-century art movement that aimed to move art from the practice of making physical objects to the realm of pure ideas. Yet, looked at as a whole, LeWitt's prodigious life output seems much more traditional, encompassing wall murals, drawings, sculpture, and a vast range of prints of all types, from lithographs, silkscreens, and acquaints to woodcuts, linocuts, and etchings. Strict Beauty: Sol LeWitt Prints, opening at the Williams College Art Museum on February 16, presents the most comprehensive display of LeWitt's prints today, beginning with the artist's earliest, figural prints, made at Hartford and Syracuse University, through the explorations of line, geometry, and pattern that make up his mature work.
— Peter Walsh
---
Roots and World Music
Daymé Arocena meets Berklee
February 10
Berklee Performance Center, Boston
The Berklee Signature Series is a particularly welcome post-lockdown return. The concerts pair student ensembles with master musicians from around the world. Besides giving the budding musicians and arrangers a chance to collaborate with a big name, the set-up also allows the headlining artists the opportunity to play in large-group contexts, going them opportunities to expand their sound well beyond what they can do with their regular touring bands. Up next is Afro-Cuban singer and songwriter Daymé Arocena, whose music ranges from traditional Afro-Caribbean Santeria to modern jazz and R&B. This is a rescheduled show which was originally slated for November.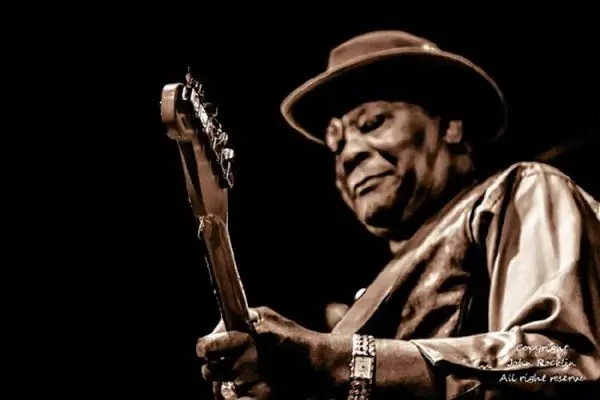 Luther "Guitar Jr" Johnson
February 18
The Porch, Somerville
The deaths last week of Sam Lay and Jimmy Johnson were yet another reminder that the number of old-guard Chicago bluesmen is rapidly shrinking. Happily still with us is Luther "Guitar Jr." Johnson. The Mississippi native and longtime New England resident made his way to Chicago in the '50s with the Great Migration, and ended up as Muddy Waters' guitar slinger. Making the night extra special will be the presence of the great honker "Sax" Gordon Beadle, who got his start as one of Johnson's Magic Rockers before launching his own international career.
Sandeep Das & Nino de los Reyes: Rhythm of Life
February 19, 3 p.m.
Cambridge Multicultural Arts Center, Cambridge
A project helmed by an Indian tabla player and a Spanish flamenco dancer might at first glance seem like a shotgun marriage of a fusion project. But it's actually a reflection of how the Roma people trace their heritage to India and have had an outsized influence on Spanish music and dance. Also in the ensemble are Indian sarangi player Suhail Yusuf Khan and flamenco singer Jose Cortes. In-person admission to this distinctive Celebrity Series presentation is free with a reservation. A recording will be streamed online starting in March..
Black Opry Revue
February 22
City Winery, Boston
After decades of only limited recognition for country music artists of color, some of the barriers seem, finally, to be cracking. Rather than wait for Nashville to completely come around, the Black Opry is creating its own live and online platform. It's now taking its show on the road. Considering that this is an event arising out of the need to increase representation, it's rather ironic that the City Winery can't be bothered to list this evening's artists on its website. Those who are curious should look at the Black Opry site, which shows that Grace Givertz, Roberta Lea, Jett Holden, Tylar Bryant, and Auturn Nicholas will be performing both their own sets and in the round.
— Noah Schaffer
---
Jazz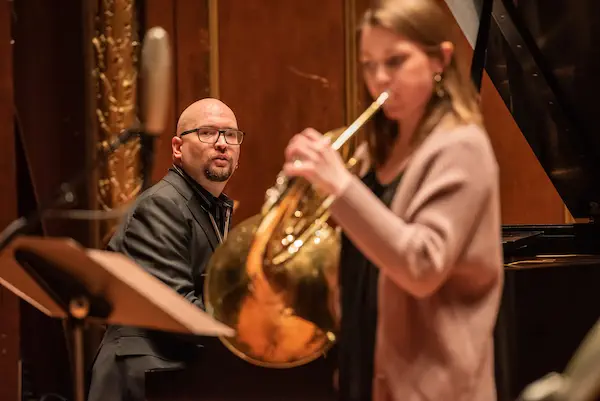 Ethan Iverson
February 7 at 7:30 p.m.
Jordan Hall, New England Conservatory, Boston
NEC faculty member Ethan Iverson earned his initial renown as a founding member of the Bad Plus, but his interests and projects have ranged far and wide, including a long stint as pianist in the trio of the late, great Paul Motian, and his own work as a leader. In this NEC faculty show, he'll be celebrating the release of his Blue Note debut, Every Note Is True, with trio-mates Larry Grenadier on bass and Nasheet Waits on drums. The concert will also feature the American premiere of Iverson's Ritornello, Sinfonias, and Cadenzas, a through-composed, 40-minute suite for eight horns and rhythm section played by members of the New England Conservatory Jazz Orchestra. This is scheduled to be a live, free concert, but life in COVID is unpredictable, so check the NEC site for updates and COVID required protocols.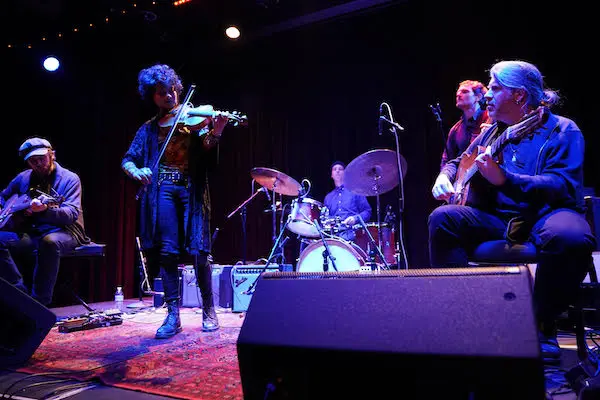 Stephane Wrembel
February 12 at 7:30 p.m.
Chelmsford Center for the Arts, Chelmsford, Mass.
The "gypsy jazz" of guitarist Django Reinhardt has become a niche in its own right in the world of swing-era jazz, with entire Django festivals built around the music of the great genius of the Hot Club of France. One of the most appealing practioners of the last decade or so has been guitarist Stephane Wrembel (who produces his own Django A Gogo fest at various locales). Wrembel's music — lastly found on his Django Experiment VI disc — pays due tribute to the master without ignoring the last 70 years (he's been a regular on the soundtracks of Woody Allen's films, including the latest, Rifkin's Festival). His band includes violinist Daisy Castro, Josh Kaye on guitar, Ari Folman-Cohen on bass, and Nick Anderson on drums. Wrembel will also conduct a master class at the Chelmsford Center at 2 p.m.
"Nothing But The Truth: A Portrait of Abbey Lincoln"
February 15 at 7:30 p.m.
Jordan Hall, Boston
FREE
This should be a special evening indeed: Pianist and composer Ran Blake, who revered the late, great Abbey Lincoln (1930-2010) is collaborating with New England Conservatory colleague Eden MacAdam-Somer and singer Christine Correa for this tribute to the late, great singer, composer, activist, and actress. It's billed as a "deep dive" into her life and work, from her collaboration with her husband Max Roach on the historic We Insist! album to her own compositions. Performers will include Blake, Correa, MacAdam-Somer, drummer Franciso Mela, and NEC faculty Ken Schaphorst, Dominique Eade, Anthony Coleman, and Farayi Malek, and various student projects.
Charles Overton
February 17 at 7 p.m.
Harvard-Epworth Church, Cambridge
FREE
Harpist Charles Overton's training last decade included studies at Berklee with Boston Symphony Orchestra principal harpist Jessica Zhou as well as enrollment in the Berklee Global Jazz Institute, with the likes of Danilo Pérez, Joe Lovano, and Terri Lyne Carrginton. These days, Overton's performances include classical gigs as well as performances with his own jazz ensembles. Tonight it's solo harp at Harvard-Epworth Church, with its cozy performance space. The first half of the concert will lean classical, with pieces by the French harpist and composer Marcel Grandjany, as well as Debussy's "Clair de Lune." The second half will go jazz, with pieces by Overton, Keith Jarrett, Ed Saindon, and Dave Brubeck, as well as the standards "How High the Moon" and "My Favorite Things." And of course, the program is subject to change. It's free, courtesy of the Celebrity Series of Boston's Neighborhood Arts program, and the performance will also be available for streaming beginning March 17.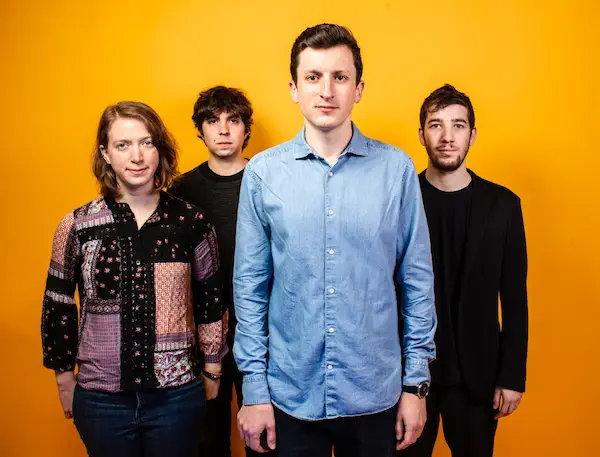 Andrew Boudreau
February 18 at 8 p.m.
Soapbox Gallery, Brooklyn, N.Y.
And live-streamed.
The Halifax-born pianist and composer Andrew Boudreau, now living in Brooklyn, has an international performing resume as well as a stint at New England Conservatory, where he met bassist Símon Willson and, in the same neighborhood, Berklee students Neta Raana (saxophone) and Eviatar Slivnik (drums). They're all on Boudreau's beguiling debut as a leader, Neon, out today. An open sense of harmony, form, and rhythm, as well as an abiding lyricism inform the disc's nine originals. The quartet celebrates the release of the album at Soapbox Gallery in Brooklyn, but you can also check it out on a pay-what-you-can live stream.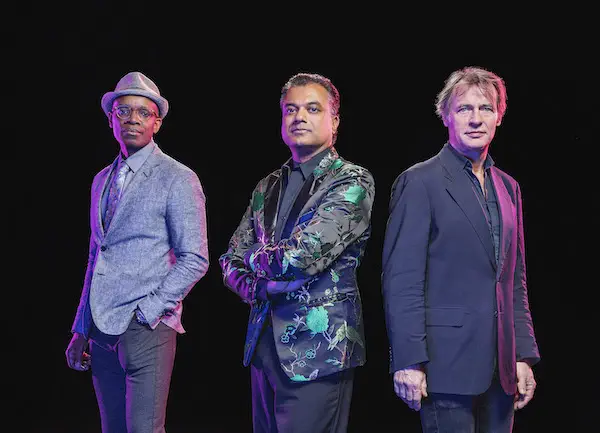 Rudresh Mahanthappa
February 19 at 8 p.m.
Crystal Ballroom, Somerville
One of the constantly moving targets of the COVID era is this show by alto-sax monster Rudresh Mahanthappa and his Hero Trio, originally scheduled for 2020. Working with bassist François Moutin and drummer Rudy Royston, from the Bird Calls quintet project of 2015, Mahanthappa continued to explore the music of Charlie Parker, as well as some Ornette Coleman and Johnny Cash, on last year's Hero Trio. The new Animal Crossing (released February 4 on Whirlwind) pays tribute to other heroes and influences, including Pat Metheny, Chuck Mangione, George Michael, and "the title track from the famous video game." The relatively new Crystal Ballroom, in the same building that houses the Somerville Theatre, boasts a club vibe, with cabaret seating for this show.
— Jon Garelick
---
Dance
Goldilocks and the Three Bears
Now through Feb 20
Festival Ballet Providence Black Box Theatre
Providence, RI
Families looking for a fanciful escape should look no further than this delightful reprise of the story of Goldilocks and the Three Bears. Choreographed by international prima ballerina Nadia Yanowsky, the production is back by popular demand after sold-out performances at the Hope Outdoor Theatre last year.
Ukiyo (n.)
February 11 & 12 at 7:30 p.m.
Complex@Canal
Cambridge, MA
Hoang-Anh (Ashley) Eng presents a performance that reflects the research into the connection between our human bodies and the complex emotions that manifest (and in some cases) fester in our consciousness. The work is the culmination of a creative process driven by the artist's and casts emotions.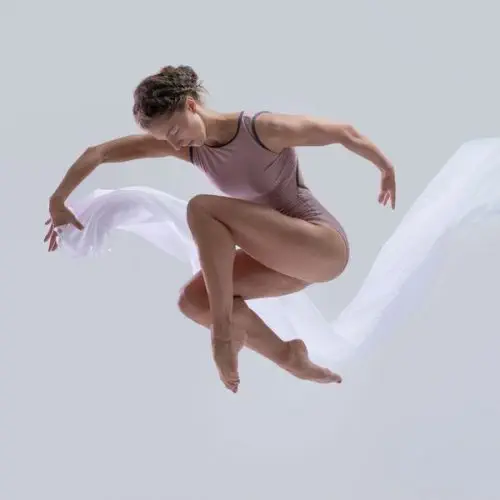 Up Close on Hope
February 11-20
Festival Ballet Providence
Providence, RI
Festival Ballet Providence's black box series is back with world premieres of works by choreographers Ja' Malik and Paulo Arrais. (Malik is the founder of Harlem-based Ballet Boy Productions; Brazilian dancer/choreographer Arrias is a principal dancer with Boston Ballet.) These works are paired with classical selections, including the iconic Pas de Quatre and a new perspective on the contemporary piece "Returning Points" by internationally acclaimed choreographer Annabelle Lopez Ochoa.
Svadba
January 28 onward
Online viewing
Engage in a cinematic opera experience with Svadba, the story of a bride-to-be on the eve of her wedding surrounded by friends and family helping her prepare for the big event. Sung completely a cappella, Svadba's entrancing music by Serbian composer Ana Sokolović merges with dance-led visuals from film director Shura Baryshnikov and screenwriter Hannah Shepard. Slovenia-born Daniela Candillari conducts.
The Time Traveler's Lens
Ongoing, online viewing
Hailed as "groundbreaking" (MidJersey News) and a "unique interdisciplinary work" (Town Topics), The Time Traveler's Lens combines dance, film, technology, and history to engage viewers in a 360-degree virtual reality performance that is amazingly intimate — the viewer is placed in the center of the action. Experience five virtual reality works unfolding spherically around you on your own mobile device. You are the time traveler, you control the lens — Luminarium Dance Company provides five worlds of illusion.
— Merli V. Guerra
---
Classical Music
Andrei Ioniță plays Shostakovich
Presented by Boston Philharmonic Orchestra
February 6, 3 p.m.
Symphony Hall, Boston
The Boston Philharmonic return to action with a pair of hard-hitting staples – Dmitri Shostakovich's Cello Concerto No. 1 and Beethoven's Eroica Symphony – paired with Modest Mussorgsky's Khovanshchina Prelude. International Tchaikovsky Competition winter Andrei Ioniță makes his BPO debut in the Shostakovich and Benjamin Zander conducts.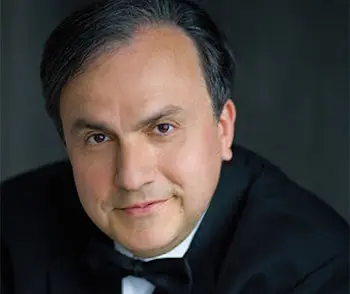 Yefim Bronfman plays Rachmaninoff
Presented by Boston Symphony Orchestra
February 10-13 and 16, 8 p.m. (1:30 p.m. Friday and 3 p.m. Sunday)
Symphony Hall, Boston
Pianist Bronfman is the soloist in Sergei Rachmaninoff's Piano Concerto No. 3, which is the centerpiece of this all-Russian program. Philippe Jordan conducts further works by Alexander Borodin (the Overture to Prince Igor) and Sergei Prokofiev (excerpts from Romeo & Juliet).
Randall Goosby in Recital
Presented by Ashmont Hill Chamber Music
February 13, 4 p.m.
Parish Hall, Dorchester
The dynamic violinist Randall Goosby plays works by William Dawson, Florence Price, Antonin Dvorak, and Edvard Grieg.
Blomstedt conducts Bruckner
Presented by Boston Symphony Orchestra
February 17-19, 8 p.m. (1:30 p.m. Friday)
Symphony Hall, Boston
Herbert Blomstedt, one of the BSO's most reliably inspiring guest conductors, returns to Symphony Hall to conduct Anton Bruckner's Symphony No. 4. Also on the docket is Mozart's Piano Concerto No. 17, featuring soloist Martin Helmchen.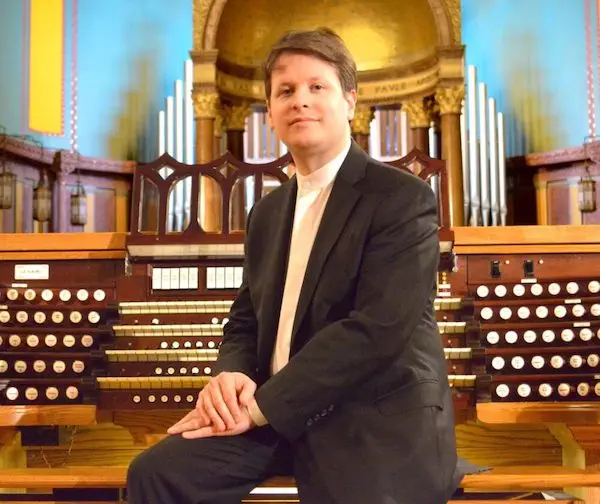 Pulling Out All the Stops
Presented by Boston Modern Orchestra Project
February 18, 8 p.m.
Symphony Hall, Boston
BMOP celebrates its twenty-fifth season with a festive, organ-centric concert at Symphony Hall. Paul Jacobs is the soloist in Stephen Paulus' Grand Concerto for Organ and Orchestra and Joseph Jongen's Symphonie Concertante. Meanwhile, music director Gil Rose leads Elgar's spectacular orchestral adaptation of J. S. Bach's C-minor Fantasia and Fugue and Olivier Messiaen's L'ascension.
— Jonathan Blumhofer
---
Author Events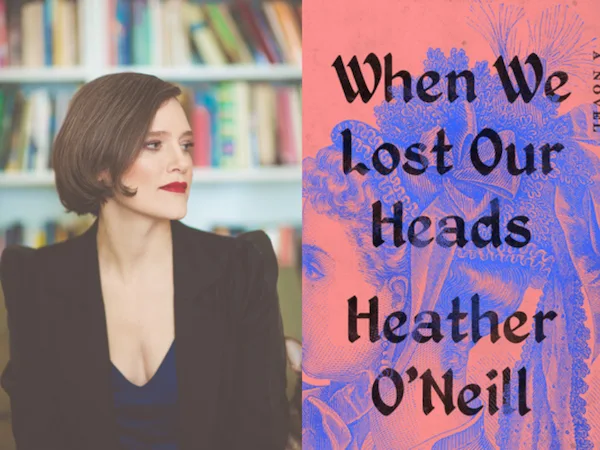 Virtual Event: Heather O'Neill with Starlee Kine: When We Lost Our Heads – brookline booksmith
When We Lost Our Heads
February 7 at 7 p.m.
Free, or $35 copy with signed bookplate
"Charismatic Marie Antoine is the daughter of the richest man in 19th century Montreal. She has everything she wants, except for a best friend—until clever, scheming Sadie Arnett moves to the neighborhood. Immediately united by their passion and intensity, Marie and Sadie attract and repel each other in ways that thrill them both. Their games soon become tinged with risk, even violence. Forced to separate by the adults around them, they spend years engaged in acts of alternating innocence and depravity. And when a singular event brings them back together, the dizzying effects will upend the city."
Virtual Event: Breakfast Gathering with Gish Jen – Harvard Book Store
Thank You, Mr. Nixon: Stories
February 9 at 8 a.m.
Free with $5 suggested donation.
"Beginning with a cheery letter penned by a Chinese girl in heaven to "poor Mr. Nixon" in hell, Gish Jen embarks on a fictional journey through U.S.-China relations, capturing the excitement of a world on the brink of tectonic change.
Opal Chen reunites with her Chinese sisters after forty years; newly cosmopolitan Lulu Koo wonders why Americans "like to walk around in the woods with the mosquitoes"; Hong Kong parents go to extreme lengths to reestablish contact with their "number-one daughter" in New York; and Betty Koo, brought up on "no politics, just make money," finds she must reassess her mother's philosophy." Arts Fuse review
Comedy Night: How Bout Booksmith? – brookline booksmith
Kindra Lansburg, Ryan Shea, Jason Cordova, Stevie Baek
February 10 at 6 p.m.
Free
"How Bout Comedy presents How Bout Booksmith?, a free comedy show featuring Boston's top Stand-Ups at Brookline Booksmith! Join us downstairs at 6 p.m. ET for this free comedy show!"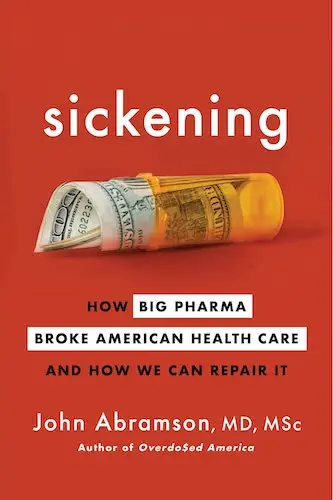 Virtual Event: John Abramson – Harvard Book Store
Sickening: How Big Pharma Broke American Health Care and How We Can Repair It 
February 11 at 12 p.m.
Free with $5 suggested donation
"In this no-holds-barred exposé, Dr. John Abramson — one of the foremost experts on the drug industry's deceptive tactics — combines patient stories with what he learned during many years of serving as an expert in national drug litigation to reveal the tangled web of financial interests at the heart of the dysfunction in our health-care system.
For example, one of pharma's best-kept secrets is that the peer reviewers charged with ensuring the accuracy and completeness of the clinical trial reports published in medical journals do not even have access to complete data and must rely on manufacturer-influenced summaries. Likewise for the experts who write the clinical practice guidelines that define our standards of care.
The result of years of research and privileged access to the inner workings of the U.S. medical-industrial complex, Sickening shines a light on the dark underbelly of American health care—and presents a path toward genuine reform."
Virtual Event: Ariana Harwicz and Annie McDermott with Maryse Meijer – brookline booksmith
Tender 
February 12 at 12 p.m.
Free
"The third and final installment of Ariana Harwicz's Involuntary Trilogy—following Die, My Love and Feebleminded—finds us on familiar, disquieting ground. Under the spell of a mother's madness, the French countryside transforms into a dreamscape of interconnected imagery: animals, desire, the functions of the body. Most troublingly: the comfort of a teenage son. Scorning the bourgeois mores and conventionality of their small town, she withdraws him from school and the two embark on ever more antisocial and dangerous behavior.
Harwicz is at her best here, building an interior world so robust, and so grotesque, that it eclipses our shared reality. Savage, and savagely funny, she leaves us singed, if not scorched."
Virtual Event: Marlon James – Harvard Book Store
Moon Witch, Spider King
February 14 at 7 p.m.
Tickets are $34.75, including copy of book
"In Black Leopard, Red Wolf, Sogolon the Moon Witch proved a worthy adversary to Tracker as they clashed across a mythical African landscape in search of a mysterious boy who disappeared. In Moon Witch, Spider King, Sogolon takes center stage and gives her own account of what happened to the boy, and how she plotted and fought, triumphed and failed as she looked for him.
It's also the story of a century-long feud—seen through the eyes of a 177-year-old witch—that Sogolon had with the Aesi, chancellor to the king. It is said that Aesi works so closely with the king that together they are like the eight limbs of one spider. Aesi's power is considerable—and deadly. It takes brains and courage to challenge him, which Sogolon does for reasons of her own."
Virtual Event: Kimberlee Yolanda Williams with Debby Irving – Porter Square Books
Dear White Woman, Please Come Home
February 16 at 7 p.m.
Free
"Dear White Woman, Please Come Home is Kimberlee Yolanda Williams' invitation to white women longing for authentic friendship with Black and brown women, the kind of friendship with no place for secrets, the kind of relationship where truth-telling is welcome, even when it hurts.
As Kimberlee writes, I know we've never gotten this relationship off the ground in a sustainable way, but I still believe in it. Can I trust you to come through for me? For us? For our sisterhood? Do you understand what keeps us apart? 'Cause I need you to know. If you're reading this, you've taken the first step to renewing our sisterhood."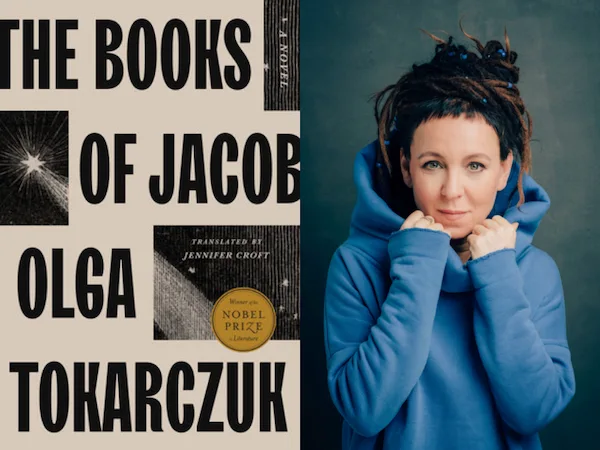 Virtual Event: Olga Tokarczuk and Jennifer Croft with Rabih Alameddine – brookline booksmith
The Books of Jacob 
February 19 at 1 p.m.
Free
"Join the Transnational Literature Series at Brookline Booksmith, Community Bookstore, and Third Place Books for a virtual event with author Olga Tokarczuk and translator Jennifer Croft to discuss and celebrate the release of the sweeping and ambitious novel The Books of Jacob. They will be in conversation with writer Rabih Alameddine.
In the mid-eighteenth century, as new ideas—and a new unrest—begin to sweep the Continent, a young Jew of mysterious origins arrives in a village in Poland. Before long, he has changed not only his name but his persona; visited by what seem to be ecstatic experiences, Jacob Frank casts a charismatic spell that attracts an increasingly fervent following.
In the decade to come, Frank will traverse the Hapsburg and Ottoman empires with throngs of disciples in his thrall as he reinvents himself again and again, converts to Islam and then Catholicism, is pilloried as a heretic and revered as the Messiah, and wreaks havoc on the conventional order, Jewish and Christian alike, with scandalous rumors of his sect's secret rituals and the spread of his increasingly iconoclastic beliefs."
Virtual Event: Sarah Manguso – Harvard Book Store
Very Cold People: A Novel
February 21 at 7 p.m.
Free with $5 suggested donation
"In her eagerly anticipated debut novel, Sarah Manguso has written, with characteristic precision, a masterwork on growing up in—and out of—the suffocating constraints of a very old, and very cold, small town. At once an ungilded portrait of girlhood at the crossroads of history and social class as well as a vital confrontation with an all-American whiteness where the ice of emotional restraint meets the embers of smoldering rage, Very Cold People is a haunted jewel of a novel from one of our most virtuosic literary writers."
— Matt Hanson