By Peg Aloi
Beyond its engaging plot and the tour de force performances by Olivia Colman and Jessie Buckley, The Lost Daughter is a gorgeous and sure-handed work of cinema.
The Lost Daughter, directed by Maggie Gyllenhaal. Streaming on Netflix.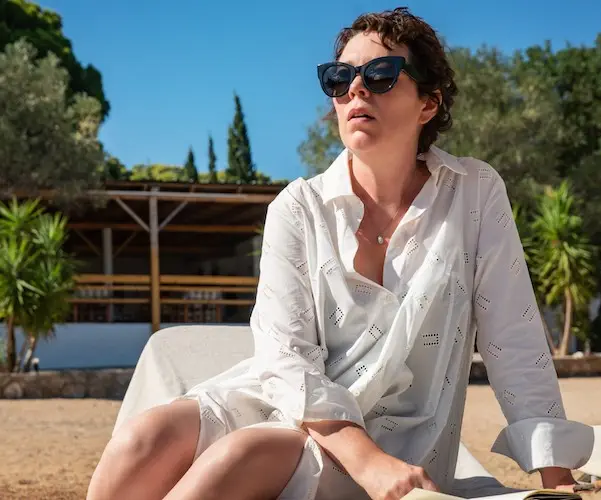 Leda Caruso (Olivia Colman) is driving along a scenic coastal road. We hear lilting, nostalgic music with a '70s feel, earthy strings and rhythmic keyboards. It feels as if the tune could be coming from her car stereo. (Dickon Hinchliffe is the composer, and his prolific, award-winning work includes Winter's Bone, Locke, The Third Day, and Leave No Trace.) The music sets the tone immediately, a warm but melancholy vibe, with a touch of tension, as if this comfortable moment might shift without warning. This stunning directorial debut by Maggie Gyllenhaal is beautifully attuned to this vibe, and she is assisted by a fine artistic team and brilliant cast. Gyllenhaal also adapted her rich and subtle screenplay from a novel by Elana Ferrante.
Leda, an Italian professor of literature, has arrived on a Greek island for a short working vacation. It's hard not to become immediately jealous of the life of an accomplished academic (a sabbatical! in Greece!) and impressed by how at ease Leda seems to be on her own. This is a story very much about women, the roles we inhabit, the expectations society has of us, the pressure we feel to conform, to perform, to control and be controlled. Colman delivers yet another outstanding performance as a woman on the cusp of middle age who looks back on the choices she's made in her life with mixed emotions. The performance is quite restrained at first: Leda is a quietly complex woman who has built a successful academic career as a scholar and translator of English poetry into Italian. She has come to this beautiful island for what she calls a working holiday, possibly a sabbatical term. She's polite but straightforward in her dealings with others. When asked where she's from, she answers "Cambridge, near Boston." We must assume she teaches at Harvard University or maybe Radcliffe.
At first, Leda relaxes and enjoys the quiet and solitude. She becomes friendly with her cottage caretaker (a sweet cameo by Ed Harris), and a young concierge named Will (Paul Mescal), who she invites to share a friendly dinner. She takes naps, strolls in the hills, eats ice cream on the beach, and occasionally reads and makes notes. It's a perfectly serene holiday until one day a large family shows up at the beach and her peaceful idyll is disrupted. Still, along with her irritation, she is fascinated by Nina (Dakota Johnson), a young mother, and her four-year-old daughter, who is often very demanding and emotional.
Nina's older sister Callie (Succession's Damara Dominczyk) is heavily pregnant with her first child at 40. After initially offending these women by refusing to move her beach chair to accommodate their large family, the trio form a sort of tenuous bond. When Callie mentions she's excited about becoming a mother, Leda casually remarks "children are a crushing responsibility." A true enough statement, but not an acceptable one under the circumstances. We get the sense that Leda's approach to life includes brutal honesty and that she does not apologize unless she feels strongly compelled to.
At this point we begin to witness occasional flashbacks to Leda's own days as a young mother, played by the-always mesmerizing Jessie Buckley. The younger Leda is a PhD student with two young daughters and a loving husband (Spencer's Jack Farthing). But we see that motherhood clashes with her literary ambitions. Despite taking delight in her children, she also at times finds their behavior overwhelmingly difficult to deal with. Leda's growing closeness with the family vacationing in Greece, particularly her observance of Nina's struggles with her daughter, conjures parallel memories of her own bittersweet experiences as a mother. When Nina's daughter gets lost, Leda finds the child and brings her back, but decides to keep the little girl's doll. This secret becomes the source of a strange energy that feeds into the intriguing dynamic between Leda, Nina and Callie.
Moved by the younger woman's struggles, Leda impulsively confesses to Nina that she left her daughters behind and didn't live with them for three years. But she adds that it "felt amazing" to be away from them. Colman relates this story calmly and pleasantly, but the flashbacks tell a very different story. Her anger at the girls' constant whining, her annoyance with her husband Joe's failure to co-parent equally, her inability to focus on her work amid the demands of motherhood, are interspersed with moments of domestic laughter, joy, and passion. Why did she leave? Leda wasn't miserable, she simply wanted more in her life, including a stimulating career. It's a bold premise and a controversial one, even though we're long past realizing that the notion of women "having it all" is a wishful fantasy.
The galvanizing event in Leda's life is a conference she's invited to attend as a young PhD student. She experiences a career-defining moment of praise by a respected scholar who quotes from her work in his own presentation. Peter Sarsgaard plays the charismatic academic. When he meets Leda face to face, he tells her that her work is thrilling. There is an immediate intellectual and physical spark between the pair that ultimately catalyzes her decision to leave her family.
As Leda's memories begin to crowd in on her, and the secret hoarding of the doll begins to border on obsession, she starts to have increasingly fraught interactions with strangers in this small Greek seaside town. This bucolic place shifts something in her, psychologically, but no crashing revelation or dramatic epiphany is provided. Gyllenhaal's skillful rendering of Leda's arc is intricate and subtle. We understand she's made peace with her choices, but we may never know what it has cost her, or whether it was, finally, worth it. This retreat catalyzes a quiet internal reckoning.
Beyond its engaging plot and the tour de force performances by Colman and Buckley, The Lost Daughter is a gorgeous and sure-handed work of cinema. I found myself eagerly responding to the film's look and feel — its weather, if you will. The cinematography (Hélène Louvart, who also photographed The Nest) is naturalistic, even making use of a handheld camera in particular high-energy moments. The well-hewn editing of Affonso Gonçalves gives the film a slightly tense softness that is perfectly calibrated for a story steeped in disturbing memories and disorienting emotions. Juxtaposed with Hinchliffe's dreamy score, the film is a harsh illumination of a woman's life, a story about remorse whose evocation of an almost cosmic sense of fate and providence might make some viewers catch their breath with a surprised shock of recognition.
---
Peg Aloi is a former film critic for the Boston Phoenix and member of the Boston Society of Film Critics. She taught film studies in Boston for over a decade. She writes on film, TV, and culture for web publications like Vice, Polygon, Bustle, Mic, Orlando Weekly, Crooked Marquee, and Bloody Disgusting. Her blog "The Witching Hour" can be found at themediawitch.com.