By Michael Ullman
The rewards of these and other recordings provide ample proof that, with its shape-shifting qualities, the string quartet will continue to be a powerful asset for talented jazz composers.
Terence Blanchard, Absence (Blue Note); Fred Hersch, Breath by Breath (Palmetto); Helen Sung, Quartet (Sunnyside)
These three sessions, each remarkable in its own way, have in common the use of a string quartet, that magnificent, lithe, sprightly, endearing, and sometimes otherworldly creation of the classical era. Thanks to recordings, we can hear at any time the dancing wit and grace of Haydn, the elegantly extended melodies and lively interactions of Mozart, the sublimity of late Beethoven. (George Bernard Shaw had little patience for those who found the latter's late quartets difficult: the critic described them as "beautiful, simple, straightforward, unpretentious, perfectly intelligible.") Increasingly, jazz musicians have been inspired to use this traditional grouping, energized by the creative possibilities of a flexible conversation in which individual solos can easily emerge from a massed sound. In 2019, saxophonist Miguel Zenón made his celebrated (and influential) Yo Soy La Tradición with the Spektral Quartet. (Arts Fuse review) Now we have three new, different uses of the string quartet in jazzy settings.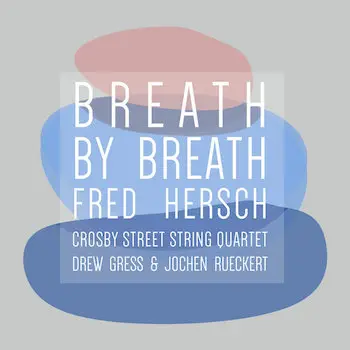 As he tells us in his notes to Breath By Breath, made with the Crosby Street String Quartet as well as bassist Drew Gress and drummer Jochen Rueckert, pianist Fred Hersch grew up listening to a string quartet — live: "My piano teacher was the wife of the cellist in the famous LaSalle Quartet. I used to be on the rug in their living room as an elementary school student while they rehearsed with the first violin, or the second violin and the cello. And ever since I started studying composition at age eight, almost all of my music has always focused on melodic parts … so string quartets are a natural musical configuration for me." (The LaSalle quartet is famous for its Arnold Schoenberg recordings.)
Much of Hersch's Breath By Breath is taken up by the eight-movement "Sati Suite" (sati is the Pali word for "mindfulness"). That piece is followed by another lovely, though unrelated, composition, "Pastorale (Dedicated to Robert Schumann)." The pianist urges us to listen to the entire suite each time we sit down to it. To my mind, Hersch's "Sati Suite" sets up a plausible, even likely, sequence in a meditative practice. It starts with "Begin Again." Hersch begins again by rocking between two cleverly accented notes, until he is answered by a melody and then the entrance of the string quartet. Hersch's tune is beautifully simple: the strings swell behind him and then disappear as the jazz trio improvises, Hersch plays with his customary authority and melodic skill. Eventually the quartet returns with short rhythmic phrases, this time in support of the piano. In the beginning they are all in sync. Then it's back to solo piano and, for a bit, a kind of improvised fugue, a form that suggests beginning again. The quartet, its voices entering one by one, starts off "The Awakened Heart" — suggesting a healthy beat. They drop out and Hersch takes over on solo piano with swelling phrases and gentle fallings off. The awakened heart is a tender thing.
I won't describe the entire suite. Still, anyone who has tried meditation, as I have, and temporarily failed, as most will do, will be amused by Hersch's "Monkey Mind."It is one of the terms for the seemingly ceaseless inner chatter that often interrupts the meditative process. The goal, of course, is to dismiss those trivialities and reorient oneself to the meditative task, often by paying ultra-strict attention to one's breathing. I think this battle is rendered in this piece via a sprightly series of short phrases by Hersch that are contradicted, rather than answered, by pizzicato lines from the strings: the members of the string quartet beautifully express this spoiling impertinence, with an assist from the drummer's rim shots and occasional cymbal crash. Similarly jittery, "Mara" is named after a god who tempted Buddha with wine, women, and riches. (A Christian version of this hedonistic assault can be found in Gustave Flaubert's novel The Temptation of St. Anthony.) In this piece, Hersch moves from evoking periods when meditation is successful and when it stumbles. Again the quartet tartly suggests chatter. The suite ends with "Worldly Winds," which I take as an evocation of a post-meditative return to everyday life. It's a bit ruffled. Still, even here, Hersch's melodic genius is evident.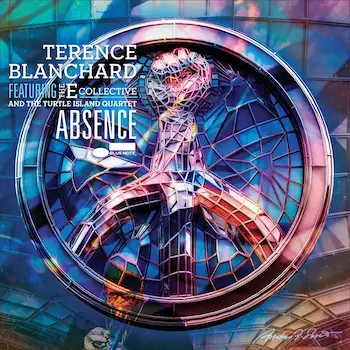 Five of the 12 numbers on trumpeter/composer Terence Blanchard's Absence, featuring the quintet he calls his E-Collective and the Turtle Island String Quartet, are by Wayne Shorter, to whom the album is dedicated. It begins with the solo piano of Fabian Almazo playing the title cut, "Absence," written by pianist David Ginyard. He's not alone for long. The band enters; its textures are (of course) thicker than those of Hersch's smaller group. Blanchard takes over by way of an increasingly flamboyant trumpet solo over pounding drums and a prominent bass line. The strings are heard mostly murmuring in the background. To my mind, in this piece they are primarily being used to add a depth of sound, though they reemerge contributing long tones after Blanchard's solo. The track ends moodily.
The set continues with a complicated rendition of Wayne Shorter's "The Elders" from the 1978 Weather Report album Mr. Gone. The Weather Report version is almost weirdly atmospheric, with Shorter stating the wandering melody over eerie synthesized sounds provided by Joe Zawinul. Blanchard lets the string quartet share the melody — it is joined at times by piano and trumpet, if my hearing is correct. In this case, quartet and trumpet sound threatening. A transition arrives, marked by a squiggling run by the strings, then Blanchard solos before the quartet returns.
The string quartet does more for Blanchard than provide bulk. It adds a variety of textures. "Fall" is one of Shorter's most haunting ballads, or ballad-like songs. Here, the piano states the melody and then the full string quartet enters with a relaxed counter-melody. The trumpet solo takes place over a moody, even muddy, background: it's as if Blanchard wants to suggest that the soloist is struggling to assert himself. The string quartet shines on Blanchard's "I Dare You (Intro)," which begins (daringly) with what sounds like a parody, via string quartet, of parts of Beethoven's Fifth Symphony. The quartet is alone during the introduction — then the dark-sounding piece explodes into being. On Shorter's "Diana," the quartet members enter one by one: again, the strings restlessly state the melody on their own. If Hersch emphasized the playfulness of the string quartet, its lulling transparency, Blanchard uses it to thicken textures and, in this sober version of "Diana," as an almost impassive, yet still impressive, means to state melodies. "Diana" becomes gentle once Blanchard takes over the melody. Blanchard does more with the string quartet than use it for melodramatic heft. We hear their lighter side on "Envisioned Reflections."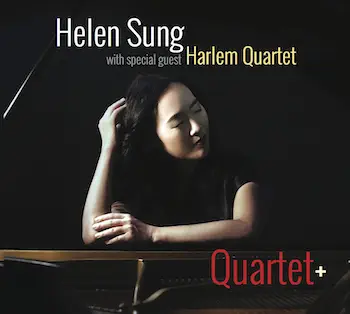 Helen Sung's playing is typically brisk, powerful at times, and always intriguing on her Quartet+. She's a virtuoso with a touch of whimsy. We hear both sides in"Kaleidoscope," which begins with a drumroll, followed by a quick, boppish phrase from the pianist. She stops and is answered by the Harlem Quartet, which plays both long tones and its own version of Sung's phrase. The conversation between Sung and the strings suddenly stops once the rhythm section comes in with a fast four/four beat. Then Sung improvises, again with some commentary supplied by the string quartet. The strings are not there to thicken the textures, as with Blanchard's recording, but to contribute to what comes across as a chatty confab. There's a surprise about halfway through: Sung stops her vivid improvising and the strings reassert the melody.
Sung also makes use of the string players as soloists. The delightful "Mary's Waltz" initially features violinist Melissa White before the entire group comes in, including John Ellis on flute in the bridge. This track's slightly goofy melody sounds as if it could have been lifted from the soundtrack of a Fellini movie. Playing pizzicato, the strings introduce another humorous track, "Wrong Key Donkey." "Sungbird" is another dance-like tune, a tango introduced by the strings (featuring a solo from violinist Ilmar Gavilán). Sung's use of rhythms is a whirling, pullulating delight, her playing is dynamic, and her writing clear and bright.
The rewards of these and other recordings provide ample proof that, with its shape-shifting qualities, the string quartet will continue to be a powerful asset for talented jazz composers.
---
Michael Ullman studied classical clarinet and was educated at Harvard, the University of Chicago, and the U. of Michigan, from which he received a PhD in English. The author or co-author of two books on jazz, he has written on jazz and classical music for the Atlantic Monthly, New Republic, High Fidelity, Stereophile, Boston Phoenix, Boston Globe, and other venues. His articles on Dickens, Joyce, Kipling, and others have appeared in academic journals. For over 20 years, he has written a bi-monthly jazz column for Fanfare Magazine, for which he also reviews classical music. At Tufts University, he teaches mostly modernist writers in the English Department and jazz and blues history in the Music Department. He plays piano badly.