By Steve Feeney
The Cave of Winds and Breath By Breath amply confirm that, regardless of the stress of COVID,  jazz's life-force remains strong as we venture into a brave new year.
Fred Hersch – Breath By Breath (Palmetto)
Tony Malaby's Sabino – The Cave of Winds (Pyroclastic)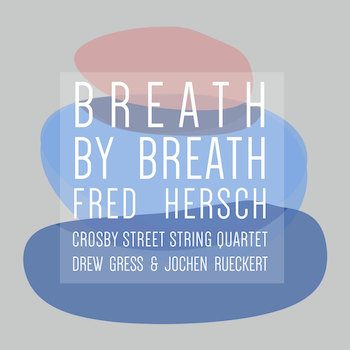 The tie-ins for these two new discs are many; they are among the first releases of the new year, and both were recorded in the summer of 2021 at the same studio (the deceptively named Samurai Hotel in Astoria, NY).  The leaders, Fred Hersch and Tony Malaby, have recorded together in the past (notably in Hersch's Trio + 2), and both have academic connections to Boston. Stylistically, both reveal a broad affinity for the mysteries of modal jazz. If that's not enough, both these recordings are good early candidates for any nascent Best of 2022 list.
If would be hard to miss that pianist/composer Fred Hersch (66) is into meditation. His long career has reflected a desire, through a deeply rooted musical sensibility, to move toward a heightened sense of awareness. He has created a compelling body of work that rises a level or two beyond his obvious technical abilities — at his best, Hersch achieves something important and all-too-rare.
His recent series of streamed pandemic solos, collected on the CD release Live From Home, was a success: its subtle simplicity settled the nerves of this listener. Now, on Breath By Breath, Hersch is back in the studio with a rhythm section and a string quartet to assist and inspire him to further explore the magical moments that occur when composition meets improvisation in the Hersch-ian universe.
Joining the New England Conservatory faculty member (with breaks) Hersch are longtime collaborator Drew Gress (bass), Jochen Rueckert (drums), and the Crosby Street String Quartet, a group of freelancers apparently assembled for the recording. The selections range through Western and Eastern classical traditions, guided by Hersch's quest to gently expand the purview of the classic jazz piano trio.
Most of the disc is taken up with "The Sati Suite" (the word Sati translates as mindfulness or awareness).  The opening work, "Begin Again," pulses with an accumulating energy, a numinous sparkle that emanates from the central trio and is picked up by harmonic flourishes from the strings
"Awakened Heart" brings the strings up front for a bit of impressionistic wandering before a Hersch solo confirms that the pianist still knows his way around a lush phrase.
The title cut adds layers of string harmony onto a melody that sounds like it might have emerged from a piece of modernist Americana. Gress takes a relaxed solo before Hersch rides Rueckert's brushes as he supplies one of his signature excursions into prismatic uplift at the keyboard.
"Monkey Mind" adds some rippling spontaneity to the tune's meditative flow, while "Mara" brings in a guest percussionist (Rogerio Boccato) to enhance the track's South Asian musical motifs. The result is one of the disc's more entrancing numbers.
As a bonus cut, Hersch pays homage to Robert Schumann with his "Pastorale." The strings add some playful plucking to this sweet piece, which ends an impressively engaging new disc from a master.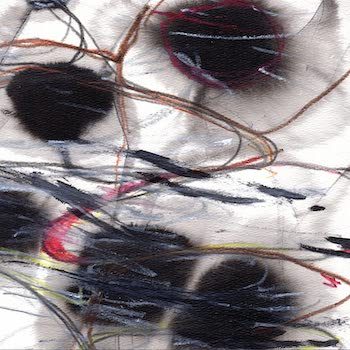 I've had the chance to hear Tony Malaby play in person a few times over the years.  He's what is sometimes referred to as a "brawny" tenor sax player. Meaning: when he lets go he can blow open the doors of a room of about any size.  He exercises these muscles, via some free playing, on his new Sabino quartet release The Cave of Winds.
The disc features Berklee College of Music faculty member Malaby on tenor and soprano sax alongside progressive stalwarts Ben Monder (guitar), Michael Formanek (bass), and Tom Rainey (drums). The music is inspired by a series of pandemic-driven outdoor jams that took place beginning in 2020 underneath a turnpike overpass in New Jersey. "I just had to go down there and throw sound with my guys," Malaby is quoted as saying. The 57-year-old saxman later regathered his decades-old Sabino quartet, with Monder standing in for Marc Ducret, and brought the spirit of those jams into the studio.
The album's title piece, clocking in at 18-plus minutes, provides a "cave" for some exciting musical spelunking.
A bit of solo drama from the leader summons an ominous walk from Formanek. Monder's entrance spices the proceedings up with flickers of mystery. The tune commences a fascinating slow build that is eventually augmented by Rainey's signature rappings and tappings. An arco bass/soprano sax interlude suggests we have reached a resonant cavern, dripping with plucked guitar droplets.
Back on tenor, Malaby starts to quicken the interplay, bending and stretching the limits of his horn as Monder squiggles and swirls underneath. We're now in a spotlit realm of go-for-the-gold expressiveness. The guitar bounces off echoey electronic walls as the saxman develops a new line, full of slippery textures and high-end cries. The track reaches an almost orchestral drone and then fades into darkness.
"Recrudescence" takes a similar trajectory, moving from brief reflection to all-in blowing. These experienced musicians not only lean in but lean over the abyss, maintaining a spirit of what could be called controlled abandon.
Forget memories of Ricardo Montalbán — "Corinthian Leather" takes a Coltrane-esque line inside and out, its forward momentum churned up by Formanek and Rainey. In "Scratch the Horse" Monder and company placate the gods of heavy metal. "Insect Ward" teams up the leader's soprano with Formanek's bass — the two generate a buzzing swarm of dissonance. "Life Coach (for Helias)," a sax/drums improvisation, and a charging "Just Me, Just Me" close this wildly inspired disc.
The Cave of Winds and Breath By Breath amply confirm that, regardless of the stress of COVID,  jazz's life-force remains strong as we venture into a brave new year.
---
Steve Feeney is a Maine native and attended schools in Maine, New Hampshire, and Massachusetts. He has a Master of Arts Degree in American and New England Studies from the University of Southern Maine. He began reviewing music on a freelance basis for the Portland Press Herald/Maine Sunday Telegram in 1995. He was later asked to also review theater and dance. Recently, he has added BroadwayWorld.com as an outlet and is pleased to now contribute to Arts Fuse.