By Jason M. Rubin
Like his idol, Todd Rundgren, John Powhida is a bit of a musical shape-shifter, evoking a broad range of styles but always with his unique and easily recognizable stamp.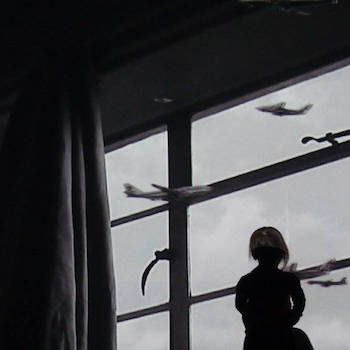 Shop local! It is a common refrain from small businesses during the holiday season. And it is a valuable reminder that our local artists and musicians are essentially small businesses in and of themselves. With that in mind, here's a local gift that belongs in everyone's Christmas stocking: This Phasor Sounds Divine, the latest album release by the John Powhida International Airport. Like the band's past work, this album drips with the wide lapels and flared jeans of the '70s — classic rock, soul, prog, glam, and even disco — highlighted by Powhida's elastic voice and eclectic but melodic songwriting.
Like his idol, Todd Rundgren, Powhida is a bit of a musical shape-shifter, drawing on a broad range of styles but always with his unique and easily recognizable stamp. For example, like another influence, Joni Mitchell, Powhida enjoys dropping names in his lyrics. Some that I was able to easily pick out were original Todd Rundgren's Utopia drummer Ralph Shuckett ("Once there was a man from Nantucket/I once did a gig with Ralph Shuckett"), Joni herself (and her album, Blue), former Cheap Trick drummer Bun E. Carlos, serial killer Richard Speck, and a few notable people whose name made it to the title of the song: guitarist Fernando Perdomo ("Fernando 3X"), The Three O'Clock bassist/singer Michael Quercio ("Michael 3 O'Clock"), and Asa Brebner, the local hero who was in the Modern Lovers and Robin Lane and the Chartbusters, who died in 2019, and who is the subject of the appropriately titled "Asa Brebner Is Dead."
The album opens with a short instrumental called "Song for Ellen Hamby," a homage to a Rundgren fan who died of cancer last year. Powhida plays bass and guitar on this tribute, which is more chill than dirge-like. This is followed by "Aubrey" (who doesn't know who Ralph Shuckett is); Powhida sings that she is "my golden child" and describes her as "angular and WASPy."
"Fernando 3X" tells the story of Powhida calling Perdomo three times, presumably to play lead guitar on this track. Hearing his performance, one is glad that Perdomo, who appeared in the documentary Echo in the Canyon and has worked with another local legend, Andy Pratt, finally answered the phone.
Even after watching eight hours of the Beatles documentary, one listen to "Michael 3 O'Clock" is all it takes to recognize that it boasts the most melodically appealing chorus you can imagine. Another song about an attempted connection gone wrong, it has the smooth sheen of a Thom Bell–produced Philly soul hit.
A couple of songs are particularly topical: "Back 2 Bed" is about living in the age of COVID, while "Gaslight Village" is his apparent nickname for Facebook. The latter song is notable for a burning guitar solo by Mike Castellana.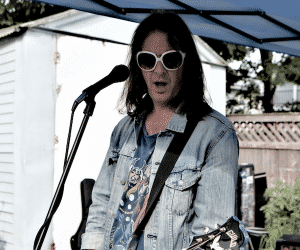 Two other highlights are the "Asa Brebner" tune, which is noirish in a suitably campy way, and "I Don't Wanna Party," the disco tune, which is about a gently aging rocker no longer able to stay up late snorting cocaine like in the old days. It features great sax work by Paul Ahlstrand. The final song, "The Phasor Sounds Divine (Part 2)" — there is no Part 1, by the way — tackles familiar ground for Powhida, that of the gently aging rocker balancing devotion to both his art and his family. "Your dad's addicted to a dream," he softly sings.
The Phasor Sounds Divine was co-produced by Powhida with his longtime musical compatriot, and talented local artist in his own right, Peter Moore. The core band is Powhida on vocals, guitar, keyboards, and a smattering of percussion and bass; Moore on keyboards, vocals, guitar, and percussion (also string and backing vocal arrangements); Jim Haggerty on bass; Castellana on lead, rhythm, and pedal steel guitar; and the justly ubiquitous Chris Anzalone on drums. The talented Amber Angelina ably takes over lead vocals on a song called "Starkid" that could have strong commercial appeal thanks to her Kate Bush-y voice. A few of the other many guests on the album not previously named are Utopia's Kasim Sulton on vocals; former Cure bassist and producer Phil Thornalley on drums, keyboards, and vocals; and guitarists Brett Rosenberg and Mike Gent.
John Powhida International Airport will have an album release show on December 15, at 7 p.m. at the Boston Harbor Distillery, 128 Ericsson Street in Dorchester, in a bill that includes the Andrea Gillis Band and the Abbie Barrett Band. Four nights later, he will be at the Daryl's House Club in Pawling, NY, playing with another Utopia alum, Kevin Ellman, in a show called Back to the Bars (the title of a Rundgren live album). Moore, Haggerty, and frequent Powhida lead guitarist Andy Santospago will round out the band.
You can buy This Phasor Sounds Divine, digitally or physically, on the John Powhida International Airport Bandcamp site.
---
Jason M. Rubin has been a professional writer for more than 35 years, the last 20 as senior creative associate at Libretto Inc., a Boston-based strategic communications agency where he has won awards for his copywriting. He has written for Arts Fuse since 2012. Jason's first novel, The Grave & The Gay, based on a 17th-century English folk ballad, was published in September 2012. His current book, Ancient Tales Newly Told, released in March 2019, includes an updated version of his first novel along with a new work of historical fiction, King of Kings, about King Solomon and the Queen of Sheba. Jason is a member of the New England Indie Authors Collective and holds a BA in Journalism from the University of Massachusetts Amherst.