By Ralph P Locke
New CD releases provide splendid performances of remarkable American music, from Barber and Bernstein to recently rediscovered Black composers Florence Price and William Grant Still.
Shall We Gather, songs by Stephen Foster, Carrie Jacobs-Bonds, Kurt Weill, Aaron Copland, Arthur Farwell, Florence Price, William Grant Still, Ricky Ian Gordon, and others. Lucas Meachem (baritone) and Irina Meachem (piano). Rubicon RCD 1071 [53 minutes]. Click here to purchase.
Samuel Barber, Medea (complete original ballet score), Knoxville: Summer of 1915, and A Hand of Bridge (ten-minute opera). Boston Modern Orchestra Project, cond. Gil Rose. BMOPsound 1079 [53 minutes]. Click here to purchase or hear excerpts of each piece.
Leonard Bernstein, Candide (operetta; New York Philharmonic version). Jane Archibald (Cunegonde), Leonardo Capalbo (Candide), Anne Sofie von Otter (The Old Lady), Sir Thomas Allen (Dr. Pangloss and Narrator). London Symphony Orchestra and Chorus, cond. Marin Alsop [117 minutes]. Click here to purchase.
Concerts are starting up again, and the Met is transmitting its latest productions, live and then encored, into the movie theaters. Still, a lot of us — even if vaccinated and boostered — are being extra-careful and are continuing to do our listening at home (or in the car, while taking a walk, etc.).
Fortunately, the record companies have managed to offer fine releases, some recorded before the pandemic, others put together under Covid conditions.
Three new releases bring us astoundingly wonderful American music of different kinds, from a wide range of composers, including Bernstein's Candide, three works by Samuel Barber, and a remarkable anthology of songs by a variety of important American composers, some of whom faced immense hurdles during their lifetime.
Let's start with the latter (recorded during the pandemic). Shall We Gather is the first recital CD by renowned operatic baritone Lucas Meachem. I first remember him performing, rivetingly, as a master's student at the Eastman School of Music. But I only realized how wide his range is, in every sense, when I heard the recording of Leonard Bernstein's opera A Quiet Place conducted by Kent Nagano. Meachem there plays the role of middle-aged Sam, a widower and the father of two troubled grown children, and he brings the character to life through voice alone: the grimness, anger, grief, regret, affection, all of it.
Meachem has now come out with his first solo-recital CD, and it is a remarkable achievement: a collection of songs by a wide range of American composers, most of them dealing explicitly with, as Reader's Digest used to put it, "life in these United States." The CDs title, Shall We Gather, comes from the beloved 1864 Protestant hymn "At the River," whose words and music are by Robert Lowry, but it also refers to the fact that the CD gathers one song apiece by fifteen American composers and arrangers. The intent is to encourage us to think about ways in which we Americans can all live productively together.
A few tracks are traditional tunes that have no composer as such, such as the folk song "Shenandoah" and "In the Mornin' When I Rise," a "Negroe spiritual," as Charles Ives described it on the manuscript of his 1929 arrangement for voice and piano or voice and chorus. (Ives transcribed the words and tune from the singing of what appears to have been a white Virginia woman, Miss Mary Evelyn Stiles, not realizing that it was already widely available in printed versions.)
Other songs pointedly refer to class tensions (Richard Hageman's "The Rich Man"), loneliness and aging (Carrie Jacobs-Bonds's "A Perfect Day"), the urgent demands of wartime (Kurt Weill's setting of Walt Whitman's "Beat! Beat! Drums!"), and the aftermath of the attack on the Twin Towers (Jake Heggie's "That Moment On," to a touching text by Gene Scheer). It is a thought-provoking experience to hear Black composers Florence Price and William Grant Still sung on the same program as Stephen Foster (who of course wrote songs idealizing life on the Southern slave plantation), and to hear the varied arrangements of Charles Ives, Aaron Copland, Irina Meachem, Lee Musiker, and Steve White, all rendered in the multi-colored hues of Meachem's splendid baritone and the unfailingly astute pianism of Irina Meachem.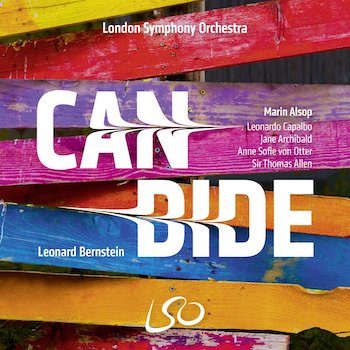 Leonard Bernstein's 1956 operetta was a relative failure on Broadway, but the original-cast recording of its main musical numbers has won listeners over ever since. (The cast included the luminous soprano Barbara Cook.) There have been several different versions made since then, aiming to create a more effective entity for the theater or for the concert hall. The new recording is conducted by Marin Alsop, who helped shape the version she uses, which is based on one that got heard, under her baton, at the New York Philharmonic in 2004. (Those performance netted a vivid video version. Patti Lupone is really something as The Old Lady.) The version that Alsop et al. have put together is tighter than the New York City Opera and Scottish Opera versions (both of which have been recorded, the latter with Bernstein conducting) and I suspect will now become the standard, thanks in part to a witty new narration to link the scenes and numbers.
Alsop, who was mentored by Bernstein early in her career, conducts the work with flair and sensitivity. The singers are all marvelous — mostly steady as a rock, and keenly responsive to the shifting demands of the often-humorous, sometimes menacing plot. Anne Sofie von Otter and Thomas Allen are veterans of the operatic stage but can still sing, and speak, marvelously; Jane Archibald and Leonardo Capalbo, rising stars in the opera world, strut their stuff marvelously here.
The main characters, as in the Voltaire novel, travel to various countries and encounter a wide range of characters and challenges before finally returning home to "cultivate our garden." Or, as they sing here, with full choral backup, "we'll make our garden grow." Alsop's version zips by, whereas the City Opera and Scottish Opera versions drag a bit, perhaps out of a desire to include various numbers by Bernstein that got cut in the original production. One number I wish Alsop had included is the brilliant vocal-trio "Quiet." I'd have traded it for the somewhat annoying "Sheep Song." Oh, well, I'd say buy two different recordings of Candide and enjoy comparing!
The Samuel Barber recording brings together one of his most-beloved works, Knoxville: Summer of 1915 (which sets an evocative prose text by James Agee), his witty ten-minute opera A Hand of Bridge, and the ballet Medea.
In the tiny opera, two married couples (written as a contralto and a tenor, and a soprano and a baritone) play bridge to music in the style of a boogie-woogie, led appropriately by a solo piano. But the "framing" music of the card game is repeatedly interrupted by soliloquies (alone or overlapping) for each of the four characters, reflecting on their individual dreams, frustrations, or woes. Barber used a small chamber ensemble for these reflective interludes, allowing solo instruments to add their own commentary, flippant or intense. (One husband is having an affair; one wife feels only her mother loved her….)
A Hand of Bridge has lived a charmed existence, getting performed rather often by music schools and regional opera companies. This is its fourth recording, I believe. It is vivid, and the crucial words come across beautifully thanks to the fine engineers and the artistry of soprano Angela Gooch, mezzo Krista River, tenor Matthew DiBattista, and baritone David Kravitz.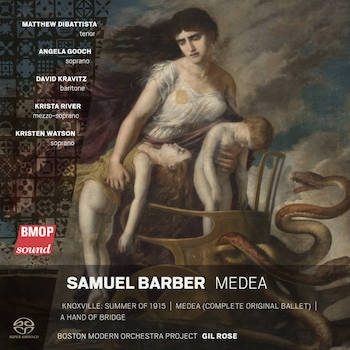 The words are more poetic in Knoxville: Summer of 1915, for soprano and chamber orchestra (1947), and they, too, register clearly, as sung by Kristen Watson, a high soprano with a glistening sheen that gives constant, yet varied, pleasure.
Medea is here the rarely performed complete original ballet score (1947), written for Martha Graham's company. (Graham entitled the ballet Serpent Heart or, finally, Cave of the Heart.) There have been many performances of a seven-movement suite and of an even shorter excerpt called Medea's Meditation and Dance of Vengeance. But heard as an entirety here, for chamber orchestra as originally intended, the rather Stravinskyan music is consistently dramatic and colorful and makes me eager to see the ballet danced someday. Gil Rose's orchestra recently won a Gramophone "Special Achievement Award" for digging up forgotten works and doing them in fine style. This Medea is a fine example of what Rose hath wrought. Boston, and the music lovers of the wider world, are much in his debt.
All three releases are fine reminders of the fascinating, entertaining, and sometimes profound musical works that have been created by America's composers: works that, with all their differences of style and intent, nonetheless speak to a wide range of sympathetic listeners today.
---
Ralph P. Locke is emeritus professor of musicology at the University of Rochester's Eastman School of Music. Six of his articles have won the ASCAP-Deems Taylor Award for excellence in writing about music. His most recent two books are Musical Exoticism: Images and Reflections and Music and the Exotic from the Renaissance to Mozart (both Cambridge University Press). Both are now available in paperback; the second, also as an e-book. Ralph Locke also contributes to American Record Guide and to the online arts-magazines New York Arts, Opera Today, and The Boston Musical Intelligencer. His articles have appeared in major scholarly journals, in Oxford Music Online (Grove Dictionary), and in the program books of major opera houses, e.g., Santa Fe (New Mexico), Wexford (Ireland), Glyndebourne, Covent Garden, and the Bavarian State Opera (Munich).