By Allen Michie
At 75, Dave Liebman pays tribute to John Coltrane by still doing what Coltrane would surely have wanted him to do: to look within and find truths that are a wellspring of rewarding and challenging music for the rest of us.
Dave Liebman and Expansions: Selflessness: The Music of John Coltrane (Dot Time)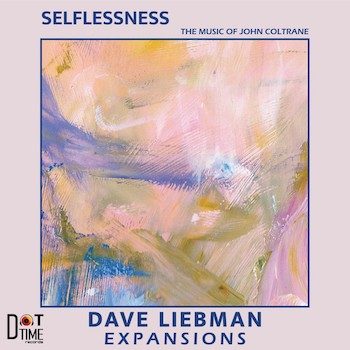 I've read the polls. In the DownBeat 2021 Critic's Poll, top honors for Soprano Saxophone went to Jane Ira Bloom. DownBeat readers gave the top slot to Branford Marsalis. JazzTimes readers in 2020 voted for Wayne Shorter, Branford Marsalis, Chris Potter (Really? For soprano?), and Jane Ira Bloom. Listen, I love the soprano sax and all its jazz players (with the exception of He Who Shall Not Be Named, but whose name rhymes with Penny Flea), and I'm a monster fanboy of Bloom, Marsalis, Potter, and Shorter. The DownBeat critics have my upmost respect. But anything claiming that Dave Liebman isn't our greatest living soprano sax player is just crazy talk.
It's not just because of his playing, which is dependably focused, expressive, and exploratory. It's not just because of his role in jazz history, which stretches over 50 years and includes over 500 recordings with a long roster of major jazz musicians, most famously with Miles Davis and Elvin Jones in the '70s. (In the most recent decade 2010-20, in his mid-60s, he appeared on 124 records.) The reason why he's our greatest living soprano sax player is because it's his voice. His commitment to the instrument (currently rivaled only by Bloom, who plays it exclusively, whereas Liebman is also a master on the tenor sax) puts him in a direct line with Sidney Bechet, Steve Lacy, and Wayne Shorter, three others who created instantly recognizable personal voices on the straight horn and used those authoritative voices to bend any music around them in their direction.
As Liebman told DownBeat magazine in 2011, "I've found my voice with the soprano. The soprano is a world instrument for me. It's a vocalist, a singer. It's Miles. It's Indian. It's ethnic. It's the On the Corner screeching shit. It's got everything. It's made my personality. Thank God I found it." He recognizes this about the history and range of the soprano, he's mastered all of these styles, and — crucially — he's absorbed it into his own voice and personality. That's why he's our greatest living soprano sax player.
Liebman's only historic equal on the soprano sax — along with Bechet, Lacy, and Shorter — is John Coltrane. Liebman is arguably Coltrane's most accomplished disciple on soprano, and he is forthcoming about Coltrane's deepening influence on him over the years. "Once you see the light, you can never turn away from it, though you may try," Liebman states in the liner notes to his new album Selflessness: The Music of John Coltrane. "I have been Chasin' the Trane for 60-plus years. I can honestly say that he was greatly responsible for who I am . . . and who I wish to be." Liebman has expressed his musical and personal debt to Coltrane several times before, notably on Homage to John Coltrane (1987), A Tribute to John Coltrane: Live Under the Sky (2007), and Compassion: The Music of John Coltrane (2017), not to mention the many covers of individual Coltrane songs on other records and concert performances. It's also hard to hear the many tracks of Liebman playing with Elvin Jones and not think of each of them as Coltrane tributes in their way.
Selflessness is different from the previous three tribute records, however, because it is a recording with Liebman's regular working band, Expansions, and not with all-stars. It is also a generally more mainstream swinging jazz record that features Coltrane's ballads and the lyrical side of his playing on some overlooked gems. It's not Coltrane's "greatest hits" ("My Favorite Things" excepted), and it's no recreation of the originals — each track is significantly rearranged and reimagined to fit the strengths and styles of the Expansions group. Liebman is mellowing out, somewhat, and it's worth noting that this record was released on September 4, his 75th birthday.
This is the fifth album from Expansions, which was organized in 2014. Liebman is joined on sax by Matt Vashlishan on alto, flute, clarinet, and wind synths (but not soprano), and he has clearly learned much from this unique opportunity. The excellent rhythm section is Bobby Avey on piano and electric keyboards, Tony Marino on acoustic bass, and Alex Ritz on drums.
The opening track, "Mr. Day," explores the cross rhythms and syncopations implied in the melody. The result shows what this rhythm section can do, navigating the soloists through what sounds like overlapping time signatures. Vashlishan makes a strong first impression on alto with a straight-ahead swinging solo, contrasting with Avey's darker McCoy Tyner-like chords underneath.
"Compassion" is from Coltrane's Meditations album.The tune is slowed down to bring out the melody in Liebman's lovingly articulated phrasing. Vashlishan plays wind synth as counterpoint to Liebman's soprano, and Avey plays what the notes call a "Vintage Vibe" keyboard that sounds like an altered Fender Rhodes. The electronics create a spooky (but never grim) atmosphere — this is Coltrane walking in the deep woods.
Coltrane's version of "My Favorite Things" from The Sound of Music is probably the most famous waltz in jazz, but the group plays it in 4/4. It starts with the opposite of Tyner's original ear-worm piano vamp: Avey instead plays in an echoey, dream-like mode with softly ringing piano, creating a world for the song and not just a harmonic mode. Soon after, the melody shifts abruptly into a faster tempo. Liebman and Vashlishan trade choruses before they blend their compatible tones together on the familiar comforting melody. Vashlishan solos in a Cannonball Adderley gear, stretching out on a long, grooving solo. Liebman plays with fluency and ease, sounding sometimes like a bird and sometimes like Bird.
"Olé" is an often-overlooked composition in 6/8 from the album of the same name. Coltrane's original is an 18-minute exploration with a loose Spanish feel, carried by Tyner's turbulent accompaniment. Here, "Olé" opens as a feature for Ritz's "flame drums," then Liebman plays wood flute over Avey's synth keyboards. It's an exotic sound — not quite Indian, not quite African, not quite Spanish. It's refreshing to hear a wood flute played without a hint of any cheesy New Age or Native American tourist music. Vashlishan enters on clarinet, another instrument that sounds perfect in unison with Liebman's soprano. Avey's synth solo is programmed to sound like an electric guitar in places, and together the band takes "Olé" far away from Coltrane's version by bringing it up to date with new instrumentation and exploring not just the melody, but also the original's personality. This is a stand-out track that will hopefully bring more attention to this composition that should be covered more often.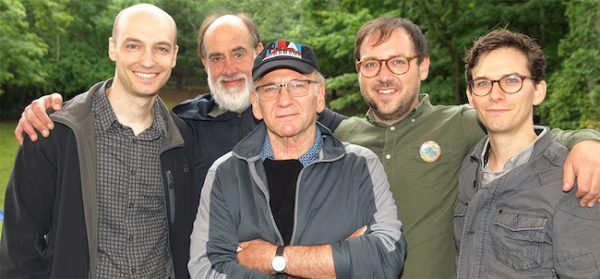 When Coltrane re-wrote (a polite way to say ripped off) Tadd Dameron's "Lady Bird" as "Lazy Bird," he gave it a different but still recognizable chord progression. Liebman treats Coltrane the same way here, giving Blue Train's "Lazy Bird" a new set of changes and a great deal more rhythmic complexity. Drummer Ritz is on top of the Cuban rhythms as well as the freer sections. There are different moods, tonalities, and grooves here, but it never sounds like a pointless pastiche. It's a great sampler of what this tight band can do.
"Peace on Earth" is an oddity. It first appeared on Coltrane's Concert in Japan from 1966 as a 25-minute extended exploration with the quartet. It was later recast on Infinity with Alice Coltrane in 1972. The latter is a ponderous and imposing piece performed with strings, dissolving after about two minutes into something free, then emerging from the maelstrom as something organized and elated. It's a song of descent and ascent, a drama in which peace emerges from conflict stronger than before. Liebman boldly arranges the tune as a small concerto for soprano and flute, writing a simple and detailed statement of the beautiful and elusive melody. The rhythm section ebbs and flows like waves. There are no solos, just some brief extemporizations and asides. Rather than trying to re-write an epic poem, Liebman wisely chooses to make his version a sonnet.
"One Up One Down" was recorded by Coltrane with Archie Shepp in 1969 on New Thing at Newport. Here, it's a much more mainstream freebop workout for the quartet. Avey sounds like Tyner a bit with the low rumbling chords in the opening, but generally he avoids sounding as if he is indebted to Tyner, just as Ritz avoids sounding like Elvin Jones. The drums take the first solo after the head, which is a welcome change. Liebman enters like an osprey descending on its prey, and the drums and soprano go at it, tearing through the changes. This is vintage Liebman, and he's lost none of his fire at 75.
The album ends with two standout tracks. "Selflessness" is from Coltrane's 1969 album of the same name. There is a more up-tempo version on 1965's Kulu Sé Mama. The performance here is slower than both, cleaner, more controlled, and less about open expression than calling attention to the elegance of the melody. There is an odd undercurrent of a busy drum accompaniment that at first seems like it belongs to a different song. But then the broken rhythm pattern settles into a funkier groove, though it still sounds at odds with the abstract and dense piano chords coming in on unpredictable beats. It reminds me of Wayne Shorter's recent rhythm section of Danilo Pérez, Brian Blade, and John Patitucci, which is a high compliment. When the saxes come back in for the melody, the song has been transformed from the meditative and free mode in which it began. Is this a tone poem about "selflessness" and coming together as a group, which defines jazz music across the eras?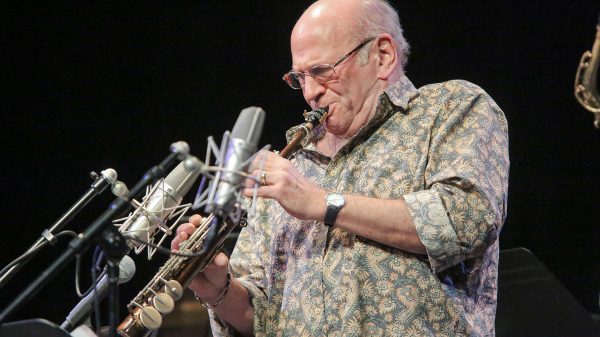 "Dear Lord" is from Dear Old Stockholm, released in 1965, but it may be most familiar to listeners from 1975's essential compilation The Gentle Side of John Coltrane. The original has Coltrane playing with his most rich and full-bodied tenor tone, so it's a challenge to take on with the thinner sounding soprano. Liebman turns the difference to his advantage by playing the gorgeous theme in harmony with Vashlishan's flute, so they almost sound as if they are playing the same instrument. Liebman's control of tone is masterful — he plays clean and straight, like an oboe, ceding the vibrato and freer expression to the flute so they don't get in each other's way. Then they change places, and the flute plays straight while the soprano plays solo fills. It's a beautiful and fitting ending.
Let me close by putting in a word for Liebman's other Coltrane tribute albums. Homage to John Coltrane and A Tribute to John Coltrane: Live Under the Sky are both missing from the major streaming services. They are worth picking up if you ever find them in the wild. Both are all-star sessions. Homage is a bracing and liberating blowing session with Jim McNeely, Jim Beard, Eddie Gomez, Mark Egan, Bob Moses, Caris Visentin, and Adam Nussbaum. A Tribute to John Coltrane: Live Under the Sky is a meeting of the two soprano heavyweights (no oxymoron!), Liebman and Wayne Shorter, with Eddie Gomez, Jack DeJohnette, and Riche Beirach. The vinyl is hard to find, but you can hear a copy of the DVD release on YouTube. Liebman plays "Mr. P.C." like it's his last solo ever, and only Shorter could follow it. The more recent Compassion: The Music of John Coltrane (from 2007) is another summit meeting of saxophone equals, this time with Joe Lovano. Ron McClure is on bass, Phil Markowitz is on piano, and Billy Hart plays drums. This time Liebman picks up the tenor more often, and for direct comparisons, there are more outside versions of two songs that appear on Selflessness: "Dear Lord" and "Olé."
Liebman has done what the greatest jazz musicians do: they learn from those who came before them, absorb their influence, then build on it to forge their own voice on the instrument to in turn influence others. He is paying tribute to Coltrane by still doing what Coltrane would surely have him do, which is to look within and find truths that are a wellspring of rewarding and challenging music for the rest of us.
---
Allen Michie works in higher education administration in Austin, TX. He has for many years owned (one cannot really say "played") a soprano sax.