By Michael Marano
No Time to Die could only be a product of the Trump era.
No Time to Die, directed by Cary Joji Fukunaga. At cinemas throughout New England.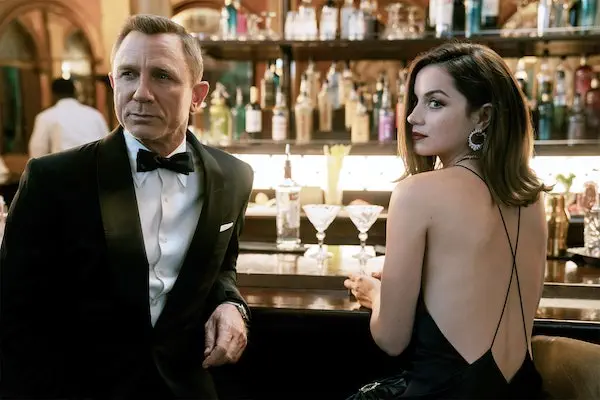 As the new Bond movie No Time to Die begins, you'd have no idea you're watching a Bond movie.
Yes, it opens with a house nested in a snowy vista, much like the snowy vistas Bond has skied through multiple times while being chased by bad guys. But this setting looks and feels like those used in snow-bound horror movies, like Dead Snow, The Lodge, or Dead of Winter. In this horror movie setting, there's a domestic drama that unfolds, a betrayal of a family trust, a revelation that the past is not what it is thought to be, the kind of disclosure you'd expect in The Ice Storm or an adaptation of an early Brett Easton Ellis novel. Again, not really Bond fodder, but it speaks to director Cary Joji Fukunaga's ability to decoupage genres, such as he did in the first season of True Detective, blending horror, cop show, Southern Gothic.
This collage of the film's opening sets the tone for the rest of No Time to Die, which is very much a product of its time. It was written and filmed a few years ago. The main theme is broken trust, and as such it reminds me of another snow-bound genre movie, John Carpenter's The Thing, which summed up the cultural and political changes of the early Reagan era with Kurt Russell's line: "Trust is a tough thing to come by these days." This observation might seem oxymoronic, but cracks made by broken trust hold No Time to Die together. They also reveal its faults.
No Time to Die, of necessity, has to perform three monumental tasks: it has to clean up the absolute and unforgivable vomitorium that was the previous Bond movie, Spectre, (the only Bond movie this Bond fanatic has only seen once); it has to be a worthy send-off of Daniel Craig's Bond while tying up the loose ends of the Craig era; and it has to be its own, epic, thrill-packed movie in a market saturated with Marvel product. Broken trust, the past not being what you've been told it is, stitch these three elements together, and also bring in all the genres that No Time to Die tries to tap: a Bond-type spy thriller; a more serious Graham Greene or John le Carré spy drama; science fiction; horror; family drama. It's impossible for any movie to do all these things well, and the fact No Time to Die is pretty damned good, with just some elements that are duds, is kind of a miracle.
To get a grip on the broken trust and confrontation with the past that define No Time to Die, and how it makes it work as well as it does, we have to see the film as the historical artifact it is. This is not a current movie. It's two years old, originally slated for November of 2019 but, because of COVID and other issues, its release was moved back, then postponed, and then moved back again; we gotta confront the past that created this movie, and the broken trust it articulates. Because just as From Russia with Love could only be a Bond movie made amid the Cuban missile crisis, and The Spy Who Loved Me, with Russian spies as allies, could only be a Bond movie made in the era of Détente, so could No Time to Die only be a product of the Trump era.
"Our elected leaders aren't playing nice," says Bond's buddy and CIA contact, Felix Leiter (Jeffrey Wright), who's tapping a nominally retired Bond for a little help. One of the major plot points is that MI6 and the CIA are not working together. In fact, without the broken trust of Trump's foreign policy from a few years ago — which alienated NATO, pulled the US out of the Paris Climate Accords, reneged on the Iran Nuclear Deal, and most telling of all, appointed shithead toadies to the State Department — the plot of No Time to Die couldn't work. Global distrust between nations generates distrust between individual characters, which feeds into the villain's nihilist philosophy. "People want oblivion," says Rami Malek as bad guy Lyutsifer Safin. And, given the global sense of nihilism that Trump's foreign policy was part of, it's hard to argue with him.
Despite its bleakness, however, No Time to Die is a statement against nihilism. The movie is about fixing those broken trusts, on the global as well as personal scale. And it does a bang-up job of doing that by giving us Bondian action-adventure that kicks ass and is also character driven. Bad guys' faces are broken as broken trusts are repaired. Much has been made of Lashana Lynch's Nomi taking over Bond's "007" designation. She's such a splendidly deadly and charismatic secret agent that what might seem the broken trust of MI6 — assigning her Bond's old number — is patched in a hot minute. Craig's Knives Out co-star Ana de Armas as Poloma is a show-stopper and only Jeffrey Wright could carry the cheerful weltschmerz that Leiter has to show in this flick.
On the down side, while Rami Malek was born to play a Bond villain, there's just not enough antagonism between him and Bond, especially compared to the glorious Bond/Villain interactions of Casino Royale and Skyfall. The absence of that smolding animosity is a sour cheat. The movie is both too long and too short — it has so much to cover in three hours, it feels like it should have been two movies.
But these are surmountable issues, given that No Time to Die fixes the trust the franchise broke with this Bond fan with the appalling Spectre. This movie feels like one of the better Bond novels (On Her Majesty's Secret Service comes to mind); it has a lot of the thematic and emotional weight Ian Fleming could cram into an adventure. Though it's Craig's send-off, it has the vibe of a homecoming, which is what fans need in a world in which oblivion is such an all-pervasive idea.
---
Since 1990, Michael Marano (www.michaelmarano.com) has been covering film for the nationally syndicated Public Radio Satellite System program Movie Magazine International, which airs in 111 markets in the US and Canada. He has provided film reviews and pop culture commentary for a variety of national publications, and Tweets at @MikeMarano. His first Bond movie on TV was Goldfinger. The first he saw in a theater was Live and Let Die. The one he's seen the most times is Casino Royale. He only discusses which are his favorites with other Bond fans after a few beers, so don't ask.