By Ed Symkus
Director Anton Fuqua forgoes his usual action milieu with an unrelentingly tense, highly emotional English language remake of Den skyldige.
The Guilty, directed by Anton Fuqua. Premiers on Netflix on Oct. 1.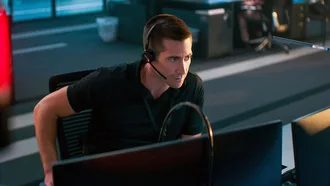 The 2018 Danish film Den skyldige, by first-time writer-director Gustav Möller, deservedly took home seven of the eight Robert Awards (Danish Film Awards) it was nominated for. It's a terrific film — small in scope, huge in emotion and exploration of character. Set in one interior location, it's about Asger (Jakob Cedergren), a police officer pulled from his regular duties and forced to work as a 911 emergency operator until some trouble he's caused is ironed out.
He hates this job and is even abusive to some of the distraught people (we only hear their voices) on the line, but becomes inexorably involved in a call from a sobbing, terrified woman named Emily (voice of Riley Keough) who, pretending to be speaking to her daughter, makes it clear to him that she's been kidnapped, and is in a moving vehicle.
Like that film, this American remake unfolds in real time and proves to be an exercise in intensity that never stops building. Pretty much everything else about it is also the same. The cop, now named Joe Baylor, played by Jake Gyllenhaal, is saddled with "phone duty" while his day in court (unexplained until near the end) approaches.
Adhering, in many instances, almost shot for shot to the Danish film's script, screenwriter Nic Pizzolatto does open things up a bit. Rather than sticking just to a couple of rooms dedicated to the workings of the emergency line, there are a few instances of the camera breaking free of its confines and taking quick looks at scenes from the kidnapping that took place on Los Angeles freeways. But they're all shot in a kind of dreamlike manner, suggesting that these are images that might well be conjured up in Joe's mind.
Joe never leaves the building, and Gyllenhaal, who is front and center in almost every shot, imbues the character with an agile blend of frustration and exhaustion. In short order, it's obvious that Joe is a man with anger issues. The stress ball, constantly clenched tightly by Asger in the original, has been replaced by an inhaler that's continually squeezed by Joe, doubling as a tension reliever in between his asthmatic coughing jags.
The film's production design is as important a component as any character or performance. The sleek, dimly lit emergency center is filled with banks of phones and video screens. It's not at all cluttered, but camera angles and the abundance of closeups on Gyllenhaal's face give it an off-putting, claustrophobic feel.
As the two main stories — Joe's work and personal problems, and Emily's kidnapping — merge into one, numerous additional plot points ratchet up the tension. Calls from other distressed people light up the emergency line; a reporter looking for a statement before Joe's case goes to trial tracks down his cell phone number; Joe gets through to and must deal with Emily's kidnapper Henry (voice of Peter Sarsgaard) on the phone; in a nod to in-the-news obstacles, Highway Patrol officers trying to find Emily are hampered by smoke from California wildfires.
A subplot involving Joe reaching Emily's frightened six-year-old daughter Abby (voice of Christiana Montoya) by phone at first seems superfluous to everything else going on, but as events unfold in different directions, the connection becomes central to the film's punch.
Along with a fine piece of acting from Gyllenhaal, who easily and convincingly ranges from dead-eyed calmness to sheer fury, The Guilty develops into a tense thriller that leaves room for a couple of plot twists. There isn't a moment of lightness to be found here. The film's grip is unrelenting and emotionally wrenching.
There will undoubtedly be art film elitists claiming that there's no need for this remake, that it's exactly the same as the excellent original. They'll bring up the tired argument that people who avoid subtitles are lazy. It's true that both films are very similar, but they both require focused concentration on words, facial expressions, and body language. Having an English-language version for non-Danish-speaking audiences makes that a lot easier.
---
Ed Symkus has been reviewing films and writing about the arts since 1975. A Boston native and Emerson College graduate, he co-wrote the book Wrestle Radio, USA: Grapplers Speak, went to Woodstock, collects novels by Harry Crews, Sax Rohmer, and John Wyndham, and has visited the Outer Hebrides, the Lofoten Islands, Anglesey, Mykonos, the Azores, Catalina, Kangaroo Island, and the Isle of Capri with his wife Lisa.
His favorite movie is And Now My Love. His least favorite is Liquid Sky, which he is convinced gave him the flu. He can be seen for five seconds in The Witches of Eastwick, staring right at the camera, just like the assistant director told him not to do.