By David D'Arcy
A quartet of highlights from this year's Toronto International Film Festival: Anatolian Leopard, Dashcam, One Second, and Dug Dug.
The Toronto International Film Festival was a mix this year – but less of a mix than in previous years. There were fewer films from beyond the US and Europe that might not be released commercially. Blame it on COVID. Those movies will be back. And I found some relatively obscure titles that should be seen.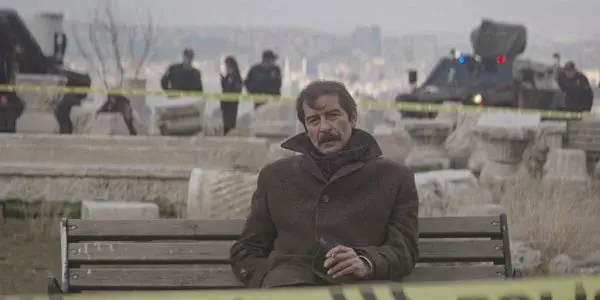 One of my favorites was Anatolian Leopard, a first feature by the Turkish director Emre Kayis, who is also a writer and cinematographer. The setting is Ankara, the dreary capital that even the locals don't like. The film's protagonist is Fikret (Ugur Polat), the sixtyish director of the city zoo, a national institution starved by meager budgets. Arab investors from the Gulf  are closing in on an opportunity to build an amusement park. Local politicians, eager to follow the money, are railroading the change through in the spirit of privatization. One thing stands or lies in their way, a rare Anatolian leopard from the Turkish mountains that by law can't be moved.
In this grey grim tale, where the acting is as inspiring as anything I saw at TIFF, the zoo is an institution that is being "modernized." Serious, conscientious people like its director are as close to extinction as its local mountain cat. Almost everyone who might have taken his side at the zoo has either jumped ship or been sacked. The institutional drift toward self-enrichment becomes more personal as we see the director's loud ex-wife, with a new rich husband, spoiling their daughter. Pay close attention to an enormous guard, a devoted employee who refuses to care for any animal but the leopard. He sleeps by its cage at the zoo until he's thrown out. Portraits of betrayal sometimes carry the astringent charm of magic realism, yet the gnawing bitterness of Anatolian Leopard calls to mind films about older generations tossed to the winds, as in Vittorio de Sica's Umberto D (1952).
A coincidence perhaps, but Anatolian Leopard was just awarded the International Film Critics "Fipresci" prize at TIFF, from a group led by critics in their elder years.
Kayis breaks some new ground with his extinction metaphor, but he's working in a familiar vein. Bear in mind that Turkish directors, especially Nuri Bilge Ceylan and Ferit Karahan, have built dramas around institutions dying or devouring those dependent on them. Rooted in that society, Anatolian Leopard is still universal enough for an American remake.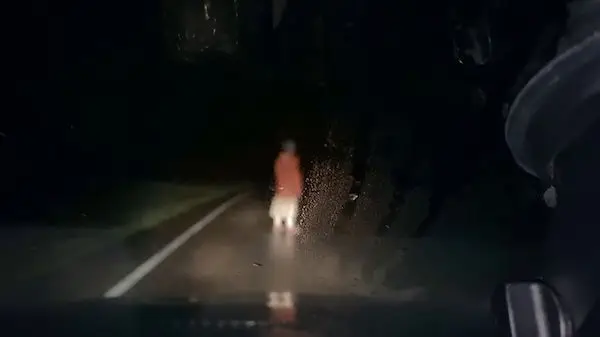 Dashcam, a UK-US co-production that could not be more different, looks as if someone told its director, Rob Savage, to make the most offensive and disgusting movie that he could with as little money as possible. (The producer is the no-budget horror mill Blumhouse Productions.) I might certify that Savage has achieved that goal, but I would probably be neglecting someone who had already outdone him. In this can-you-top-this field of mayhem, out-grossing (or out-offending) the last filmmaker with blood on his hands seems to be the name of the game. That said, Dashcam (a title that names the medium's key tool) is offensive and gross. I watched the whole thing. Guilty as charged.
One aspect of this genre hasn't changed so much. The stories are still almost as simple as that of The Blair Witch Project, a DIY hit  from 1999 that helped launch the genre of no-budget found-footage horror cinema.
The road movie's story here is simple indeed. Annie Hardy (playing or out-playing herself) is a streaming personality, eager to shock her public with her improvised raps as she drives around LA. She goes for raunchiness — below the belt, of course — and she spouts plenty of it from behind the wheel. Bored with LA and the pandemic, she heads for England (where the COVID rules are stricter, but don't look for logic here). She arrives at the house of friends, steals their car, and picks up a woman named Angela, who seems homeless, but is a zombie who eats flesh and things far worse. Could there be a better travel companion for someone whose raps are getting stale? And there's a lot of road left. Dashcam is nothing if not relentless, so relentless that Annie is still rhyming about sexual peccadilloes, foul as ever, after the film is ended. The victims of her commentary are the crew members whose names  and attributes roll by on the credits. Maybe that's her take on the Gesamtkunstwerk. True to Dashcam's car crash aesthetic, she just can't stop.
A lot of the critics who saw Dashcam at TIFF hated it, preferring Savage's Host (2020), an ensemble horror drama set around a pandemic-appropriate Zoom chat (streaming on Shudder). The film is not as entropic as Dashcam and its characters are easier to like than Annie (who transforms herself as close to loathsome).
Still, Dashcam, if seen as a pandemic-era satire with Annie in on the self-mockery, captures the mindless fury of headbangers for "freedom," extremists opposed to every sensible restraint on behavior from masks to speed limits. The lampoon takes the form of a visual torrent that's a blend of volcano and flood. I'm not exaggerating. Use caution when recommending it to anyone over fifty.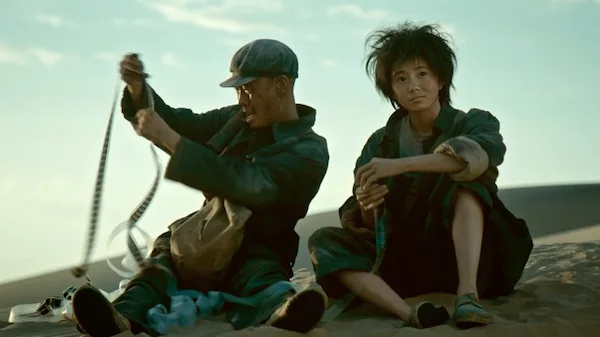 A film that is sure to escape the obscurity of censorship, playing widely and vying for awards nominations, is One Second, in elegant black and white, by the Chinese master Zhang Yimou. Set in 1964, it tells a bare-boned tale of a father's search for his daughter in a desert town ringed by endless hills of sand — an enchanting landscape if you're not stuck there. That father, an escaped prisoner, is played by the actor Zhang Yi. The father is in search of a reel of film, which is stolen inexplicably by a street urchin called Orphan Liu (Liu Haocun). Eventually that footage, an official celebration of achievements of the Communist Party, is shown by a local projectionist named Mr. Movie (Fan Wei), who screens films trucked in for a night, for crowds who will watch anything. In this town, anything means noisy propaganda.
Somehow the father/prisoner protagonist knows something about film projection — we're never told why — and somehow he's convinced that his daughter could be visible, for one second, somewhere in the film. In a magnificent sequence, he and Mr. Movie conscript anyone they can to help clean  the film so they can show it. There are echoes of Chaplin's The Kid and Paper Moon here as the escapee befriends the headstrong Orphan Liu. Giuseppe Tornatorre's Cinema Paradiso comes to mind as everyone piles in to watch a film projected on fabric hanging from ropes.
Not shown at the Berlin International Film Festival in 2019 because of "technical difficulties," which were never explained, the film has been allowed out of China to play at TIFF and at the San Sebastian International Film Festival. It's hardly a hymn to the Chinese Communist Party, either in 1964 or now. Nor is it a director's romantic ode to cinema. Its heroes are not workers, but nuisances. The unnamed protagonist is an escapee from prison, an enemy of the state. He and the young Orphan Liu represent the lumpenproletariot – unschooled, unemployed, and undisciplined troublemakers. They are literally in rags (lumpen in German). All the more worth watching. Be prepared for an ending where the solidarity of the poor (almost everyone) and the solidarity of cinema (as a way of bonding those who practice that craft) falls short.
Heart-wrenching and heartwarming, One Second is anything but nostalgic. Zhang Yimou is looking back at austere times in the early 1960s, when China struggled to feed its people, often failing calamitously. Will audiences outside of China see his honesty about those times as subversive? The Chinese authorities did.
More gentle than iconoclastic, given religion's problematic shadow over Indian politics, Dug Dug is one of those low-budget international films that TIFF has a reputation for premiering.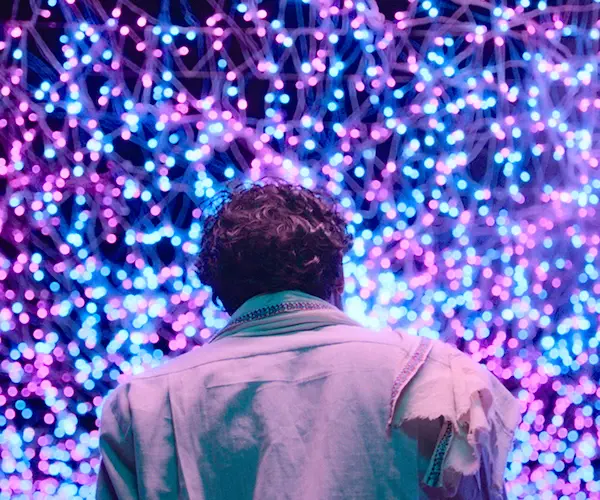 Dug Dug, directed by Ritwik Pareek, is about the construction of a temple in the state of Rajasthan. The origin myth behind what made the building's site sacred is the film's punchline. A drunk workman heads down the highway on his motorcycle. He ends up dead, but somehow the motorcycle, even after it is locked in the nearby police station, returns to the scene of the accident — again and again. A sign of divine intervention? The locals would like to think so. Who wouldn't want a sacred site on a village's main drag, a place where travelers stop and buy things?
People leave flowers where the man crashed, pour liquor on the ground to honor deities that might be watching, and leave money, lots of it. Soon the temple expands into something permanent, then into an institution. As cash piles up, the impromptu shrine becomes a site for one-stop praying.
If Zhang Yimou's One Second taps into a rural audience's need for spectacle, (even in the form of drab columns of troops marching in lockstep), Pareek's Dug Dug targets small-town dreams — in this case, the hunger for miracles. One miracle is the spiritual elevation of a motorcycle that carried a man to his death; another is the creation of a temple, inspired by the motorcycle, where the miraculous might happen if you leave enough of your wealth there.
Dug Dug is at it most clever and charming in its details. We watch as an ever-growing number of devotees hope that the shrine to which they have given so much will give something back. This is a discreet affectionate satire, made in a country that, critics warn, is heading toward a Hindu theocracy. Believing is seeing, Pareek is saying, as crowds at the shrine wait for an answer to their prayers.
---
David D'Arcy, who lives in New York, writes about art for many publications, including the Art Newspaper. He produced and co-wrote the documentary Portrait of Wally (2012), about the fight over a Nazi-looted painting found at the Museum of Modern Art in Manhattan.