By Steve Feeney
It might seem a stretch to pair drummer Andrew Cyrille's disc with composer/trumpeter Amir ElSaffar's.  But both spent time under the tutelage of the redoubtable Cecil Taylor, and it shows.
The News – Andrew Cyrille Quartet (ECM)
The Other Shore – Amir ElSaffar (Outnote Records)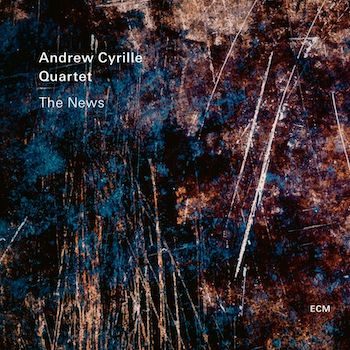 If they keep a healthy lifestyle, drummer/percussionists, strengthened by their loyalty to disciplined movement, often play on well into their senior years. That's why the death of Charlie Watts, at a mere 80 years of age, was so shocking.
That said, Andrew Cyrille, a youthful 79 at the time this disc was recorded in 2019, appears to be a tad more methodically reflective than he was in his avant-garde heyday. But the artistic depth of his work remains remarkably undiminished on his latest disc, The News.
Bill Frisell (guitar) and Ben Street (bass) are returnees from Cyrille's well-received last disc, The Declaration of Musical Independence. Keyboardist Richard Teitelbaum became ill after that recording was completed and is, alas, no longer with us. Cyrille enlisted David Virelles (keyboards), with whom he and Street had previously performed, to fill out the quartet this time around.
Caribbean rhythms and harmonies can be gleaned from a couple of tunes composed by the Cuba-born Virelles, one of them co-composed with the leader, who is of Haitian ancestry. The lovely "Incienso" sends rolling harmonies over Cyrille's simplified tapping pulse. The pianist establishes a reflective mood which is quickly complimented by Frisell's tolling chords and Street's subtle way of tying the tune's passages together. The piece is pure ECM, its spaciously set group conversations propelled by an unhurried theme.
Co-composed by Cyrille and Virelles, "Dance of the Nuances" probes what could be described as a mood of sensitive unease, the pianist's rippling meditation sailing above the percussionist's understated rumble, with Virelles eventually taking the tune to its cavernous close.
The omnivorously resourceful Frisell offers three compositions. "Mountain" leads off the disc. The piece taps into the guitarist's inner Americana-ness, its folkish theme elevated by dollops of Cyrille's controlled freedom — this is a song of wonder that's upset (temporarily) by Virelle's suggestion of a dark crevasse below.
Over a synthesizer wash from Virelles, Frisell's "Baby" is a wistful tune on which the composer's variations are touchingly framed by a sympatico Street. The leader's brushes sweetly cradle the tune.
The title piece emerges from deep out of a vortex of plucked strings and piano tinkles. Far off electronics and plaintive cries from bowed bass take us ever further into menacing deeps. The piano tries to message us — via some sort of code? — before the composition deconstructs. Nervous rustling sounds introduce a bit of a vocal from the leader.
Cyrille's voice returns on his "With You in Mind," a piece that confirms the artist's romantic soul. Virelles and Frisell — taking separate paths — bring the piece home, to where love resides, the perfect resting spot for this fine after-hours-with-just-a-bit-of-grit album.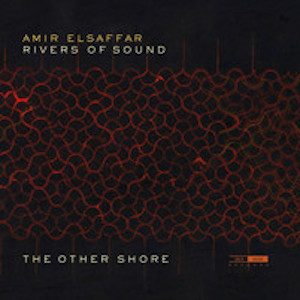 At first blush, it might seem to be a stretch to pair the Cyrille disc with composer/trumpeter Amir ElSaffar's The Other Shore. But both spent time under the tutelage of the redoubtable Cecil Taylor. And it shows. More importantly, both are restless spirits that look for musical spaces that expand on existing forms.
This is the second disc from ElSaffar's 17-piece Rivers of Sound Orchestra, and it succeeds at creating fascinating, multicultural worlds of sound that incorporate the leader's Iraqi-American heritage with advanced Western classical and jazz concepts. The band includes players from various geographic areas. These musicians also embrace a number of instruments and have mastered a variety of musical genres as well.
The music, in some ways, feels like '70s experiments in loosening up musical boundaries, in the mode of artists such as Miles Davis, Pharoah Sanders, Alice Coltrane, and John McLaughlin. Combining composition and improvisation, the band maneuvers through gentle musical waters, but is more than ready to take it up a notch or two when choppier passages emerge. Employing "heptatonic modes" with "microtonal intervals," the orchestra members, nearly half of them doubling or tripling on various instruments, take the listener on an intriguingly complex journey, to a place where sounds come together in ways that could only be partially foreseen by the composer.
A sense of controlled simmer underlies the themes, and their evolving settings, on lengthy excursions such as "Dhuha," "Reaching Upward," and Ashaa."
The latter piece tilts toward Asia in its sonorities, before settling into a groove powered by Carlo De Rosa's bass. The cello of Naseem Alatrash and the violin of Dena ElSaffar (Amir's sister) weave plaintive lines over Tareq Abboushi's buzuq. The proceedings grow funkier when Miles Okazaki's electric guitar takes center stage. The leader's trumpet invigorates the next passage — until he is countered by Fabrizio Cassol's alto sax. That kicks the band off in another direction — and another gathering point.
Among the shorter pieces, "Lightning Flash" settles into an uptempo surge with either Zafer Tawil's or George Ziadeh's oud riffing over Jason Andasiewicz's vibes. JD Parren adds a vamp on bass sax which grounds the tune as it approaches its decelerating close.
Tawil offers a final goodbye with his nay on "Medmi (epilogue)," a thoughtful endpoint that underlines the value of this incredibly rich album of multisourced music.
---
Steve Feeney is a Maine native and attended schools in Maine, New Hampshire, and Massachusetts. He has a Master of Arts Degree in American and New England Studies from the University of Southern Maine. He began reviewing music on a freelance basis for the Portland Press Herald/Maine Sunday Telegram in 1995. He was later asked to also review theater and dance. Recently, he has added BroadwayWorld.com as an outlet and is pleased to now contribute to Arts Fuse.