As the age of COVID-19 wanes (and waxes?), Arts Fuse critics supply a guide to film, dance, visual art, theater, and music. Please check with venues about whether the event is available by streaming or is in person. More offerings will be added as they come in.
Film
The 25th Flickers' Rhode Island International Film Festival
August 9-15
This year's hybrid festival will feature drive-in, outdoor, and online screenings, filmmaking workshops, meet-and-greet industry events, and seminars. Program Guide  Tickets and Passes
In order to add an air of relaxed naturalism, writer and director Alexandre Rockwell (In the Soup) cast his wife and two children to this tale of dysfunctional parents and their runaway children. Lana Rockwell plays Billie, the daughter of a loving but unreliable alcoholic, Adam (Will Patton —  overlooked in last year's Minari). The film has been shot in high contrast black-and-white with some flashes of color. An eclectic soundtrack — Billie Holiday, Van Morrison, and Arvo Pärt — generates a distinctively nostalgic mood.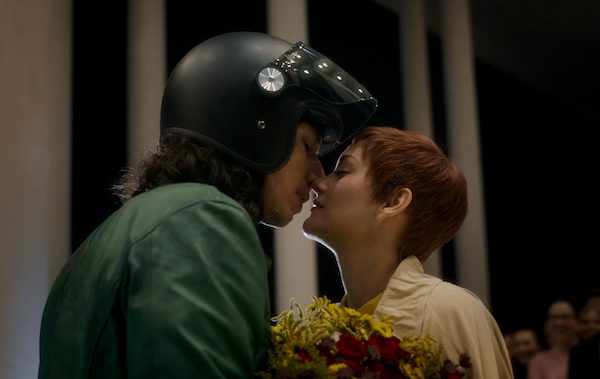 Annette
Now Playing Coolidge Corner Theater and Kenmore Square Theater
Leos Carax's new film is the realization of a Sparks musical that was hinted at in this year's documentary, The Sparks Brothers. Carax, known for obsessively strange films about sad relationships, is a perfect match for Sparks' Ron and Russell Mael, the creators of a singular genre of pop music. Adam Driver, who plays Henry McHenry, endeared himself to audiences when he vented some vocal chops in The Marriage Story. French beauty Marion Cotillard, in the role of his wife Ann, secured her reputation as a singer and actress portraying Édith Piaf in La Vie en Rose in 2007. Simon Helber plays an orchestra conductor and Ann's accompanist, known only as The Accompanist.  Best known as Howard on television's The Big Bang Theory, Helber showed off his music gifts as Cosmé McMoon, the pianist for Florence Foster Jenkins in the titular film starring Meryl Streep.  This is a magnificently strange opera like nothing you've ever seen. (Arts Fuse review)
Stillwater
Kendall Square Cinema
Director Tom McCarthy (Spotlight, The Station Agent) based his new film on the story of Amanda Knox, the American college student imprisoned for eight years in Italy for the murder of her roommate. She was ultimately exonerated. Matt Damon gives one of his best performances as the blue-collar, ex-alcoholic father searching for justice for his daughter, who is played (unsympathetically) by Abigail Breslin. The story is set in Marseille,  a volatile port city in southern France whose assemblage of immigrants and gangs could be compared to Trump country in America. The setting adds to the story's intrigue as well as its clash of cultures.  (Arts Fuse Review)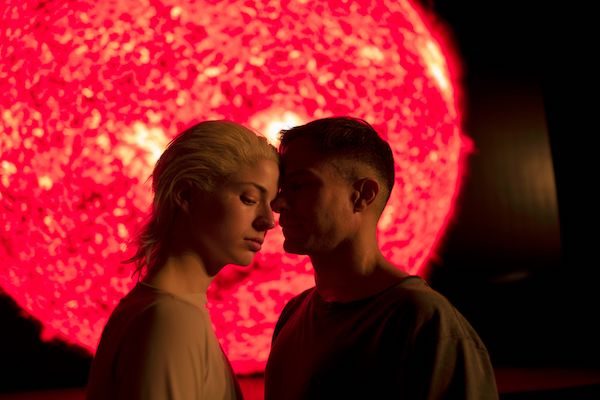 Ema
Kendall Square Cinema
Opens Friday, August 13
Chilean director Pablo Larrain (Jackie, Neruda) makes compelling adult dramas that meditate on politics, art, and psychology. In this latest film, Mariana Di Girolamo, as Ema, and Gael García Bernal, as Gastón, are parents who abandon their adopted child after a traumatic incident. Ema, a featured performer in her husband's dance troupe as well as a passionate reggaeton dancer, is an unrepentant seducer of both men and women. She plays, literally, with fire. The couple are deeply at odds personally and creatively. The story introduces rousing dance sequences as it gradually reveals details about Ema that force the audience to make a judgment: is she an artist, an exploiter, a feminist, or simply a woman desperate to find love, family, and meaningful human connections? The fascinating Mariana Di Girolamo walks away with the picture playing the central role — she is a seeker of dreams and an off-putting heroine.
— Tim Jackson
---
Jazz
Bruce Gertz Quartet
August 8 at 8 p.m.
Medford Jazz Festival
The Medford Jazz Festival continues its series of livestreamed events. This one features veteran bassist Bruce Gertz leading a wonderful quartet at Bop Stop Studios in Medford. The lineup includes trumpeter Phil Grenadier, pianist Tim Ray, and drummer Austin McMahon. It's free at the festival's YouTube channel, but donations are welcome.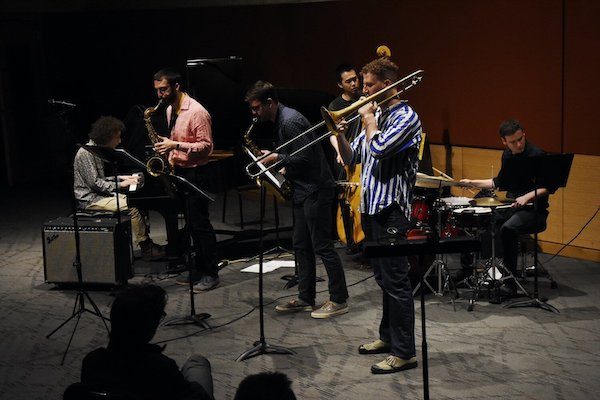 Walking Cliché Sextet
August 10 at 10:30 p.m.
Lilypad, Cambridge, MA
This New England Conservatory 2019-20 honors ensemble likes to explore "the line between polyphonic organization" and "chaotic noise," but what we hear in their 26-minute "Suite Chase Reflex" (their 2021 "single") is compositional rigor and engaged (and engaging) execution, with an appealing taste for free-form adventure. With a tour of South Korea under their belt, these guys sound like they're in it for the long haul. The players are alto saxophonist Aaron Dutton, tenor saxophonist Jacob Shulman, trombonist Michael Juba Prentky, pianist Erez Dessel, bassist Seajun Kwon, and drummer Avery Logan.
Jazz World Trio
(Postponed Due to Projected Extreme Heat. A new date will be announced soon. If you made a reservation You'll be hearing directly from the Eustis Estate about your option.)
August 12 at 6:30 p.m.
Eustis Estate, Milton, MA
Veteran Boston-based musicians Guillermo Nojechowicz (drums) and Bruno Råberg (bass) have been teaming up with exciting young pianist Witness Matlou to combine their varied backgrounds (Argentina, Sweden, South Africa) for "exciting conversation with this art form deeply rooted in the African American experience." The concerts on the lawn of the Eustis Estate are free, but "tickets are recommended," at the venue's website.
Noah Preminger Quartet
August 12 and 19, 7 p.m. to 10 p.m.
Warehouse XI, 11 Sanborn Ct., Somerville, MA
In an unusual pair of pop-up events, the space Warehouse XI is presenting a music-drink-food event. It's billed as a reunion of chef/owner Paul O'Connell and bartender Joe McGuirk from the late, beloved Cambridge bistro Chez Henri for an evening of "Cuban sandwiches, rum cocktails … and jazz." The last is provided by the exciting saxophonist and composer Noah Preminger, with a quartet that includes (on the 12th) guitarist Roy Ben Bashat, bassist Gregory Ryan, and drummer Tyson Jackson. On the 19th,  it will be Max Ridley on bass. Tickets (by reservation) get you food (a sandwich), drink (two cocktails), and music, from 7 to 10 p.m. There's also a non-alcohol ticket option. Bon appetit!
Matt Savage/ Wayne Pearcy
August 19 at 7:15 p.m.
Lilypad, Cambridge, MA
This is technically a classical gig, but since pianist Matt Savage and cornettist Wayne Pearcy are equally learned in jazz and classical, we'll claim them as our own. Savage, a child prodigy (he recorded his first album at seven), was playing and leading bands with the likes of Jerry Bergonzi and Bobby Watson while still a teenager, as well as one fondly recalled gig with Boston's progressive Aardvark Orchestra, which played one of his original compositions. Savage's impressive writing chops have taken him far and wide, including varied pieces for jazz band and, tonight, "12 Etudes for Piano." The notes for the show say that the etudes "will feature colorations and influences of composers such as Claude Debussy, Charles Ives, and Frédéric Chopin" and, in the tradition of etudes, each will " accentuate a specific technical skill," but are also "meant to be heard in order and performed as concert pieces." Pearcy will open the show, accompanied by Savage, "exploring many facets of the cornet literature, from more familiar repertoire staples to rarely performed duet pieces. And he will be performing all of them on a historic (circa 1900) instrument." Joining on some tunes will be another brass player with a taste for historical repertoire (and instruments), Chris Belluscio.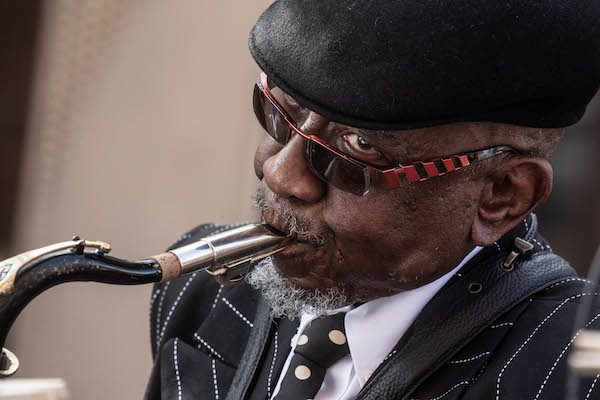 Arni Cheatham Project
August 21 at 6 p.m.
Ida B Graves Memorial Yard, Tobin Community Center, Roxbury, MA
The much beloved longtime Boston musician, photographer, teacher, and community advocate Arni Cheatham is the subject of the new recording The Sound of Dreams: The Arni Cheatham Project. The disc is dedicated to his music, under the musical direction of pianist Kevin Harris, with trumpeter Jason Palmer, saxophonists Gregory Groover and Andy Voelker, trombonist Bill Lowe, bassist Max Ridley, and drummer Tyson Jackson (with a "cameo" solo by Cheatham on one tune). For this show with Harris's crew, Akili Bradley will be the trumpeter and Lee Fish will play drums. And we can hope for another cameo from the man himself, a thoughtful, empathic, and passionate improviser.
— Jon Garelick
---
Dance
Rachmaninoff to Ellington: Music & Healing
August 11
The Hatch Shell on the Charles River Esplanade
Boston, MA
Boston dance makers collaborate with Boston Landmarks Orchestra in an evening of music and motion. Breathe in the outdoor air while enjoying orchestral works by Sergei Rachmaninoff, Bedřich Smetana, Camille Saint-Saëns, Samuel Coleridge-Taylor, Duke Ellington, and Arturo Márquez, choreographically paired with Boston Ballet II, Jean Appolon Expressions, Peter DiMuro/Public Displays of Motion, and Urbanity Dance.
The Jazz Continuum
August 11-15
Jacob's Pillow's Leir Outdoor Stage
Becket, MA
The acclaimed Jazz Continuum series sizzles at Jacob's Pillow this week. Led by LaTasha Barnes, the Continuum's masterful cast of dancers and musicians showcases the power of jazz and the Lindy Hop, a celebration of these art forms as a global phenomenon. This is the world premiere of the second exploration in the Jazz Continuum series.
Ten Tiny Dances®
August 14 at 7:30 p.m. & August 15 at 4:30 p.m.
Starlight Square
Cambridge, MA
The Dance Complex presents a casually intimate performance this week, in which dancers and choreographers are challenged by confined space and time to create engaging new works on an impressively small stage. This year's lineup includes Bharatanatyam, circus arts, flamenco, and fusions of Odori and Butoh.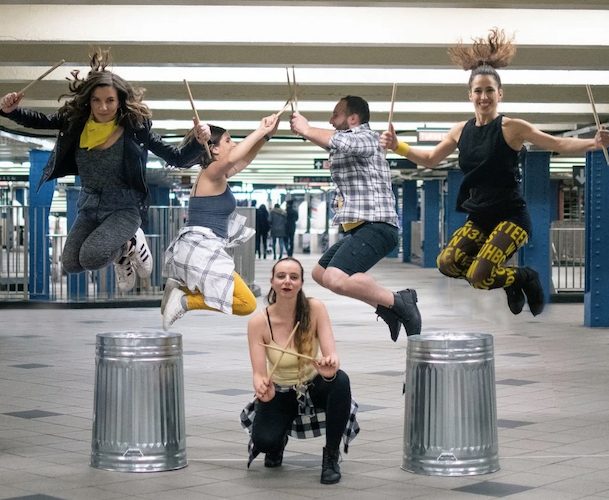 DrumatiX
August 21, 22, 28, 29 at 2 p.m.
Charlotte Forten Park (In case of rain, the performance will be held indoors at Old Town Hall)
Salem, MA
Head up to Salem for an afternoon of percussive dance and music with DrumatiX! This humorous and family-friendly performance will keep all ages engaged while  combining tap dance, body percussion, and creative drumming. Watch as cleaning supplies, plastic pipes, tin cans, buckets, large drums, and more are transformed into a rhythmic and kinetic landscape. A 15-minute workshop ends the performance, teaching audience members body percussion. Hot tip: Bring a blanket or chairs to set up on the lawn.
NOURISH Movement Sessions
August 21 & September 18 at 10 a.m.
Lexington Community Farm
Lexington, MA
For those looking for a hands-on dance activity, make the Lexington Community Farm your destination! Artist-in-Residence Jessica Roseman provides free, gentle movement sessions open to all ages — no dance experience necessary — that explore creative connections among dance, racial justice, and memory while also connecting to the land. Note to participants: Roseman suggests dressing comfortably (sunblock, hat, sunglasses) with secure shoes, and to bring water with you.
— Merli V Guerra
---
Theater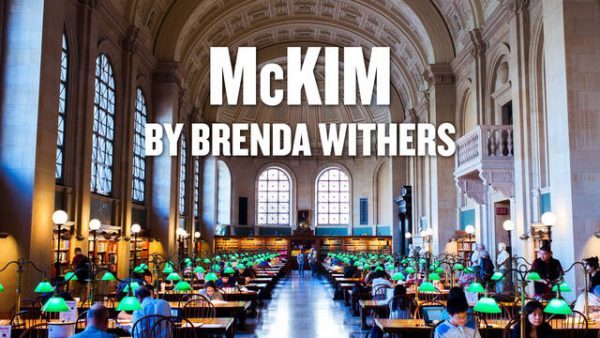 Dream Boston Plays, a new series of short audio plays (15 in number at the moment) produced by the Huntington Theatre Company. Each drama is set at a specific local landmark with one to three characters, and is about six minutes in length. All the productions are available on the Huntington's website, as well as on Apple, Spotify, Google Podcasts, and Stitcher.
The first four entries were By the Rude Bridge by Melinda Lopez; Overture by Kate Snodgrass; McKim by Brenda Withers; and The 54th in '22 by Kirsten Greenidge. "Conceived and commissioned by the Huntington artistic department, the company asked Huntington Playwriting Fellow alumni Greenidge, Snodgrass, Withers, and Lopez to imagine their favorite locations, landmarks, and friends in a future Boston, when people can once again meet and thrive in the city — a vision of a future Boston that is somewhere between dream and reality." Arts Fuse review of Episodes 1 through 5.
Seven additional titles were added to the lineup in July, which included works by local artists John Oluwole ADEkoje, Miranda ADEkoje, J. Sebastián Alberdi, Rosanna Yamagiwa Alfaro, Elle Borders, Patrick Gabridge, and John Kuntz. The local landmarks that serve as settings for this round of audio plays include Franklin Park, Harvard's Memorial Church, the Harvard Art Museums, the Old State House, the Fenway nightclub Machine, Harrison Avenue, and Malcolm X Boulevard.
The new quartet includes works by Pulitzer Prize winner David Lindsay-Abaire, Huntington Playwriting Fellows Masha Obolensky and Jacqui Parker, and writer and actor Kadahj Bennett. The settings for this round include Dorchester Heights in South Boston, Wally's Cafe Jazz Club on Massachusetts Avenue in the South End, Nantasket Beach, and the Minuteman Trail in Concord.
"These four plays think about the future from different vantage points than the previous Dream Boston plays," says Charles Haugland, the Huntington's Director of New Work, "amid the vaccine rollout, the return to in-person school, a rapid housing market, and the return to places in our city we haven't been in a long time."
Memories and Dreams, staged by Double Edge Theatre. Directed by Jeremy Louise Eaton and Stacy Klein. At the farm, 948 Conway Road, Ashfield, MA, through August 8.
The annual Summer Spectacular. "An outdoor traveling performance safely created in the times of COVID, with all of Double Edge's wonder-filled adventures and epic imagination. The spectacle invites visitors to journey through a mosaic of myths and imaginative flight on DE's Farm as we reinvigorate our memories and dream all possible futures together."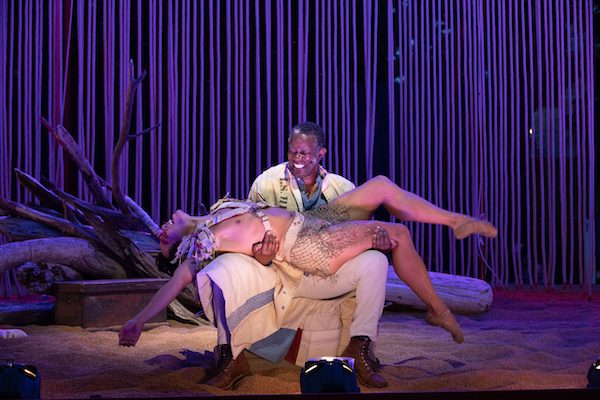 The Tempest by William Shakespeare. Directed By Steven Maler. Staged by the Commonwealth Shakespeare Company in the Parkman Bandstand in the Boston Common, Boston, MA, through August 8.
The CSC returns to live performance this summer with its 25th anniversary production of Free Shakespeare on the Common. "With the safety of our artists, staff, and audiences at the forefront of decision-making, there will be a number or adjustments to this year's offering. The production will be streamlined to allow for an intermission-less performance. In addition, audience size will be limited according to the most updated state and city guidelines on capacity and social distancing. In accordance with union guidelines, CSC invites and encourages patrons over the age of 2 to wear a mask until seated, while attending The Tempest. The production will remain free, but due to expected capacity constraints, advanced registration is recommended for ease of arrival and priority access to seating. Walk ups will be welcome the night of!" Arts Fuse review
The Arboretum Experience, a collaboratively created, free, outdoor experience written, choreographed, and performed by contributing artists. Presented by the American Repertory Theater (A.R.T.) and the Arnold Arboretum from August 21 through the fall.
The artists involved include playwright Kirsten Greenidge, musician Tim Hall, choreographer Jill Johnson, and director Summer L. Williams. Daniel Callahan is the creative director for user experience. Jerron Herman is the access advisor, and Riot Diaz is the accessibility assistant.
Visitors of all ages are invited to experience the natural beauty of the Arnold Arboretum's Jamaica Plain and Roslindale landscape in three ways that center around resilience, healing, wellness, and joy:
1) Four audio plays — inspired by the genres of fairy tale, proverb, ghost story, and myth — set in and to be experienced throughout the Arboretum
2) Narrated, interactive "movement maps" that activate visitors' bodies, breath, and imagination as they engage physically with nature
3) Live pop-up performances by local artists, beginning Saturdays in September (rain dates Sundays) — artists and schedule to be announced at a later date
Walking Plays: The Greenway Series. an audio play series presented by the Lyric Stage Company of Boston in collaboration with the Rose Kennedy Greenway Conservancy. The Greenway Series begins in July.
The new Greenway Series of Walking Plays will feature three 10-15 minute dramas. The first play, Rosanna Yamagiwa Alfaro's Walking It Off, will premiere in early July. It was directed by Michelle Aguillon. That will be joined mid-month by Hummingbird, written by Kirsten Greenidge and directed by Aguillon.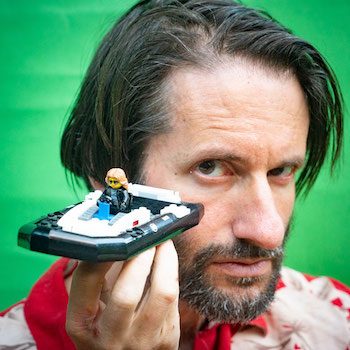 HAWAII FIVE-G: Canary in the Gold Mine, written and performed by Jonathan Mirin of Piti Theatre Company. Directed by Deanna Fleysher. Presented by the Ko Festival, screening online on August 8 at 4 p.m. Live, online post-show discussions with collaborators & guest experts, hosted by Trenda Loftin, follow each online performance.
"Desperate to make theater during the pandemic, Mirin raids his son's Lego stash and creates a series of appropriately tiny Hawaii Five-O sets for his parody of the hit '70s crime series: an eco-justice drama he calls Hawaii Five-G. In his manic imagination, the pandemic Lego drama goes viral, bringing nations together to re-imagine a future where even Monsanto re-structures as a non-profit — begging the question 'When faced with impossible odds, can humor, love, and pieces of interlocking plastic prevent catastrophe?'"
Row, inspired by A Pearl in the Storm by Tori Murden McClure. Book by Daniel Goldstein. Music and Lyrics by Dawn Landes. Directed by Tyne Rafaeli. Staged by the Williamstown Theatre Festival at the Clark Art Institute (outdoors), through August 15.
"The Clark's serene reflecting pool becomes the stage for this uplifting world premiere musical that interrogates the resilience, fear, and ambition inside one individual as she aims to be the first woman to row solo across the Atlantic."
Please note: This production will be performed outdoors at the Clark Art Institute (chairs will be provided and sanitized between performances). Patrons are encouraged to dress appropriately for the weather and the elements: apply bug repellent before you arrive; wear visors, hats, and/or sunglasses for protection from the sun; bring a light sweater for cooler evenings and a poncho in the event of rain.
Seared by Theresa Rebeck. Directed by Victoria Gruenberg. Staged by the Gloucester Stage Company, outdoors, at the Windhover Center for Performing Arts, Rockport, MA, through August 22.
The Boston area premiere of Rebeck's foodie-oriented comedy, which "explores the delicate balance between a creative spirit navigating success, recognition, and responsibility to a financial bottom line. In between the caramelized onions and sizzling garlic frying up in the onstage kitchen, tempers are boiling over. Brilliant, hot-headed chef Harry scores a mention in a food magazine with his signature scallops, and his business partner Mike finally sees profits within reach. The only problem is Harry refuses to recreate his masterpiece for the masses…. Audiences get up close to the action as the stage is transformed into the intimate kitchen of a New York City restaurant."
Our Town by Thornton Wilder. Directed by Tom Frey. Staged by the Peterborough Players in downtown Peterborough, New Hampshire, through August 15.
To celebrate this company's restart, "there is no play more perfect than Thornton Wilder's Our Town, which looks at life through the eyes of the citizens of Grover's Corners, New Hampshire. The ownership of this Pulitzer Prize-winning American play is strongly felt by the residents of Peterborough, NH (long rumored to be the inspiration for Grover's Corners, whether confirmed or not…). The Players have a long and intimate connection to the script: since the company's first production in 1940, on which Thornton Wilder himself consulted, it has become the troupe's most produced play to date." Arts Fuse commentary

Much Ado About Nothing by William Shakespeare. Directed by Kyler Taustin. Staged by Brown Box Theatre throughout Massachusetts, through August 29. All performance of Much Ado About Nothing are free, outdoors, and open to all audiences; no tickets are needed. Lawn seating, blankets, and lawn chairs welcome. Check website for locations and times.
"Upon their return from war, a group of soldiers are reminded that life and love are not so black and white. Trickery, jealousy, deceit, and masquerade each play a role in challenging Benedict and Beatrice's scorn for love (and each other) as well as the seemingly unassailable love of Claudio and Hero. Through witty banter and dastardly deception, Shakespeare's beloved comedy, Much Ado About Nothing debates the preconceived notion of how to love and the value of trust."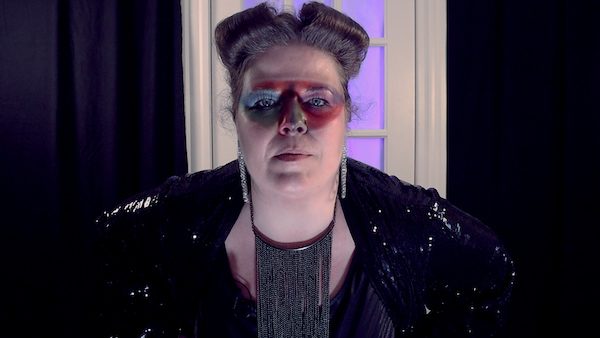 7 Rooms: The Masque of the Red Death, inspired by Edgar Allan Poe's short story, "The Masque of the Red Death." A Flat Earth production that features seven playwrights (Sari Boren, Hortense Gerardo, Gabriel Graetz, MJ Halberstadt, Michal Lin, Cliff Odle, andKelly Smith), seven directors(Jessica Ernst, David R. Gammons, Lee Mikeska Gardner, Shira Helena Gitlin, Johnny Nichols, Jr., Elizabeth Yvette Ramirez, andLaToya T. Robinson), 15 actors, five stage managers, and a plethora of other theater artists. Screening online via Zoom through August 15.
This show is "an immersive virtual theater experience where audiences 'choose their own adventure' as they navigate the eccentric noble Prospero's decadent end-of-the-world party while the Red Death devastates the world outside. Within Prospero's manor, where costumed revelers escape the plague, discover an evening of theater exploring isolation, connection, moral dilemmas, humor, humanity, and hope.
"Exploding the Zoom theater genre, 7 Rooms offers seven glimpses through seven windows into seven fully staged new plays with fully realized designs and actors present in the physical space together."
Sister Sorry by Alec Wilkinson. Directed by Joe Calarco. Staged by the Barrington Stage Company, indoors at the Boyd-Quinson Stage, 30 Union Street, Pittsfield, MA, August 13 through 29.
A world premiere. "In the early 1990s in New York City, a conceptual artist invites the public to confess their crimes anonymously — via an answering machine. A wide variety of messages pour in, confessing a range of misdeeds, from running a traffic light to infidelity. One caller captures her attention with a stunning and unbelievable confession, which quickly unravels into a suspenseful and thrilling adventure. Based on a true story, "Sister Sorry" is inspired by Alec Wilkinson's "The Confession," originally published in the New Yorker.
Tiny Beautiful Things by Nia Vardalos. Directed by Daniel Elihu Kramer. Staged by the Chester Theatre Company, Chester MA, August 18 through 29.
A popular script these days, no doubt because it soothes pandemic-fatigued audiences. "A celebration of the simple beauty of being human based on the 'Dear Sugar' column written by Cheryl Strayed offers affirmation of love and loss, of pain and pleasure, of deep loneliness and shared humanity."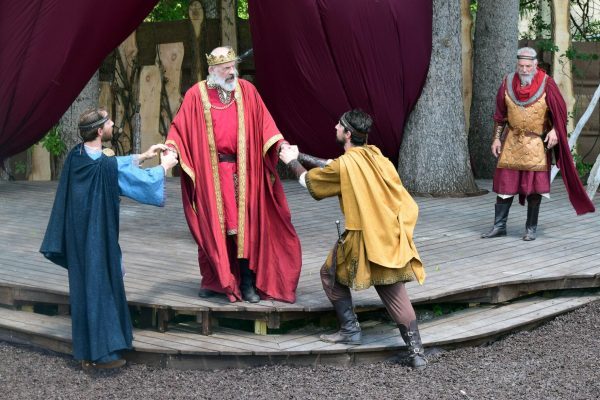 King Lear by William Shakespeare. Directed by Nicole Ricciardi. Staged by Shakespeare & Company at the (outdoor) New Spruce Theatre, Lenox, MA, through August 29.
Christopher Lloyd stars as the monarch who goes mad. W.H. Auden on the Bard's masterpiece: "King Lear, like Hamlet, is peculiarly modern because in both, nature is no longer a home. The sensuous visual world is realized in Aristotle as a universe of things in which man is only one more thing. Augustine's new insight was that man was despairing as just one more thing. The next seven centuries depicted man and nature in the familiar Augustinian Christian tradition. Copernicus set the walls of the house crumbling with a new realization of man's limitations. Pascal's thought is opposed to the early enthusiasm of scientific figures like Bruno and Kepler. There is no new house for man. Infinity must enter the image. In the nineteenth century, man's last home is music." It should be added that, now, via the climate crisis, we are poisoning what is "no longer a home."
Stand Up If You're Here Tonight by John Kolvenbach. Produced by the Harbor Stage Company, Wellfleet, MA, through August 20.
"A brand new solo piece (starring Robert Kropf) from the author of Sister Play. A celebration of people, presence, and how far we've come together."
— Bill Marx
---
Visual Arts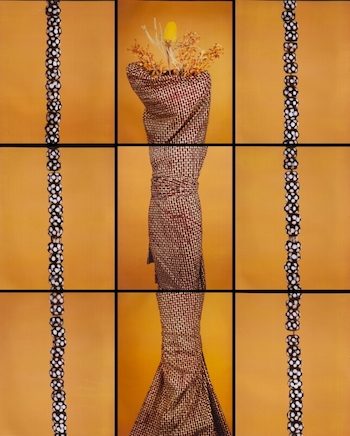 For most of its history, Boston's Institute of Contemporary Art was an exhibiting organization only: it did not have a collection or collect art. At the same time, the ICA was a bit of a vagabond, moving every few years from one makeshift, borrowed, or temporary location to another around the city. Its non-collecting policy, its administrators felt, kept its focus firmly on the contemporary rather than the historical.
This policy changed when the ICA moved from its Back Bay location in a converted 19th-century police station to a brand new, purpose-built museum in the Seaport District. The institution began to collect art for the first time. The exhibition The Worlds We Make: Selections from the ICA Collection, opening August 14, would not have been possible during a good portion of the ICA's 20th-century history. The drift of the show, selected from the institution's permanent collections — with additions from Boston-area private collections — emphasizes 21st-century trends. The collection was assembled at a time when artists have been deeply engaged with community issues and cosmic speculation, including climate change, social justice, historical and fictional narratives, and the supernatural: all attempts, as the museum puts it, to move "beyond present reality to imagine, dream, and realize the world-otherwise." Artists on view include Maria Magdalena Campos-Pons, Njideka Akunyili Crosby, Jeffrey Gibson, Lorraine O'Grady, Matthew Ritchie, and Yinka Shonibare.
In Hartford, the Wadsworth Atheneum Museum of Art opens a new chapter in its long-running MATRIX series on August 13 with Christina Ferrer: MATRIX 187. A native of Switzerland, Ferrer creates elaborate, tapestry-like textiles that explore contemporary conflicts while also drawing on classical mythology and Swiss folk traditions. As in past MATRIX exhibitions, the show will include the artist's own selections from pieces in the Wadsworth collection. They will be displayed alongside her work: in Ferrer's case, mostly from the costume and textiles collections.
The New Britain Museum of American Art opens the 51st edition of Nor'Easter, its annual juried members' exhibition, on August 12. This year's competition for contemporary visual artists in all media was juried by New York–based exhibitions designer and creative director Christina Tafuri. The show includes more than 60 established and emerging artists with award winners in four categories.
Even as more and more art museums reopened to the public or announced their reopening over the fall months, some pandemic era innovations are continuing, perhaps destined to become ongoing traditions. Virtual tours and events, which allow people from all over the country to participate in museum programs, seem to be flourishing.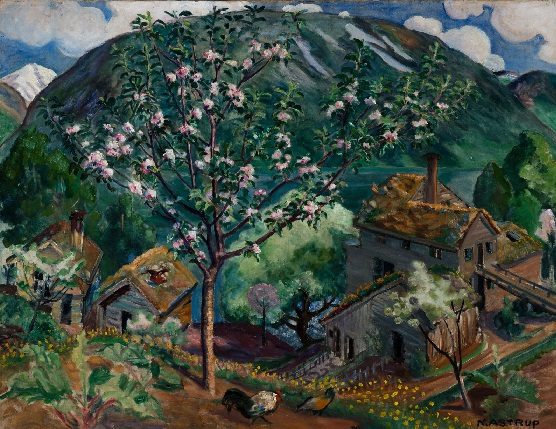 On August 10, from 6 to 7 p.m., the Clark Art Institute in Williamstown presents Painting as a Harvest: Nikolai Astrup's Bountiful Landscapes in conjunction with its major Astrup exhibition. Author and arborist William Bryant Logan and painter, writer, and horticulturalist Rebecca Allan discuss the intertwined threads of art and agriculture in the Norwegian artist's career. Register online for a private Zoom link or attend the event live via a Facebook broadcast.
The Metropolitan Museum of Art offers Art History Study Group: Roman Wall Paintings at The Met on August 12 from 4 to 5:30 p.m. This on-line Zoom event with Associate Curator of Greek and Roman Art Sarah Lepinski will explore The Met's extensive collection of Roman wall paintings, which once adorned wealthy homes and villas around Pompeii. They were preserved when the area was buried under volcanic debris by Mount Vesuvius in 79 A.D., preserving compelling evidence of the virtuosity of Roman painters and the tastes and interests of wealthy Romans. There is a $55 fee for this limited attendance event and advance registration is required.
— Peter Walsh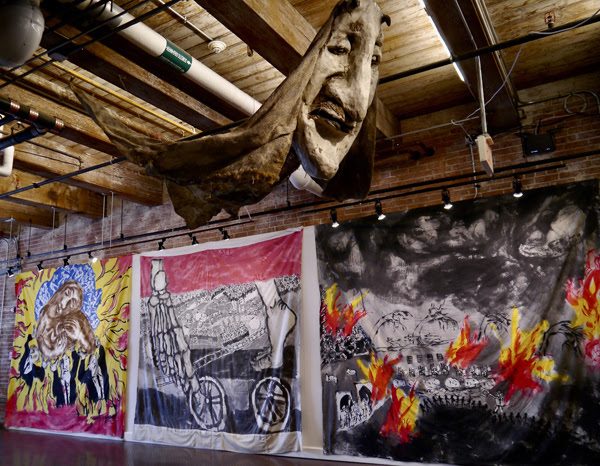 Peter Schumann's Bedsheet Mitigations: paintings on discarded bedsheets, created by the founder of Bread & Puppet Theater. Co-hosted by Midway Gallery and ARTSPEECH. Held at Midway Gallery, Fort Point, Boston, MA, through August 31.
"Dumpster-retrieved bedsheets contain quantities of secret life, sweet dreams and nightmares of anonymous sleepers' lives in relation to their history and planet." (Peter Schumann, 2021)
During this Covid-era "pause," the Vermont-based Bread & Puppet Theater was gifted a large pile of king-sized bedsheets, discarded by a hotel. Renowned visual and performing artist Peter Schumann, the political puppet theater's founder and artistic director, immediately seized upon this as an opportunity. Not only to paint a scene per day, on a dumped clean slate canvas, but also to take this on as a daily exercise, of freely slapping paint around while grappling with all the issues that have made the world a sh*tty mess."
The selections from Schumann's "Bedsheet Mitigations" series, specifically chosen for this exhibit at Midway, were first revealed at Bread & Puppet's "Insurrection — Lamentation — Resurrection Service" performances, held up in Vermont during their socially distant contact-traced 2020-21 season. Combined with these "mitigation" images will be several other bedsheet pieces on display at Midway, gleaned from Schumann's new "Crucifixion" series, which he started generating in earnest this past February-March.
— Bill Marx
---
Roots and World Music

Dub Apocalypse, Sundays in August
The White Owls, Mondays in August
Sally O'Brien's
As we mentioned two weeks ago, Sally O'Brien's in Union Square is the new home for reggae heavyweights Dub Apocalypse on Sundays. It's also, at least for August, the new home for the White Owls, the glorious, cliché-free Dennis Brennan-led blues band that spent its Mondays at Toad for years. While all the players are great, special props go to lap steel man Steve Sadler.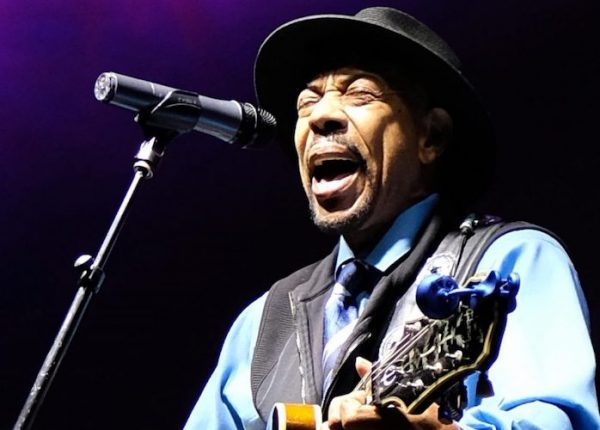 John Primer
The Music Room, Yarmouth
August 11
Gloucester Blues Festival
August 14
And speaking of blues, the passing of time has taken nearly every one of the true Chicago bluesmen who were born in Mississippi and ventured north in the Great Migration. One of the very few exceptions is guitarist John Primer, who was the bandleader for Muddy Waters before he joined the classic edition of Magic Slip and the Teardrops. His aptly named Real Deal Blues Band plays the new Cape Cod Music Room (which also hosts Magic Slim's son Shawn Holt later in August) before headlining the Gloucester Blues Festival.
Kyshona
August 19
Club Passim, Cambridge, MA
It has taken far too long, but Nashville has finally woken up to its wealth of Black female singer/songwriters, who are making some of the most essential music of our time. Former speech therapist and activist Kyshona has already earned the respect of Allison Russell and Margo Price, who sang with Kyshona on the Colbert show. Now she's finally getting to tour behind her early 2020 album, Listen.
Gusttavo Lima
August 15
Fitchburg Airport, MA
Brazilian megastar Lima kept his fans entertained during the Covid lockdown with a regular series of free-flowing webcasts which found the performer singing and drinking at home. Now he's back on the road, recording a forthcoming DVD amid a short American tour. If there was any doubt that this expensive show is intended for the Brazilian community, it should be settled by the promoter's explanation that Fitchburg is "35 minutes from Framingham and 40 minutes from Everett." (It's actually more like 60 from Everett with no traffic.)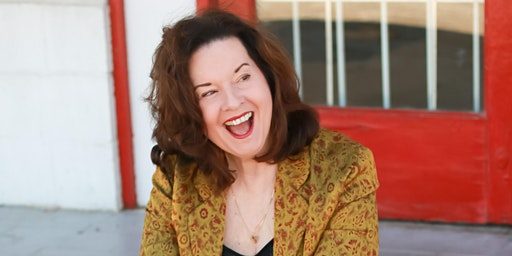 Linda Gail Lewis and the Lustre Kings
August 18
Askew, Providence, RI
Guitarist/singer Mark Gamsjager and his band the Lustre Kings always play rockabilly, honky tonk country, and early rock 'n roll with panache, vigor, and excellent musicianship. They've got an extra special guest for this outdoor show: Linda Gail Lewis, the piano-banging firecracker sister of Jerry Lee Lewis.
Safiya Presents: Travel Through Music: Kenya
August 21
Jungle Community Music Club, Somerville, MA
During the pandemic, singer Safiya Leslie has provided a monthly box subscription service for world music fans who have missed travel and live performances. Now she's launching a monthly series featuring some of the musicians she's included in the boxes. First up is the music of Kenya, with performances by Malala, EduArdo Omondi, and Suzziah.
— Noah Schaffer
---
Classical Music
Yo-Yo Ma plays Tchaikovsky
Presented by Tanglewood Music Festival
August 8, 2:30 p.m.
Tanglewood, Lenox, MA
The acclaimed cellist joins the Boston Symphony Orchestra for Tchaikovsky's Variations on a Rococo Theme. Karina Canellakis also conducts Missy Mazzoli's Sinfonia (from Orbiting Spheres) and Tchaikovsky's Fourth Symphony.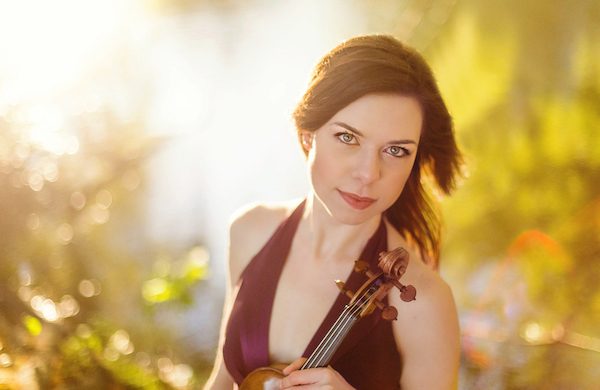 Tessa Lark in recital
Presented by Rockport Chamber Music Festival
August 8, 5 p.m. & 8 p.m.
Shalin Liu Performance Center, Rockport, MA
Violinist Lark presents a concert of violin-piano repertoire by Belá Bartók, Eugene Ysaÿe, Franz Schubert, Antonin Dvorak, and Fritz Kreisler. Amy Yang accompanies.
Rachmaninoff to Ellington: Music & Healing
Presented by Boston Landmarks Orchestra
August 11, 7 p.m.
DCR Hatch Shell, Boston, MA
"Music, movement, and wellbeing" are the themes of this BLO offering, which features pieces by Smetana, Saint-Saëns, Rachmaninoff, Samuel Taylor-Coleridge, Duke Ellington, and Arturo Márquez. Peter DiMuro/Public Displays of Motion, Jean Appolon Expressions, Urbanity Dance, and the Boston String Academy also participate in the event.
Zlatomir Fung in recital
Presented by Rockport Chamber Music Festival
August 13, 5 p.m. & 8 p.m.
Shalin Liu Performance Center, Rockport, MA
Tchaikovsky Competition first-prize winner Fung plays an operatic-themed recital featuring cello arrangements of arias and themes from stage works by Verdi, Rossini, Tchaikovsky, and Donizetti.
John Williams' Film Night
Presented by Tanglewood Music Festival
August 13, 8 p.m.
Tanglewood, Lenox, MA
The iconic film composer (and Boston Pops conductor laureate) joins the Pops and Keith Lockhart for the annual celebration of his and others' movie music.
Miró Quartet & Anthony McGill in concert
Presented by Rockport Chamber Music Festival
August 14, 5 p.m. & 8 p.m.
Shalin Liu Performance Center, Rockport, MA
The Miró gives the New England premiere of Kevin Puts's Home and are joined by the New York Philharmonic's principal clarinetist for Brahms's B-minor Clarinet Quintet.
Anna Rakitina conducts Langer, Ravel, and Elgar
Presented by Tanglewood Music Festival
August 14, 8 p.m.
Tanglewood, Lenox, MA
The Boston Symphony's assistant conductor leads a program that pairs music from Elena Langer's Figaro Gets a Divorce with Edward Elgar's Enigma Variations and Maurice Ravel's Piano Concerto in G. Jean-Yves Thibaudet is the soloist in the latter.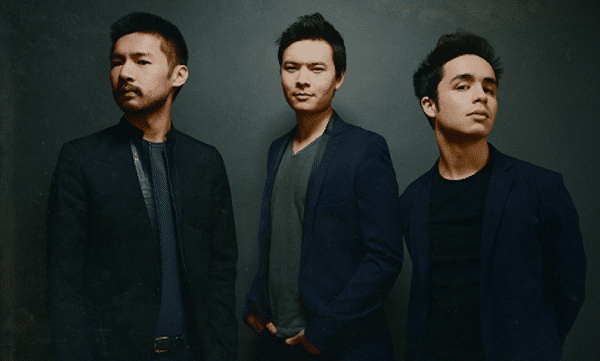 Junction Trio in concert
Presented by Rockport Chamber Music Festival
August 15, 5 p.m. & 8 p.m.
Shalin Liu Performance Center, Rockport, MA
The dynamic Junction Trio — violinist Stefan Jackiw, pianist Conrad Tao, and cellist Jay Campbell — perform Ravel's Piano Trio alongside Tao's Trio no. 2.
Bach & Beethoven
Presented by Boston Landmarks Orchestra
August 18, 7 p.m.
DCR Hatch Shell, Boston, MA
The Longwood Symphony and Mercury Orchestra join forces in a concert built around a pair of favorites: J. S. Bach's D-minor Concerto for Two Violins and Ludwig van Beethoven's Symphony no. 2. They're framed with music by Tchaikovsky, Copland, and Rimsky-Korsakov.
Amazing Grace & Sousa Marches
Presented by Boston Landmarks Orchestra
August 25, 7 p.m.
DCR Hatch Shell, Boston, MA
BLO presents a program of band music for the first time: selections range from Gustav Holst and Ralph Vaughan Williams to Steven Stucky, Omar Thomas, William Grant Still, Frank Ticheli, and, of course, John Philip Sousa.
— Jonathan Blumhofer
---
Author Events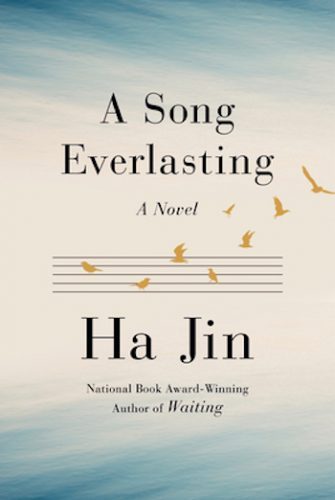 Virtual Event: Ha Jin – Porter Square Books
A Song Everlasting
August 10 at 7 p.m.
Free
"At the end of a U.S. tour with his state-supported choir, popular singer Yao Tian takes a private gig in New York to pick up some extra cash for his daughter's tuition fund, but the consequences of his choice spiral out of control. On his return to China, Tian is informed that the sponsors of the event were supporters of Taiwan's secession, and that he must deliver a formal self-criticism. When he is asked to forfeit his passport to his employer, Tian impulsively decides instead to return to New York to protest the government's threat to his artistic integrity."
Virtual Event: Cecily Strong – Harvard Book Store
This Will All Be Over Soon: A Memoir
August 10 at 8 p.m.
Tickets are $32, include copy of book
"Cecily Strong had a special bond with her cousin Owen. And so she was devastated when, in early 2020, he passed away at age thirty from the brain cancer glioblastoma. Before Strong could attempt to process her grief, another tragedy struck: the coronavirus pandemic. Following a few harrowing weeks in the virus epicenter of New York City, Strong relocated to an isolated house in the woods upstate. Here, trying to make sense of Owen's death and the upended world, she spent much of the ensuing months writing. The result is This Will All Be Over Soon—a raw, unflinching memoir about loss, love, laughter, and hope."
Virtual Event: Mary Jo Bang and Maria Dahvana Headley – Porter Square Books
Purgatorio & Beowulf
August 12 at 7 p.m.
Tickets are Free with $5 suggested donation
Two important parts of the western literary canon in new translations alternately called "erudite, straight talking, and joyful" and "brash and belligerent."
Virtual Event: Alexander Vindman with Arnold Schwarzenegger and Bianna Golodryga – brookline booksmith
Here, Right Matters: An American Story 
August 10 at 8 p.m.
Tickets are $5, $35.99 with copy of book
"Retired U.S. Army Lieutenant Colonel Alexander Vindman, who found himself at the center of a firestorm for his decision to report the infamous phone call that led to presidential impeachment, tells his own story for the first time. Here, Right Matters is a stirring account of Vindman's childhood as an immigrant growing up in New York City, his career in service of his new home on the battlefield and at the White House , and the decisions leading up to, and fallout surrounding, his exposure of President Trump's abuse of power."
Virtual Event: Joyce Carol Oates – Events – Harvard Book Store
Breathe: A Novel 
August 11 at 8 p.m.
Harvard Book Store, Cambridge, MA
Tickets are $34.25
"Amid a starkly beautiful but uncanny landscape in New Mexico, a married couple from Cambridge, MA, takes residency at a distinguished academic institute. When the husband is stricken with a mysterious illness, misdiagnosed at first, their lives are uprooted and husband and wife each embark upon a nightmare journey. At 37, Michaela faces the terrifying prospect of widowhood—and the loss of Gerard, whose identity has greatly shaped her own."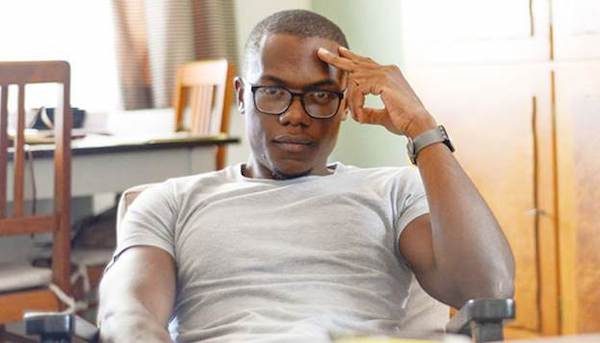 Virtual Event: Rémy Ngamije – Events – Harvard Book Store
The Eternal Audience of One: A Novel 
August 12 at 5 p.m.
Harvard Book Store, Cambridge, MA
Free with $5 suggested donation
"One might as well start with Séraphin: playlist-maker, nerd-jock hybrid, self-appointed merchant of cool, Rwandan, stifled and living in Windhoek, Namibia. Soon he will leave the confines of his family life for the cosmopolitan city of Cape Town, in South Africa, where loyal friends, hormone-saturated parties, adventurous conquests, and race controversies await. More than that, his long-awaited final year in law school promises to deliver a crucial puzzle piece of the Great Plan immigrant: a degree from a prestigious university."
Virtual Event: On Norah Lange – brookline booksmith
August 14 at 4 p.m.
Brookline Booksmith, Coolidge Corner, MA
Tickets are free, $41 with books
"Born in 1905 to Norwegian parents in Buenos Aires, Norah Lange was a key figure in the Argentine avant-garde of the early to mid-twentieth century. Though she began her career writing poetry in the ultraísta mode of urban modernism, her first major success came in 1937 with her memoir Notes from Childhood, and the novels People in the Room and The Two Portraits. She contributed to the magazines Proa and Martín Fierro, and was a friend to figures such as Borges, Neruda, and Lorca. Norah was a mainstay of the Buenos Aires literary scene and was famous for the flamboyant speeches she gave at parties in celebration of her fellow writers. She traveled widely alone and with her husband, the poet Oliverio Girondo, always returning to Buenos Aires, where she wrote in the house they shared, and where they continued to host legendary literary gatherings. She died in 1972." Local authors will discuss her life and work. Lange's books will be available.
Virtual Event: Amber McBride with Jason Reynolds, Me (Moth) – Porter Square Books
Me (Moth)
August 17 at 7 p.m.
Free
"A debut YA novel-in-verse by Amber McBride, Me (Moth) is about a teen girl who is grieving the deaths of her family, and a teen boy who crosses her path. Moth has lost her family in an accident. Though she lives with her aunt, she feels alone and uprooted. Until she meets Sani, a boy who is also searching for his roots. If he knows more about where he comes from, maybe he'll be able to understand his ongoing depression. And if Moth can help him feel grounded, then perhaps she too will discover the history she carries in her bones. Here is an exquisite and uplifting novel about identity, first love, and the ways that our memories and our roots steer us through the universe."
— Matt Hanson