By Jonathan Blumhofer
A singer with a gleaming instrument that's at once mighty and agile, Lise Davidsen's drawn comparisons with some of the legendary voices of the past.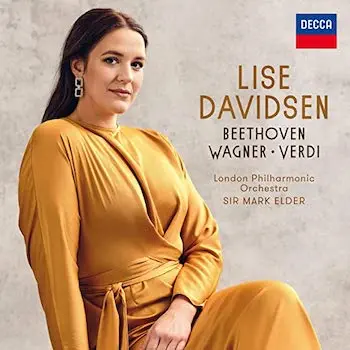 Soprano Lise Davidsen's sophomore solo album cements the impression left by her first (as well as her pre-pandemic live appearances): she's the real deal. A singer with a gleaming instrument that's at once mighty and agile, Davidsen's drawn comparisons with some of the legendary voices of the past.  To be sure, she seems to combine some of Birgit Nilsson's power, Leontyne Price's warmth, and Jessye Norman's presence, but Davidsen's very much her own singer, as this assortment of German and Italian selections makes clear.
The program is a bit of a hodge-podge: music by Beethoven and Wagner frame arias by Verdi, Cherubini, and Mascagni (yes, there are more composers represented than named on this disc's cover). How does it all fit together? Well … everything's beautifully sung; maybe that's enough.
In "Dei tuoi figli la madre" from Luigi Cherubini's Medea, Davidsen powerfully draws out the contrasts between the aria's restrained and explosive moments.
Her take on "Voi lo sapete, o mamma" from Pietro Mascagni's Cavalleria Rusticana overflows with intensity, its climaxes rich and robust.
Likewise, her singing in the pair of Verdi selections — "Pace, pace, mio Dio" (from La forza del destino) and the "Ave Maria" (from Otello) — wants nothing for color or urgency. Indeed, this "Ave Maria," in particular, is ravishing.
Even more substantial — and impressive — are Davidsen's forays into Beethoven and Wagner.
In the former's "Abscheulicher! Wo eilst du hin?" (from Fidelio) she sings with immaculate diction; beautiful, even tone; an excellent command of rhythmic detail; and astonishing breath control. Her voice seems to fit this aria perfectly: steely, yes, but, at its core, warm and inviting.
Much the same goes for her tastefully embellished, effortlessly lyrical account of Beethoven's concert aria Ah! Perfido.
The album's highlight, though, is Davidsen's performance of Richard Wagner's Wesendonck Lieder. A setting of five poems by the composer's patron (and possible lover) Mathilde Wesendonck, it's by no means one of his better pieces. But Davidsen sings it like it is.
Between the excellence of her diction, fervency of her tone, and evenness of her projection, these Lieder are simply irresistible. "Der Engel" floats. The leaping melodic writing in "Stehe Still!" showcases the breathtaking agility of Davidsen's voice. "Im Treibhaus" is crystalline; "Schmerzen" radiant; and "Träume" beautifully directed.
For energy, color, and conviction, then, this is some remarkable singing.
The orchestral part is exceptionally well done, too, thanks to the sensitive and keenly involved playing of the London Philharmonic Orchestra (LPO) and conductor Mark Elder.
Indeed, throughout the disc, the LPO's accompaniments are discreet when called for but robust when the moment allows (the horn trio-plus-bassoon writing in "Abscheulicher" is flawlessly blended). Theirs is an ideal pairing and this, by and large, a terrific, illuminating, thoroughly enjoyable release.
---
Jonathan Blumhofer is a composer and violist who has been active in the greater Boston area since 2004. His music has received numerous awards and been performed by various ensembles, including the American Composers Orchestra, Kiev Philharmonic, Camerata Chicago, Xanthos Ensemble, and Juventas New Music Group. Since receiving his doctorate from Boston University in 2010, Jon has taught at Clark University, Worcester Polytechnic Institute, and online for the University of Phoenix, in addition to writing music criticism for the Worcester Telegram & Gazette.