By David Greenham
The GSC production of Tiny Beautiful Things supplies a 90-minute catharsis, an opportunity to deal with all we've bottled up over the last 15 months or so.
Tiny Beautiful Things based on the book by Cheryl Strayed and adapted for the stage by Nia Vardalos. Co-conceived by Marshall Heyman, Thomas Kail, and Vardalos. Directed by Lyndsay Allyn Cox. Scenic design by Kristin Loeffler. Lighting design by Kat C. Zhou. Costume design by Chelsea Kerl. Sound design by Elizabeth Cahill. Props design by Lauren Corcuera. Produced by Gloucester Stage Company. Performed outdoors at the Windhover Performing Arts Center, Rockport, MA, through June 27.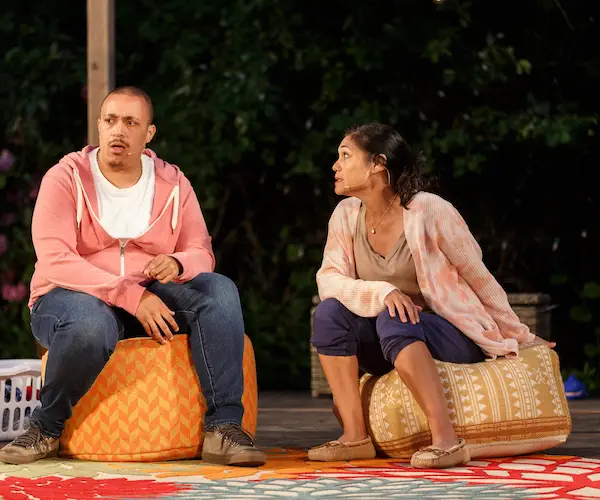 Our lives sometimes tumble out in front of us with little sense of order and control. A decade ago, when fledgling writer Cheryl Strayed wrote a fan letter to an online advice column called Dear Sugar, she had no expectations of what would unfold. The letter, it turns out, was the only fan correspondence Dear Sugar's (male) creator had received. He was eager to give up the column and he offered the gig to Strayed. She accepted and she became so good at the job that some of the letters she received were compiled in a book, Tiny Beautiful Things: Advice on Love and Life from Dear Sugar. That volume became a New York Times best seller.
Actress Nia Vardalos was also a fan and got permission to bring the collection of letters to the stage, where it also found success.
We find ourselves in a semi-post-Covid world, and no one is quite sure how things are going to go in the arts, particularly the theater. Which is what, we can only hope, makes this improbable production of Vardalos's Tiny Beautiful Things a bold harbinger of things to come. Improbable because the Gloucester Stage Company's intimate theater on the way to Rocky Neck has not been able to pass muster with Actors' Equity Covid safety guidelines. So, for its season's opener, the troupe's wily leadership team reached out to Windhover Performing Arts Center executive director Lisa Hahn and made a deal that will likely help both organizations in the long run.
Tiny Beautiful Things, which opened on a magnificent afternoon on June 13, supplies a 90-minute catharsis, an opportunity to deal with all we've bottled up over the last 15 months or so. For me, it was the first live theater I've seen since February of 2020.
Sugar (impeccably performed by the exquisitely grounded Celeste Oliva) is the unlikeliest of self-help heroes. She's flawed, confused, overwhelmed, and woefully untrained for the task. But, for the letter writers (the flawless ensemble of Nael Nacer, Kelly Chick ,and Adrian Peguero), Sugar hands out sweet perfection.
The letters pop up in her computer at breakneck speed. There's a woman being paid to have an affair, someone afraid to say "I love you," a writer who is jealous of her best friend's success, a kleptomaniac, even a fascinating guy who is looking for advice about how to handle his girlfriend's Santa Claus fetish. Sugar takes all of these problems in stride. She doesn't consult self-help books, a psychiatrist, or even Ann Landers. Sugar looks within herself, her troubled past, her losses and triumphs, and answers from the heart.
Topics such as bulimia, miscarriage, sexual orientation, and even rape are not out of her scope or compassion. Even a recurring letter writer who simply asks "what the fuck?" over and over and over again receives a response. She tells him, flatly, "ask better questions."
Vardalos has a good eye for the gems among Strayed's letters, and she sticks to the topics of love, loss, and forgiveness. Now, I must be honest. Coming into this production I thought a play that dramatizes a bunch of letters would lapse into sentimentality and become singsongy.
But the GSC production is anything but glucose-ridden. The Windhover outdoor stage is adorned with props designer Lauren Corcurea's colorful flowers, laundry, and kids toys — even a cooler of beer and wine. Set Designer Kristin Loeffler has framed a small house with deck and stairs surrounding the main platform. Director Lyndsay Allyn Cox fills the stage with enough activity to keep the production fluid and interesting to watch. The actors, in Chelsea Kerl's comfortable costumes, create a relaxed yet nimble ensemble.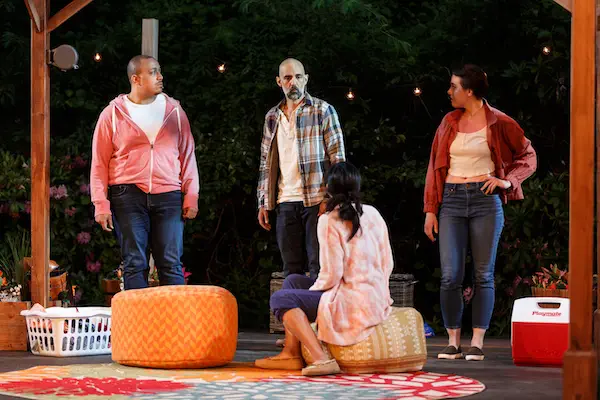 What keeps the staging afloat is the concentrated energy of Oliva's Sugar. She listens, she considers, and she speaks with a compelling earnestness. As she hears Nacer's story of a father who is suffering through the incalculable sorrow of mourning for a son who was hit by a car, the audience weeps as one. But Oliva's Sugar listens intently — she is a bit distanced. Nacer's delivery conveys unbearable misery, 20 points of pain. Sugar responds to each one with alacrity, providing an equal number of reasons for the father to keep on moving forward. She ends with an admired quote from Strayed's book:
"Forgiveness bellows from the bottom of the canoe. There are doubts, dangers, unfathomable travesties. There are stories you'll learn if you're strong enough to travel there. One of them might cure you."
As we all emerge from the pandemic, slowly dealing with challenging issues of loss, love, forgiveness, as well as "what the fuck?," GSC and the Windhover Performing Arts Center (with its enchanting 150-seat outdoor amphitheater) are offering theatergoers a wonderful opportunity to move ahead. The show reminds us that there are very few easy answers. Sometimes, in order to connect to others and ourselves, we need to listen and discover the answers as we go.
---
David Greenham is an adjunct lecturer of Drama at the University of Maine at Augusta, and is the executive director of the Maine Arts Commission. He has been a theater artist and arts administrator in Maine for more than 30 years.