By Sheeva Azma
As we emerge from the pandemic, Rostam's Changephobia strikes the right healing notes for fatigued ears.
Rostam Batmanglij, better known by his first name Rostam, is back with a new album, Changephobia. Rostam is founder and a former member of indie rock band Vampire Weekend, which he left in 2016 to pursue solo projects. His second solo effort, Changephobia, is filled with dreamy, upbeat pop, electronica, jazz, and a little bit of grunge. As we emerge from the pandemic, it strikes the right healing notes for fatigued ears.
Rostam is the name of the main character in The Shahnameh (Epic of Kings), a mythical Persian epic that chronicles the creation of the world and humanity. Ferdowsi, the author of The Shahnameh, took 35 years to write this book, a compilation of pre-Islamic stories, poems, and histories, that take place over centuries that testify to the greatness of Persian people and culture. The Shahnameh holds an important place in Persian life.
In The Shahnameh, Rostam is a mythical superhero-like figure who is the most powerful warrior in the land; we could call him the Superman of ancient Iran. Like his fantasy namesake, rocker Rostam sees himself as a stalwart fighter doing battle against the forces of evil — like Shahnameh's hero arriving on his faithful stallion Rakhsh. Changephobia sets out to rejuvenate a lethargic music scene, to overcome the hellish depression cast by COVID-19.
Of the album, Rostam says it is a celebration of our ability to adapt, using fear as a means to spur psychological and spiritual growth. The songs explore "who we're capable of becoming if we recognize these fears in ourselves, and rise above them. "Changephobia" is not an accepted psychological term; the musician uses it here to reflect a fear of change that he grappled with himself. The album's title track, "Changephobia," sets up the central conflict: "Was it just changephobia that made you scared of the future in front of ya? Is it just changephobia that makes us scared of doing what we should?" Line of Best Fit comes with this reflection from Rostam: "the recording of the song tracks an evolution and a personal metamorphosis." The music video, which was filmed in Dune Shacks Trail on Cape Cod, features Rostam walking through a sand dune with Hari Nef, who was quarantined in a pod with Rostam during the filming of this video.
Before Changephobia's launch date on June 4, Rostam had already released 5 of the 11 tracks on the album, including the title tune, "Changephobia." The pre-released songs take the form of swoony, energetic pop tunes that revel in our yearning for the carefree days of summer. The track "Unfold You" was written in 2017 after a concert in Paris. "These Kids We Knew" was penned in March 2020, when Rostam was "in a fever-dream state" dealing with COVID-19. The song, which tackles global warming, was released as Rostam's first 2021 single. The music video presents a pack of sled dogs running across an icy tundra. "The skies won't take it no more," Rostam sings. At the beginning of the video we see the earth literally torn apart by carbon emissions, then the planet miraculously reassembles itself at the end. This is not a defeatist requiem for the planet. The song is a hopeful assessment of future generations' power to change the environment for the better.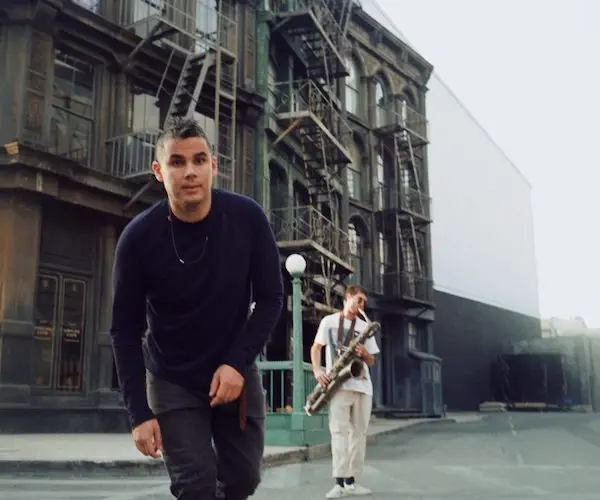 Both "From The Back of a Cab" and "4Runner" are about transportation, specifically driving through the streets. The music video for the former inspires memories of the game show Cash Cab: we are in the back of a taxi cab with a variety of different celebrity passengers, including HAIM, Charli XCX, and others. The blog Redbrick insightfully describes "4Runner" as "an ode to youthful escapism that evokes a sense of nostalgia both musically and lyrically."
The remaining six songs, released with the album, are jazzier and more introspective, less easefully escapist. Rostam explained what he was up to in these songs on Twitter the day before their release. Four of the six songs lean heavily on Henry Solomon's saxophone stylings (as is "Unfold You"): "Kinney," "Bio18," "[interlude]," and "Next Thing."
Rostam aptly describes "Kinney" as "a drum-and-bass song that turns into a grunge song." A slightly autotuned Rostam, accompanied by blurry saxophone riffs, sings about a romantic experience. On "Bio18," Rostam sings dreamily, combining allusions to Debussy and Bill Evans as he flashes back to a childhood memory of drumbeats he heard in DC. The song "[interlude]" is a short, two-minute ditty with a saxophone solo set to an electronica beat. "Next Thing" is about moving to California. "Some pain is okay," he intones about the difficulty of life's transitions. "Starlight" is a ruminative jazz song — "I was trying to sing a little like Chet Baker on this song" — that features a saxophone solo Rostam says is his favorite on the album. "To Communicate" is an upbeat tempo tune in which Rostam makes his need to connect with his post-pandemic listeners explicit: "I was not able to communicate before, but I am now. Are you listening?"
Changephobia offers a valiant model for musicians who want to leave the pandemic behind. It supplies an unabashed vision of happiness and optimism, embracing moments of introspection as well as interludes of romance. There is no guilt here, no looking back at the difficulty of the past year — and this embrace of change turns out to be surprisingly exhilarating.
---
Sheeva Azma is a freelance science writer and reporter. She is also founder of her own science writing company, Fancy Comma, LLC. She can be found on the web at www.sheevaazma.com and on Twitter @SheevaAzma.