Each month, our arts critics — music, book, theater, dance, and visual arts — fire off a few brief reviews.
Film
Nothing major here. But George Romero's energetic "B" filmmaking is fun to watch.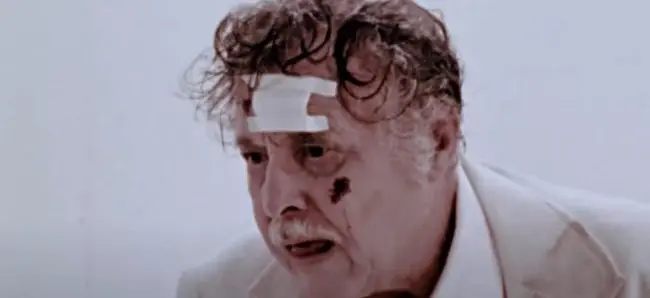 Thank the George Romero Foundation for funding a 4k restoration of a rarer-than-rare item in the oeuvre of the late filmmaker of Night of the Living Dead (1968) and other horror delights. Shudder TV is premiering Romero's 53-minute Amusement Park, made in 1975 between The Crazies (1973) and Martin (1978). It's a low-budget curio, an extended public service announcement sponsored by the Lutheran Service Society. It's done as a fiction film in the vein of a Ray Bradbury short story made into a Twilight Zone episode.
Amusement Park is a film decrying ageism, and the drama is framed by didactic speeches from actor Lincoln Maazel about the plight of older people in our country: their health and economic problems, their chronic loneliness, and "the lack of compassion from younger members of society." He notes that many of the senior people who appear as themselves in cameos in the movie, "had their most enjoyment in years."
And the fictional story? The amusement park becomes a metaphor for America. Maazel plays an elderly man who comes to the park for a day of relaxation but is beaten down at every point because he is old and irrelevant. His walking about slides into a series of surrealist episodes, sardonic and sad, in which the elderly are scorned, belittled, patronized, treated cruelly. Senior citizens are banned from certain exciting rides, they are ticketed by police for smashing into a young man on the bumper cars. A freak show features not elephant men and bearded ladies but sickly looking aged. As for Maazel himself, he is called a pervert for talking to young children, he is beaten up by a motorcycle gang.
Nothing major here. But Romero's energetic "B" filmmaking is fun to watch, even if the ultimate message of Amusement Park is only "Do volunteer service for the elderly."
There's no real muckraking in Framing Britney Spears, no real revelations, ultimately not much point to this fairly entertaining documentary.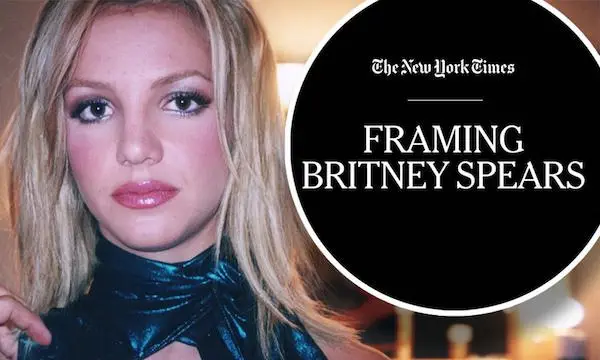 Like most, I'm familiar with a few of her hooky songs and I've seen the provocative bare-midriff song-and-dance videos. But Britney Spears is not someone important to me, as she is to her zealous, obsessive fans, united in the belief that their hero has been royally screwed in a conservatorship controlled by her father, Jamie Spears. "Free Britney" is their rallying cry, and we watch them take to the streets with protest signs in Samantha Stark's documentary, Framing Britney Spears. They want Spears out in public again, making decisions about her life, not in what they consider a virtual imprisonment since her Svengali pop was given the reigns some years ago.
For Spears aficionados, the storyline of this film must be incredibly familiar. There's nothing new at all as we follow Spears' trajectory from small-town, church-going Louisiana girl to her leap to sexualized teen superstardom, and then to her marriage, children, quick divorce, and a seeming descent to increasingly erratic behavior and perhaps a mental breakdown. For a film made under the powerful auspices of the New York Times, Framing Britney Spears is surprisingly missing in key interviews, including Spears' mother, father, her ex-husband, ex-boyfriend Justin Timberlake, or Spears herself. And it's misguided and self-serving to have three of the key authorities on Spears be — surprise! — Times staff writers
The "framing" of Spears is at its best here showing its protagonist as a victim of the sexist tabloid press and of vulture paparazzi chasing her everywhere, causing her to break down in a way much like Princess Diana. But what's flagrantly missing is proof from the filmmakers that Spears is being maltreated by her executors. There's no real muckraking here, no real revelations, ultimately not much point to this fairly entertaining documentary.
– Gerald Peary is a Professor Emeritus at Suffolk University, Boston, curator of the Boston University Cinematheque, and the general editor of the "Conversations with Filmmakers" series from the University Press of Mississippi. A critic for the late Boston Phoenix, he is the author of nine books on cinema, writer-director of the documentaries For the Love of Movies: the Story of American Film Criticism and Archie's Betty, and a featured actor in the 2013 independent narrative Computer Chess. His new feature documentary, The Rabbi Goes West, co-directed by Amy Geller, is playing at film festivals around the world.
Music
Somehow free jazz pianists only seem to get more vigorous, nimble, and fearless as they get older.
Irène Schweizer and Hamid Drake, Celebration (Intakt)
Swiss pianist Irène Schweizer continues her series of duets with drummers on Celebration, a return collaboration with Hamid Drake, recorded live in June 2019. The title of the CD marks Schweizer's 80th birthday.
Somehow free jazz pianists only seem to get more vigorous, nimble, and fearless as they get older. Schweizer is in top form, freely deploying her mastery of experimental and traditional piano styles. Drake is an ideal accompanist, attentive to nuance while never subsuming his own strong personality to Schweizer's navigation. His improvisation is not only about slow and fast, but also loud and soft.
At times it's difficult to tell one track from another in the kaleidoscope of textures and sounds. To my ear, there is little melodic consistency or development, but that's not always what Schweizer is trying to do. Strong melodies are welcome when they arrive, but their presence is not always required. She's constructing a language, not telling individual stories.
Other tracks might surprise with their cheerful conventionality. At 80 years old and with as sturdy a jazz/Carribean/African/Indian drummer as Drake, Schweizer can happily follow her Muse to straight gospel-influenced hard bop on "Blues for Crelier" where the duo sounds like Horace Silver and Art Taylor, hints of blues changes on "The Good Life," or an Afropop lilt on "Song for Johnny—In Memory of Johnny Dyani," which honors the South African bassist with a catchy bass line and Drake's infectious bounce.
The one generalization I can safely make about Celebration is that it consistently sounds joyful, excited by the freedom of its own creativity, and young. Put this one on for those friends of yours who don't "get" free jazz and think they could never enjoy it — or if that's you, this is a golden opportunity.
–Allen Michie works in higher education administration in Austin, Texas. He has graduate degrees in English Literature from Emory University and Oxford University. He writes about music and books for The Arts Fuse, including The 1971 Project celebrating notable music on its 50th anniversary.
Stylistically, the disc runs the gamut from world and folk-inflected gestures to jazz, minimalism, and whatever else in between.
Third Coast Percussion and the father-daughter team of Sérgio and Clarice Assad join forces for Archetypes, a new recording from the Chicago-based Cedille label that explores — in concise, innovative fashion — specific personality types.
The album's concept is straightforward: there are a dozen tracks, four written by each of the Assads and the remaining four composed by members of Third Coast (David Skidmore, Peter Martin, Robert Dillon, and Sean Connors). Each movement evokes, in one or more ways, a character: rebel, orphan, lover, jester, etc. The shortest installment ("Jester") runs just under three minutes; the longest ("Sage") clocks in at just over five.
Stylistically, the disc runs the gamut from world and folk-inflected gestures to jazz, minimalism, and whatever else in between. It's nothing that pushes the ear too hard one way or another. That said, the six composers at work here manage to fulfill the album's conceit creatively — and complement each other's pieces effectively.
The Assads' selections offer catching lyrical turns, sometimes including Clarice's vocalizations (see Sérgio's "Innocent"), as well as moments rich in atmosphere: a cacophonic episode begins Clarice's "Rebel" while the hazy textures of Sérgio's "Magician" morph into driving riffs. As for the spunky Jew's Harp in Clarice's "Jester" and the blazing runs in her "Hero," well, let's just say that there's plenty of vigorous personality to be found in these tracks, too.
The same goes for the contributions of the Third Coast musicians. Skidmore's "Lover" brings together (beautifully) mallet percussion and guitar. Martin's "Ruler" opens with noble guitar and piano progressions that are gradually layered with increasingly urgent percussive tattoos. Dillon's pungent "Sage" and Connors' enigmatic "Creator" prove equally well-shaped and affecting.
Perhaps it goes without saying that the performances here are superb: Third Coast's and the Assads' performances want nothing for rhythmic precision, energy, color, or focus. To be sure, theirs is an invigorating partnership and, as engaging as Archetypes is, one can only imagine how bracing these six players are together in concert. Hopefully, the day this sextet can be experienced live is just around the corner. Until then, Archetypes does more than enough to keep hope alive. Recommended.
–Jonathan Blumhofer is a composer and violist who has been active in the greater Boston area since 2004. His music has received numerous awards and been performed by various ensembles, including the American Composers Orchestra, Kiev Philharmonic, Camerata Chicago, Xanthos Ensemble, and Juventas New Music Group. Since receiving his doctorate from Boston University in 2010, Jon has taught at Clark University, Worcester Polytechnic Institute, and online for the University of Phoenix, in addition to writing music criticism for the Worcester Telegram & Gazette.
---
Television
High on the Hog, Netflix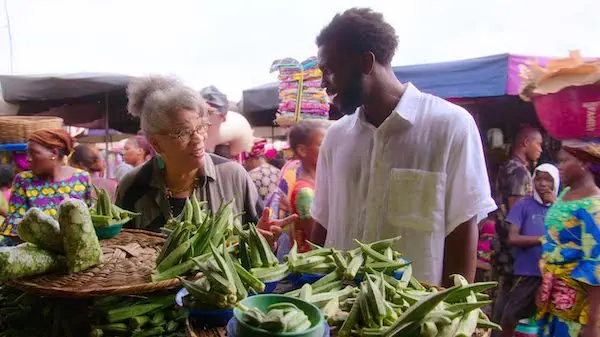 Stephen Satterfield, food writer and activist, hosts High on the Hog, an informative new four-part series on Netflix that explores the history and cultural underpinnings of African-American cuisine. As revelatory as they are mouth-watering, the episodes tackle a range of topics and regions, highlighted by guest appearances from a delightful array of cooks, writers, and cultural commentators.
The phrase 'high on the hog' initially referred to the more expensive portions of pork, which were located in the animal's upper reaches. Now it refers to living in a state of affluence. Both the book and the series go about reversing this perception: the idea is to elevate the low to the high. For many, African-American cuisine is identified with the soul kitchens of Harlem and their roots in traditional Southern cooking. This belief has unfortunately shaped what we understand to be the culinary history of America. High on the Hog corrects that prejudice, rightfully arguing that Black food and cooking has influenced the 'elite' culinary world for decades here and around the world.
The first episode features Dr. Jessica Harris, author of the eponymous book on which the series is based. We travel to Benin in West Africa and look at the rich array of foods available in the public marketplace, including rice. Among High on the Hog's surprising discoveries, at least for this viewer — rice was among the cash crops that built our country's colonial economy ("Rice built Charleston!"). The enslaved people from Benin made a fundamental contribution to America's origins.
The series never embraces the preachy or didactic. The focus is on delicious-looking dishes and their undeniable power to inspire community. There are occasional how-to forays into the kitchen, but the camera mostly sticks to lingering over what's on the tables in various regions around the country, from Louisiana and Philadelphia to South Carolina. The fourth episode lands in Texas just in time for the Juneteenth holiday and examines a variety of traditional dishes that illustrate the inextricable connections between Black cuisine and history.
The series is directed by Oscar nominee Roger Ross Williams (Life, Animated). The cinematography indulges in deeply saturated colors (maybe a tad too much) to create appetizing (pun intended) visuals. High on the Hog may well act as a crucial bridge to Williams' work as series producer of the forthcoming The 1619 Project, an adaptation of the celebrated (and conservative riling) New York Times series that connects slavery's past with contemporary racial issues.
-Neil Giordano teaches film and creative writing in Newton. His work as an editor, writer, and photographer has appeared in Harper's, Newsday, Literal Mind, and other publications. Giordano previously was on the original editorial staff of DoubleTake magazine and taught at the Center for Documentary Studies at Duke University.
---
Books
1991's Solo Viola (University of Minnesota Press, translated from the French by Lia Swope Mitchell) is an early entry in a Balzacian series of novels dedicated to the creation of a "post-exotic" world. They are semi-surrealistic narratives that — as articulated by the novella's fictitious author — reject "the style of the day … a laziness that he did not want sullying his conscience. It corresponded to capitulation before the form, the colors, the breath, the intelligence, the sensibilities, and the mendacious language of a system in which nothing was innocent or unpolluted." That desire to dissent from the conventional literary game is part of the "post-exotic" game: Antonine Volodine not only writes under own name, but makes use of four (or perhaps five) heteronyms, including Luz Brassmann, Elli Kronauer, and Manuela Draeger. The volumes in the project now number 44. The announced cutoff point will be 49.
It has taken 30 years for this book to be translated. According to John Updike's rule — the longer it takes a novel to be translated the more minor it is — Solo Viola should be fodder for Volodine completists. But that is not true: this is a forceful (and sadly relevant) political fable that dramatizes authoritarianism's love of spectacular malevolence, particularly its visceral hatred of outsider artists who challenge the dominance of barbarism. The strategy of the book's fascist Frondists has moved from "bigoted tirades stigmatizing the ragged enemies in the poor countries" to attacking "internal enemies, no less ragged, [who] had multiplied underground … It was time for radical cleansing…"
The narrative's time frame is weirdly fuzzy and it is set in the mythological, vaguely Slavic/Teutonic city of Chamrouche. Some of its oppressed characters have been plucked from Weimar-era expressionism (a clown who fears death, a headstrong strong man, a frightened dwarf). There's also fantastical bird-like creatures labeled "spadgers." (The interspecies touch suggests that fascism is not just out to brutalize humanity, but nature itself.) The story's modernist structure is spare: the dramatis personae are introduced, followed by examples of society's racism: ("NO NEGS AND NO SPADGERS WILL BE SERVED IN THIS ESTABLISHMENT"). Then, from the perspective of the hapless writer Iakoub Khadjbakiro, the characters, including the homicidal buffoon Balynt Zagoebel and his henchmen, are brought together at what becomes a theatrically violent string quartet concert /circus event. The action takes place on May 27, with a short but moving addendum on June 27. Why May 27? Perhaps because on that date in 1942 Nazi overlord and SS general Reinhard Heydrich was critically wounded in Prague by Czech commandos, who had parachuted in and ambushed his car. Hitler promptly ordered the deaths of 10,000 residents of Lidice, near Prague.
Smoothly translated by Lia Swope Mitchell, Solo Viola serves up bits of whimsy as well as moments of healing defiance at its conclusion. Most memorably, it delivers a sizzling jolt of indignation, propelled by a Swiftian disdain for the savagery of our xenophobic furies. One of the story's immigrant composers left this note after he killed himself: "I beg you, do not bury me with representatives of the human race."
–Bill Marx is the Editor-in-Chief of the Arts Fuse. For just about four decades, he has written about arts and culture for print, broadcast, and online. He has regularly reviewed theater for National Public Radio Station WBUR and the Boston Globe. He created and edited WBUR Online Arts, a cultural webzine that in 2004 won an Online Journalism Award for Specialty Journalism. In 2007 he created the Arts Fuse, an online magazine dedicated to covering arts and culture in Boston and throughout New England.