Although its interior says 21st century, the Shalin Liu Performance Center has a homespun, American 19th-century facade that made me think of Mark Twain and the provincial opera houses of the California Gold Rush. Care was taken to reference the original Haskins Building that once housed a clothing store called Madras and the local yacht club.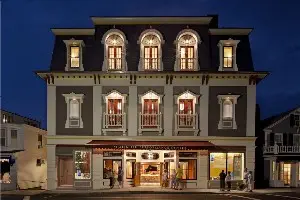 Nixon in China. Composed by John Adams. Directed by Peter Sellars. Presented by The Met: Live in HD at various venues around the country (see website for locations). U.S. Encore on Wednesday, March 2, 2011, 6:30 p.m. local time. Canada Encore on  Saturday, March 12, 2011, 1:30 p.m. ET.
After trying out the Met at the Mall AMCs of Burlington, Braintree, Natick, and Lowell, my husband and I decided to try the Met opera broadcasts in HD at what is possibly its most exquisite venue in the world: the Shalin Liu Performance Center in Rockport, MA.
Immediate, inviting, and transparent have been the characteristics of a number of recently built concert halls (most famously the Frank Gehry-designed New World Symphony building in Miami) whose directors have been concerned with coaxing an indifferent community into attending classical concerts. That goal translates to glass walls, proximity to parks, and accessibility to sidewalks. Come Inside! urges the 21st century concert hall! We're inviting you to a warm, exciting, cultural marketplace.
Not yet a year old, the Shalin Liu is one of the smallest such concert venues. It has 330 seats surrounded by stone and wood, inside a concrete shoebox shell wedged into a challengingly narrow site. Its sides are abutted by two historic buildings, its back by the ocean, and its front by Rockport's Main Street. It was designed by Epstein Joslin Associates of Cambridge (no relation); go here to read about the fascinating story of its construction.
Although its interior says 21st century, Shalin has a homespun, American 19th-century facade that made me think of Mark Twain and the provincial opera houses of the California Gold Rush. Care was taken to reference the original Haskins Building that once housed a clothing store called Madras and the local yacht club.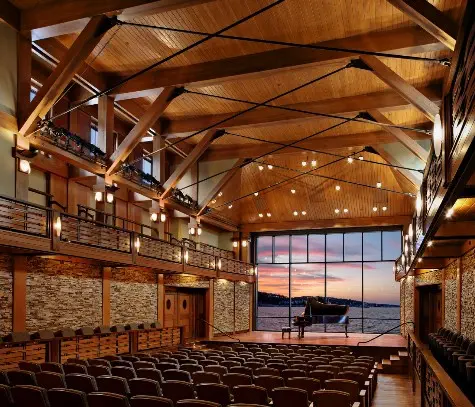 Through the sidewalk window, you see a shallow lobby with a massive ticket desk built and donated by the Gloucester-based Fisk Organ company. Just beyond it is a hall whose back wall is a floor to ceiling glass window offering a beautifully framed view of the water. During the summer, it's the home of a 30-year-old, distinguished chamber music series directed by David DeVeau that began in the Hibbard Gallery across the street. For the rest of the year, it's a multi-faceted cultural and community center, a $ 20-million, state-of-the-art building with satellite hook-up, projection equipment, and surround sound that accommodates the Met HD and London's National Theatre in London broadcasts, jazz, world music, and pop concerts.
It's a quietly spectacular venue that evokes the glowing warmth of Seiji Ozawa Hall at Tanglewood, also designed by Alan Joslin. Shalin is cosier, like an very large private screening room. It was well worth the ride up to Cape Ann in the winter and I plan to return soon to hear a live concert.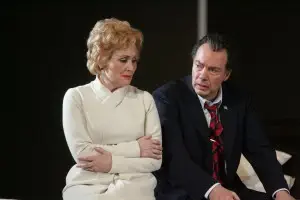 I was less enthusiastic about John Adams' Nixon in China. Although the oratorio-like opera has been hailed as a twentieth-century classic, Adams's minimalist music seemed more like a soundtrack than an opera. Peter Sellars's staging left me less moved than intrigued by the politics that led to this production at the Met. My husband was so bored he quit at the first intermission, when the Taiwanese couple sitting beside me offered to drive me home. What were they thinking of this naive, American fantasy of Mao's China? I wanted to ask them when it was over. As Act II began, it was clear that several members of the audience had availed themselves of the Shalin's third-floor Reception Room and picturesque exterior views.
What's opera if you don't much like the music and there really is no story? Nixon in China has an evocative, intelligent libretto by Alice Goodman that keeps your eyes riveted to the subtitled dialogue—even though the opera is in English, it's good to have the text before your eyes; witty choreography by Mark Morris; equally smart set-design by Adrianne Lobel; and vibrant costumes by Dunya Ramicova. Foremost in opera, of course, are the performers. What kept me from fidgeting in my seat was the stellar cast. James Maddalena makes the role of Nixon his own; Janis Kelly is an unexpectedly sympathetic Pat Nixon; Russell Braun is a convincing Chou En-lai; and Kathleen Kim, a harrowing Madame Mao. Each gave a passionate performance; they were as interesting to watch as they were to hear and movie viewers got the benefit of close-ups and eerie, from-the-feet-up bed shots unavailable to spectators at the opera house.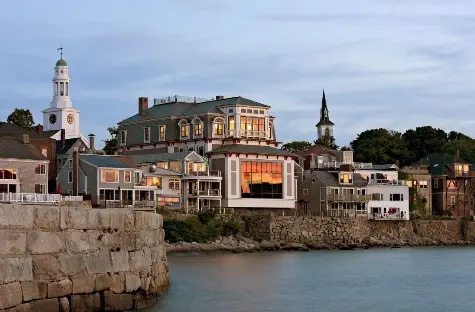 I was glad I finally saw Nixon in China, but I don't need to see it again, and I won't go looking for a recording. I'm less interested in the opera than I am in two questions that Max Frankel, who won a Pulitzer Prize for his reporting on Nixon's 1972 trip to China asked about it in this Sunday's New York Times: what does the resonance of reality do for art? And what does art owe to reality?
These are questions that have characterized the artistic production of our time in almost every form—including the (to me) vexing video games such as Civilization II that my sons played as children. As far as Frankel's first question goes, I would reply that the resonance of reality often brings in the audience; It also saves the author or playwright a lot of work, particularly the task of inventing characters and plot, and coming up with exposition. In a recent blogpost, I wrote about Hysteria, a play based on a real encounter between Freud and Dali that the playwright wove into a fantasy including an invented daughter of a Dora-like analysand. This mix of fact and fiction provided the playwright with ready-made complex, vivid characters. It relied on large amounts of knowledge that audiences brought into the project. They may have even drawn some theatergoers who would not otherwise have come.
As far as what art owes to reality, I think in this time of revisionism, art needs to acknowledge a greater responsibility to fact than what was evinced in Nixon in China. The Taiwanese couple who drove me home didn't know quite what to make of this often over-the-top, tongue-in-cheek, American spoof of what was to them family history. I was hard put to explain it.
=====================================================
Helen Epstein is the author of several books about performers and cultural life.