By Patrick Conway
Dedicated to experimentation and creative collaboration, Promises delivers an otherworldly, dreamlike experience.
Promises, Floating Points, Pharoah Sanders & The London Symphony Orchestra. (Luaka Bop)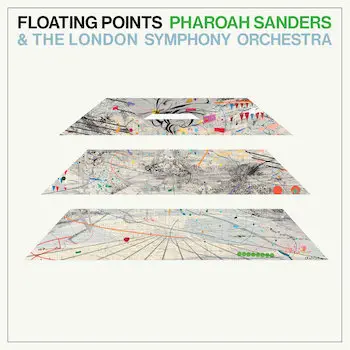 Rarely does an album seem both rooted in a specific moment and yet also somehow distanced, drifting in a space beyond time. Promises is a collaboration between British electronic music producer Sam "Floating Points" Shepherd and American jazz legend Pharoah Sanders (with an assist from the London Symphony Orchestra), and it sits in that nebulous dimension. The album, a sweeping, solitary composition of nine movements, combines Shepherd's arrangements and artistic vision with the spiritual yearnings of Sanders's tenor saxophone; the result is an otherworldly, dreamlike experience. The strings section of the London Symphony Orchestra, fully making their arrival in Movement 6, heighten both the album's drama and splendor. The result is a rewarding study in contrasts: an oddly cohesive conversation between the worlds of spiritual jazz, electronic music, and classical music.
Shepherd's arrangement seems strangely poignant after over a year of quarantining in place. Listeners across the globe have been living out a type of "Groundhog Day." Some may have found these routines comforting, even welcoming. Time and space are dependable, if static. And yet, there was the challenge of what to feel and think in this enforced capsule of time and space. Promises grapples with that demand. The album is anchored by a simple, seven-note harpsichord arpeggio repeating throughout the duration of the composition (or, at least, until some point late within Movement 8). This compact motif gives Sanders and the LSO wide berth to explore sound in ways that range from the ethereal to the bluesy, the regal to the minimalist. The record concludes with a dirge-like string coda that lays everything gently to rest, leaving listeners in quiet meditation.
The project honors experimentation and creative collaboration. Consider the parts: Shepherd, an electronic free-thinker with a PhD in neuroscience and epigenetics from the University College London; Sanders, a legendary jazz-saxophone innovator whom Ornette Coleman once described as "probably the best tenor player in the world"; a record label, Luaka Bop, run by David Byrne, a pop music icon; and, as if all that weren't enough, the recording brings in the majesty of the London Symphony Orchestra. Given all that possibly clashing diversity, the well-intentioned record could easily have been an incoherent jumble. Sanders helped explain why it doesn't. In a 2020 interview with the New Yorker, the 80-year-old was asked what he listened to: "I listen to things that maybe some guys don't. I listen to the waves of the water. Train coming down. Or I listen to an airplane taking off." This is the response of someone who is still interested in exploring sound, particularly of the environmental variety. The same could be said of many of the other players involved in this record.
The result of the expert interplay is an album that extols the value of the experimental. The steadily repeating harpsichord arpeggio, akin to the repetition of an extended heartbeat or breath, is an elemental throb. The places where Promises ventures from that primal sound are varied and far-reaching. There are moments when Sanders's saxophone seems to be in perfect harmony with the harpsichord's refrain, warmly embracing its regularity. At other moments, Sanders rails against its monotony, doing his best to take flight and escape. Likewise, the strings of the LSO are at times exultant, and at others mournful. The album runs an impressive emotional gamut, yet it always returns to that same familiar arpeggio, until its conclusion, when its pulse finally dies out.
Spiritual jazz, especially when combined with electronic and classical music, may represent a trial to some listeners. It is a marginal genre, and there is a reason for it. At its worst, music of this type can come off as faux-intellectual. Promises might seem that way at first. As a friend of mine put it after a first listen, "It's like getting served a pricey meal at an upscale restaurant — maybe it's good, or maybe I'm just being put on. I'm not sure I can tell." Please keep listening, because Promises has beautiful and poignant things to say about the human experience, the sui generis fruits of COVID-inspired isolation.
---
Patrick Conway is a doctoral candidate at Boston College researching the expansion of higher education opportunities in prison. His writing has appeared in Post Road, Gravel Magazine, and the Harvard Educational Review, and received recognition from the Best American Essays anthology. He can be reached on Twitter @PFConway30.