By Matt Hanson
The Final Revival of Opal & Nev imagines an Afro-Punk duo whose edgy look and aggressive sound offer a way of addressing timely issues around race and representation.
The Final Revival of Opal & Nev by Dawnie Walton.  Simon & Schuster, 368 pages,  $27.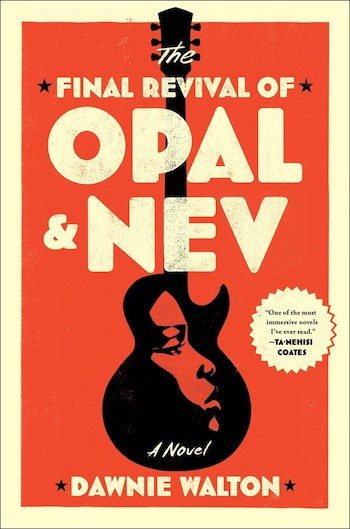 Especially for music geeks like me, imagining fictional bands can be a fun way of becoming a vicarious part of the real-life grind of touring and promotion — particularly if you don't possess any actual musical talent. There are plenty of precedents: Roddy Doyle's The Commitments, who dream of "bringing soul to Dublin"; Rafi Zabor's The Bear Comes Home, about a Charlie Parker–obsessed ursine saxophonist; Dr. Teeth and the Electric Mayhem, who laid down some serious funk in the Muppet movies; and who doesn't love the lunkheaded metal gods known as Spinal Tap? Dawnie Nelson's recently released debut novel The Final Revival of Opal & Nev imagines an Afro-Punk duo whose edgy look and aggressive sound offer a way of addressing timely issues around race and representation that inevitably arise when singing in the public eye.
The narrative unfolds as an oral history of the titular band, told Rashomon-style through the years via the differing points of view of the people in the orbit of Opal & Nev. We hear from various managers, stylists, and sidemen. The narrator is a journalist who is trying to get to the bottom of what happened to her father, a talented Black drummer who played with Opal & Nev. He suffered a gruesome death at one of their infamous live shows.
We hear a variety of takes as to what made the band compelling both onstage and off. Our  understanding of the key players is colored by the perception of those around them, and that distancing is appropriate given that so much of rock history amounts to mythology, stories recounted by people who were either on the make, stoned, or too starstruck to remember exactly what happened. "Print the legend" is usually the way it tends to go, and that makes sense, since reputations are lifeblood in the entertainment industry. Sensitive to that perceptual power play, Walton explores a crucial question in her novel: Who gets in control of which narrative?
Opal Jewel (not her Christian name) begins as a restless Black daughter in Detroit, whose extended family has deep roots in the Jim Crow South. She is traumatized as a young girl by a trip to visit her relatives in Birmingham, AL. She becomes an eyewitness to what happens when the atrocity of white supremacy is allowed to run rampant. Opal's potent personality mix — dissatisfaction with the 9-to-5 world and a burning desire for self-determination — causes her to flee to the mecca of brilliant misfits: '70s-era New York City.
As she explains: "I believe in myself above all. [pointing to her heart] I believe I have always had a song, right here, to perform. I had an inner voice, and for a good portion of my life that voice was a lot smarter than me…. it was brave enough to tell me that despite what anybody else was saying, there was more for me out in the world and I deserved every single drop of it." Opal has grit and wit in abundance, but she needs to pick up the requisite musical expertise in order to reach the next level. She possesses a striking look — she's naturally bald, for one thing, and that gives her a visual edge on the competition. A stylist can do wonders dressing her in outrageously fabulous turbans and matching glittery outfits, which, Walton perceptively points out, are a big part of her appeal.
We love the music made by our favorite musicians, to be sure, but part of what we love about them is that they represent an imaginative escape from our humdrum lives. Just because people like David Bowie, the Velvet Underground, or the Clash explored the visual aspect of rock and roll doesn't mean they didn't also know how to back it up with great songs. This is the next level that the intuitive and confident Opal has to reach.
Enter Neville (Nev) Charles, a Brit who is also wandering through NYC and ends up linking up with Opal more or less by chance. Their unlikely partnership is another reminder of how important informal jamming and experimentation is when it comes to developing fresh sounds for a new scene. Rejecting already accepted styles is the beginning; eventually, this duo finds a new approach that neither one of them had expected but are fully open to exploring.
It's a little hazy at times as to what exactly they sound like — a little more description of the music Opal & Nev make would have been helpful at times. They are supposed to be forerunners of Afro-Punk which, courtesy of bands like Bad Brains, X Ray Spex, and Death, put some Blackness into the gloriously garagey racket churned out by many wonderful bands who tended to be populated by pissed-off white dudes. Opal and Nev are loud, proud, multiracial, and confrontational — and that attitude ends up sparking a riot.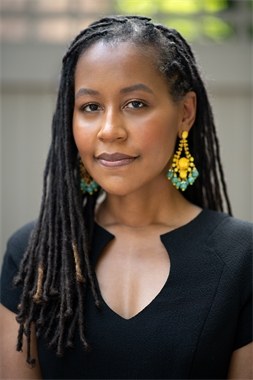 When label mates the Bond Brothers use the Confederate stars and bars on stage, innocently they claim, it leads to a confrontation that haunts the band years later. The debate over the semiotics of the Confederate flag — does it inevitably signify racism? — is brought to the forefront. Years later, one MAGA-hatted former band member explains himself thus: "I always say with pride that I'm a son of the South — it is what it is, you know? [gesturing towards my dreadlocks] to me it's the same as…that. That's a symbolic statement of your personal pride in your Africa culture, right? You think I should have the right to make you cut 'em off because I don't entirely understand the meaning of 'em?"
Onstage in New York, during a particularly fiery set, Opal was having none of these excuses. Her reaction to the brandished flag was improvised, but understandable given what she had already experienced as a Black woman in America. A flag is just a flag, except when it has a particular meaning for certain groups of people. And when that meaning is considered to be an implicit threat to safety and security — especially given the horrific legacy of what such a symbol represents to the victims — it's not surprising that Opal's reaction would be violent. And that act becomes a vital part of her legacy, causing people to look up to her and inspiring others down the line to speak up and act out.
Artists and musicians gain a public platform and represent certain things to their audience, whether it's an imaginative leap or artistic excellence or regional pride. If they achieve any level of fame and fortune, their projected image can begin to eclipse their personal life, a sad fact that even the biggest stars end up discovering sooner or later. That level of fame cracks some artists up, while others learn to deal with it in time.
It's a very existentially risky situation. Walton's novel lets us see how the various pressures of the business called show drive Opal and Nev in different directions. They go their separate ways, one to fame and fortune, the other to a contented retirement. But, to this fledgling novelist's credit, she doesn't let any of the complexities or the ironies of her protagonists' achievement escape the spotlight. It's a fittingly charged way to tell a story about a fictional band whose triumphs and tragedies end up being quite real indeed.
---
Matt Hanson is a contributing editor at the Arts Fuse whose work has also appeared in American Interest, Baffler, Guardian, Millions, New Yorker, Smart Set, and elsewhere. A longtime resident of Boston, he now lives in New Orleans.