By David Greenham
The Catastrophist is an opportunity to begin processing our experience with a pandemic that has fundamentally changed our lives in ways we cannot yet fully comprehend.
The Catastrophist by Lauren M. Gunderson. Directed by Jasson Minadakis. Peter Ruocco, director of photography/editor. Costumes designed by Sarah Smith. Lighting designed by Wen-Ling Liao. Music designed and composed by Chris Houston/Implied Music. Dramaturgy by Martine Kei Green-Rogers. A Trinity Repertory presentation, co-produced by Marin Theatre Company and Round House Theatre. Streaming through Trinity Rep through May 31. Also streaming via Central Square Theatre as part of the Brit d'Arbeloff Women & Science Theater Festival, through April 30.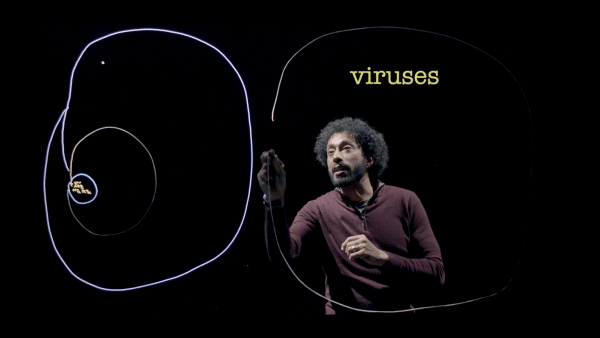 Want a sign of the times? Cambridge's Central Square Theater's latest offering is a virtual production, staged by Marin Theatre Company (CA) and Round House Theatre (MD), that includes among its production members a Covid-19 Medical Consultant (Dr. Steven Fugaro) and a Covid-19 Compliance Officer (Liz Matos).
Lauren M. Gunderson's The Catastrophist centers on Dr. Nathan Wolfe, a virologist who in 2011 was named as one of the hundred most influential people in the world by Time magazine because of his company's work on the Ebola virus. Dr. Wolfe also happens to be Gunderson's husband.
The 100-minute performance revolves around Wolfe (William DeMeritt). He is alone in a theater as he confidently declares the evening's premise: "Good science is a definitive result that answers an important question; proof of what's true; of what's really going on: which is the only question there is, really. What's going on." In an interesting twist on empirical notions of time, space and reality, his wife, the playwright, is silently but powerfully present — and active. "Theater is not science," he declares. "That I know. It's the opposite. She makes the ending whatever she wants it to be. I can't do that."
With admirable ease, Gunderson has crafted a biography that is also a science lesson. But because The Catastrophist has a scientist at its center, the script also wants to use drama to help us understand the challenges of the moment. The result is a moving personal narrative that also draws on Brecht's alienation technique to provide intellectual/critical context as well as an emotional buffer. (Brecht grappled with the issue of ignorance versus science in The Life of Galileo.) The admonitory lesson supplied by hearing Wolfe share the story of his team's success in keeping the Ebola virus from becoming a worldwide pandemic is clear and powerful.
At its wonkiest, The Catastrophist shatters self-righteous assumptions, particularly that humans are the center of the universe. We learn about the existences of mammals, eukaryotes, prokaryotes, micromorts, and microlives. Fruitless misunderstandings and misbegotten assumptions are tossed aside: "If you can convince people that something they think is fundamental is bullshit that's science at its best."
And science, at it's best, predicted Covid, foreseeing how it would spread, how quickly it would evolve and create new strands, and even the number of deaths that would result without a swift and well-orchestrated response from world leaders. These warnings and prophecies were, predictably, discarded. At one point Wolfe adds, with a nonchalant chill, "Climate change is another example."
Gunderson uses her husband's remarkable career to propel our respect for science and its indispensable insights into reality (rather than wistful thinking), but The Catastrophist is much more than that. DeMeritt's confident solo performance and the deft guidance of director Jasson Minadakis spotlight the intimate elements in this biography of a loving son, husband, and father.
The production values of The Catastrophist are perfectly executed. Compelling lighting, camera angles, and editing choices keep the talky drama moving along at a quick pace. Gunderson breaks narrative down into a dozen or more scenes, each segment presenting a change of theme. Everything is subtly underscored by Chris Houston and Implied Music's nuanced soundscape. The music orchestrates the emotions of the piece, emphasizing specific moments of tension, revelation, and loss. I continue to struggle, as I have throughout the pandemic, that I am seeing a work of theater rather than a film. Unions consider this to be a film, given that McDermitt is recognized as a member of SAG/AFTRA rather than AEA. Regardless, this is an effective and powerful artistic experience — and that is what is important.
The star is not the technology but Gunderson's perceptive writing. Drawing on Wolfe's brilliance (the Round House Theatre's website features a wonderful interview with the playwright and her reluctant subject), the dramatist maneuvers with ease from personal reminiscence to scientific history. The admirable goal is to heighten cultural and psychological awareness: The Catastrophist is an opportunity to begin processing our experience with a pandemic that has fundamentally changed our lives in ways we cannot yet fully comprehend.
A bonus to having performances recorded and online is that you can go back and listen to parts of the play a second time. It took me three or four tries for Wolfe's expansive view of the impact of a pandemic to sink in: "Yes, loss of life is harrowing and sorrowful, but it's only half the tragedy. Loss of livelihood of jobs, and trade and shipping and farming and schools and industry and tourism. Loss of how people support themselves and their families is profound and long-lasting and crippling." His conclusion?  "The death toll is an incomplete measurement of the pandemic's impact because the loss of livelihood is how you cut off an entire planet's worth of people from their own future." For an American media that's somewhat single-mindedly focused on the number of dead, this is a very powerful statement.
This production is part of the Brit d'Arbeloff Women & Science Theater Festival. Once again, Central Square Theatre's celebration of women and science ventures into mostly uncharted territory, at least when it comes to the stage. In addition to the co-production of The Catastrophist, the Brit d'Arbeloff festival will continue through the end of the month, featuring many low-cost opportunities to take in panels, short plays, and compelling conversations. As we struggle to emerge from a period in which science has been pushed aside by fiction and ideology, it is refreshing to see the empire of empiricism striking back — and with women at the forefront.
---
David Greenham is an adjunct lecturer of Drama at the University of Maine at Augusta, and is the Executive Director of the Maine Arts Commission. He has been a theater artist and arts administrator in Maine for more than 30 years.