By Alex Szeptycki
Occasional slip-ups shouldn't obscure appreciation of Kid Cudi's fantastic vocal performance.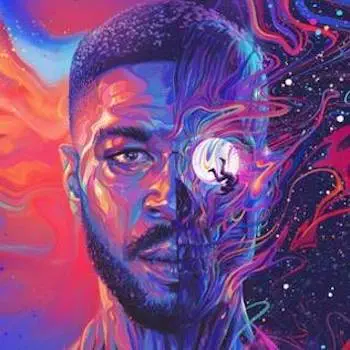 These days it's easy to underestimate the lasting impact of an artist like Kid Cudi. In the back half of the 2010s the Cleveland artist fell out of the spotlight after a string of unsuccessful projects, capped off by 2016's Speedin'Bullet 2 Heaven, a disastrous foray into grunge rock.
But Cudi's influence on hip-hop never dissipated — it inspired the dark, atmospheric sound that is still saturating the airwaves. Spacey instrumentals, melodic crooning, and troubled personal narratives are commonplace these days. But, back in 2009, Cudi's debut record Man on the Moon: The End of Day helped shape hip-hop psychedelia. Also, what set Cudi apart was that he was willing to dramatize his own mental turmoil, wherever the roiling was taking place — at a raging party or alone in his smoked out room.
Now, the release of the long-awaited Man on the Moon III: The Chosen sees Cudi return to the introspective, downcast atmosphere of his earliest work. Though the project contains some up-to-date ideas, the album stands for the most part as a return to the aesthetics and sounds of the rapper's early work. The release also represents a long-awaited rejuvenation of form; despite the occasional gaffe or slip into the generic, the lengthy disc is easily Kid Cudi's best solo release since his early days.
The tracks on Man on the Moon III highlight disturbing settings and moods. Nocturnal, claustrophobic instrumentals wrap themselves around Cudi's tales of drugged out escapades and moments of introspection. "Dive" is textbook Cudi: soft ambient noise is weighed down by a bassy trap beat, its lyrics plastered full of raucous, drunken images. But Cudi doesn't let himself be drawn into the festivities: "Soarin' through my world and I'm 'bout to take a dive/This is just the sadness in me, sad times." Cudi's vision inevitably infuses depression into what should be joyous experiences. When the rapper cries out "I need those fuckin' vibes," he is more desperate than he is celebratory. This psychological conflict defines the first half of the album, as druggy party cuts slowly give way to Cudi becoming aware of his vulnerability. "She Knows This" is hazy and sultry; bouncy synths complement Cudi's singsong adventure through a series of sexual escapades. "Yeah, I'm reborn and my life is the shit, heaven," he raps, apparently reveling in debauchery. Yet this embrace of decadence gives way to something more brooding in songs like "Mr. Solo Dolo III," where Cudi is consumed by loneliness: "Yea i take it, they don't know 'bout it/Yeah I take it, I don't need nobody/Deep in Hell in dark corners."
Most tracks here are bolstered by modern, bassy trap beats that complement the spacey synths and strings. And this choice gives Cudi's music a new, fresher edge. "Rockstar Knights" showcases this development, as Cudi and guest star Trippie Redd trade melodic flows over a delightfully smooth instrumental: "'Till the end, in the end, I'ma be who I am, I ain't worried 'bout shit goddamn." Trippie Redd's braggadocio, delivered at breakneck speed, adds to the entertaining rockstar excess of the track.
But there are occasional let downs, particularly when Cudi's instrumentals are weak to the point that they fade into the background. Some of the album's tracks are disappointing because they are overwhelmed by excess atmosphere. Songs like "Tequila Shots" and "Another Day" are generic, nothing but moody filler.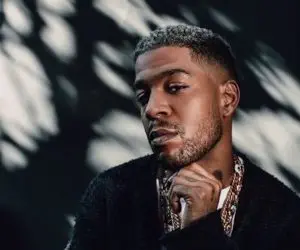 Kid Cudi also attempts to mix up his winning formula at times, drawing on more adventurous
sounds for him. The results are mixed. On the one hand, "Show Out" serves as a much needed change of pace; this menacing cut energizes the album. Cudi trades bars with British MC Skepta over a drill beat, aided by a zesty hook from deceased rapper Pop Smoke. On the other, "Elsie's Baby Boy" is a risk that doesn't pay off. Cudi's autobiographical lyrics are stellar. But his grating vocal performance doesn't properly dramatize the story. Neither does the stuttering, rock-focused instrumental.
Still, these occasional slip-ups shouldn't obscure appreciation of Cudi's fantastic vocal performance. One of his talents is that he can stretch his grainy singing voice to its breaking point, mixing in digital distortion to twist his words. On "Lovin' Me," he's paired with emo folk extraordinaire Phoebe Bridgers. What on paper sounds like a mismatch ends up working perfectly. Cudi trades airy verses with Bridgers over slow drums and angelic backing vocals, moving from heartbreaking to tender over the course of this love song.
Indeed, what makes Man on the Moon III work so well is the singularity of Cudi's musical vision. His cracked voice, deep melodic sensibility, and versatile flows mesh with his moody perceptions of the world around him, as well as his ability to make music that — when everything gels — is so unmistakably him. "The Void," an epic slow burn on the back half of the album, is a gleaming example of what happens when everything goes right. Heavenly synth hits clash with languid drums as Cudi sings "I will fall in the void/Just to avoid anything that will bring me down." Distorted vocals cascading around him, Cudi transforms his sadness into something beautiful to listen to.
Despite his somewhat checkered success when it comes to solo releases, Cudi's artistic goal has remained consistent — to be true to himself. Even when he was misfiring, he was walking his own path. Now, a decade on, he has, unmistakably, found himself again.
---
Alex Szeptycki is a writer from Charlottesville, VA. He recently graduated from Stanford University, majoring in American Studies with a focus in contemporary art and pop culture. He's currently working as a freelance writer at the Arts Fuse while navigating post-grad life in a pandemic.