By Jason M. Rubin
This small jewel of a show has been a Bronx-based treasure for the last seven years, but now, "thanks" to COVID-19, it is available to anyone, anywhere in the world.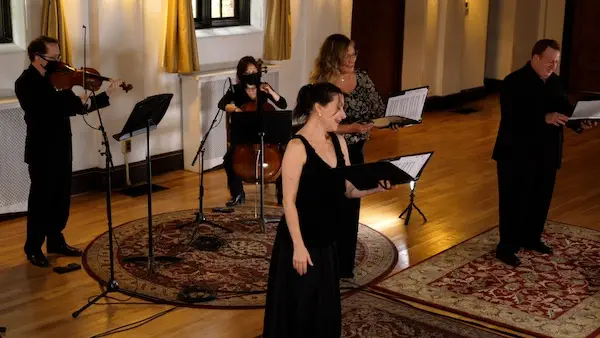 When it comes to performances of music, the COVID compromise has typically meant streaming events or Zoom concerts, often from the artist's own home. Though the quality of the concerts havs not generally been affected by the need to deploy computer screens as intermediaries, the lack of a community of audience members — all sharing the same musical moment — can be a drag. Yet this is the reality we have to deal with, and online performances are much better than no shows at all.
The flip side of this unfortunate situation is that online shows grant access to musical events for people who would otherwise not be able or likely to attend in person, either because of cost, distance, scheduling conflicts, or illness. Another bonus is that each patron is guaranteed to get the best seat in the house!
A perfect example is the upcoming online presentation of Dylan Thomas's holiday-themed prose work, A Child's Christmas in Wales. This small jewel of a show has been a Bronx-based treasure for the last seven years, but now, "thanks" to COVID-19, it is available to anyone, anywhere in the world. Since 2013, ClassicalCafé, a New York–based group of singers and musicians dedicated to bringing chamber music to the general public by staging concerts in local pubs and cafés, has produced a recitation of this beloved story with musical and vocal accompaniment. This year, they have prerecorded the entire performance, which will be shown online December 11 at 8 p.m.; December 12 at 8 p.m.; December 18 at 8 p.m.; December 19, at 8 p.m. and December 20 at 2 p.m.
According to ClassicalCafé co-founder and artistic director Ilana Davidson, an internationally lauded soprano who has performed in Boston many times, "The story is narrated by Joan Lunoe, a wonderful actress and voice talent, but we break up the narrative with delightful pieces of chamber music. It changes a bit every year, but for the most part we've had the same musicians taking part, which allows continuity. Everyone really gets this work and it shows."
The original idea for staging Thomas's piece came from ClassicalCafé co-founder Jing Li, a Boston-based cellist who knew of a Rhode Island ensemble that had done it. Davidson programmed all the vocal music in the show, while Li chose the chamber music pieces. Selections include works by the Italian composers Palestrina, Vivaldi, Rossini, and Monteverdi; early-music heroes Hildegard von Bingen and John Dowland; and holiday favorites, including "Hark! The Herald Angels Sing," "Good King Wenceslas," and "Silent Night," the latter serving as the emotional finale.
"People often cry at the end," says Davidson.
In addition to the co-founders and Lunoe, the performers are Boston-based mezzo-soprano Krista River (who often appears with Emmanuel Music and Boston Modern Orchestra Project), tenor Marc Molomot, baritone Peter Heiman, violist David Creswell, and pianist Alex Ruvinstein. "Joan and Marc are now members of the artistic team as well," says Davidson, "which is a wonderful addition to the heart and soul of the organization."
One interesting aspect of the performance is that Davidson, Molomot, Heiman, and Ruvinstein are Jewish. Davidson, in fact, also works as a cantorial soloist, and her father is the noted composer and cantor Charles Davidson, whose best-known work, I Never Saw Another Butterfly, is a setting of children's poetry from the Terezin concentration camp that has been performed all over the world.
So why the attraction to A Child's Christmas in Wales and Christmas music?
"I love singing this kind of music because I grew up with synagogue melodies," she explains. "I love all sacred music; it's very meaningful for me no matter what the religion is. Also, when we performed live in the past, once in a while during the Gregorian chant that opens the show I would sprinkle in some Hebrew text with the Latin, which was great fun!
"As for A Child's Christmas in Wales, it's not a religious piece at all. It's a sweet and quirky reflection of a boy's winter holiday during a very simple time. There's an aunt who sips port at night, the cats are outside and it's snowing. It's a reminiscence piece and I love to revisit it every year because you hear something different in it every time."
As ClassicalCafé looks ahead to its ninth season in 2020/2021, Davidson is applying for a grant to revisit their very first program, called "Time Stands Still." For the foreseeable future, in-person performances are not possible but they are forging ahead the best they can.
"Time really is standing still now because of COVID-19," she notes. "But we have to carry on, and we will."
The 75-minute performance was filmed at the Parish Hall at Christ Church Riverdale in the Bronx by Guatemalan filmmaker Vivian Rivas and audio engineer Peter Weitzner. Each showing is $25. Follow this link for tickets. For more information, visit the ClassicalCafé website.
---
Jason M. Rubin has been a professional writer for 35 years, the last 20 as senior creative associate at Libretto Inc., a Boston-based strategic communications agency where he has won awards for his copywriting. He has written for Arts Fuse since 2012. Jason's first novel, The Grave & The Gay, based on a 17th-century English folk ballad, was published in September 2012. His current book, Ancient Tales Newly Told, released in March 2019, includes an updated version of his first novel along with a new work of historical fiction, King of Kings, about King Solomon and the Queen of Sheba. Jason is a member of the New England Indie Authors Collective (neiac.org) and holds a BA in Journalism from the University of Massachusetts Amherst.