By Robert Israel
The Rise is the rare cookbook that does more than offer a culinary and educational journey. It inspires.
The Rise: Black Cooks and the Soul of American Food by Marcus Samuelsson. Voracious/Little Brown, $38.
Buy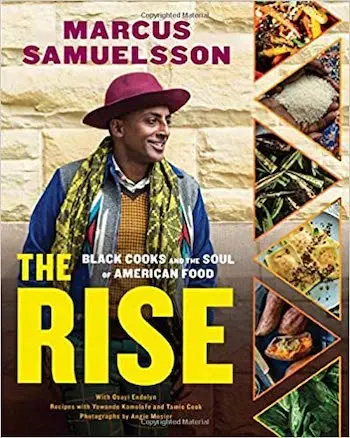 at Bookshop
Celebrity chefs – particularly those with televised cooking shows – are a curiously driven lot. Charged with making everything from simple, hearty meals to fancy feasts look easy to prepare, they storm about ornate kitchen sets with enviable manic energy. In the space of 30-minute segments, these alchemists toss together ingredients with aplomb; they rarely measure or taste-test anything along the way. Of course, a crew of food stylists, sous chefs, assorted runners and the lot do the dirty work off camera, enabling the chefs to create the illusion that you, too, can accomplish culinary magic at your own home. But even the best chefs follow recipes (a fact that is plugged when the credits roll and you are invited to purchase their cookbooks and DVDs).
Several of these celebrity chefs are raving egotists. Take the late Anthony Bourdain, whose popular CNN show, "Parts Unknown," featured the uber-talented chef and gifted writer traveling the world seeking out and devouring exotic foods. Bourdain, a recovering heroin addict who began his career as a line chef in Provincetown, was a two-fisted drinker; in one of his last episodes, filmed before he took his own life in 2018, Bourdain can be seen teeter-tottering curbside in South Boston at 3 in the a.m., knocking back high octane shots.
A celebrity chef that breaks the self-worshiping mold is Marcus Samuelson. I was first introduced to him via his PBS cooking show, No Passport Required, in an episode wherein Samuelson, who hails from Ethiopia by way of Sweden, explores the culinary heritage of the Cape Verdean, Portuguese, and Brazilian communities in Somerville, Cambridge, Fall River, and New Bedford. Even though he is the creative force behind the show, he always insists that his guests – the real authorities behind the recipes — speak directly to us. He never jockeys to be in each frame or to stir up a cult of personality. He radiates respect and humility. In one scene, Samuelson shares the cooking tasks that go into making moqueca capizala, a South American seafood stew, in the kitchen at a home in southeast Massachusetts. In another scene, he sits at the bar at the soccer club/restaurant Pastelaria Vitoria in Somerville, thanking his hosts before accepting a serving of what looked to be a hearty clam dish.
What's so refreshing in Samuelsson's The Rise is his emphasis on humility, respect, and family. We learn from his "Author's Note" that, at the beginning of 2020, he was set to open his third restaurant, Red Rooster Overtown, in Miami, but the coronavirus pandemic forced him to cancel his plans. Instead of closing down his operation, though, he shifted gears. He spoke to fellow celebrity chef/humanitarian José Andrés of World Central Kitchen and they transformed Samuelsson's and other restaurants into "a community kitchen to feed hundreds of people a day." Before long the number of people served had grown to 20,000, "with kitchens firing away in Harlem, Newark, and Overtown." He adds: "I never thought of cooks and servers as first responders. In this moment in America, once again, the immigrants are helping."
Thus begins a culinary journey that introduces us to chefs around the country, with generous details about how they prepare their favorite recipes ladled out among the way. Each chef is interviewed and invited to expand on the roots of their creations. One profile introduces us to Leah Chase, a nonagenarian chef-owner of Dooky Chase's Restaurant in New Orleans, who "offers Black customers the respect and finesse of fine dining," in the process "making Dooky Chase's a safe meeting place for activists" beginning in the Civil Rights era. Her dish contribution: Leah Chase Gumbo, a mélange of shrimp, sausage, rice, and a potent blend of pungent spices and sauce. Another treat in the book that I had the opportunity to sample at Miss Shirley's Diner in Baltimore —  Fried Chicken and Waffles (secret ingredient: the waffles are made with sweet potatoes). The recipe hails from Harlem, by way of South Carolina.
The Rise features an interview with Fred Opie, a professor of History and Foodways at Babson College in Wellesley, who neatly articulates the mission of Samuelsson's tome. "Most of my students are unaware of how big Africa is as a continent and are unaware of how many staples within the US food system, from rice to peppers to watermelon to coffee, come from Africa," Opie explains. "They are blown away."
And this notion of discovery underlies the complex rewards of Samuelsson's book. Throughout its pages, the chef reminds us that "we have the opportunity to wake up to the brilliance and beauty around us, as well as to the systemic problems that create issues of justice, access, and representation around race." The motto of The Rise is that "Black Food is American Food," and that Black Food Matters. The result is a rare accomplishment for a cookbook: a culinary and educational journey that not only enlightens and nourishes, but inspires.
---
Robert Israel, an Arts Fuse contributor since 2013, can be reached at risrael_97@yahoo.com.