By Gerald Peary
I am a champion of "C" movie effects, the cheaper and clunkier the better. So huzzahs for Save Yourselves! and its tacky monsters from another planet.
Save Yourselves! co-directed by Eleanor Wilson and Alex Huston Fischer. Screening at Kendall Square Cinema.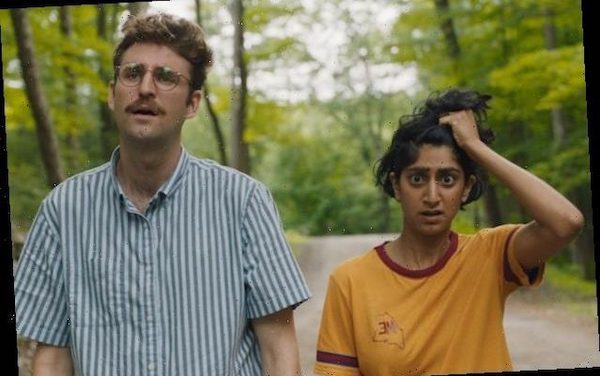 What happened to the films of yore, those shown at Sundance 2020 in front of a live audience, before Covid-19 put the kibosh on their future exhibition plans? Happily, in fall 2020, they are beginning to trickle out. For instance, the soft opening of the Kendall Square Cinema in Cambridge has made possible a booking of the sci-fi screwball comedy Save Yourselves!, an American independent co-directed by Eleanor Wilson (actually, she's Australian) and Alex Huston Fischer, well-liked at Sundance.
I like much of it too, this unpretentious little film which is a model of enterprising low-budget moviemaking, utilizing a restricted number of settings and being mostly a two-hander featuring two casually winning young actors, Sunita Mani (an Emerson College grad) and John Reynolds. As science-fiction, it's also ingeniously low-tech, and I am a champion of "C" movie effects, the cheaper and clunkier the better. So huzzahs for Save Yourselves! and its tacky monsters from another planet. These fuzzy-covered footstools, which move by stop-action through time and space, are, though diminutive things, somehow damned scary! Especially when they flick out their 15-foot-long reptilian tongues.
But let's go back to the beginning, when the earth was still OK. Kind of OK, because, as Save Yourselves! vividly shows, all of us are already victims, not of space invaders but of our phones and iPads and laptops. Among the tech slaves are this movie's protagonist couple, Su (Mani) and Jack (Reynolds), millennials hooked by their online lives. Evenings in their Brooklyn apartment are spent on their couch, both rarely speaking as they play helplessly on their phones. But one evening, when they go to a neighborhood tavern, they find an out. They run into a bearded seeker friend, on his way to discover himself by a Nicaraguan ocean. He makes them an offer they shouldn't refuse: the run of his abandoned upstate house on a pond in the countryside.
What an opportunity! A bit reluctantly, Su and Jack pledge themselves to a week without their cell phones in rural America. Can they do it? Do they really want to do it? They send out their last phone blast to friends and family. Don't any of you contact us for the next seven days. We are unplugged!
Take young yuppies out of the city, how do they behave? Still like young yuppies, of course, especially type-A Su. Save Yourselves! is deliciously satiric, as country Sue still makes lists, plans productive activities, ever-driven. Both Su and Jack have a compulsion for self-improvement, and for revealing to their partners their "authentic selves." It's an amusing scene when Jack launches into a soulful baring of his deepest anxieties, of not being the real man like his Mr. Fixit father and brothers, who are also skilled fishermen; he's a failure too as a New Man because he's the poorest of listeners. At the end of his monologue, Jack smiles happily, congratulates himself for his anguished revelations, and now it's Su's turn! Go, girl!
Our couple are too caught up in their psychobabble to notice strange things happening around them, like bloodied men without shirts racing frantically across their property to get away from…what? It's only when Su sneaks a listen to her cell-phone messages that she receives the unpleasant news, probably ruining her and Jack's getaway. It seems that the earth has been invaded. Everyone in New York is asked to run and meet at Yankee Stadium. No, change of plans! Yankee Stadium has been destroyed. And somehow, there are enough invaders to not only explode the Bronx but to appear in Jack and Su's backwoods neighborhood.
The last third of Save Yourselves! with Yuppies battling menacing "Puffs" is, though diverting, a bit weaker than what went before, particularly a wrong turn in the drama when Su and Jack find themselves with an abandoned baby. And I'm not sure about our protagonists in space. On the other hand, there is one genuinely sweet, poignant interlude when, since the world is blowing up, it seems time to seize the day with a connubial ceremony, in which the attendant minister is Mr. Tree.
---
Gerald Peary is a Professor Emeritus at Suffolk University, Boston, curator of the Boston University Cinematheque, and the general editor of the "Conversations with Filmmakers" series from the University Press of Mississippi. A critic for the late Boston Phoenix, he is the author of nine books on cinema, writer-director of the documentaries For the Love of Movies: the Story of American Film Criticism and Archie's Betty, and a featured actor in the 2013 independent narrative Computer Chess. His new feature documentary, The Rabbi Goes West, co-directed by Amy Geller, is playing at film festivals around the world.