White People by J.T. Rogers. Directed by Anna Brownsted. At Shakespeare and Company, Lenox, Massachusetts, through September 4.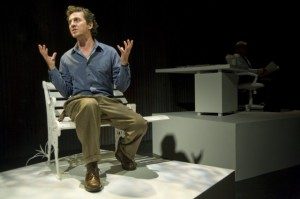 What can possibly connect a reflective young History professor in New York's Stuyvesant Town, a disconsolate Southern housewife and ex-homecoming queen, and a demanding Midwestern corporate lawyer?
In J.T. Rogers' powerful drama White People the link turns out to be an overwhelming sense of confusion, shame, guilt, fear, uncertainty and malaise about being Caucasian in a fast-changing America. What's more surprising is that the more you listen to these well-written and well-acted characters, the more you recognize them, empathize with them, and find their uncertainties about race, dress, language, sex, family, anger and etiquette deeply familiar.
Taking on history, cultural fashions, and psychology in what Shakespeare & Co bills as its "Life Laid Bare" series, White People is provocative and unexpectedly funny. I saw it in an audience that included whites and blacks and "foreigners' who laughed throughout the brisk, sometimes uncomfortably honest dialogue as though they were watching a situation comedy.
Professor Harris, ambivalent teacher and father-to-be, is played by the versatile and charismatic Jason Asprey. Harris is fixated on Empire as embodied by the statue of the Dutch governor of New York near his apartment in Stuyvesant Square. He is also fixated on the casualties of Empire as embodied by his students, including the brightest: an 18-year-old, gum-chewing African-American with "earrings like small planets" named Felicia.
Teaching to a large lecture hall of mostly indifferent teenagers, Harris confesses: "I water things down. The Great Depression. Hiroshima. Vietnam. I'm supposed to want to nurture them and all I want to do is yell Fuck you! Fuck you! Fuck you!"
Baffled Maralynn Doddson (played by the intriguing newcomer Dana Harrison) sits in her North Carolina kitchen trying to adjust to the fact that "everything is different now." Her high school sweetheart, a champion wrestler back then, now drives a truck. She has caught him having sex with a Chinese woman and worries he will lose his job to a Mexican. Most uncomfortably, she had been forced by her son's rare illness to depend on "these new people crawling over other people to get here" like Dr. Singh, his physician from India.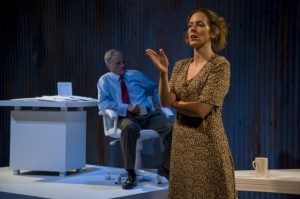 Hard-driving contracts-and-mergers attorney Martin Bahmueller (authoritatively played by S&Co's former Associate Director Michael Hammond) rails against the casual dress, language, music and manners that pervade his firm. "This is not fun. It's work," he vents, noting his own blue cotton shirt and tie, cuff links and good suit. "We are not in Kansas; we are not baling hay." He has moved his family to a Midwestern suburb to escape the racial conflict of the big city. But racism has permeated his family; he is stricken when his teenage son is arrested for participating in a hate crime.
This is a 10-year-old play but with an African-American President in the White House bringing a new spin to questions of race, ethnicity, immigration and power, it feels brand-new. The simple three-level white set where each of the three actors sits in isolation as the audience takes its seats portends an evening of three extended monologues. Indeed, one wonders how the playwright will interweave their very different situations, stories and locales into one cloth. Yet, the three monologues meld into a compelling picture of how globalization and America's changing racial mix impacts all of us.
J.T. Rogers is a rare contemporary playwright who can write wonderful, supple lines, as well as create believable characters whose stories intertwine and make structural sense.
White People runs for only nine more performances: see it now.
---
Helen Epstein is the author of "Joe Papp: An American Life" and "Tina Packer Builds a Theater."