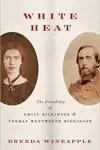 No one reviews talks but I've just attended two by some highly gifted women that deserve wider notice. Director Anna Brownsted and actress Dana Harrison discussed their work on R.T. Rogers' provocative play "White People" at Shakespeare & Company last week and author Brenda Wineapple gave a brilliant mini-seminar in American cultural history, focusing on the friendship of Emily Dickinson and Thomas Wentworth Higginson.
Talk is cheap, the saying goes, and in the 21st century it seems to have become even cheaper. I became an unwilling captive of AM Talk Radio last month when my contractor brought it with him and left it on as he worked. I sometimes tune in to NPR talk shows but find their false intimacy irritating and their focus too broad. The guest is often more interested in selling his book or movie than in any idea. And the call-ins are too often irrelevant, superficial.
Talks at cultural institutions are more narrowly defined. The audience is self-selected and invested in the theme or art form in question. The need to sell is there — that's why theaters and historic houses in the Berkshires maintain lecture series — but their growing popularity is also driven by enormous consumer interest in cultural work: why does a writer choose a subject or a director a play? How does an actress approach her work? What challenges do each of them encounter and how do they address them?
Anna Brownsted, Dana and Brenda Wineapple are not only highly intelligent women but passionate about their work.
Passion is, of course, at the core of "White Heat," Wineapple's examination of the epistolary relationship between the poet and the Abolitionist-Author-Minister. And she is one of those impassioned, exhaustive lecturers that you wish you had had more of at school. Her book is set in the 1860s, beginning during the Civil War when Emily Dickinson was thirty-one and Higginson, thirty-eight. He was a writer for "The Atlantic Monthly" who would command the first Union regiment of black soldiers.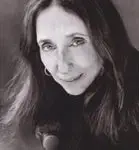 One of his articles, "Letter to a Young Contributor," elicited a response from the reclusive, then-unknown poet in Amherst: four poems and a question "Are you too deeply occupied to say if my Verse is alive?" He was not too deeply occupied to write back and she felt heard, read, and validated. They began a 25-year correspondence that led to the publication of Dickinson's poetry. "You were not aware that you saved my life," she later wrote.
What sets these talks in the Berkshires apart from your run-of-the-mill book store series or university lecture is the nature of the audience and the nature of the Venue. The library of Ventford Hall — more about this mansion and Gilded Age Museum in a forthcoming blogpost — is the perfect venue for a talk about Wineapple's 19th century protagonists. And, judging by its questions, the audience seemed to be perfect: self-selected, highly-informed, and highly motivated.
When asked why she wanted to write about Dickinson, Wineapple replied: "What writer DOESN"T want to write about Emily Dickinson?" The prospect, however, was daunting. She didn't "fish and fornicate" like Earnest Hemingway. Apart from her poems and letters, there are few documents of her life. We don't know why she was reclusive nor the identity of "The Master" to whom she wrote.
What Wineapple kept "bumpIng up against" as she researched her previous book on Nathaniel Hawthorne, was a very unusual man named Thomas Wentworth Higginson, who was an early champion of Henry David Thoreau, women's rights and physical exercise for women (in 1862, he taught women weight-lifting), was a minister, a journalist, a sometime ethno-musicologist (he transcribed Negro spirituals during his military service in the Civil War) and what was then construed as a political radical.
"The soul selects its own society," Dickinson had written; as a real-life friend, she chose Higginson.
Wineapple blends cultural history, biography and literary criticism into a heady brew that made her listeners who had not yet read the book feel like running out to get "White Heat."
Racism was on everyone's mind in Shakespeare & Co's new state-of-the art Production and Performing Arts Center (Studio 3)last Tuesday when director Anna Brownsted and actress Dana Harrison sat down to talk about "White People." Unlike Ventford Hall. Shakespeare & Co doesn't serve a full Victorian tea at its lecture series (the price of admission is $6 compared to Ventford Hall's $15) but its program was, like Brenda Wineapple's, a highly informed, engaged 30 or so people, some of whom had seen the 90-minute play by J.T. Rogers, some of whom were planning to. All wanted to talk about the issues raised in this provocative and pertinent American comedy
At 35, Brownstead is a young Texan director now finishing her degree at Central School of Speech and Drama in London. She read White People two years ago, she explained, after meeting playwright T.J. Rogers at a theater festival. His play "Madagascar" was having a reading and Brownsted was taken with Rogers' language, his sensibility and "his way of delving into questions that he leaves for the audience to answer." She also thought that the playwright's subject matter — Americans encountering The Other in various ways — would appeal to then-Artistic Director Tina Packer and submitted the script tot last year's Studio Festival of Plays.
Packer is always up for socially or politically provocative plays and had a history of encouraging women directors. and Rogers, who had originally written White People in the late 1990s, tinkered with the script after President Obama's election put a new spin on race in America.
"People are a little scared of this play," Brownsted said, and the audience members lost no time in asking why.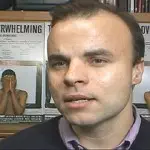 "It's scary to put on three people talking in monologue for 90 minutes," she said initially. "Producing organizations have been reluctant." When pressed, she elaborated: "The issues, the language. We asked a black company member to come in and watch rehearsals. It was scary for some of the actors to say some of their lines. They wondered: are these racist thoughts I'm expressing in me as a person or me as an actor?"
Dana Harrison, who portrays a backwoods North Carolina housewife and ex-homing queen in "White People" said she had more difficulty articulating the sexual than the racially-fraught content. "It's not like the racist lines were new or came as a surprise to anyone!" she said,
Members of the audience peppered director and actress with questions: they brought up the recent Professor Gates/Police Sgt Crowley drama in Cambridge; the Obama Administration; their identification with all three characters in White People; their own difficulties in talking about race. Everyone agreed that White People broke a silence in their own lives that begged for more discussion. Anna Brownsted promised a Talkback later in the short run. "White People" plays until September 4.
Helen Epstein is the author of "Joe Papp" and "Where She Came From."