By Steve Feeney
Leave it to guitarist Bill Frisell — he always knows where the musical goodies are to be found.
Bill Frisell Trio CD – Valentine (Blue Note)
Bill Frisell Trio Performance — Live at the Village Vanguard, 8/7/20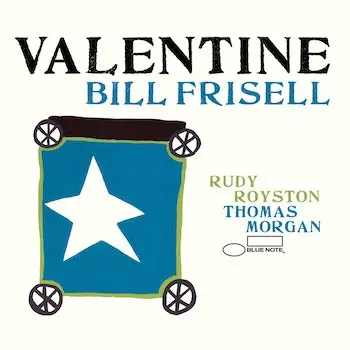 Bill Frisell's music would seem almost creepy if it were not so beautiful.  The guitarist can conjure up personal and cultural memories out of a melding of six strings and a fervid imagination like nobody else. You feel like asking him to get out of your head, even as you inevitably wonder what other musical associations he knows he can tap into there.
His latest disc, Valentine, is the first recording by one of his current trios. Members Thomas Morgan (bass) and Rudy Royston (drums) have logged enough literal and aesthetic miles with the guitarist to support and enrich his explorations of an all-inclusive vision of jazz, world, folk, country, Americana, pop, classical, and experimental communities of sound.
The disc's tracks alternate between sublime and stimulating.  The opener, "Baba Drame," a Boubacar Traore piece that Frisell has previously recorded (notably with McCoy Tyner), establishes a sonic environment that draws the listener in. The guitarist loops electric guitar fragments, amassing them into sonic constellations that orbit a core motif.
"Hour Glass" is a trip into a sort of aural limbo before the arrival of the title cut, which pays playful homage to Thelonious Monk, a composer Frisell often favors in his live appearances. "Levees" serves up a slightly ominous bit of Americana that is punched-up by an active Royston.
The drama continues with "Winter Always Turns to Spring," a piece that recalls the classic "Nature Boy," and then comes "Keep Your Eyes Open," a long-standing Frisell classic that suggests the relaxed pleasures of a cowpoke's day off. The guitarist's work indeed often evokes cinematic images. Morgan adds touches of "Swing Low" to the relaxed progression of "Wagon Wheels," turning the tune into a bucolic picture of traveling down an old country road.
The Bacharach/David tune "What the World Needs Now Is Love" reconfirms Frisell's gift for locating the sweet spot in a tune, while at the same time undercutting any sentimentality. There is much more on this disc, including some acoustic folk guitar on "Where Do We Go" and a transcendent take on the spirit-lifting "We Shall Overcome."
The Frisell/Morgan/Royston trio took the stage at the Village Vanguard in New York City on August 7 as part of the venerable club's livestreaming series. With a mask covering all but his eyes, Frisell's talent for leading from within was not only clear but proved to be particularly valuable.
Aside from introductions at the start and end of the Friday night performance, the trio played a continuous one hour and 20-minute medley of tunes from the new disc as well as some worthy classics.
Frisell performed on a custom Telecaster and employed an array of foot pedal–controlled effects to vary his sound from immediate to ethereal. The boyish Morgan held the group sound together while also offering a handful of resonant solos, and Royston enlisted a variety of sticks, brushes, and mallets to prod and expertly respond.
Among the numbers not included on the new disc: a welcome (to these ears) take on John McLaughlin's passionate "Follow Your Heart" and a gently rolling "Moon River." Leave it to Bill Frisell — he always knows where the musical goodies are to be found.
---
Steve Feeney is a Maine native and attended schools in Maine, New Hampshire, and Massachusetts. He has a Master of Arts Degree in American and New England Studies from the University of Southern Maine. He began reviewing music on a freelance basis for the Portland Press Herald/Maine Sunday Telegram in 1995. He was later asked to also review theater and dance. Recently, he has added BroadwayWorld.com as an outlet and is pleased to now contribute to Arts Fuse.