By Peg Aloi
The sensory delights of drive-ins have been pretty well forgotten in an age when watching movies has meant never leaving the comfort of your living room.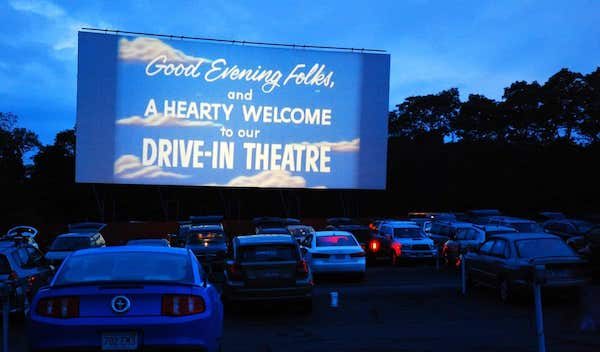 I don't really remember going to the drive-in movies with my parents. Maybe there was a Disney movie like 1968's The Love Bug or similar wholesome fare. The Love Bug has enjoyed some very niche revival screenings in recent years at drive-ins, mostly for Volkswagen hobbyists. I do recall going to the A&W restaurant, where you could order food to be delivered to your car with the little microphones and the little tray, and eat your delicious A&W vittles right there in the car. I always got a hot dog, French fries, and their signature root beer. I last ate the food via counter service in upstate New York, and it was an abysmal experience, a dim and dirty shadow of the once-famous drive-ins. But the chain was sold to a consortium of franchisees in 2011, so maybe it's gotten better. Like so many things we remember fondly from childhood, revisiting old haunts can often be disappointing. But the drive-in movie theatre is a dependable experience: sit in the car, eat snacks, dish on the movie.
The drive-in experiences I remember most vividly were the ones I had as a teenager. Everyone had a friend who could drive earlier than they could; or a friend who had a car before they did. I recall going with a small group to the local drive-in one night and seeing that terrible Caveman movie with Ringo Starr. We watched it while talking, laughing, and eating candy and, more than likely, smoking some Mexican or Columbian marijuana. We also watched the second feature (the best thing about the drive-in — it makes double features the norm rather than the exception). It was a European film, dubbed into English, with characters in medieval costumes. I can't remember the title. But I recall my friend Scott making fun of the German names of the actors, one of which was Baby Fuchs. For a teen, there was something so freeing about the experience of being at the drive-in: you are in a car like a grown-up, out at night like a  grownup, and watching movies of questionable quality while eating stuff that would surely rot your teeth. It was a true portal to adulthood. And then, of course, there were those drive-in movies that you went to with a special friend. How long would it take before the movie was ignored and you started making out in the front seat? Would you be able to explain the plot of the movie afterwards to someone who asked? Yeah, Mom, um, the movie was really good.
Drive-ins died out in droves after the mid-'80s, partly because the home entertainment market ramped up with widespread ownership of VHS recorders along with a rise in subscriptions to networks like Home Box Office and Showtime. But technology was aided and abetted by the '80s attitude of tacky consumption, its ostentatious show-off culture. Why go to the drive-in, with its hinky sound system and overpriced lukewarm snacks, and ne'er-do-wells hanging out in their Dodge Darts? You could watch the latest second-run movies at home. Quentin Tarantino's revival of the Grindhouse aesthetic notwithstanding, many theatrergoers have failed to appreciate, let alone champion, the, shall we say, sensory attributes of the drive-in. Those merits (and delights!) have been pretty well forgotten in an age when watching movies has meant never leaving the comfort of your living room.
But, like vinyl records and vintage leather jackets, drive-ins will always have their fans and aficionados. Many of these old screening structures are long gone, done in by economic starvation, though some have been revamped on occasion for the sake of nostalgia. Movie distributors have happily cooperated with those small town drive-ins, even making various first run films available. In the age of coronavirus, when we can't safely sit in movie theaters, the drive-ins provide a safer option. (Warning: But bring your hand sanitizer and mask anyway, in case you have to use the restroom. Wash your hands thoroughly before you dig back into that box of Junior Mints.)
It turns out that some films are even having sneak previews in drive-ins this year, a trend that is sure to catch on in this strange era, a time that is devoid of summer blockbusters. Last weekend a number of drive-in theaters (like the Mission Tiki Drive-In in Montclair, California, or the Showboat Drive-In near Houston, TX) showed a sneak preview of The Vast of Night, a clever and well-executed '50s period piece about a small town in New Mexico that may or may not be experiencing an alien invasion. It's full of vintage radios and a rather sly commentary on how digital technology isn't all it's cracked up to be. I loved it (watch for my review next week). You may, too, and if you weren't lucky enough to catch that drive-in preview, you'll be able to catch it streaming on Prime starting May 29 (I guess digital technology isn't that bad).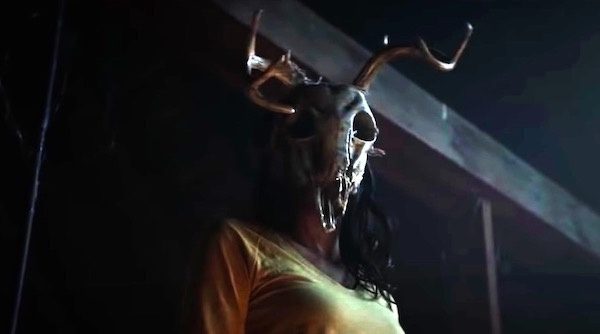 The weekend of May 5 saw a musical remake of '80s culture romp Valley Girl with a sneak preview at select drive-ins. At this point, even fluff like this can dominate movie opening news. 40,000 movie screens in America are closed; so the 400 or so odd drive-ins have a chance to attract audiences to their distinctive and yet, for many with gray in their hair, deeply-familiar movie-going experience.
This weekend, select drive-ins will be premiering the folk horror-tinged film The Wretched, new from IFC Midnight. Bostonians may be inspired (or driven out by cabin fever) to make a road trip to Weirs Drive-In in Laconia, New Hampshire (Hey, what else you gonna do this weekend?) to see this spooky movie, which takes place in a sleepy seaside resort town. It is about an antlered forest spirit that hides under tree roots and steals children. There's some fleeting references to folklore about deer and the Great Mother that I wish had been expounded upon. Amazingly, this sleepy little indie horror film is now one of the top grossing films at the box office — because it is being seen at drive-ins! You can also see The Wretched on various streaming and cable platforms, including iTunes, Amazon, GooglePlay, Vudu and others.
WBUR's Erin Trahan wrote an informative article about local drive-ins slated to open now that Governor Baker has given them the go-ahead in the early phase of re-opening select business in Massachusetts. This includes the Mendon Drive-In, and, soon, the Wellfleet Drive-In. The Leicester Drive-In hasn't announced an opening date for summer, but stay tuned — and stay safe.
---
Peg Aloi is a former film critic for the Boston Phoenix and member of the Boston Society of Film Critics. She taught film studies in Boston for over a decade. She writes on film, TV, and culture for web publications like Vice, Polygon, Bustle, Mic, Orlando Weekly, Crooked Marquee, and Bloody Disgusting. Her blog "The Witching Hour" can be found at themediawitch.com.