By Steve Provizer
ANNIE ROSS APPRECIATION UPDATE
On April 21, I wrote an appreciation of Annie Ross (below), asking for reader support of a GoFundMe campaign to help with her medical expenses. On July 21, age 89, she died at her home in Manhattan. Her former manager Jim Coleman, who had led the effort to raise funds, said she had emphysema and heart disease.
I will take the opportunity here to reemphasize her unique position among jazz vocalists, male or female. She was not primarily an interpreter of the Great American Songbook, although she did some of that. Nor was she noted as a scat singer, something she also occasionally did. She was preeminent as a lyricist of jazz tunes and as a singer of solos with the words she or Jon Hendricks wrote. And, when Lambert, Hendricks, & Ross performed Count Basie or Ellington material, she could capture the phrasing of a brass section like no one else.
Here are my favorite examples of each of the areas in which she has never been surpassed. This is the Lambert, Hendricks and Ross version of Ellington's "Main Stem." Listen to how brilliantly she handles all her sectional assignments:
Here she is singing trumpeter Cootie Williams's solo on the Ellington tune "In a Mellow Tone." It captures the spirit of the solo perfectly.
People are most familiar with her solo versions of  "Twisted" and "Farmer's Marker," but my favorite of her original lyrics is "Jackie," based on the solo played by Wardell Grey on a Hampton Hawes tune:
R.I.P., Annie Ross.
---
Renowned singer and actress Annie Ross is urgently in need of financial assistance to pay for home care during this pandemic.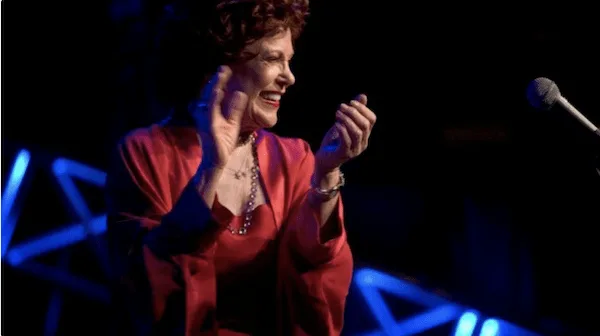 This is the kind of thing people write after someone has died, but it goes out now in the hopes it might do some good. Annie Ross is in need of help to get the health care she needs. Via her artistry she has given a great deal of pleasure — I hope that people will feel like giving back.
Born in 1930, Annie Ross came from a show biz family. Her parents and brother were in vaudeville and theater in London, where she was born and her aunt was actress/singer Ella Logan. She came with her family on vacation to New York when she was four and won a contest to sing on the radio with the Paul Whiteman Orchestra. She moved to L.A. with Aunt Ella; she was cast in The Little Rascals and later in the 1943 film Presenting Lily Mars with Judy Garland. She won a songwriting contest at age 14; the tune was recorded by Johnny Mercer and the Pied Pipers. She dropped out of high school and went back to Europe, gigging in Paris and touring with Lionel Hampton's band.
In 1950, she came back to the U.S. and in 1952 recorded her foundational vocalese version of Wardell Gray's solo on the song Twisted, which continues to be recorded. She recorded extensively, and in New York came into contact with Jon Hendricks and Dave Lambert. The three of them recorded all the parts to Count Basie songs, with lyrics by Hendricks. The 1957 album was Sing a Song of Basie and it launched the group Lambert, Hendricks & Ross (LH&R).
Between 1957 and 1962 LH&R was, indeed, the Hottest New Group in Jazz, as one of their albums exclaims. The trio created a unique body of work, which I allude to here. Ross was a gifted musician, who needed to hear a part just once before she could sing it. Her flexibility and range were fantastic: she could go down to the contralto range and up to the high registers of the trumpet at lightning speed.
Apparently burned out by the incessant traveling and wanting to deal with a drug habit, she left the group in 1962. In 1964, she moved back to London and started a club called Annie's Room, where jazz greats, many of whom were her friends and collaborators, performed. The musical tides (the ascension of rock) were not in her favor and she closed the club. Broke and divorced, she returned to America in 1975 and acted in a number of films (as herself in Robert Altman's The Player) and musicals through the '90s. She continued to perform cabaret in New York City until her health wouldn't allow it.
You might think that someone with her track record would have been able to find a foothold in the health care system, but such is not the case. It's a depressing thought that a GoFundMe campaign needed to be started for someone who has accomplished so much, but there is no doubt that people will come to her aid. She was an artist of the first rank. Let's show her some appreciation: https://www.gofundme.com/f/annie-ross-health-care
---
Steve Provizer writes on a range of subject, most often the arts. He is a musician and blogs about jazz here.