By Peg Aloi
Netflix's Ares is a glossy sociopolitical/supernatural thriller from the Netherlands.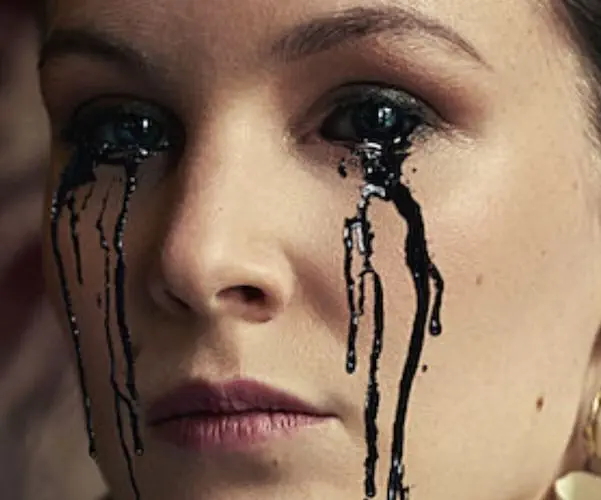 This new Dutch series on Netflix portrays an elite student organization that looks like a secret society and functions like a cult. The first episode's opening scene  — a montage to an upbeat choral song sung in Dutch that sounds halfway between a folksy ballad and a patriotic song — is striking.  The visual narrative begins with a smiling college age girl packing for a journey, her parents beaming at her proudly. A series of scenes follow, showing what looks like some very odd hazing situations: crawling on the floor, being shouted at in athletic fields, and singing in a choir. The girl flirts with a young pianist who seems to have multiple girlfriends. There are raucous parties and fancy dress dinners. The song and the montage end when the young woman moves slowly through an elaborately furnished room with a group of other students. She suddenly and inexplicably performs a horrifying act of violence upon herself. It's a shocking opening segment and an effective preview of what to expect from this glossy thriller.
The next scene takes place in a lecture classroom. Rosa (Jade Olieberg) is a medical student who is rather bored in her seminars; she challenges her professors to do something more than lecture from digital slides. After class, she runs into her friend Jacob (Tobias Kersloot), whom she has not seen in some time. He's acting a bit strange: distant yet needy. It's important to note that every other student we see on this campus is white and Rosa is biracial. Her father is a doctor who works the night shift at the hospital; her mother has a mental illness that keeps her at home and in need of constant monitoring. After class, Rosa heads back to her parents, with bags of groceries, to the small working-class flat that they share. Rosa is not only a full-time student, but also a caregiver.
Rosa's mother insists that her daughter go out for a drink with Jacob. The two run into some mysterious and rather wealthy looking friends that Jacob tells Rosa are part of a new club he belongs to. Jacob becomes nervous and elusive as he tries to steer Rosa away from asking more about the group. But Rosa is intrigued and soon they are brought to a private gathering in an empty museum. Rosa is questioned breezily by some of the club members, including Carmen (Lisa Smit), who is the group president's girlfriend. Carmen asks Rosa a strange question: has she ever wondered how a country as small as the Netherlands became so rich and powerful? Instead of being invited to the club's formal dinner, Rosa is suddenly dismissed, sent home in a car (long black sedans with tinted windows are the ride of choice of these mysterious young socialites). Rosa's fascination with the group is palpable, as is her hunger for a luxurious, privileged life that's far removed from her own. When she arrives home Rosa finds out there has been a minor crisis with her mother.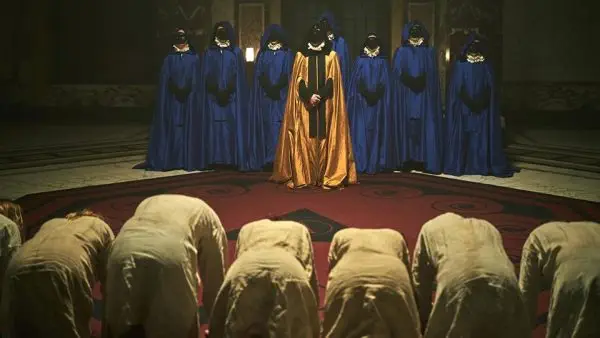 The next morning Rosa is invited, via a tinny voice mail message, to a meeting with the club, which we learn is called Ares. Just prior to the appointed time, Rosa attends a campus lecture given by a local scientist. She impresses the doctor with her perceptive questions, but Rosa is not chosen for an internship she had hoped for. She is then picked up from the library, brought to a large mansion in the center of Amsterdam, and made to undergo a rather harrowing initiation ritual. Everyone's smart phones are taken away, as well as their clothes and other belongings. The setting is eerily similar to the ritualized scenes in Stanley Kubrick's Eyes Wide Shut, including masked spectators in a gallery high above the proceedings. After the ritual, Rosa, even though she is anxious about her parents, is told that she must remain at the mansion because this is her new home and family. Although forced to wear linen shifts during the initiation, she and the other novices are then given a new high-end wardrobe and a private room that is beautifully appointed. Carmen becomes a sort of mentor to Rosa; we learn that her family, who we saw glimpses of in the opening montage, has been part of Ares for generations. Meanwhile, Jacob has a frightening encounter in the basement of the mansion, which sets into motion a horrific set of events that will ultimately affect all of Ares.
The show's horror elements sometimes feel a bit disjointed. Perhaps because they are part of a larger symbolic terror, they come off as somewhat gratuitous. The visceral psychological dread of being inducted into a sociopathic secret society would be enough. That said, I enjoyed the show's high level of production values, its excellent cast, and tight storytelling structure. All of those ingredients make Ares quite binge-worthy. The sociopolitical implications — a wealthy all-white cult populated by spoiled rich kids —  are subtle at first, then hammered home. Given its frightening vision of a white and narcissistic ruling fiefdom, supernatural touches were hardly necessary to cast a spell of horror over it all.
---
Peg Aloi is a former film critic for the Boston Phoenix and member of the Boston Society of Film Critics. She taught film studies in Boston for over a decade. She writes on film, TV, and culture for web publications like Vice, Polygon, Bustle, Mic, Orlando Weekly, Crooked Marquee, and Bloody Disgusting. Her blog "The Witching Hour" can be found at themediawitch.com.