By Michael Ullman
Eschewing ostensible flash and musical sleight of hand, Without Deception is a treat for connoisseurs.
Without Deception, Kenny Barron and the Dave Holland Trio, featuring Johnathan Blake (Dare2 Records)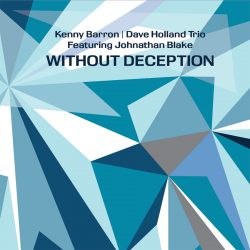 Kenny Barron made his 1961 recording debut on his big brother Bill's The Tenor Stylings of Bill Barron on Savoy Records. Born on June 9, 1943, the pianist was still in his teens; he was barely 20 when he was picked to travel with the Dizzy Gillespie Quintet featuring James Moody. (I heard them at MIT's Kresge Auditorium.) Thus Barron was schooled at the heart of the bebop movement. He also recorded (in his teens) with such figures as the delightfully eccentric Perry Robinson (on Funk Dumpling.) By Kenny's standards, Britisher Dave Holland, who is only three years younger, got a late start. In 1967 he recorded a series of sessions in London that I haven't heard. Holland then became part of an avant-garde group, the Spontaneous Music Ensemble, a freewheeling ensemble that featured soon-to-be well-known British improvisers such as Kenny Wheeler and Derek Bailey. He was also on an album helmed by guitarist John McLaughlin. By the fall of 1968, in an unlikely but celebrated turn of events, Holland was snapped up by Miles Davis. Soon he was playing bass on tunes, modal and otherwise, such as "Mademoiselle Mabry." He's the bassist on Davis's In a Silent Way. Bostonians may have heard him, as I have, not only with Davis but via solo recitals or in duets with Chris Potter (both at Jordan Hall) and performing with a variety of his own groups.
Barron and Holland came from widely different backgrounds, but they are both unusually flexible as well as remarkably gifted musicians. They also have known each other for a long time: they are two-thirds of the trio that in 1985 made the Enja album Scratch. (Daniel Humair was the drummer.) Their duet album, The Art of Conversation, was recorded in 1984. It comes as no surprise that their new trio album, which features drummer Johnathan Blake, is a lyrical — at times virtuosic — delight. Composed by Barron, the title cut is a sprightly blues that's propelled by a descending melody that seems to tumble rather than unfold. Drummer Blake is given an opportunity to comment on the stop and start lines, and then move into a neatly swinging 4/4. The two leaders seem anxious to welcome — and make space for — their much younger drummer.
The set begins with the easygoing bossa nova "Porto Alegre," named after the Brazilian city. Everything here, even the repeated phrase of the introduction, seems to sing. Everyone delivers a stellar turn in this one. One notices immediately the freedom given drummer Blake, from the breaks built in for him to the rich subtlety of his interchanges with Holland. There is also a graceful, gradually intensifying solo by Barron, while Holland's solo is deliciously melodic, with occasional repeated sequences that make one want to sing along. Barron introduces Duke Ellington's lush "Warm Valley," once a feature for alto Johnny Hodges. The others come in with something like a sigh, a sudden relaxation that fits the rhythm, which becomes steady but spare. The set ends with another tribute: Thelonious Monk's "Worry Later." (Some may remember it as "San Francisco Holiday.") Barron suggests, but does not imitate, Monk's quirkiness. The tune becomes a lighthearted showpiece for the trio. Each chorus of Barron's solo begins with a new, uplifting idea. Eschewing ostensible flash and musical sleight of hand, Without Deception is a treat for connoisseurs.
---
Michael Ullman studied classical clarinet and was educated at Harvard, the University of Chicago, and the U. of Michigan, from which he received a PhD in English. The author or co-author of two books on jazz, he has written on jazz and classical music for the Atlantic Monthly, New Republic, High Fidelity, Stereophile, Boston Phoenix, Boston Globe, and other venues. His articles on Dickens, Joyce, Kipling, and others have appeared in academic journals. For over 20 years, he has written a bi-monthly jazz column for Fanfare Magazine, for which he also reviews classical music. At Tufts University, he teaches mostly modernist writers in the English Department and jazz and blues history in the Music Department. He plays piano badly.