By Evelyn Rosenthal
Vinicius Cantuária and his crack band offered a night of close-listening interaction between musicians with ears wide open.
Vinicius Cantuária at Scullers, Boston, MA, on February 22.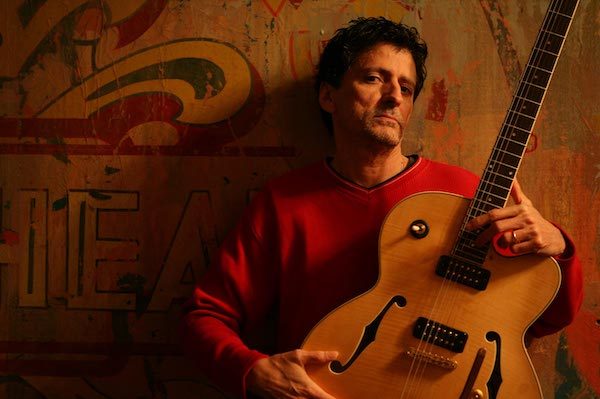 On Saturday night, Brazilian musician and composer Vinicius Cantuária treated an enthusiastic Scullers audience to a terrific set that paid homage to his roots and showcased much of what has made his career so eclectic. In Brazil he worked (on guitar, voice, and drums) with giants of bossa nova and MPB (música popular brasileira) like Marcos Valle, Gilberto Gil, Chico Buarque, and Caetano Veloso; since arriving in New York in 1994 his collaborators have included top names in the jazz and "downtown" scene, including Arto Lindsay, Brad Mehldau, Bill Frisell, and David Byrne.
Now based back in Brazil, Cantuária came north for a mini-tour, bringing to Boston a trio of top New York Brazilian jazz specialists. His longtime electric bassist Paul Socolow and frequent pianist Hélio Alves were joined by newcomer (to the band) Mauricio Zottarelli on drums. The opener, Antônio Carlos Jobim's "Ligia," set the stage for Cantuária's distinctive approach. He often favors longish, improvisatory intros, driven by guitar grooves, that then surprise the listener as they morph into recognizable tunes. Here the slow, taking-our-time tempo, colored with a number of gorgeous unison passages on piano, guitar, and bass, gave notice that we were in for a night of close-listening interaction between musicians with ears wide open.
Cantuária started off on electric guitar, emphasizing an atmospheric, twangy sound. His playing tends more toward tasty licks than flashy solos, and expert comping on the Brazilian rhythms, especially when he switches to violão (nylon-string guitar). The tempo picked up on "Mi Declaración," cowritten with Bill Frisell, with its bolero-ish 3/4 rhythm. The Jobim standard "Insensatez" ("How Insensitive") sounded fresh, with Cantuária's warm, conversational vocal tone and elastic phrasing. "So Danço Samba" (another Jobim) embodied the concept of Brazilian "suingue" (swing, pronounced "swingy"), a samba with extra groove, and an added jolt of funky bass from Socolow on the ending.
Cantuária and the band brought a hushed simplicity to the Buarque/Jobim classic "Retrato em Branco e Preto" ("Portrait in White and Black"), starting with just guitar, voice, and piano (and Socolow shaking a mean egg). Minimal guitar comping over Alves's piano solo and the subtlest tapping of tamborim and brushes from the ever tasteful Zottarelli formed the perfect setting for this tune's challenging and beautiful melody and lyrics.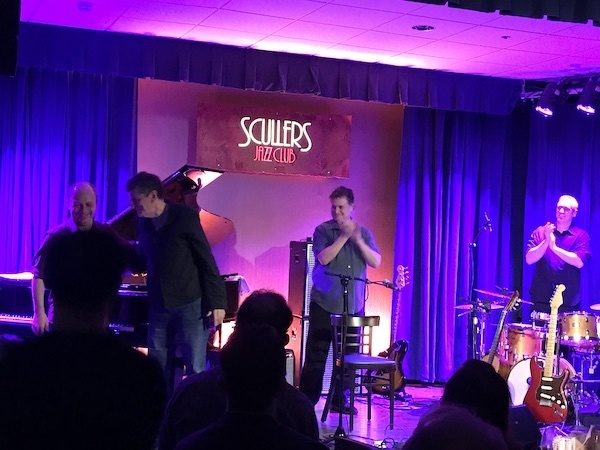 Besides Jobim, Cantuária called on other deep Brazilian roots, with the classic "Você Está Sumindo" by the great sambista Geraldo Pereira, and "É Preciso Perdoar," another classic — this one from the '60s — by Carlos Coqueijo and Alcyvando Luiz, most famously recorded by the legendary João Gilberto. The inspiration of Gilberto's spare voice-and-violão style could also be heard in the first chorus of "Caminhos Cruzados," one of Jobim's loveliest songs; the band then joined in and Alves's spirited solo led them all into a full sound, with Cantuária's jazzy, syncopated vocal phrasing, and even a bit of Cubanismo from the piano.
The band kicked out on the funky partido alto groove of the samba "Rio," written by Cantuária and David Byrne. The bass/drums interplay under the piano solo was something to behold, especially since this was the first time Socolow and Zottarelli had played together. But Cantuária seems to have a knack for getting the best out of his band, which he did again on one of his signature numbers, the Gilberto Gil composition "Procissão." His arrangement reinvents the Tropicalia-era Gil baião as a jam tune — Grateful Dead meets "In a Silent Way" in the Brazilian sertão (the country's arid, interior northeast geographic region, home to more folk-based styles like forro and sertaneja).
Having done justice to many of his heroes, collaborators, and influences, Cantuária brought the band back for an encore, the crowd-pleasing "Garota de Ipanema" ("Girl from Ipanema"). Here again he managed to turn even the most overplayed standard into a unique Cantuária version. My only complaint — and it's really more of a compliment — is that I would have loved to hear more of his own compositions. With a discography of nearly 20 albums over his long career, and dozens (or more?) of excellent originals, he should tilt the setlist balance more toward his own creations. The crack band is certainly up to it, and the audience would get the chance to become familiar with yet another excellent Brazilian composer's work.
---
Evelyn Rosenthal is a singer specializing in jazz and Brazilian music, a freelance editor, and the former editor in chief and head of publications at the Harvard Art Museums. She writes about music and musical theater for the Arts Fuse.