By Jonathan Blumhofer
Perhaps the book's most impressive accomplishment is to make a kind of systematic case for Leonard Bernstein's larger compositional output.
Leonard Bernstein and the Language of Jazz by Katherine Baber, 290 pages, University of Illinois Press.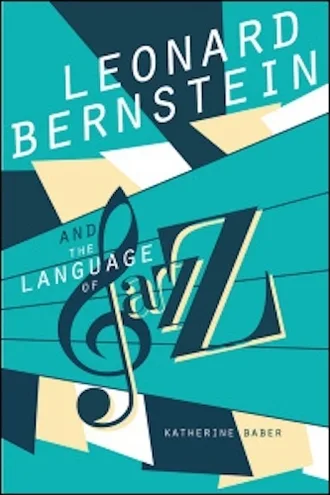 So we remember him as a composer after all. Surely Leonard Bernstein would be happy about that. Often maligned during his lifetime for his compositional efforts — their eclectic character, in particular, left more than a few heads spinning – Bernstein's output now stands secure, 30 years after his death, and, it seems, increasingly relevant.
Katherine Baber's Leonard Bernstein and the Language of Jazz certainly takes that view. A serious, scholarly effort, the book takes a look at Bernstein's music, generally, and his use of jazz elements, in particular, across much of his half-century-long compositional career.
In it, Baber does not endeavor to argue "any particular inspiration, narrative, or meaning for jazz in Bernstein's music." Rather, her aim is to place Bernstein's use of jazz within larger, constantly shifting musical and social frameworks, and to examine the various ways in which he employed them: thematically, structurally, associatively.
She does that and then some. Perhaps the book's most impressive accomplishment is to make a kind of systematic case for Bernstein's larger compositional output. Rooting his music in jazz — a genre of significant professional and personal consequence for Bernstein — and moving outward from there makes perfect sense, especially given the sheer stylistic breadth of Bernstein's work.
Indeed, as Baber points out, Bernstein's compositional voice was rooted in three "major threads" of the composer's musical philosophy: tonality, communication, and nationality. Largely tonal, directly communicative, and decidedly American, jazz ties them all together.
And it figured prominently in his thinking from the start. In his Harvard thesis, "The Absorption of Race Elements in American Music," Bernstein identified five key elements of jazz — melodic, rhythmic, coloristic, metric, and contrapuntal aspects – and, while they don't make for a comprehensive definition, they do serve as a launching pad for Bernstein's own appropriation of the genre.
Of course, he wasn't the first composer to draw upon jazz, and Baber goes into some depth in her introductory chapters discussing the influence of both George Gershwin's and Aaron Copland's forays into jazz on Bernstein's own stylistic development. Both elder composers provided alternative models for employing the popular form, and Copland's more abstracted approach held considerable sway with Bernstein (which isn't surprising, considering the close friendship between the two).
In particular, Baber argues that Copland's subtle use of the blues provided Bernstein "a model for how to voice private sentiment within earshot of the public," specifically as it related to issues of identity, sexual and otherwise, in his music.
Bernstein's close connection to Copland also helps explain some of his apparent ambivalence toward Gershwin's concert music (though, ironically, Bernstein proved one of Gershwin's most persuasive concert-hall advocates). Whether the younger composer's views were shaped by his proximity to one half of the Gershwin-Copland divide of the 1920s and '30s isn't clear: Baber largely avoids the spat.
But she does draw a surprising (and more personal) explanation, understanding the seismic effect of Gershwin's startling death in 1937 on Bernstein, which coincided with the 18-year-old beginning to establish his musical and sexual identities. This confluence, Baber writes, ultimately made for an "uneasy relationship" between Bernstein, Gershwin, and Gershwin's music. Conjectural? Yes, but, given Bernstein's obvious attachment to Gershwin's music (and his subsequent, emotional reactions to recalling the older composer's death), well-reasoned and plausible.
Throughout the book, Baber's discussions of Bernstein's music are well researched, cogent, and thoughtful, particularly in their discussions of historical context. Indeed, understanding how Bernstein's music responded to current trends in jazz — including, especially, those with which he didn't have much personal affinity (like the bebop employed in West Side Story) – and how they were understood by the listening public of the day enriches both one's understanding of and appreciation for Bernstein's music.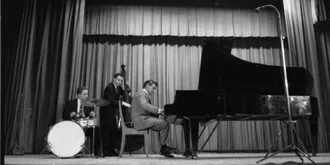 Unsurprisingly, Baber's analyses mainly delve into Bernstein's scores from the 1940s and '50s, with a penultimate chapter on two big works from the '70s. In all of them, she dives into the various ways Bernstein utilized jazz elements: as commentary on race and gender in On the Town; exploring questions of identity in his Symphony no. 2 (particularly Bernstein's understanding of his Jewish heritage in the immediate context of the founding of the State of Israel); and his adoption of the blues as a form of protest music and a reflection of the black-Jewish relationship in Mass and 1600 Pennsylvania Avenue, among other uses.
It seems, then, that, much as he did with other musical techniques (like Serialism), Bernstein employed jazz to serve ends that were both musical and associative. That there's such a consistency within his style isn't surprising. Rather, it's a subtle reminder of the integrity of Bernstein's music and his larger approach to composition.
What's more, this ties directly into the theme of communication, which marked nearly all of Bernstein's life work. Ultimately, his goal was to impart insights on themes discreet and overt with the widest possible audience. Jazz – and a flexible understanding of what it meant — afforded Bernstein the means to do just that: as Baber notes, "jazz and blues … help[ed Bernstein] to engage with an audience and to take up [the] shared cultural and political concerns" that defined his career.
Given its focus, Leonard Bernstein and the Language of Jazz can't be (and isn't) a comprehensive overview of Bernstein's work. But it does provide a firm foundation on which to further investigate Bernstein's music and from a variety of angles. In this, it's a welcome, necessary addition to recent Bernstein scholarship.
---
Jonathan Blumhofer is a composer and violist who has been active in the greater Boston area since 2004. His music has received numerous awards and been performed by various ensembles, including the American Composers Orchestra, Kiev Philharmonic, Camerata Chicago, Xanthos Ensemble, and Juventas New Music Group. Since receiving his doctorate from Boston University in 2010, Jon has taught at Clark University, Worcester Polytechnic Institute, and online for the University of Phoenix, in addition to writing music criticism for the Worcester Telegram & Gazette.