By Debra Cash
As my second-wave feminist companion said as we left the theater, "That was hilarious. And I am SO ANGRY."
She the People: Girlfriends' Guide to Sisters Doing It for Themselves, directed by Carisa Barreca based on original direction by Carly Heffernan. Presented by Huntington Theatre Company and the Second City, written by Carisa Barreca, Alex Bellisle, Marla Caceres, Katie Caussin, Carly Heffernan, Maria Randazzo, Rashawn Nadine Scott, Tien Tran, Kimberly Michelle Vaughn, and Lauren Walker. At the Calderwood Pavilion at the Boston Center for the Arts,  527 Tremont St., Boston, MA, through March 8.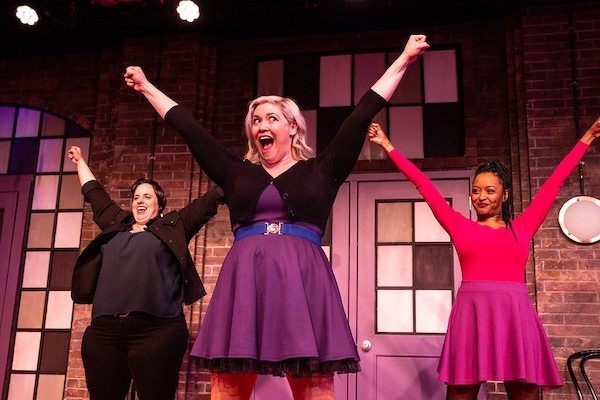 I wore a charm bracelet made of reproduction women's suffrage buttons to the opening night of She the People: Girlfriends' Guide to Sisters Doing It for Themselves. You could say I was on brand and — come hell or high water — have been on brand for the last couple of decades. In a romp part protest rally and part catharsis, the gals from Chicago's Second City wag their sassy fingers at the present time, starting the minute a disembodied voice instructs the audience to turn off cell phones and admonishes "photography and misogyny are strictly prohibited."
Over the course of an hour and a half, six singing actors — four presenting as white, one as Black and one Latina — take television ads to their illogical conclusion, invent board games and game shows, offer some creepy cheerleader chants and a self-help podcast (watch out, Gwyneth Paltrow), and slap on a shared false mustache to get a male interlocutor into a couple of sketches.
If it all feels pretty familiar, you've probably been reading Twitter memes and the one-liners on the signs held by women (and some of our beloved men) at recent rallies. The one the She the People writers overlooked, but runs like a grim undertow underneath the punchlines, reads, "I can't believe I am still protesting this shit."
Second City, is, of course, the comedy juggernaut that has launched the comedy careers and sketch comedy strategies of dozens of stand-up and ensemble comedians, most notably cast members of Saturday Night Live. The touring cast is not composed of the original performers — apparently the show has showcased a number of different ensembles since its premier in January 2018, which in political terms seems a lifetime away. Remember when Trump was bragging that he had a bigger button than that of North Korean leader Kim Jong Un??
I didn't identify any big stars in the making opening night, although frizzy haired Lexi Alioto is a reliable if unofficial ringleader, and Kazi Jones is able to turn from an expression of delight to one of outrage on a dime. Singing parodies to the background accompaniment of onstage keyboardist Jacob Shuda, the women's slightly off-key renditions have a heartfelt, gals-around-the-campfire sort of hominess.
Amid the laughs are a few rueful moments, most poignantly an encounter sketch between an adult and the 12-year-old she meets at a Weight Watchers meeting. If the rap song about women who are "Rubenesque" isn't enough to make you throw away your scale, this sketch might convince you to do so.
I won't give away the jokes — you've either heard a lot of them before, or the insights will feel very familiar to most women. But on a week when a recent Wall Street Journal/NBC poll literally erased Elizabeth Warren and MSNBC managed to replace Warren's face with Amy Klobuchar's (hey, they're both girls running for President so interchangeable, right?) it was hard to laugh quite so freely along with the final scene of women taking political power.
As my second-wave feminist companion said as we left the theater, "That was hilarious. And I am SO ANGRY."
---
Debra Cash, a founding contributor to the Arts Fuse now serving on its Board, is Executive Director of Boston Dance Alliance.