By Mary Paula Hunter
The message of August Wilson's final play: the future rests not on the number of Whole Foods we build but on the culture we value.
Radio Golf by August Wilson. Directed by Jude Sandy. Staged by Trinity Rep at the Dowling Theatre, 201 Washington Street, Providence, RI, through March 1.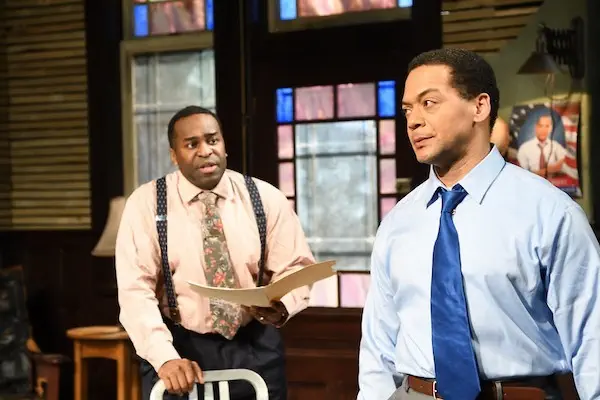 In a deeply layered production of Radio Golf, August Wilson's last play in his Century Cycle, Trinity Rep has mounted an emotionally stunning production that examines the complex intersection of morality, ambition, and the increasing but still limited access of racial minorities to the American Dream.
Like every play in Wilson's decade-by-decade canon, Radio Golf is set in the Hill district, an African American neighborhood in Wilson's hometown of Pittsburgh. We are in the final decade of the 20th-century, a characterless time symbolized here by the generic rock music pumped into the theater. Wilson's beloved blues have, apparently, died.
But quickly we learn that a handful of blacks are finally being invited into the white world of real estate development, banking, media, and golf—that bastion of white male privilege. Country club membership might even be extended to blacks, at least those with enough money to afford exorbitant fees.
Harmond Wilks, a real estate developer, played by Joe Wilson Jr., is running for mayor. His wife, Mame, played by Trinity newcomer Tonia Jackson, (let's hope we see more of Jackson at Trinity), is on the verge of clinching a big job in the governor's office. Wilks's business partner and boyhood friend Roosevelt Hicks, the excellent Omar Robinson, is making deals on the side, buying shares in a radio station.
The biggest opportunity, however, comes in the form of a development smack in the middle of The Hill. It is the same round-up of bland boxy stores you can see anywhere in the country: a Whole Foods, a Barnes and Noble, and the ever-present Starbucks. The expansive parking lots need plenty of space and that means razing houses. Wilks and Hicks are intoxicated by the prospect of spearheading the project. Because it is a joint government/private sector project, the grant for the mall's construction stipulates minority involvement.
It appears that these two have it all. The future is in their hands. Until, perhaps, it isn't.
Their lucrative hopes come to an end with the entrance of the brilliant Ricardo Pitts-Wily, who plays Elder Joseph, one in a long line of Wilson's seers, poets who lace each sentence with a metaphor. Wilson uses every opportunity to juxtapose Elder Joseph's eloquence with the developers' ad-speak—whose motto is "Hail Hail the Gang's All Here!"
Elder Joseph refuses to accept that his house—which the city had sold to Wilks after taking it for unpaid taxes—is about to be erased. Wilks is convinced he is in the right, until he discovers that the city had never advertised the sale, which makes his purchase illegal. That sets up a battle between ambition and morality.
Roosevelt and Mame Wilks are on the side of money-making justified by capitalist pragmatism. They understand that institutions once closed to minorities are being pressured to open their doors. These doors are open only so wide—which is unfortunate, but part of the deal.
In a heated scene, Roosevelt informs Wilks that the razing of Elder Joseph's house is a fact. But Wilks, his conscience awakened, objects to what he maintains is an immoral act as well as a violation of the law. He says if we don't abide by laws we invite chaos. The emotional and spiritual contest between the two partners lies at the heart of the play's riveting second act.
As the moral center of Radio Golf, Elder Joseph stands strong, reminding Wilks of their shared history as descendants of families who made The Hill the center of black life in Pittsburgh. At first Wilks tries to pay the old man off, but Elder Joseph announces that he wouldn't know what to do with so much money.
Throughout the two-hour-and-40 minute play, Pitts-Wiley digs into the role with a relentless intensity. When he exits you wait for his re-entrance. Part of a uniformly excellent cast, Pitts-Wiley memorably conveys the wisdom of Elder Joseph: the future rests not on the number of Whole Foods we build but on the culture we value.
---
Mary Paula Hunter lives in Providence, RI. She's the 2014 Pell Award Winner for service to the Arts in RI. She is a choreographer and a writer who creates and performs her own text-based movement pieces. In 2019 Hunter published Someone Else, a novel set in her hometown of East Lansing, Michigan.