By David Greenham
The New Rep production of Hair is acceptable: if the intent was to look back at a now-dated musical that once caused a stir.
Hair, Book and lyrics by Gerome Ragni & James Rado, Music by Galt Macdermot. Direction and choreography by Rachel Bertone. Music direction by Dan Rodriguez. Scenic design by Janie E. Howland. Costume design by Marian Bertone. Lighting design by Franklin Meissner, Jr. Sound design by Kevin L. Alexander. Produced by New Rep Theatre at the Mosesian Center for the Arts, Arsenal Street, Watertown, MA, through February 23.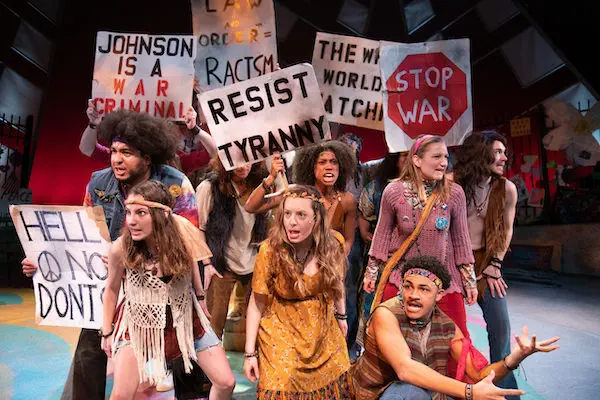 You may have noticed, over the past couple of seasons, the plethora of revivals celebrating the 50th anniversary of Hair. Watertown's New Rep Theatre is the latest to whoop it up. Its heart is in the right place: the company began its run of the groundbreaking "summer of love" musical with a symposium that focused on "Identity, Politics, and the Dress and Undress of Hair." Among the compelling questions attendees were encouraged to think about: Should women be required to register for the draft? How bad do things have to get to make you want to speak up, protest, march, or become an activist for change?
Unfortunately, the biggest question on the minds of theatergoers seeing the production might be: Is this musical anything more than a museum piece?
For the creative team behind New Rep's current production, Hair is very much a blast from the past. Janie E. Howland's scenic design suggests an open area in NYC's Central Park, such as Strawberry Fields, where the pavement is painted with a colorful design. In this case, it is a sort of rainbow swirl. The open space is surrounded by iron fences festooned with posters, tapestries, and iconic '60s artifacts. The actors are dressed in costume designer Marian Bertone's almost too perfect hippie gear — minus the smell – and lighting designer Franklin Meissner Jr. beams a rainbow palette of pastels on the proceedings.
The plot is rather thin: Claude (Eddie Simon) has been drafted. His parents (well-crafted by Marge Dunn and Brian-Barry Pereira) want him to "start facing reality" and sign up. His friends – the tribe – want to turn on, tune in, and drop out, as it were. Or, as one of them points out, "The draft is white people, sending black people to make war on the yellow people to defend land they stole from the red people."
But Hair really isn't about its story. It's a rapid-fire smattering of ideas that are presented through more than 40 songs, a counterculture (for the mainstream) topical variety show. And, in the bouncy New Rep production, some of the tunes still work. Yewande Odetoyinbo (Dionne) provides the show's highlight with the musical's most famous number, "Aquarius." Likewise, Marge Dunn (Sheila) provides the evening's mellowest moments with her renditions of "Easy to Be Hard" and "Good Morning Starshine."
There are also sections of the production that resonate today The hallucination section of the second act, particularly "Abie Baby" (led by Anthony Pires Jr.) and "What a Piece of Work is Man" (beautifully sung by Aaron Patterson and Peter Mill) have something serious to say about topics that we're still grappling with. It's easy to imagine that a black actor playing Abe Lincoln saying "I ain't dyin' for no white man" was shocking when the show opened in the weeks following the assassination of Martin Luther King Jr. But the sentiment still carries weight today.
But, for all that's still compelling about Hair, there is just as much, if not more, that falls flat or comes off as anachronistic. Character development is minimal, with no effort to provide specificity. The many (many) shout-outs about the benefit of drugs come off as quaint. Worse, it's doubtful anyone involved with the production really understands the emotional weight of the military draft and what it meant to burn your draft card. Or register how things have changed. Over the past two decades America's been at war — without most people (at least, by design, the well-off) noticing much. The exploitation of volunteer service is completely missing in this glimpse of the past. Most glaring of all, the women in Hair are mostly presented as set dressing. Their lines are more about selfless worship of males than women's liberation. (Feminism would not have gone over well with the middle-class ticket buyers attending Broadway at that time. Protesting Vietnam was safer.) Even the once famous nude scene that ends act one fails to convey the cleansing and freeing nature it once (purportedly) had. Today it comes off as gratuitous.
As Claude, Edward L. Simon mostly succeeds, but he seems a little adrift at times. Part of that is due, no doubt, to the fact that his character is so faintly conceived. More prominent in Hair is his sidekick, George Berger (Eddie Shields). Berger is a de facto leader of the tribe, a sort of Riff to Claude's Tony. Unfortunately, while Shields looks the part, he's decided to be a focus-stealing pest rather than a human being. So Berger's antics come off as overplayed and disingenuous.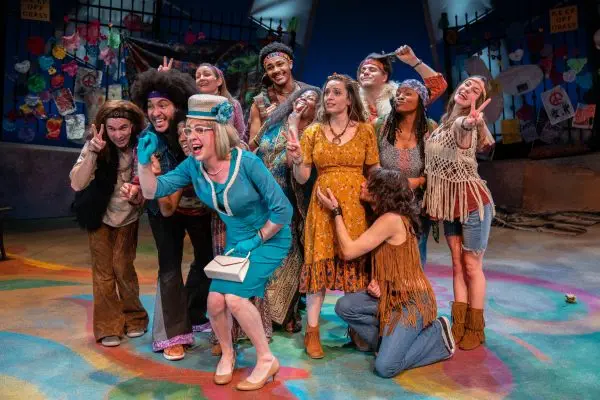 Director Rachel Bertone has to take some responsibility for the overkill. Bertone, a Boston Conservatory graduate, has cast a number of colleagues or classmates from the conservatory, and that proves to be a double-edged sword. Although she's a talented choreographer, this production suffers from a lack of cohesion, a commitment to dramatic unity. Sometimes it felt as if the actors were off on their own doing their thing, rather than performing as part of a team — or in the case of Hair, a tribe. Peter Mill, an intriguing performer, supplied a very funny routine as Margaret Mead, but it didn't fit into the show the way that it should. And if Hair is going to revamp its rebellious vibes, it needs to play up the bourgeois points of view brought in by Claude's square parents and Mead.
The New Rep production of Hair is acceptable: if the intent was to look back at a now-dated musical that once caused a stir. However, the staging misses a valuable opportunity. Hair is about how baby boomers emerged from postwar America and the straight-laced '50s (when America was "great" according to some) and wanted to blow things up.  Young people screamed they'd had enough of the horseshit of adults. And America was a tinderbox, ready to ignite at any moment, and indeed it did — institutions were shut down and sections of cities burned. The parallels with today are evident. The formerly unsettled baby boomers have made the most of out the capitalist machine. They are hypocritically dismissing the millennials with the exact same arguments used on them in the '60s: they're lazy, don't care about the ways things are done. They need to buckle down and work their way up — despite the tons of debt that are now required to earn the American dream. A meaningful production of Hair ought to be filled with the same danger and fear that fueled the hippies' desire to shout "I hate the fucking world, don't you?"
I applaud New Rep's efforts, particularly the hard work of a young and diverse cast. I pray the company solves the sound issues that troubled its production of Oliver! and now Hair. The balance is way off: the band is too loud, so you can barely make out the lyrics. But, after all, this is the troupe's season of "transition." Let's hope they work out their theatrical growing pains. Drawing on the language of Hair, may they "yip out all the bad vibrations."
---
David Greenham is an adjunct professor of Drama at the University of Maine at Augusta, and is the Associate Director for the Holocaust and Human Rights Center of Maine. He is the current chair of the Maine Arts Commission, and has been a theater artist and arts administrator in Maine for more than 25 years.