By Bill Marx
Timon of Athens is a fascinating, if lumpy and bumpy, black comedy with a nihilistic sting, a lacerating parable about how the worship of gold warps individuals and society.
Timon of Athens by William Shakespeare and Thomas Middleton. Edited by Emily Burns and Simon Godwin; directed by Simon Godwin. A co-production with Shakespeare Theatre Company, in association with the Royal Shakespeare Company at the Polonsky Shakespeare Center, 262 Ashland Pl., Brooklyn, NY, through February 9.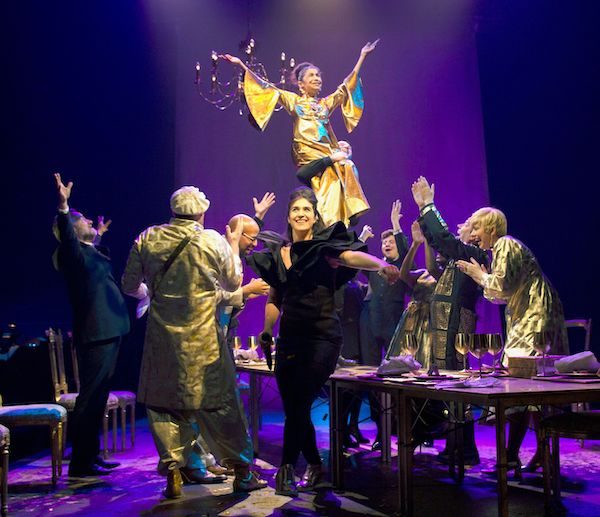 No play more clearly declares its "deliberate intention to be different," wrote a critic about William Shakespeare's Timon of Athens. But different for what end? We are given a bipolar protagonist who is generous to a fault to his friends in the first half of the play but, when he needs help from his buddies to stay afloat and they refuse, he turns on a dime into a misanthropic hermit who craves the death of all in Athens, including children, in the second half. This is Shakespearean tragedy gone psychotic — bad as the Macbeths can be, they don't call for genocide.
For me, Timon is a fascinating, if lumpy and bumpy, black comedy with a nihilistic sting, a lacerating parable about how the worship of gold warps individuals and society. (Greed is not good.) Nothing sours humanity more thoroughly than friendship betrayed — especially when backstabbing is instigated through the cash nexus. Presented by New York's Theater for a New Audience along with the Shakespeare Theater Company in association with the Royal Shakespeare Company, this always involving production puts the script's sour point across with considerable panache and power, highlighted by a strong performance from raspy-voiced Kathryn Hunter as a regendered Timon. The switch may say something about nurturing denied in nascent capitalism — nature is barren in this script, a place for Timon to rant in when not digging up root vegetables. The text has been edited to underline the political conflict between the haves and have-nots (as was the 2012 National Theatre production starring Simon Russell Beale), with the army of the downtrodden at the edges of the city presented as freedom fighters rather than hooligans, as they can be portrayed.
Rivals Ben Jonson and Shakespeare seem to have had the inhumanity of Elizabethan materialism on their minds at the same time. Timon was written at about the same time as Ben Jonson's Volpone. The Bard was assisted by dramatist Thomas Middleton, who shared Jonson's city comedy sensibility. "Good morning to the day; and next, my gold!/ Open my shrine that I might see my saint," salutes Volpone. Either Shakespeare or Middleton must have looked over Jonson's script because, in weird ways, Timon is a sort of photonegative of Volpone: Jonson's conniving antihero is selfishness personified, destroyed when his ungrateful servant, Mosca, schemes for the big score. Timon is all bounty until he is left in the lurch, though not by his faithful servants. Gold artificially elevates both protagonists: Volpone is deflated when he loses it; the broken Timon finds gold (which he hates) to use to further his fired-up misanthropy. Both protagonists are extreme representatives of a corrupt system, though Timon is given time to fulminate disdain before expiring — but how long can one live on hatred?
Does Timon's death offer some sort of redemption? Or was it all it an exercise in futility? In a video interview, director Simon Godwin calls Timon a fairy tale, and that approach (assisted by some creative editing of the text) has its strengths and weaknesses. Initially, as the ruler of a colorful bourgeois kingdom (praise for scene and costume designer Southra Gilmour), Hunter luxuriates in the love proffered by her oft-gifted sycophant friends. Then the kibosh comes. The problem is that, after reality hits, Hunter doesn't infuse Timon's speeches with the flickers of hysteria and disorientation necessary to set up the figure's descent into madness. Our sympathy must be undercut (perhaps even horrified?) by the onrush of insanity. Once isolated under a barren tree, Hunter fares better. She delivers Timon's rants and raves with sardonic glee; when she discovers the box of gold in the ground, the performer looks up at the gods with a delightful "you must be kidding" expression. In that spirit, the actor and cast members infuse notes of knockabout comedy throughout the absurdist proceedings. One of my favorite exchanges is softened up in a satisfying way. The cynic Apemantius (played with proper waspishness by Arnie Burton) ventures out to challenge Timon to a verbal throw down — who hates mankind more? Here they grow to recognize the insanity of their exercise in competitive loathing and fall into each other's arms, laughing.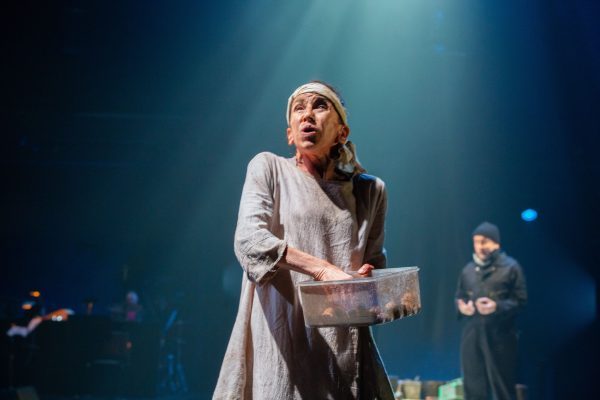 That laughter is refreshing, but it should curdle by the end. Here it doesn't because the death of Timon is given Christlike trappings. We are left with the suggestion that, because of what happened to her (and its vision of the extinction of kindness), the forces of rebellion and the status quo are sobered up, to the point of pledging to arrive at a just peace. I am not convinced, and far prefer the ending of the 2010 Actors' Shakespeare Project production in which Allyn Burrows, as Timon, presented "a modest but powerful picture of self-erasure, inhumation via weariness."
Still, Godwin's is a defensible and winning interpretation, considerably helped by a fine cast and a band of live musicians. I have seen three productions of Timon and each was provocative. The play may lack the polish of genius (there are some critics who think what we have is a draft), but the relevance of Timon's tragic flip from airy plenty to dire poverty only becomes more troubling as the years pass. In his review of Timon in The New York Times, theater critic Jesse Green prefers the "fun" of the first half but, given the progress of the climate crisis — a recent report from the UN's Biodiversity Chief was headlined "Humans Risk Living in an 'Empty World' with 'Catastrophic' Consequences — we need to buckle down and face the prescient warning proclaimed by the second.
---
Bill Marx is the editor-in-chief of The Arts Fuse. For over three decades, he has written about arts and culture for print, broadcast, and online. He has regularly reviewed theater for National Public Radio Station WBUR and The Boston Globe. He created and edited WBUR Online Arts, a cultural webzine that in 2004 won an Online Journalism Award for Specialty Journalism. In 2007 he created The Arts Fuse, an online magazine dedicated to covering arts and culture in Boston and throughout New England.
,