By Steve Provizer
I'm not sure Can You Imagine? will be able to summon back Dizzy Gillespie from the great beyond, but it's not a bad way to pass the time while we wait.
Can You Imagine?, John Bailey. Freedom Road Records.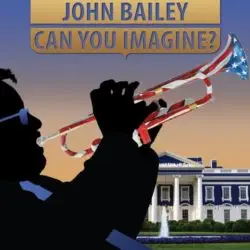 Whether they're "songbooks" that nod to a songwriter or performer, or they're attached to heavenly bodies or meteorological events, concept albums have become close to the norm in new jazz releases. I try to take them as they come, but I was predisposed to like this disc because it's an homage to Dizzy Gillespie's presidential campaign of 1964 — and I love Diz. Raise your hands if you — like me –voted for him. The album title, Can You Imagine? wistfully suggests the direction America might have taken had Diz been elected. The album takes a fairly light touch to this notion; it directly references this theme only in its longest track, "Presidential Suite."
It's a solid group, with John Bailey on trumpet and fluegelhorn, Victor Lewis, drums, Edsel Gomez, piano, Stacey Dillard, tenor and soprano sax, Mike Karn, bass, Earl McKintyre and Stafford Hunter, trombones, and Janet Axelrod, flute.
Bailey writes that his composition "Pebbles in the Pocket" alludes to, "pebbles of wisdom that we each carry around with us from loved ones, mentors, or anyone who's gone before and left behind those crucial nuggets of knowledge that it would behoove us to heed." One can also see it as a pun on "in the pocket," which is a jazzer's way of saying that something is right in the groove. "Pebbles" features a minor melody broken up with percussive breaks and multi-horn arrangement that draw on a slightly smoothed-out Booker Little feel. Bailey's solo on the modal changes is deft; his sound is very much in the Freddie Hubbard lineage. Tenor follows, again hearkening to the '60s sound of a Joe Farrell or Joe Henderson. A short interlude precedes the trombone solo, continues the same flow. JJ Johnson is no doubt in mind, albeit seasoned with a more piquant tone. A contrasting section brings things back to a low boil before a strong, clipped coda.
Leader Bailey's "Presidential Suite" is the centerpiece of the album. An ironic drum roll starts it off, then a bass and piano repeated figure establishes a serious mood for a muted trumpet solo. Bailey is very much thinking of Dizzy, squeezing blue notes the way he did and ripping off Gillespie-esque runs. Bailey takes out the mute and plays a straight melody, joined by tenor in a counter-line. The intensity builds and we transition to the next section: "Road to the Blueshouse" (what Dizzy said he'd call the White House). Earl McIntyre plays a plunger mute trombone solo that makes use of many different colors before moving into a more straightforwardly blues-y style. He takes it a bit outside, creating nice variations in the solo. Tenor comes in with Rahsaan Roland Kirk's line on "Volunteered Slavery," while trumpet and trombone do some interplay. They all come together in a riff leading to the next section, "President Gillespie's Birthday Song," based on the changes to "I Can Dream, Can't I." Tenor and trumpet play alternate solos, both deftly handling the changes. Then, the two horns trade 8's with the drummer and take it back to the melody. Bailey ends things with a take off on the classic Gillespie bravura high note ending.
"The Touch of Her Vibe," written by Victor Lewis, starts with a hand drum solo, then piano focusing on the bass end of the keyboard. Trumpet and trombone comment briefly, then tenor enters with a blues riff. It settles down into a fluegelhorn melody with the other horns playing background. This develops into a pleasing three-way dialogue and then into a snare drum/bass interlude. Fluegelhorn leaps in with a solo and here too, we are reminded of Hubbard's sound, albeit with a different approach to playing lines. (Bailey has mucho chops, no question about that.) The tempo relaxes and trumpeter continues to solo over riffs in the bass and trombone. There's a bit of a rough transition here, but we settle into the three horns, each improvising until the tempo slows and there's a quick fade out. It's hard at times to feel the unified thread in the 3-way improv, which may have something to do with the separation of the horns in the mix.
"The Blues House" is a modified blues that one hears in some Gillespie tunes, especially in the early '60s. It's 12 bars, but there are several harmonic byways. Stafford Hunter's trombone gets the first crack at soloing and follows the form, but he doesn't build up much heat. Bailey's trumpet is next. He's more convincing than Hunter, but there's no sense of either of them really settling solidly into the Blues House. The horns trade 4's with the drummer and this comes off with panache. In this case, taking chunks of the tune works out better for the band than trying to deal with the entire form. Mike Karn's bass solos for a chorus and then they take it home.
"Ballad From Or Incienso Y Mirra." is an excerpt from a suite that showcased Bailey with Arturo O'Farrill and the Afro Latin Jazz Orchestra. Piano intros this medium-slow tune; once again, fluegelhorn states the medley, with backing by tenor and trombone. Nice emotional statement by Bailey. The tune speeds up into medium tempo, the orchestration remaining unchanged. Then things move into to a slightly fast ballad tempo and a piano solo; simple but effective. The tempo shifts back up, with the solo piano continuing with some light horn backing. Bailey is back on trumpet, toying a bit with the melody, providing light horn riffs. The tempo speeds up again and we go out with trumpet in a clarion mode. A surprise coda in full harmony makes for a nice, bittersweet ending.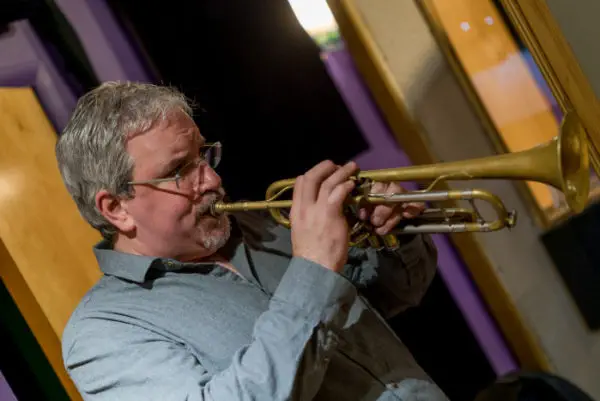 In "Elite State of Mind," by saxophonist Stacey Dillard, a piano intro takes us to Axelrod's flute, joined by horns in a light Latin mode. The arrangement sets up an effective framework for tenor, trombone, fluegelhorn, and piano solos and all swing nicely. A pleasant ride.
Brazilian Chico Buarque wrote the next tune, "Valsa Rancho." An atmospheric intro leads us into this ballad. What sounds like an alto flute plays a haunting melody accompanied by what comes off like an almost marching snare drummer beneath. Dillard's soprano sax solos amid a rhythm section that is hard to characterize; a Latin feel with a touch of Brazilian rhythm with a snare drum that is neither. I wasn't really engaged by this tune.
"From the Heart," also by Victor Lewis, returns to the '60s feel in the first tracks. Trumpet and sax lay out a melody in which there is space for the trombone to move freely. Then the three come together to close the melodic statement. Tenor solos effectively over the modal changes, followed by trumpet. Bailey's playing, while akin to Hubbard's, is also infused with some newer harmonic approaches. Pianist Gomez solos and, again, takes a melodic approach, with active right hand and sparse chording in the left. The melodic statement is reprised and we're out.
The final track is the standard "People" by Bob Merrill/Jule Styne. In rubato tempo, with only piano accompaniment, trumpet plaintively states the melody, with slight embellishment. Bailey commands a rich tone all through the horn's register. A simple, personal rendition.
Can You Imagine? is well recorded, the sound clear and bright. Bailey is first rate and several of the compositions are well arranged, with solos ranging from good to very impressive. It's probably folly to contemplate what-if's, but I hope that, wherever Dizzy is, he's planning on making a return visit soon. The country was not ready for him then, but man, could we use him now. I'm not sure Can You Imagine? will be able to summon back Gillespie from the great beyond, but it's not a bad way to pass the time while we wait.
---
Steve Provizer writes on a range of subject, most often the arts. He is a musician and blogs about jazz here.