By Nate Beyer
This year's Revels is more than a parade of Christmas songs and stories that tap deep into America's European and African past.
The Christmas Revels: An American Celebration of the Winter Solstice. Directed by Patrick Swanson; Megan Henderson, music director. Staged at Sanders Theatre, Harvard University, Cambridge, MA, through December 29.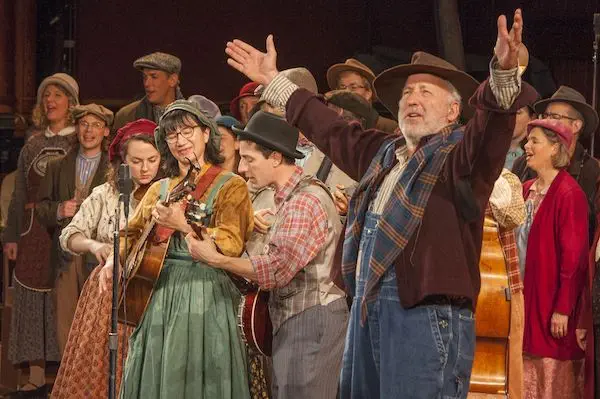 Now in their 49th year, The Christmas Revels is a tradition within a tradition. Each year the show delivers Christmas-related songs and tales gleaned from a different culture, often with an accent on the international. Audiences familiar with the Revels expect that they will be invited to sing along to old or new favorites, or even to clasp the hand of a seatmate and shuffle together to a familiar tune. This year's production is no different — except that the chosen culture is our own. This is an American Celebration, a boisterous and openhearted embrace of the homegrown spirit of the holiday. The musical festivities also serve as a reminder of where we have come from and who we are as Americans.
Longtime Revels performer David Coffin leads the audience in a venerable preshow exercise, practicing sing-alongs scheduled for later in the performance. As song leader and "master of the dance," he embodies the Revels ethos. Coffin comes off as everyone's friendly uncle or favorite high school teacher, an expert purveyor of Christmas cheer. In that spirit, The Christmas Revels focuses on family-friendly numbers — songs familiar and new, with humor that's broad enough for children, though done with skill that entertains adults.
The story line revolves around an imagined 1933 radio broadcast. Johnny Johnson (Jeff Song) wanders into a hardscrabble landscape with no memory of who he is or where he's been. His Everyman functions as the fulcrum of the show's music and dance numbers. Steven Barkhimer, as a radio DJ and the show's de facto master of ceremonies, trades his compass for Johnson's watch, telling the lost soul that he needs to travel in all directions in order to search for his identity. Johnson is played by an Asian American actor, which is the first in a series of gentle suggestions that the Revels' vision of America is a multicultural tent.
A short opening tune from the disciplined Cambridge Symphonic Brass Ensemble introduces a medley of the show's upcoming numbers, which ends up with a sing-along of "Joy to the World." So far, we are in familiar Christmas territory. After that, though, comes one of the highlights of this Revels production: bluegrass. Members of the groups Squirrel Butter and Tui provide a rollicking, romping version of a gospel song, "Ain't Got Time to Stop and Tarry."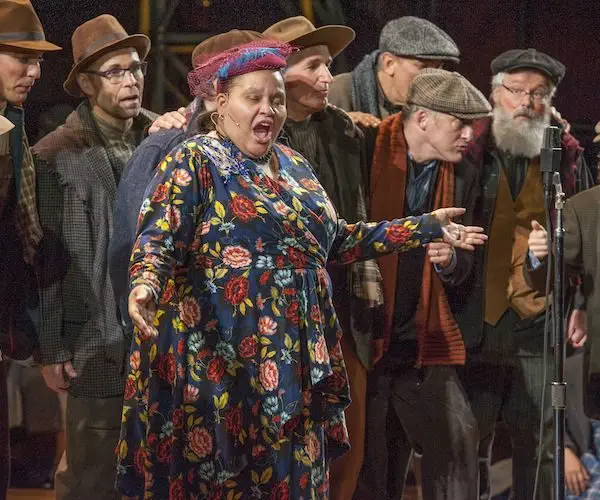 Bluegrass, of course, developed in the hill country of the East, among the rural poor who adopted an African instrument, the banjo, to express their joys, fears, and life experiences. Both bluegrass groups are outstanding and their talents were not wasted — the evening is peppered throughout with Appalachian music. Particularly notable is the singing and playing of Charmaine Slaven, whose voice sounds as if it is issuing from a backwoods hollow. She is impressively versatile: she can also step-dance to an intricate tap rhythm — riffing off the beat of Ruben's Train — while playing the guitar.
The show also highlights several songs and dances from the Shakers, an offshoot of the Quaker (Society of Friends) movement. Shakers believed that, through worship, they could establish a direct (and ecstatic) connection to God. They also thought that women could be religious leaders (gasp) and would return to earth with the second coming of Christ. Shaker dances are not frenetic: they are carefully choreographed, coming off as pared-down folk dances whose participants cross and shuffle in gendered lines. The music, highlighted by Haley Fisher's solo vocals, is plaintive and beautiful, a clear running stream of call and response.
The age of the large assemblage of performers ranges from 6 to 80. Each age group is given several chances to shine, from the Rocky River Children, who do several turns as singers, dancers, and actors, to the Sourdough Teen Dancers. The teen dancers do a memorable job in a strenuous dance during the spiritual "Children, Go Where I Send Thee"— somehow they manage to smile through every turn and whirl.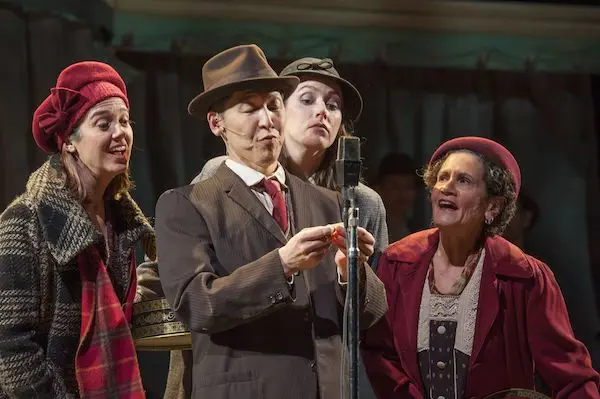 The evening's showstopper was Carolyn Saxon, the solo vocalist on the bluesy gospel numbers "This Train" and "My Lord's Been Writing." Saxon's voice is rich, balancing earthy power with heavenly elegance. "This Train" whipped up such joyous energy that, at least to me, even the secular among us would be hard pressed to keep their seats. The affable Coffin was asked to follow her performance with "Wayfaring Stranger," a slice of Appalachian folk. He does a fine job, but he's put in an impossible spot.
At one point, Johnson gambles his way into a fortune, but must give his heart away to get it. The anti-greed message is obvious. Of course, Johnson eventually reunites with his family and his identity — with a few more twists in the road. When Song finally gets to belt out a few songs we are given an opportunity to hear his fine voice. An Everyman role is difficult to pull off; it requires a performer's reactions to be both universal and specific. Song makes Johnson more than a stock character, a kind of walking metaphor.
The show also nods, often, to African American spirituals, particularly those whose origins lie in slavery. A particularly moving moment came when the night's audience, overwhelmingly white, was asked to consider a line from "I'll Fly Away": "Like a bird from prison bars has flown, I'll fly away." These lines sing  of America and the holidays — and the ugly reality of mass incarceration.
Essentially, this year's Revels is more than a parade of Christmas songs and stories that tap deep into America's European and African past. It is a valuable reminder, especially during these perilous days, that our country's holidays are about the joys of inclusion, not the fears of division.
---
Nate Beyer is a writer and educator, and winner of the St Botolph Foundation Emerging Artist Award. His work has appeared in Dark Sky Magazine, the Arts Fuse, the Adirondack Review, and in print in Attache, the in flight magazine of US Airways. Contact him at nateb123@gmail.com.