By Steve Provizer
All three groups in this Blue Note anniversary concert were distinctly different. One was shaded with a hip hop influence, one proffered organ trio jazz-funk and one, all female, had singing as its focal point.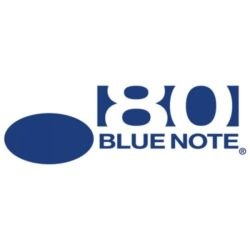 The organizing principal for this concert tour is the 80th anniversary of the founding of an important jazz label, Blue Note records. A thumbnail sketch of Blue Note records is probably in order. The company was formed in 1939 by Alfred Lion and Francis Wolff, who ran it for about the next 30 years. They were lovers of traditional jazz and small group swing and that's what they initially recorded. They started recording more modern jazz in the late '40s.
The label expanded its roster to include many important jazz musicians and also paid close attention to the look of their product, hiring artist Reid Miles in 1956. Reid's LP cover art, which often used photos shot by Wolff, became influential in the world of graphic design. Blue Note LP's became celebrated for their distinctive look and for the sound quality of their recordings. While other companies also used recording wizard Rudy Van Gelder to engineer sessions, Wolff and Lion were willing to pay musicians for rehearsals while other labels were not. This made a qualitative difference.
Blue Note thrived, recording mainstream and avant-garde artists until the late '60s-early '70s, when the founders died. The label became somewhat moribund until the mid '80s, when its catalogue was purchased by EMI. Since that time, Blue Note has been releasing new material and (Mosaic Records) box sets of old material. For the last 25 years, the label has operated under the auspices of various large corporate entities.
It's fair to assume that the groups in this tour (which performed on November 7 at Rockport's Shalin Liu Performance Center) were chosen as a representative sample of what Blue Note wants people to know it now offers. The three groups in this concert were distinctly different. One was shaded with a hip hop influence, one profferrf organ trio jazz-funk and one, all female, has singing as the focal point.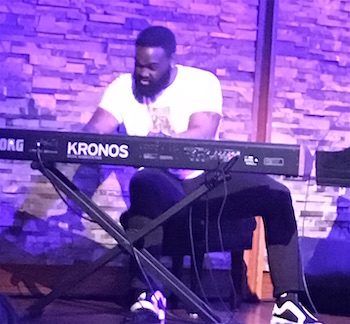 First up was a group led by pianist James Francies, who has played with both jazz and hip hop heavy hitters, along with Burniss Travis on bass and Jeremy Dutton on drums. Their first tune was a deconstruction of the Monk tune "In Walked Bud." There was just enough of the melody and the bass line for me to be able to recognize it, but it would be just as difficult to explain the twists and turns as it was to follow them. At a couple of points, transitions had me convinced they were going to segue to different tunes, but no. There were changes of tempo, meter, key, and they stayed together through it all.
The next tune included audio playback of a pre-recorded male voice. It was often hard to understand, but the gist was about the need to take risks in one's life. Francies played mostly electronic keyboard here and the music provided a somewhat dramatic underpinning, with a fair amount of repetition. The voice and the music were clearly meant to reinforce each other, but the difficulty of understanding the voice detracted somewhat from successfully realizing that idea.
The third tune featured playback of a female voice, partly singing and partly vocalizing and repeating words and phrases. There was an abstracted quality to the music that worked best when the group locked into each other, which they did about halfway through the piece. The playing was excellent by all three musicians; I was especially impressed with the control and power of drummer Dutton.
Next up was the James Carter Organ Trio; Carter on reeds, Gerard Gibbs on Hammond SK2 organ and Alex White on drums. This group aims to transmute the music of guitarist Django Reinhardt into the organ trio format. I don't know if the players turned Django's music upside down or turned the organ trio concept upside down. Either way, no prisoners were taken. With a stretch, one could hear the original melodies of the four tunes they played, but with a soulful funk beat and with interpolations from music far afield from Django. For example, Basie's "Going to Chicago Blues" found its way in there, as did "Daring Young Man on the Flying Trapeze" and "My Favorite Things."
Carter is a technically brilliant player, who stretched his tenor, alto, and soprano saxes to the limit. There was a similar build in each of the tunes, with Carter stating the melody and either soloing himself or passing it off to Gibbs on Hammond SK2 organ. The compact SK2 is a lot easier to take on the road than the bulky B3, but it doesn't allow for the foot pedal work that can play a bass line and free both hands for keyboard playing. That limitation aside, the SK2 simulates the B3-Lesley amp sound combination well and offers a variety of other electronic sound options. Gibbs whooped it up and was as expressive facially as his playing, which evoked previous masters of the organ trio format, like Groove Holmes.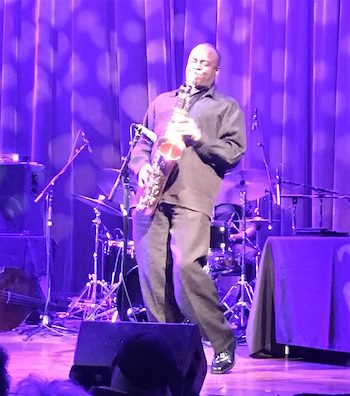 Carter's solos started in a fairly mellow vein and worked up more and more steam and excitement. His combination of circular breathing, triple tonguing, overblowing, savvy jazz lines and cadenzas whipped the crowd into the proverbial frenzy several times. When Carter and Gibbs played lines together, they locked in, both musically and physically, their body movements aligned along with their phrasing. If the Francies group seemed a little distanced from the audience, Carter's reached out and communicated, baby. My only reservation with the group was an occasional time-keeping lapse on the part of drummer White.
Kandace Springs' Trio followed, with Springs on vocal and piano, Aneesa Faatin on bass and Taylor Moore on drums. The group played a combination of standards like "Devil May Care," "Angel Eyes," and "What Are You Doing the Rest of Your Life," along with tunes by Roberta Flack and Nina Simone, two of the several women whose work Springs features on her upcoming album The Women Who Raised Me.
Springs has a pleasant, slightly smoky voice, and is well in control of her dynamics. She has a tendency to add brief scat lines to the end of phrases a strategy that becomes a little old. She accompanies herself well on piano and her soloing, while not exciting, is fine. Springs displayed her classical piano chops a couple of times, including when she started playing Chopin's "Minute Waltz" and segued into Gilberto's "How Insensitive." Her band-mates joined Springs in vocals once, on "Angel Eyes," singing a very nice 3-part harmony. A little more of that would have been welcome. Faatin and Moore both contributed excellent solos during the set.
All of the concert principals came back onstage for an encore jam session on Horace Silver's "Song For My Father." Springs, who established a good rapport with the audience, directed the jam with a light touch. Francies on piano, Gibbs on organ, Carter on tenor sax, and Faatin on bass all soloed. Moore was a standout on drums, stretching out and showing chops and style she hadn't revealed during her set with Springs. The jam closed out with an impressive extended coda by Carter.
Those who know the earlier recordings of Blue Note would have noticed there was no music made by anyone in the lineage of players like Eric Dolphy, Andrew Hill, or Cecil Taylor. But there was, as a variation of the expression might go, almost something for everyone, and that's cool.
---
Steve Provizer writes on a range of subject, most often the arts. He is a musician and blogs about jazz here.