By Jonathan Blumhofer
There was nothing sleepy or commonplace about the ensemble's performance of favorites by Mozart, Brahms, and Bartók.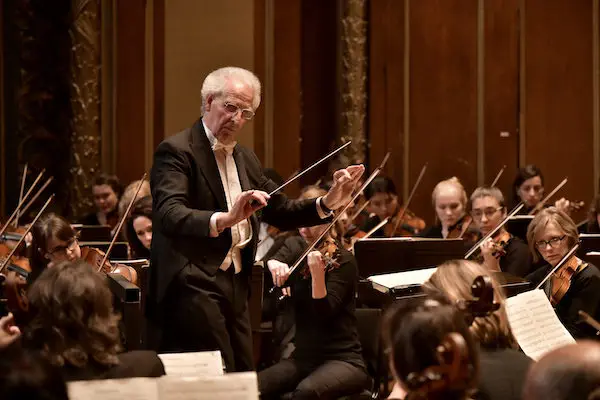 The Boston Philharmonic Orchestra's (BPO) season-opening program of favorites by Mozart, Brahms, and Bartók could hardly have been more canonical. Yet there was nothing sleepy or commonplace about the ensemble's performance on Saturday night at Jordan Hall.
Indeed, you'd be hard-pressed to find a reading more convincing, sweeping, or rewarding than the account of Brahms's Piano Concerto no. 2 the BPO, conductor Benjamin Zander, and soloist Alessandro Deljavan provided.
This 1881 score is deceptively tricky: its charm and lyricism mask Herculean technical challenges. But none of those proved too much for the Italian keyboardist, who was making his BPO debut.
Deljavan is a musician with power to burn. His piano can thunder with the best of them (as it did in the Concerto's stormy second movement). But he's also got an incredibly delicate touch, which he employed to devastating effect in the Concerto's tender third movement. All along, his reading was carefully balanced, beautifully voiced, shaped with close attention to dynamic detail and tonal nuance, and overflowing with character.
Certainly, his and Zander's approach to the piece was dramatic. In their hands, the work's four movements functioned as quadrivium installments in a series, rather than as a succession of paragraphs in an essay or chapters in a book. Each one had a distinct aspect: the first, mighty and noble; the second, tragic and brooding; the third, serene; and the finale, playful but a touch melancholy.
Textural and structural clarity were further themes of Saturday's performance: one could tease out the relationships between the movements — the shared gestures and motivic figures, thematic transformations, and the like — with ease. Taken together with their larger approach to the piece, Deljavan's and Zander's was a truly fresh, captivating Brahms Second Concerto.
It was also excellently played.
Deljavan's performance was rich-toned, rhythmically clean, and fired with purpose.
The BPO, which in recent years seems to have gone from strength to strength, turned in a marvelous, full-blooded account of Brahms' orchestral writing. Rafael Popper-Keizer's cello solos in the third movement floated and principal horn Kevin Owen's first-movement solos opened the night's proceedings with radiant warmth.
Throughout, the ensemble and Deljavan exhibited a lively rapport, the pair responding to and bouncing off of one another with energy and delicacy. Afterwards, the pianist rewarded a lusty ovation with a pair of encores: the "Aria" from Bach's Goldberg Variations and Frederic Chopin's Mazurka op. 17 no. 4.
Following intermission, the BPO had the stage to itself for Bartók's Concerto for Orchestra.
Written in 1943 for the city's other flagship orchestra, the Concerto pulls no punches technically or expressively, even if Bartók's writing in it does soften some of his style's hardest edges.
The BPO's performance on Saturday was, in the first movement, a study in character contrasts, particularly between the music's lyrical and muscular episodes. In the playful, spunky second, Zander ably drew out the droll whimsy of the woodwind writing, as well as the earthy force of the strings' interjections and the quasi-religious mystery of the central chorale.
Darkly shimmering woodwind flourishes ultimately built to surging, lamenting climaxes in the third: while full of force and expression, those latter spots were never shrill. The Shostakovich quote in the "Intermezzo interrotto" came across with savage bite, and the finale…
Suffice it to say, Saturday's finale was exhilarating. The head-spinning string cascades that open it spoke with clarity. Later, the boisterous fugal writing that starts and stops only to start up again was particularly cogent. Right through, the brass playing was grand and robust. The overall performance shimmered — this whole Concerto for Orchestra wanted nothing for coloristic effect — and the BPO delivered a sound that was at once substantial but never heavy, thick, or stuffy.
Singling out individual players in this piece is, perhaps, folly: it swims or sinks on a team effort. But, over the Concerto's five movements, there were standout moments from principal flute Lisa Hennessey, principal oboe Peggy Pearson, principal clarinet Rane Moore, principal trumpet Dana Oakes, timpanist Edward Meltzer, and harpists Franziska Huhn and Hannah Cope Johnson, among others.
To begin the evening, Zander led the BPO in Mozart's Overture to The Magic Flute. His was a warm, stately account of the piece, but one that never lacked for rhythmic urgency or emotional vigor. It was highlighted by some exceptional woodwind playing (the ensemble looks to be in conspicuously fine form in that department this season) and an approach to the music that seemed rather more forceful and Beethovenian than not — just as it should.
---
Jonathan Blumhofer is a composer and violist who has been active in the greater Boston area since 2004. His music has received numerous awards and been performed by various ensembles, including the American Composers Orchestra, Kiev Philharmonic, Camerata Chicago, Xanthos Ensemble, and Juventas New Music Group. Since receiving his doctorate from Boston University in 2010, Jon has taught at Clark University, Worcester Polytechnic Institute, and online for the University of Phoenix, in addition to writing music criticism for the Worcester Telegram & Gazette.