By Gerald Peary
How is this festival kept off the map from my US colleagues?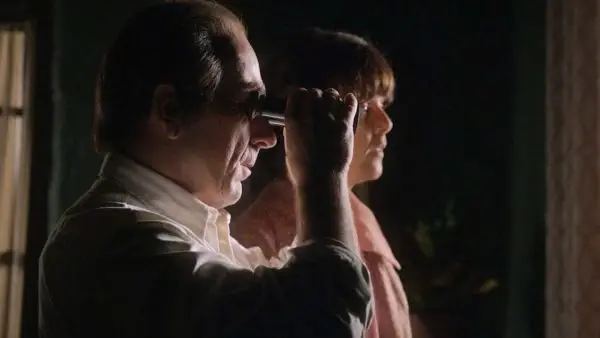 The San Sebastian International Film Festival, in its 67th year, is the greatest film festival in the world that seemingly caters, and successfully, to only Europeans. In my eight days there in late September, I didn't see a single Asian journalist and I believe I was the only American press. I was lucky to be representing The Arts Fuse as the President of the FIPRESCI International Critics Jury. I presided over a superb jury of film critics from Estonia, Britain, Spain, and Morocco.
How is this festival kept off the map from my US colleagues? San Sebastian, everyone agrees, is one of the most beautiful cities on earth, in Spain in the Basque country just below France. Filmgoers walk along the ocean to get to the cinemas, and the food here is world-famous: exquisite tapas at a hundred taverns in the Old Town, in the very neighborhood where the movies are shown. And the films are, for the most part, extremely well chosen, from recent art house hits to inventive retrospectives. (This year: shamefully unknown to me: the 1950s melodramas of Mexico's Roberto Gaveldon.) And there are enough special awards to celebrities — in 2019, to Donald Sutherland, Costa-Gavras, and home country fave Penelope Cruz — to warrant a smaller version of Cannes' Red Carpet, where locals line up to stare at the quickly passing stars.
In Official Competition were two films about Franco and the Franco era, which, many years after the Generalissimo's death, still feel slightly daring. While at War was an old-fashioned, somewhat hollow costume drama, pitting the upcoming Fascists in 1936 against the beloved Spanish writer, Miguel de Unamuno. For most of the film, Unamuno keeps his head in his books, trying to stay neutral and above politics while his country falls. But you know that this kind of film demands a bravura ending, in which the novelist learns his lesson and speaks out forcibly for democracy. The actor playing Unamuno was hammy in a Geoffrey Rush kind of way, the Franco actor more subdued. While at War did show the interesting meeting at which, amidst a coven of fascist military, Franco was voted into power. Who knew how long he would stay on?
The other Franco-era film was The Endless Trench, which we rewarded with our FIPRESCI prize for Best Film. This was a subtle, poetic character sketch about a man who hid quickly in a hole in his house when the Fascists were after him, and then remained in hiding in the same spot for 30 years. With Franco's death, he can't leave his self-made jail, even as it's safe, even with his wife coaxing him out. The ultimate exemplar of agoraphobia. At 147 minutes, The Endless Trench makes the audience feel the years go by along with the imprisoned man.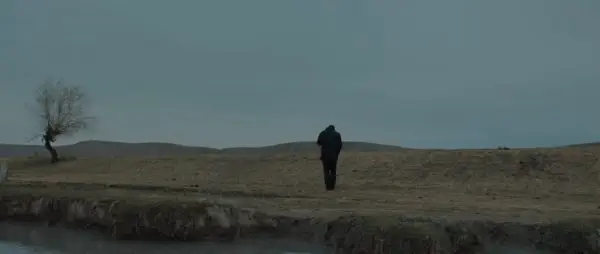 "Was our film too long?" the directors (there are three of them) asked our jury when we gave them their prize diploma. We politely said, "No." "That was our big argument," one of the directors told me. "At one point, we cut it to 120 minutes. But then, without an arc, it really felt too long. So we went back to our original length."
Both of these films were fiercely anti-Franco, which plays well with today's liberal film festival audience. Interestingly, lines of dialogue making jest of Franco got hearty laughs, as if it is still a bit naughty to attack him. The audience really roared when macho Franco was said to be "A bit like a woman."
Perhaps my favorite film in Competition was A Dark Dark Man, a tongue-in-cheek policier from Kazakhstan with echoes (perhaps) of Dashiell Hammett and the Coen Brothers. Who would expect, in the middle of some rowdy cops-and-thieves action to find a woman TV reporter quoting Montesquieu? The semi-hero is a passive young detective who barely blinks at the corruption of the law around him but, in the knightly Raymond Chandler way, proves suddenly "better than other men" by rescuing a retarded man from the mean streets.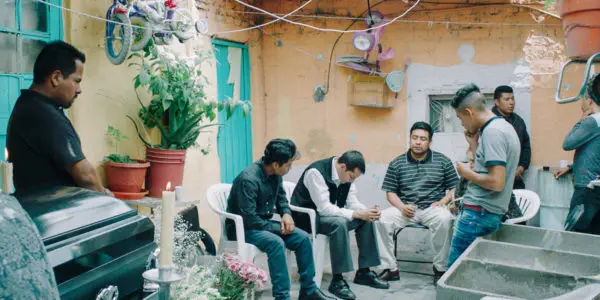 My other favorite? David Zonana's Workforce from Mexico, a priceless bit of neo-realism effectively casting non-actors as exploited workers building a house from scratch for an uncaring, exploitative rich man. Zonana's approach here is pure Mexican Bunuel, a film shot in medium and long shots so as not to sentimentalize the characters. The crude look is Bunuel's early Los Olvidados, the cynical theme from his Spanish classic, Viridiana. When a bunch of poor people take over anything, they will assuredly screw it up, which happens when the workers occupy the rich man's house. Poverty doesn't make people noble but, understandably, craven and selfish.
Outside of Competition, I saw two first-rate films which should open in the next months in Boston. Now is not the time to review them, but to take heart that they are coming. One is Waiting for the Barbarians, an insightful allegory about the ravages of colonialism, with a fine script by JM Coetzee from his acclaimed novel.Johnny Depp is unexpectedly sublime as a rightist military officer, decked to look, I believe, like Eric Von Stroheim's German commander in Grand Illusion. The other work I recommend is Ken Loach's masterly Sorry We Missed You, maybe his finest film ever. Set in urban Britain, it's the best film I've seen dramatizing the round-the-clock work and agonizing stress of a blue-collar couple trying to get by for their family. Debbie Honeywood, a non-actress whom Loach cast as the mom, is so endearing and heart-breaking I'm giving her an Oscar right now!
---
Gerald Peary is a Professor Emeritus at Suffolk University, Boston, curator of the Boston University Cinematheque, and the general editor of the "Conversations with Filmmakers" series from the University Press of Mississippi. A critic for the late Boston Phoenix, he is the author of nine books on cinema, writer-director of the documentaries For the Love of Movies: the Story of American Film Criticism and Archie's Betty, and a featured actor in the 2013 independent narrative Computer Chess. His new feature documentary, The Rabbi Goes West, co-directed by Amy Geller, is playing at film festivals around the world.