By Jason M. Rubin
Jethro Tull founder Ian Anderson brings the  group's classics to Medford's Chevalier Theatre on September 11.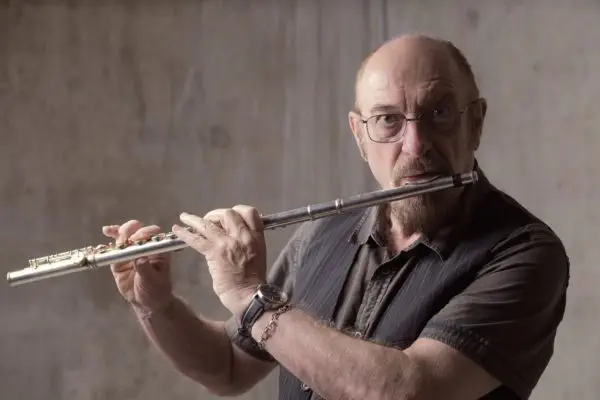 Officially billed as Ian Anderson Presents Jethro Tull, the 50th-anniversary tour makes it clear that for all intents and purposes, Ian Anderson is Jethro Tull. While he does solo projects and concerts under his own name, he also has the sole artistic and legal rights to don the moniker Jethro Tull whenever he sees fit. And given that the band has reached its gold anniversary — Tull actually started in 1968 and the 50th-anniversary tour began in 2018; this is the 50th anniversary of the group coming to America — Anderson has brought out his backing band of the last several years to play both stone-cold classics and deep cuts from Tull's long and varied recorded history.
Anderson brings the show to the Chevalier Theatre in Medford on September 11 at 8 p.m. The 72-year-old singer-songwriter-flutist-guitarist generously spoke with me for an hour as I asked him questions of yesterday and today. Below are highlights from our conversation.
---
Arts Fuse: According to the Ministry of Information Tull Tour History website, Tull's first shows in Boston were held at the Tea Party from February 13-15, 1969. Do you recall anything from those performances?
Ian Anderson: Yes. When we first came over to America, we were made aware there were two important people we needed to win over. One was Bill Graham, who had the Fillmore West in San Francisco and Fillmore East in New York. The other person was in Boston: Don Law, who ran the Tea Party. If you did well in one of those places, the word would travel and it helped you get gigs in other parts of the country. You built a reputation that preceded you. Personally, I hated the Fillmore West. The audiences were completely stoned and we were not the typical hippy dippy band of the time. I still run into Don Law every now and then.
AF: As you think about the long history of the group, the different lineups and styles of music, can you identify a sort of overarching ethos by which Tull has operated?
Anderson: I would be tempted to say that it was to largely avoid the mainstream of popular music and try to find a niche market. I always liked the term "progressive rock" because it implies that you're pushing the boundaries of what is considered the norm in rock music and bringing together more eclectic influences than black American blues. Elvis Presley wasn't what I was about. When I heard Muddy Waters, Sonny Terry, Brownie McGhee, T-Bone Walker, that is what appealed to me. But I had to do something with it to make it my own. I couldn't be a white person playing black music; it wouldn't be authentic. People like Eric Clapton and the Rolling Stones didn't feel that way. It was better for me to find music that I could draw from closer to my northwestern European roots.
AF: You've always worn a lot of hats in Tull, including, in recent years, that of curator of your catalogue. The bulk of the band's original recordings have been remixed and remastered into deluxe sets, 1979's Stormwatch being the latest. As you've delved into old tapes, have you regretted any choices you made at the time about which tunes to include or discard for a particular album release?
Anderson: Not necessarily. We were constricted by the limitations of vinyl albums. If you tried to fit more than 20 minutes on a side, you were degrading the quality of the recording. So decisions had to be made on that basis; with CDs, of course, the ceiling has been raised. Listening to the Stormwatch tapes, I found a huge number of tracks I had forgotten about, as well as live tracks. One tune is called "Warm Sporran" and though we never played it live on stage at the time, we've learned it for this tour.
AF: The human voice is the most fragile of instruments, and many rock singers of the '60s and '70s have trouble replicating their earlier sound. How do you take care of your voice on tour and what accommodations have you had to make to continue to sing?
Anderson: I damaged my vocal cords in 1984, just basically from overuse. Same thing happened to [Foreigner's] Lou Gramm, who I think is the best rock singer ever. Mick Jagger doesn't really sing, he just tosses it out; he always sang well within his range, but he doesn't put stress on his voice. Some people just shout it out, like Bruce Springsteen. But I have tricky melodies to sing, and as I get older I have to work to do what I do. I have to practice every day to keep myself conditioned. I've had bronchial infections and now I take preventative medicines to avoid bacteria and viruses. I'm kind of holding my own at the moment. I'm in better shape now than I was four years ago.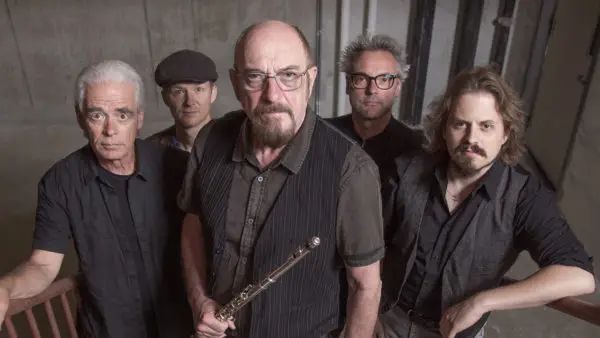 AF The anniversary concerts will feature a broad mix of material. With so many recordings to choose from, what were the criteria for selecting songs for the current tour?
Anderson: Well it's common sense, really. You want to choose songs that you enjoy performing, that's the most important thing. You have to pick 20 songs to perform in a concert out of 300 or so that I've written. You'll choose some heavy hitters; I mean, it wouldn't be a Jethro Tull concert if I didn't play "Aqualung" or "Locomotive Breath." Those songs are terribly important and the fans love them. And then it's nice to have few surprises. The musicians in the band— David Goodier on bass, John O'Hara on keyboards, Florian Opahle on guitar, and Scott Hammond on drums—will bring something of their own to the music, but the goal is to recreate the original performances that the people expect. That said, everyone in the band will improvise something in just about every song.
AF: I don't think Tull has ever gotten the credit they deserve for helping to introduce theatricality to rock concerts. How did you hone your sense of showmanship?
Anderson: At the Marquee Club in London, we played with blues bands who were so staid. In those early days, I tried to liven it up by engaging the audiences. I would walk around the block as the audience was queuing up, carrying a supermarket bag with my flute and harmonicas in it, wearing a shabby overcoat, looking like a homeless person, and I would walk the queue from back to front. It was a staged thing, to get the people wondering who I was. During the show, a good wheeze was that I would visit a machine in the lady's toilet and get some lady stuff. I would light a cigarette, and then I would toss out a couple of cigarettes to the audience in a bonding moment, and then I would toss a couple of tampons out: the sanitary towels were in a package the same size as a cigarette pack. That's where the theatricality was born. These days it's a more high-tech theatricality with mixed-media projections. But at its core was a sense of humor, which was modeled on Monty Python at that time.
---
Jason M. Rubin has been a professional writer for more than 33 years, the last 18 of which as senior creative associate at Libretto Inc., a Boston-based strategic communications agency where he has won awards for his copywriting. He has written for The Arts Fuse since 2012. Jason's first novel, The Grave & The Gay, based on a 17th-century English folk ballad, was published in September 2012. His current book, Ancient Tales Newly Told, released in March 2019, combines in a single volume an updated version of his first novel with a new work of historical fiction, King of Kings, depicting the meeting of King Solomon and the Queen of Sheba. Jason holds a BA in Journalism from the University of Massachusetts Amherst.