By Steve Provizer
I left thinking that holding a blues (or a jazz) festival in every city and town would not be a bad idea. It's a better way for municipalities to spend their money — with a surer payoff — than tax abatements for Amazon.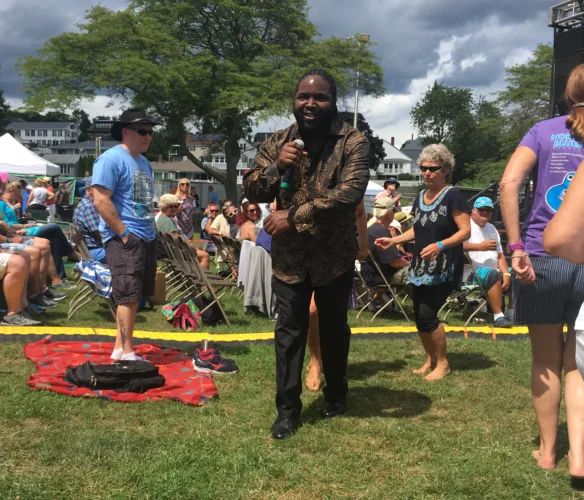 The Gloucester Blues Festival is kind of a nice throwback. It hearkens to a time when outdoor festivals were small, manageable affairs, whose organizers didn't expand the festival's musical parameters (more and more rock) in order to draw more admissions, so they could grow, so they could get bigger sponsors, so they could grow… A spiral that, for my taste, too closely mirrors the American business ethic of expand or die.
Producer of the festival, Paul E Benjamin, with his wife Jean, got started in the festival business by staging the North Atlantic Blues Festival in Rockland, Maine, now in its 26th year and a well-established stop on the blues circuit. They set the scale of the Gloucester festival appropriately. Situated in spacious Stage Fort Park, right next to Gloucester Harbor, it has some of the old-timey flavor of a traveling fair that sets up in the town park but, instead of cotton candy and midway rides for the kids, the festivities serve up blues, soul, and funk for the grown ups; in this case, several hundred of them.
The music in the 2019, eighth edition of the Gloucester Blues Festival was mildly eclectic. Some of it was urban (Chicago) blues and some of it had a heavier funk, soul, or rock element, but beneath it all was the blues. Festival organizer Benjamin says: "Blues is so widespread, a lot of people don't realize they've been listening to blues their whole life." That's right. And, as this festival demonstrated, new branches continue to grow off the trunk of the blues tree.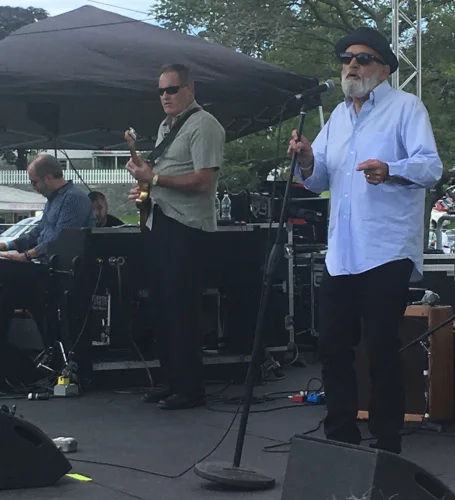 I couldn't make it for the first two performers: Chris Beard and Amanda Fish, but arrived in time for Marquise Knox, singer, guitarist, and harp player. From St. Louis, Knox has been mentored by some heavy hitters in blues, like B.B. King and Sam Lay, and has toured with some big names, recently opening for Z.Z. Top (!). Knox is a charismatic performer, with an expressive voice and he forges a strong bond with his audience. Knox got the crowd invested in a call and response on "Walkin' The Dog" and strolled into the crowd (see photo above), with the air of a preacher meeting and greeting his congregation. The tunes were a mix of standards and some Knox originals. He finished with the refrain: "A good man, a poor man, a bluesman. Do you understand?" Seems like folks did.
Next up was Texan Darrell Nulisch, who played some harp, but pretty much stuck to vocals. His voice, while not powerful, is motile and he knows how to put emotion behind a lyric. His approach reminded me a bit of Mose Allison, especially on the Smokey Smothers tune "I Can't Judge Nobody." The set was eclectic regarding tempos, but stayed mostly within the bounds of soul-infused blues. Nulisch's guitarist Nick Adams did some fine solo work. Occasionally, Nulisch drifted off mic and we lost his voice — strange for so experienced a performer. The band got into a solid groove and, by the end of the set they had the crowd up and dancing.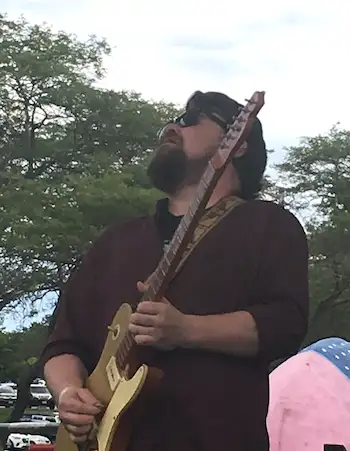 Damon Fowler, singer and deft guitarist, followed, accompanied by only bass and drums. Fowler travelled up from the West Coast of Florida, which seems to be generating a lot of blues. Fowler's voice is not the typical blues voice; it has a bit more of a country music quality. Indeed, he infused his set with more country and especially country-rock sound. He's played with a who's who of musicians associated with that sound — Delbert McClinton, Gregg Allman, Dickey Betts, and also with bluesmen Buddy Guy, Johnny Winter, and others. Fowler is an elite guitarist, who knows his way around on regular, slide, and lap steel guitars. He was a funny, down-home style storyteller, who broke up the crowd with a story about having a song nominated for the Blues Blast Magazine song of the year award. But he was bested by Buddy Guy, at whose club the award ceremony was held. Although Fowler had to carry it off with just a trio, he closed the set with a convincingly rocking version of the Allman Brothers hit "Jessica."
The last announced act of the festival (there was a jam session encore) was soul-blues singer and guitarist Johnny Rawls. Rawls' sound has roots in blues singers like Bobby Blue Bland and soul singers like O.V. Wright and Al Green. He's a supremely confident and often understated performer, who can get a crowd on its feet with tunes like "Shake it" and "I Like the Way You Walk." Rawls keeps the energy alive with carefully crafted arrangements; his band providing the perfect punctuation marks — periods, commas, question marks and exclamation marks — as needed. Seasoned by many years on the circuit, Rawls works the crowd with a combination of playful sexuality and musical mastery.
The festival ended up in classic style, with all hands onstage for a jam session that rocked the crowd with "Everyday I Have the Blues" and "The Blues Is Allright."
At the end of the day, I left thinking that holding a blues (or a jazz) festival in every city and town would not be a bad idea. It's a better way for municipalities to spend their money — with a surer payoff — than tax abatements for Amazon.
---
Steve Provizer writes on a range of subject, most often the arts. He is a musician and blogs about jazz here.